KWV's range of elite award-winning wines, The Mentors, presented its once-off, limited edition of less than 1000 litres, sequentially numbered bottles of The Mentors Carménère 2017 to a group of media, over lunch at Salsify.
Winemaker Izele van Blerk is the best host, making sure everyone had wine in their glasses before she introduced this new release. She said she'd been Googling the meaning of "niche" but nothing the internet had to offer fitted with what she wanted to say. "For me it means something different, something unique, something exciting – and that's what the Mentors cellar stands for. That's what we as KWV stand for – to look for new innovations, to be creative and be unique, but also with passion."
The Mentors is not about winning awards, and not about being the best in the world but being creative and enjoying what they do, said Izele. "This is not work for me. I'm the only winemaker who doesn't make wine, I just play around a bit," she laughed.
Included in our initial tasting were the 2011 and 2015 Grenache Blancs, 2017 Cabernet Franc (the first release of this variety since 2013), 2017 Petit Verdot (a consistently high ranking wine with Tim Atkins), and of course the star of the show, the Carménère.
Later, with lunch, the new 2018 vintages were showcased.
"We've been getting these grapes for four, five years and they never looked so good," said Izele of the Carménère. Less than nine hectares of this lost Bordeaux variety are planted in South Africa, and KWV's comes frome a 1.15-hectare block in Stellenbosch. "If we're lucky, we get four tonnes," said Izele.
The Bordeaux cultivar was believed to be virtually extinct after phylloxera led to its decimation until it was discovered in the 1990s that nearly half of the Merlot planted in Chile was in fact Carménère.
"South Africa can produce niche varietals and we need to be proud of that," she continued. "We must challenge ourselves, think outside the box… it's not always Cabernet or Pinotage or Shiraz or Sauvignon Blanc. There are so many different varietals we produce just as well as Chile can produce a Carménère."
The Mentors will continue to release similar limited edition wines but Izele kept her cards close to her chest as to what the next one might be.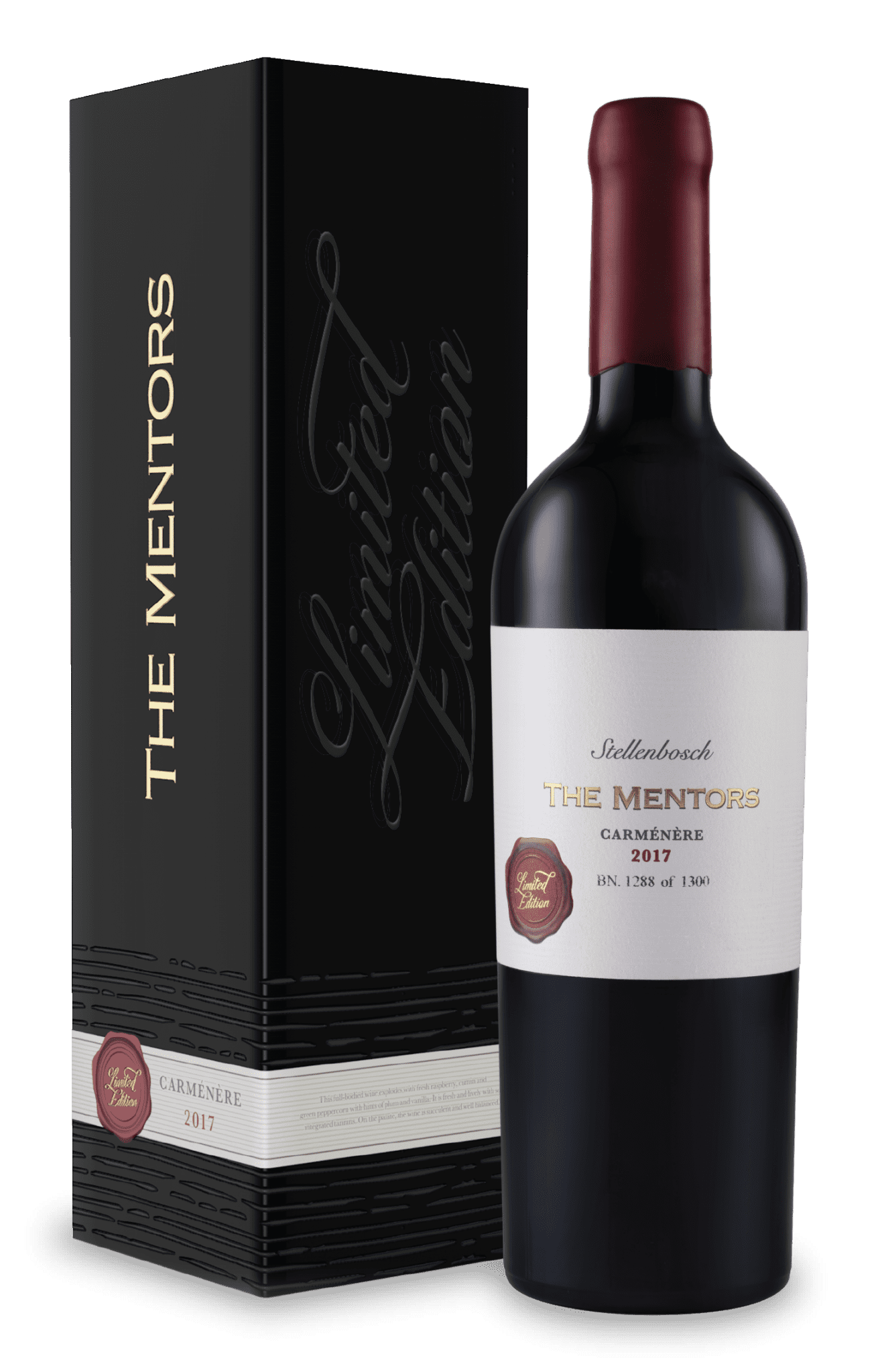 Thirteen hundred numbered bottles put the Carménère into the R650 a bottle bracket, and well worth the investment; it's ready to drink now but delaying gratification for a few years is only going to make it better. It's described as "a full-bodied wine characterised by notes of fresh raspberry, cumin and green peppercorn with hints of plum and vanilla. It is fresh and lively with soft integrated tannins; and on the palate, the wine is voluptuous and infinitely well balanced."
I recently read a social media thread in which people shared their w(h)ine writing pet hates. One was when someone gives a crazy-long list of what a wine pairs well with (honestly, if you haven't completely ruined the wine or the food, you're good to go); my favourite is "can be enjoyed on its own" and this is in the tasting notes of all The Mentors wines. Except the 2017 Petit Verdot, which is suggested you drink with hearty red meats and aged cheese, and if that doesn't sound like a plan I don't know what does.
I was able to stay for only two courses of the lovely lunch chef Ryan Cole and his team at Salsify put together, both paired with the 2018 Chenin Blanc: whey cooked leek with amasi curd and sunflower cream (above) which was heavenly; and rich pancetta-wrapped sweetbread with cauliflower cheese and marzipan jus.
I went home and drank a bottle of wine on its own.
Experience The Mentors through tours and tastings at the KWV Emporium in Paarl. For more information, call 021 807 3007/8 or email [email protected]
KWV wines and spirits are available at retail outlets and restaurants nationwide, and can also be delivered to your door when purchased online here.