IF there is wood, then it must be burnt. I don't make the rules.
It was a coldish, wettish weekend when I went to stay at Haskell Vineyards in Stellenbosch. The kind of weather that unfairly gets labelled "miserable". It is the weather that makes me the happiest, especially when there is a fireplace, wine, and a good book to read. Over the two nights I was there, I was provided with several lug boxes of wood, and I merrily reduced it all to ash.
To be fair, the first night, it was mostly dry old vines which burned super fast; on night two, there were a lot of sturdy logs and even I was a bit dubious. Would I? Could I? The lesson here, is never question your abilities. I was tested, and I was victorious.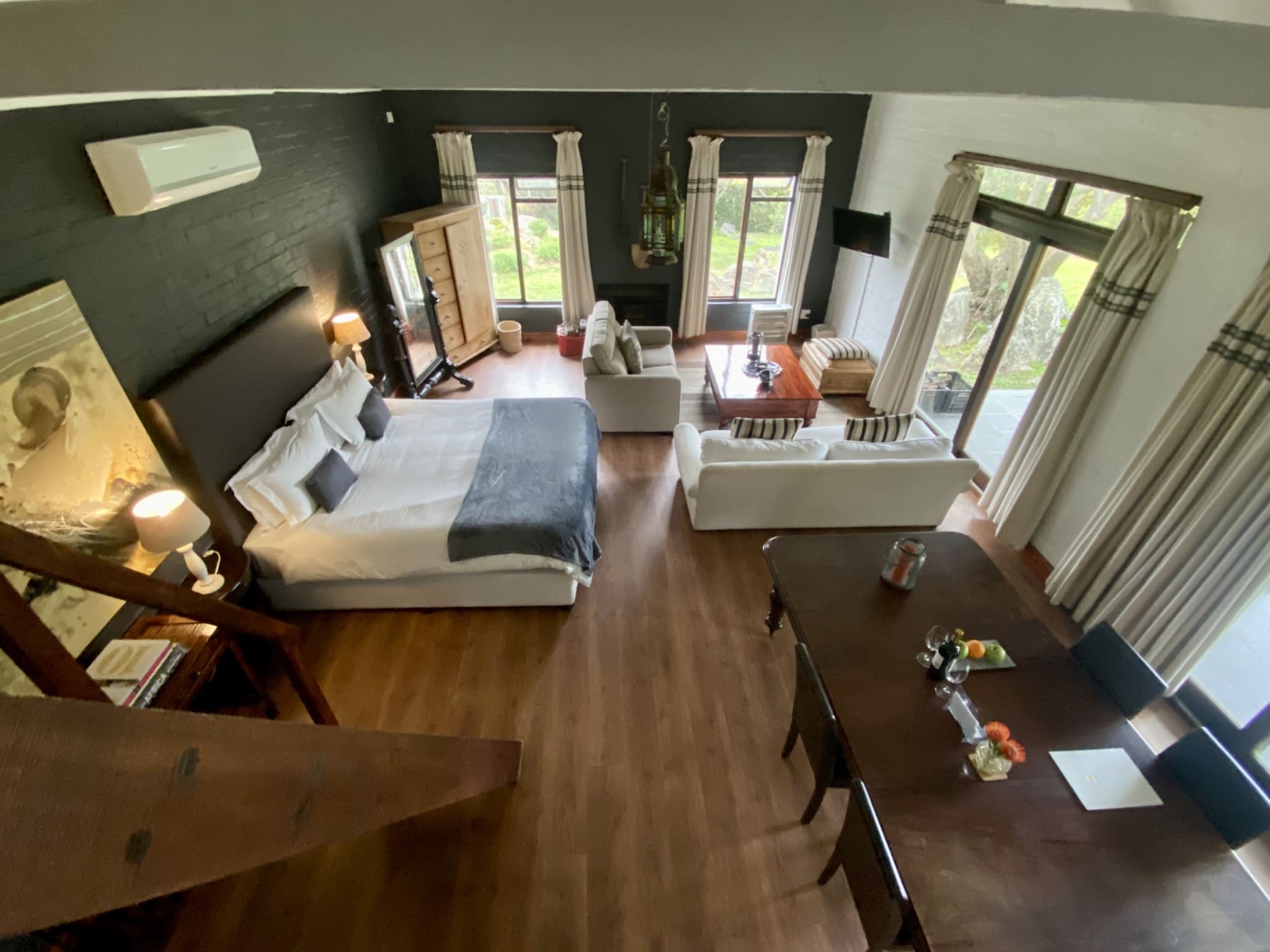 I didn't even know there was accommodation at Haskell until I was invited to stay over. The Longtable restaurant, sure. The lovely wines, oh yes. There are two options: The Residence, which has two bedrooms and two bathrooms (and a washing machine and tumble dryer); and The Cottage, is one large open plan room, separate bathroom with shower (is that still a bathroom?) with a loft. There's a single bed up there and I was glad I only had to go up the steep ladder stairs once to check it out. Imagine dealing with that in the middle of the night when you need the loo, or a drink of water.
As you can see in the pics, there is a dining table bigger than one or two people need, unless you want to invite friends for a braai (there is one outside on the stoep), a comfy lounge, a comfy bed, and a kitchenette with all the basics you need. There is decent reading material should you require it because you underestimated the remaining pages of your own book and it's an emergency, and the wifi is good enough to stream series on your laptop. The view of the Helderberg mountains is glorious, and changes every minute, especially when there are clouds racing around, promising rain, and the sun defending its position.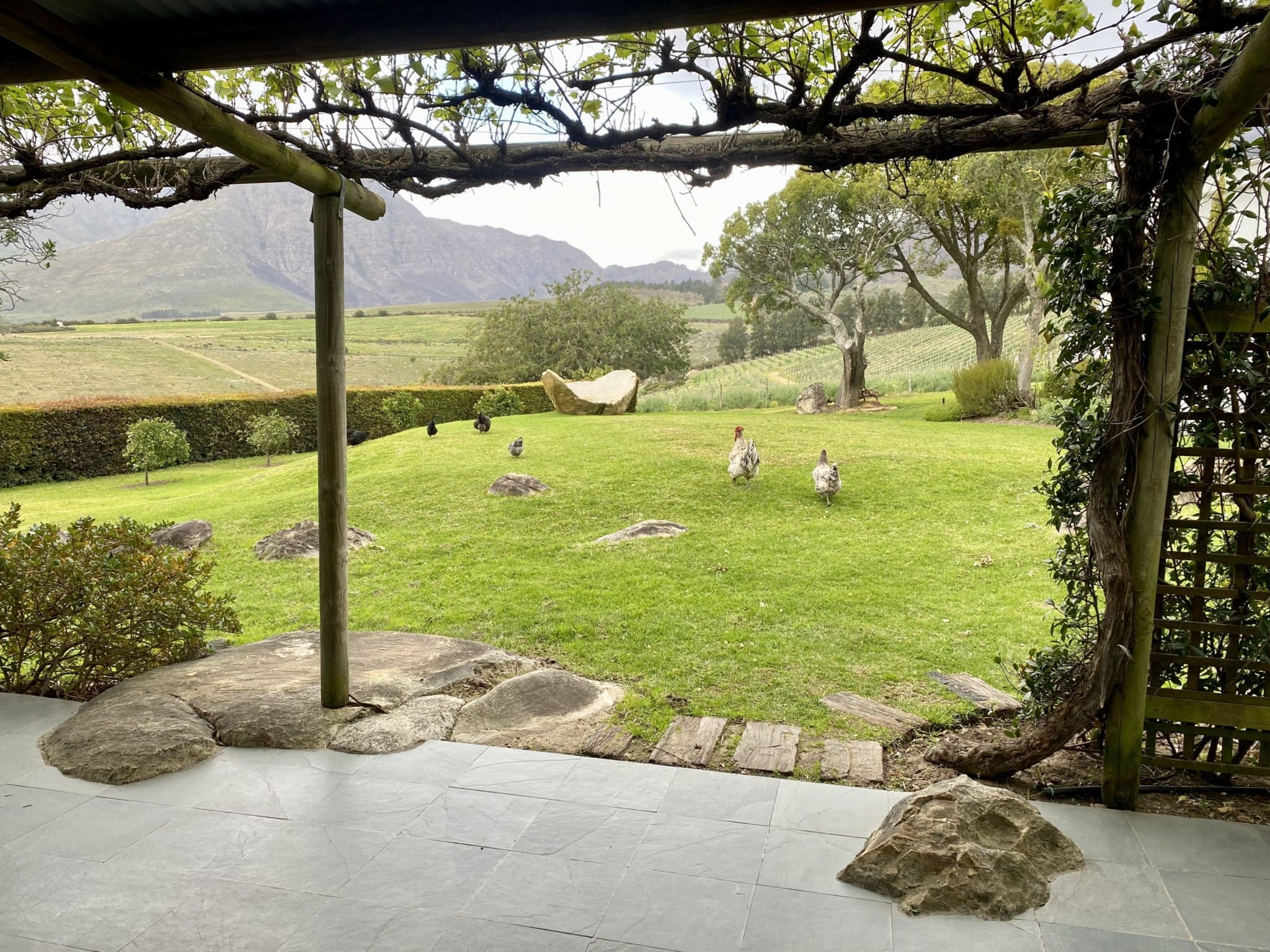 There are chickens roaming around, vineyards to gaze upon, and a fascinating rock which I am told is natural. It just wasn't born there, it was moved from another location on the farm. If it had been warmer, I would have taken all the cushions from the cottage out there and reclined.
Included in your stay is a complimentary wine tasting, a short walk from the houses. While everything I've described above is utter bliss for me (and no neighbours) and I could happily ensconce myself for days on end, a wine tasting is always an attractive option.
I spent a most enjoyable hour and a half with Loyiso Batweni, who took me through the entire range. The Dombeya Lifestyle range comprises a Sauvignon Blanc; Chardonnay with white blossoms, crisp citrus and a creamy finish; Lily Rose, a 100% Merlot rosé bursting with pink flavours like candy floss, watermelon, strawberries and cherries; Merlot; Boulder Road Shiraz; and the Fenix, a blend of Cab Sav, Cab Franc, and Merlot.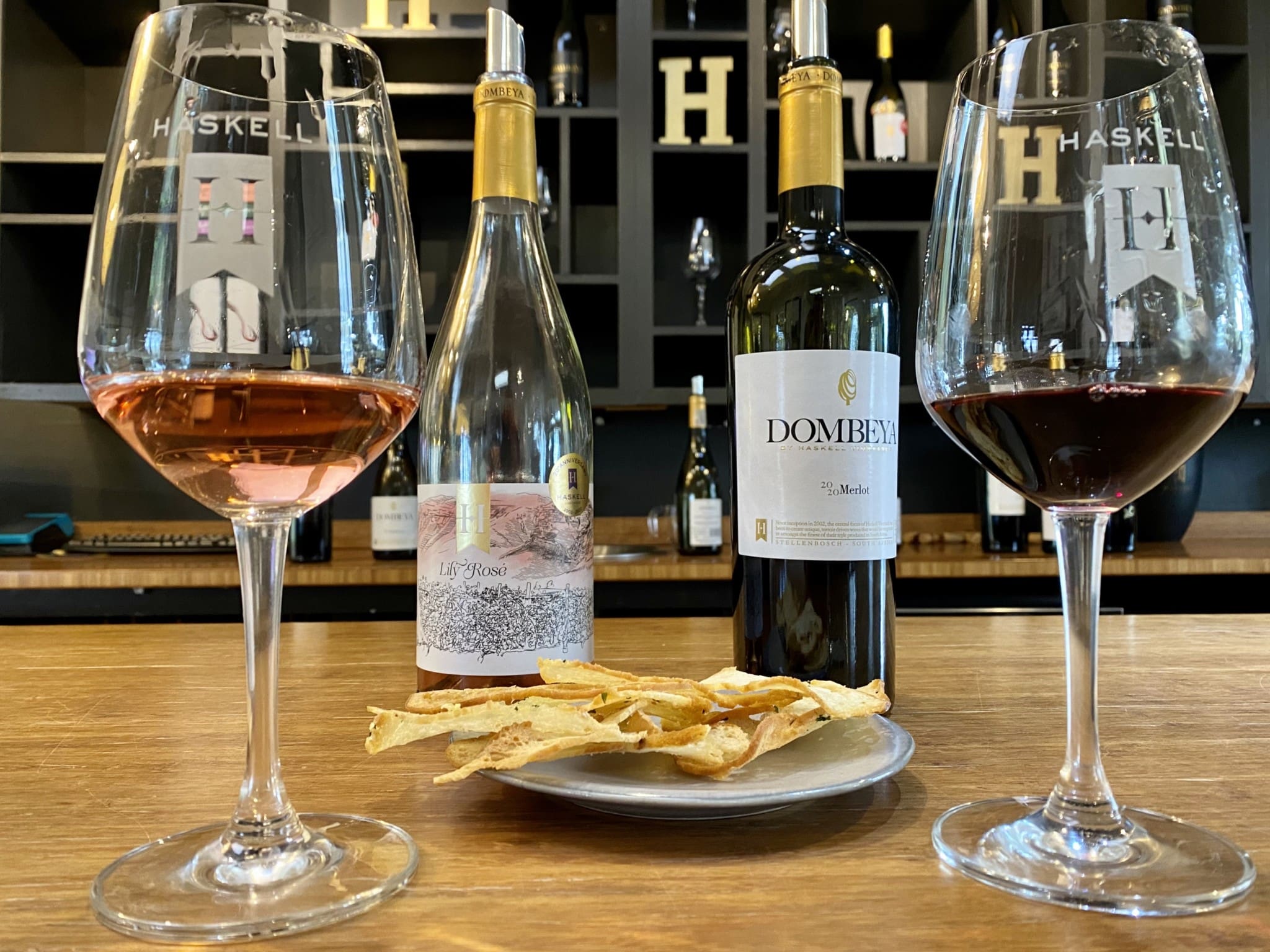 The Haskell Flagship range includes a delicious Chardonnay going by the name of Anvil on the bottle (93 Tim Atkins points last year); Pillars Shiraz 2017 vintage, one which Loyiso and I agreed was one of the better ones; the simply named II, also 2017, a blend of Cab Sav and Shiraz; and the IV 2019 – Cab Sav, Merlot, Cab Franc and a dash of Petit Verdot.
Haskell is currently celebrating two important things. Firstly, it's the farm's 20th anniversary, and secondly, the release of the 202o Swan Song Chardonnay. "The swan song is a metaphorical phrase for a final performance give just before retirement. The phrase refers to an ancient belief that swans sing their most beautiful song before their death.
"Block 11 is a very old block and it was planted in 1989. Although the harvest is very low because of dry land, it still produced high quality grapes and the grapes in this Chardonnay are our very last from this block. Replanting process is currently in place," says the website. If how special it is has not been adequately conveyed, there are only 184 bottles, individually numbered. A steal at R1499.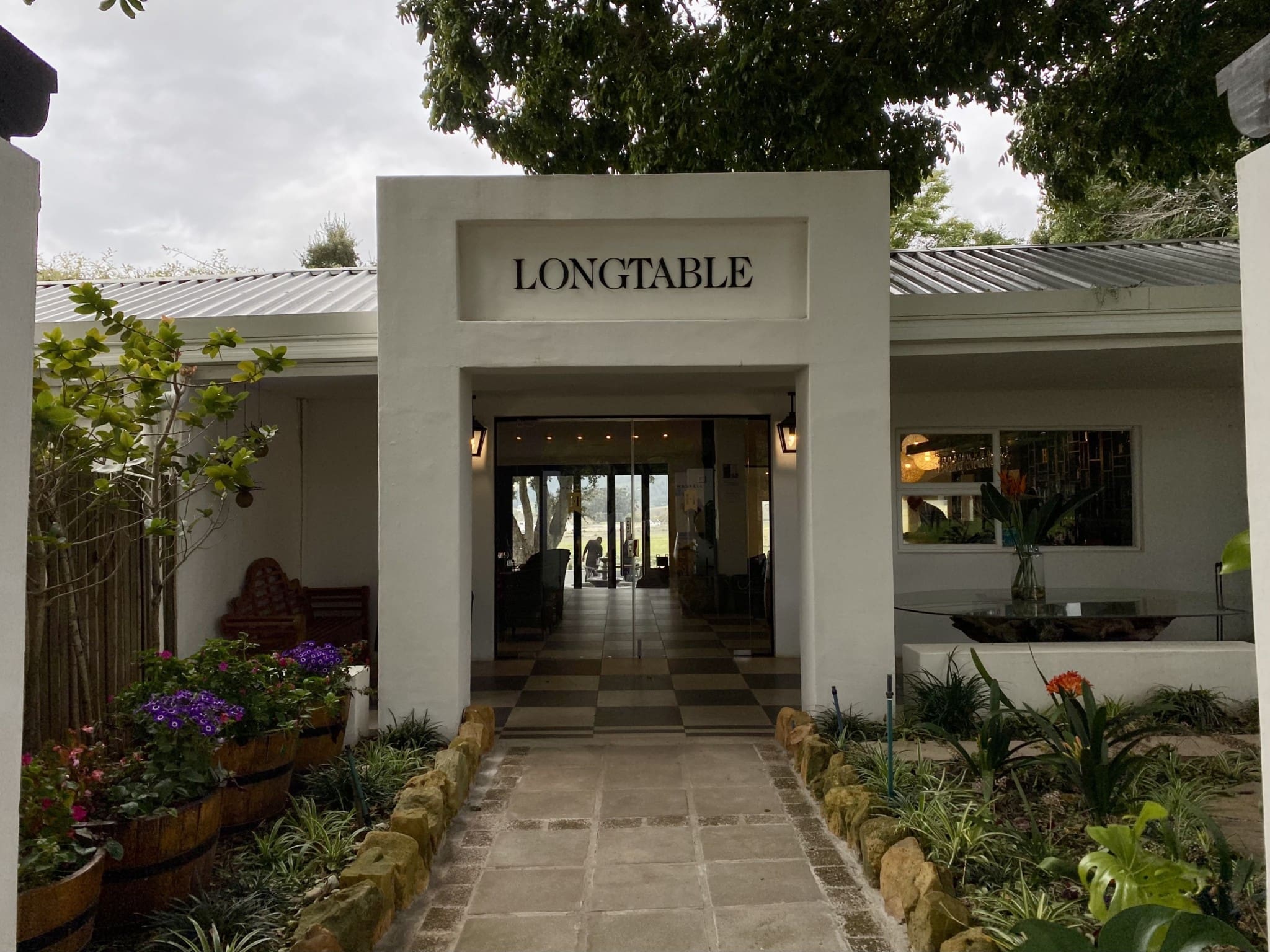 So Friday was wine tasting, followed by a fire, wine and falling asleep while watching Bosch, soothed by the rain gently drumming on the corrugated afdak. Saturday was equally busy, with lunch at Longtable, followed by another fire, reading, and a second go at Bosch. Honestly, sometimes I don't know how I keep up this pace.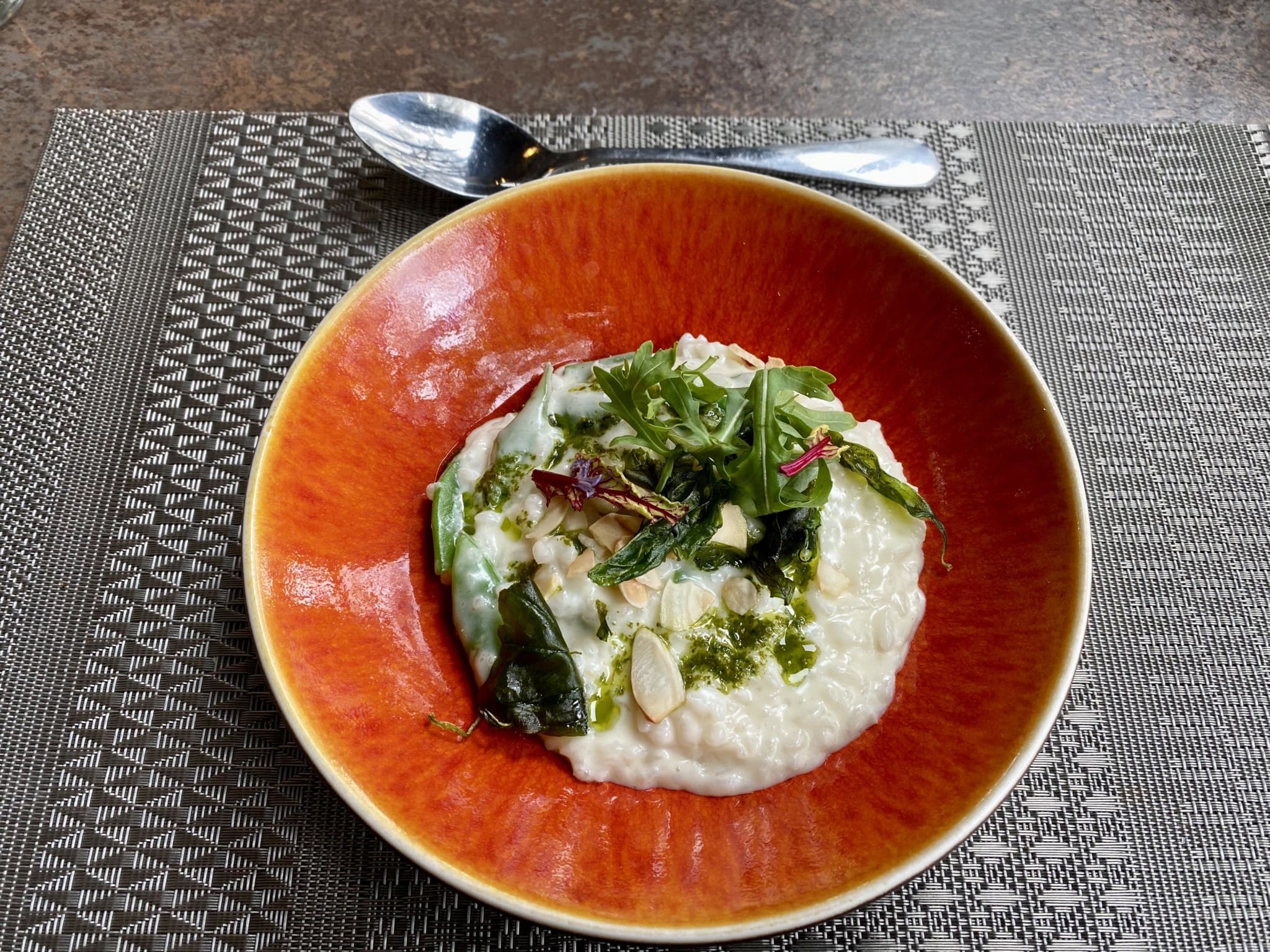 At Longtable, there is a small plates menu with nine options, from pan fried line fish and slow roasted pork belly, to panko spiced chevin and dairy-free sweet potato soup. I had the parmesan risotto topped with sugar snap peas, basil, herb oil and toasted almonds. The sad thing about risotto is that it is delicious but really doesn't lend itself to sexy photography. Please don't hold this against chef Alice Burnham-King and her team. My main course was slow cooked pulled lamb with polenta cakes, red wine jus, and what the menu assured me, seasonal vegetables. These were cunningly plated under the lamb and like a child, because I could't see them on the side of the plate, I gobbled them up.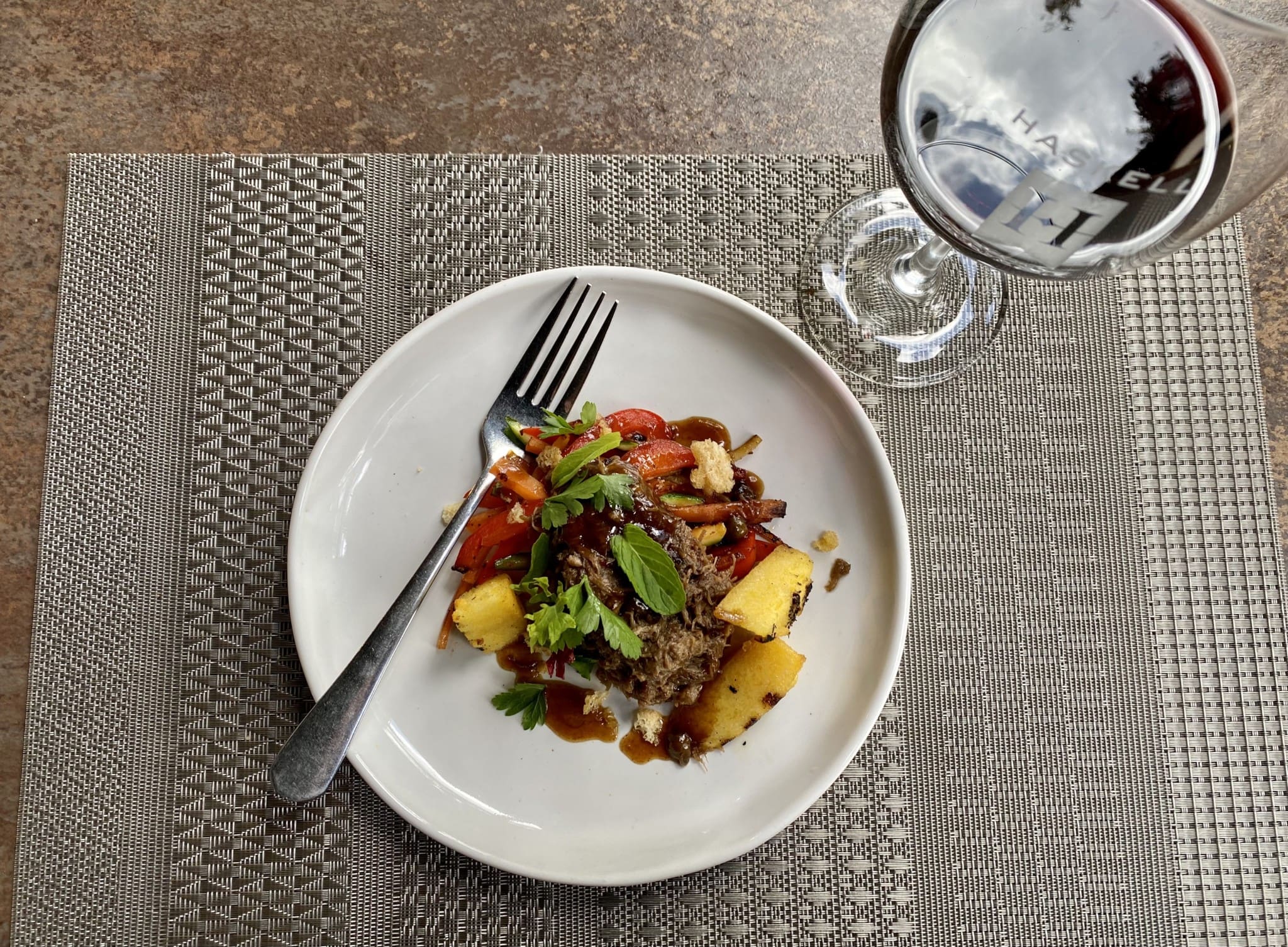 Dessert was brûléed lemon tart with raspberry sorbet (which gives me a Princely ear worm) and Chantilly cream. There's also panna cotta, and stone fruit crumble. A cheese and charcuterie board is on the menu, and it appears you can order that at whatever point you desire…with a wine tasting, as a starter, a dessert…knock yourself out. There's a proper gourmet food and wine pairing too, with items from the menu.
As the warmer months approach, think about a picnic basket on the lawns, or pizza season from November. There are hiking trails, which I didn't manage to get to unfortunately, and I hadn't packed my hiking boots anyway, damn. Next time.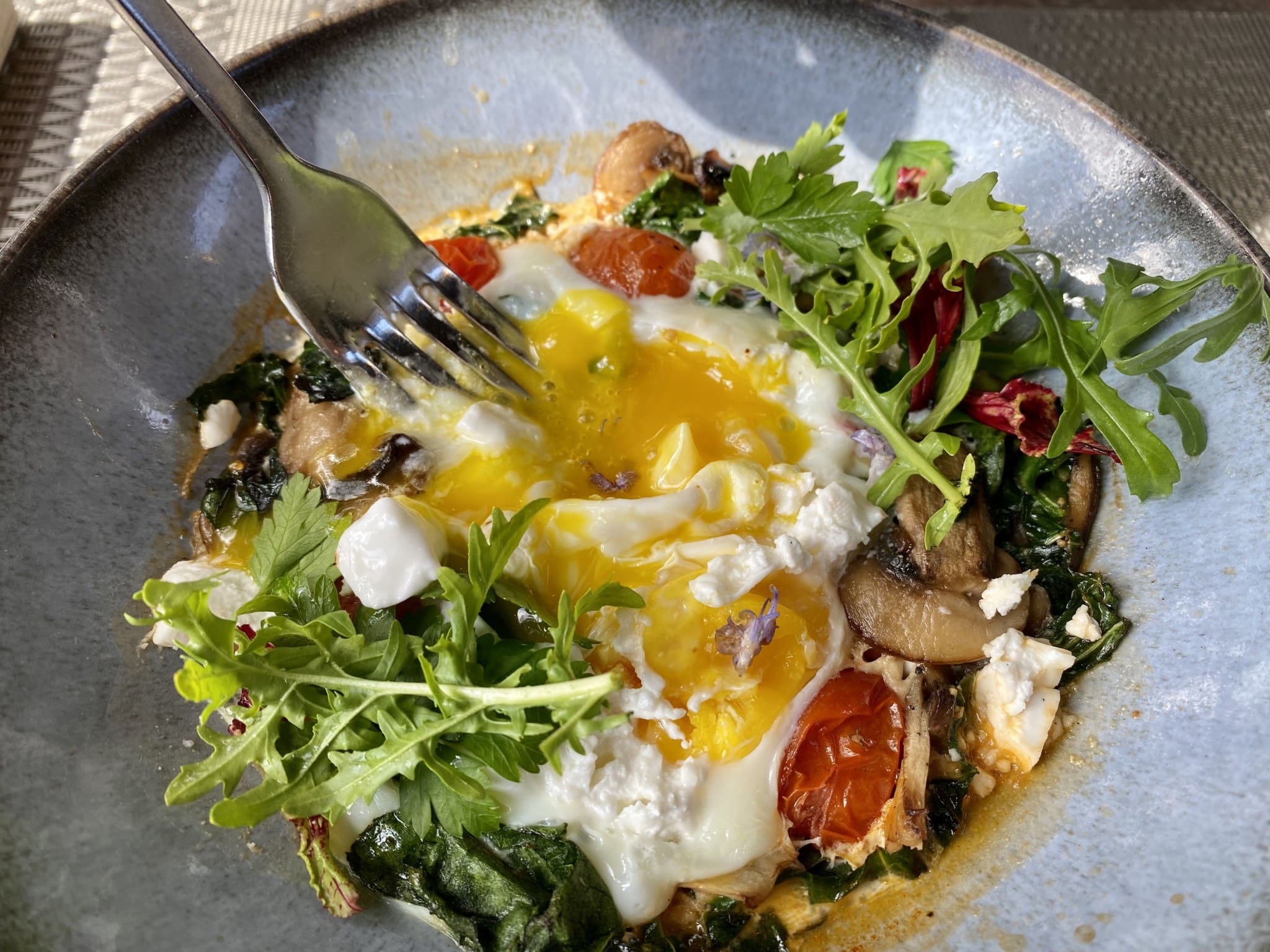 On Sunday I stayed in bed with all the squishy feather pillows until the last possible minute to finish my book before making my way back to Longtable for a breakfast (served until 1pm, very civilised) of baked eggs with mushrooms, feta, baby spinach and cherry tomatoes. Interestingly, breakfasts are all vegetarian except for the prosciutto dust on the mushrooms.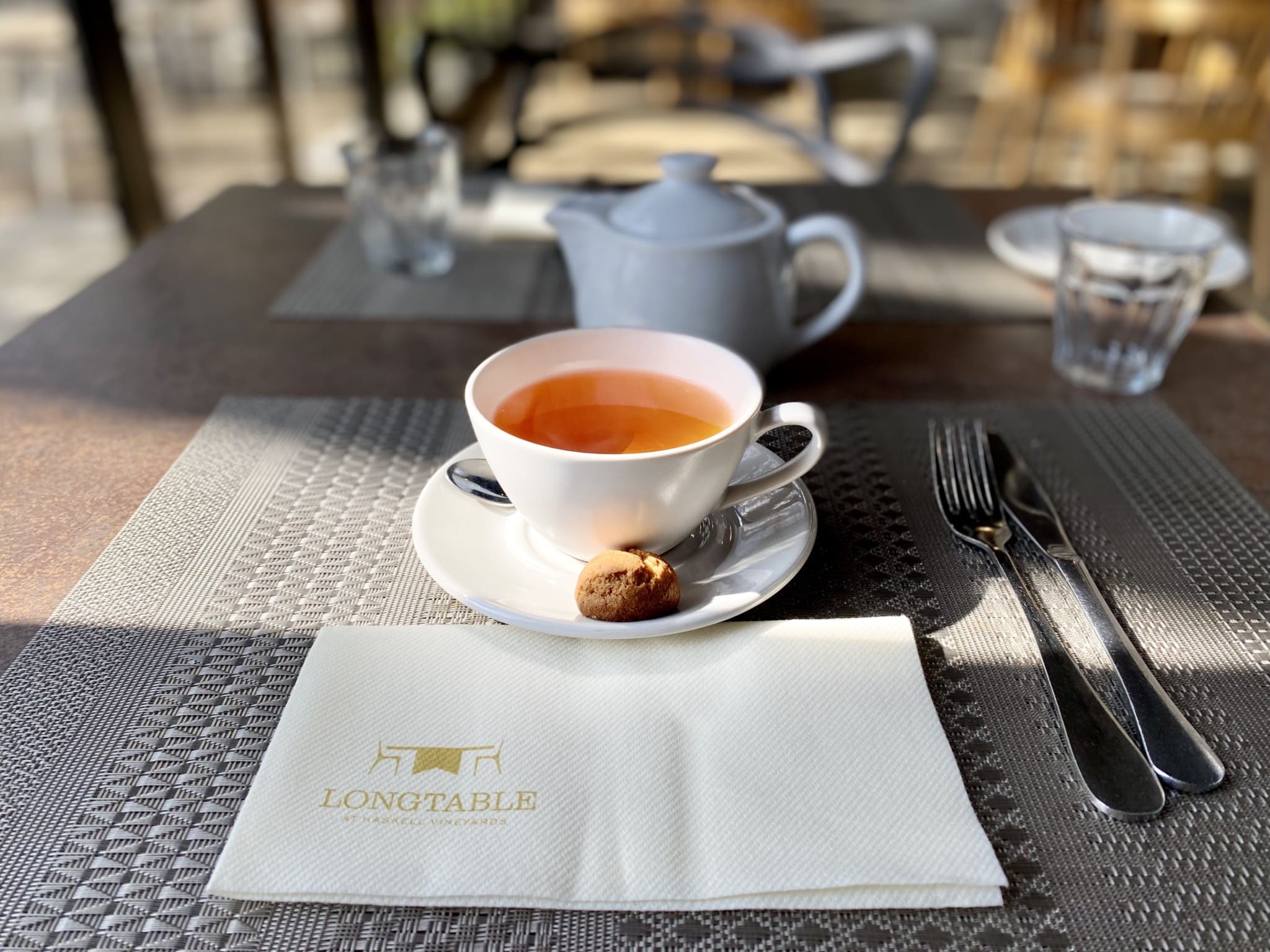 Special thanks must go to JP Nortje, and the incredible wait staff who looked after me, Fifi Letshelea and Buldric Maphoso, and were generous with the smiles and their stories. And of course, thank you to Haskell for having me, and for all the wood. For more information, click here.
PHOTO CREDIT: Bianca Coleman ©