BASED on themes drawing from the ocean on the doorstep, and the rising from the ashes after Tintswalo was destroyed by fire, executive chef Guy Clark has created a culinary feast called Ocean & Ash.
When I accepted the invitation to lunch I had no idea what I was in for – a marathon eight-course meal with wine pairings, 11 if you count the bread (which was a course in itself), the amuse bouche, and palate cleanser.
It was my first time at the jaw-droppingly beautiful Tintswalo Atlantic, which is built just about as close to the ocean you can get; the waves rush over the rocky shore literally a few metres away from the long deck where you can have a meal, or a sundowner accompanied by amazing views across Hout Bay to the Sentinel. Virtually invisible from the road above – Chapman's Peak – the almost-concealed entrance is just before the toll gate (currently closed to traffic).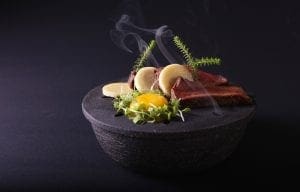 Inside, the lounge and dining room – it feels more like that than a restaurant – are just as glorious, decorated in soft shades of blues and silver, with glistening sea shells and sparkling chandeliers. At our place settings, napkins were twisted into diamanté rings and small rocks collected from the beach below had our names written on them. On the back, was the message: "May all your wishes come true". You're encouraged to fling this over your left shoulder with your right hand, back into the sea from whence it came. Some of us throw like girls, but making a wish never hurt anyone.
The meal began with new executive chef Guy Clark serving each diner an individually wrapped salted sourdough bread. Each one was tied to a branch carried by a waiter, from which Clark cut them. Another waiter followed with a board piped with three flavoured butters – mustard, lemon, and paprika.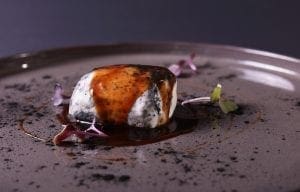 Every dish thereafter came with the same sense of theatre and drama, each an explosion of bold flavours in every mouthful, just the way it should be. Menu cards are presented for each course, the first being an oyster with seaweed salt, a mussel with pickled seaweed, and a marron with sautéed seaweed. This is one of Clark's favourite ingredients, which he says makes perfect sense since it's available in abundance just a few steps away.
The next three courses carry "smoke" as a central theme. To be frank, at first I thought the upturned stone bowl upon which three ash-crusted balls – snoek, pistachio, springbok – was a tad pretentious but it serves a further purpose for the two dishes that follow. For the rooibos smoked kudu fillet, a spoonful of wild garlic ash is placed in the bowl at the table. Clark then lights it on fire with a blowtorch, after which the smoke is captured by the placement of a stone disc bearing the meat, smoked "skattie" cheese and ocean water cured egg yolk. Lastly, the disc is removed and liquid umami made with 32 ingredients, is poured over the ash.
This is only the halfway mark. Course five was kingklip with a scallop, burnt lemon rind and seaweed velouté. Number six was my favourite – pulled fynbos rabbit in a rich and creamy fermented goat's cheese ash case with wild sorrel butter. The seventh course was textures of six kinds of mushrooms, including shimeji, king oyster and shiitake, on a crisp flatbread, complemented with truffle pearls.
The final course was buchu ice cream, ash meringue and ocean salt itakuja Valrhona chocolate, and if there had been one more mouthful I would have exploded like that man in Monty Python's The Meaning Of Life. This gastronomic experience is definitely one to put on the bucket list – for the creative food, the flavours, the discreet service, and the spectacular location.
Chef Clark will initially present his Ocean & Ash dinner tasting menu once a week, for a maximum of 10 guests at
R1 100 a person. Reservations are essential. To book, call Tintswalo Atlantic on 27 21 201 0025 email or [email protected]
Read more about Guy Clark here.
PHOTO CREDIT: TOM CLARK