ROODEBERG, the cherished wine that has stood the test of time for more than 70 years, is celebrating World Chocolate Day on July 7, 2020, with easy-to-make truffles that accentuate its masterly crafted blends.
From the Classic Red, the formidable Reserve and commemorative Roodeberg 1949, to the enchanting Rosé, you will find your perfect match with melt-in-your-mouth chocolate truffles. By adding toppings of different tastes and textures to a fool proof, classic truffle recipe, foodie Elmarie Berry has created delicious flavour combinations for each of these wines. Convert your kitchen into a master chocolatier's workshop for World Chocolate Day with her no-fuss suggestions.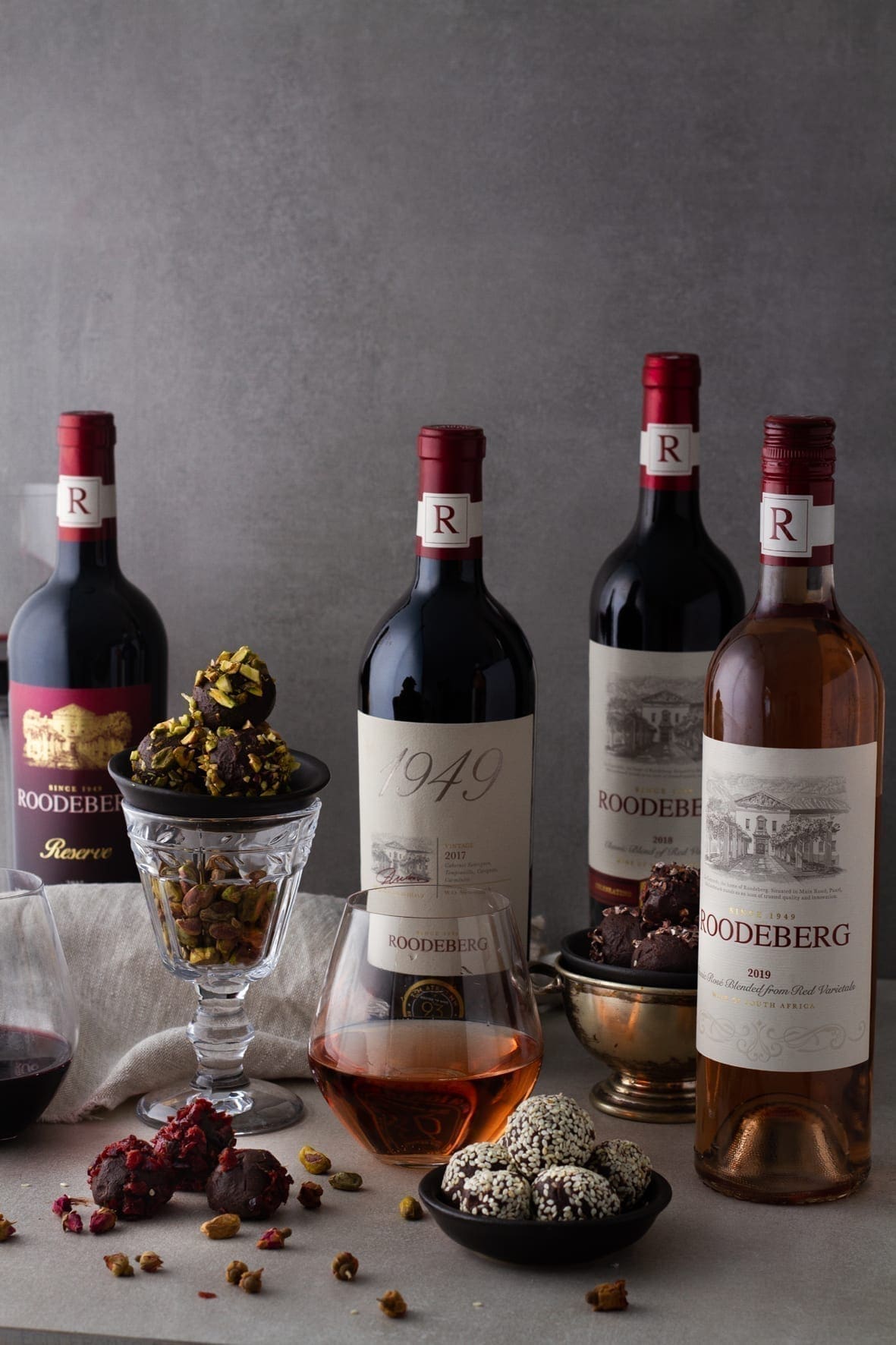 For Roodeberg Classic Red, Elmarie recommends chocolate truffles topped with cocoa nibs or sifted cocoa powder to meld with the soft rounded palate and aromatic layers of fresh red fruit, cassis and pencil shavings.
The subtle aromas of strawberry, candy floss and raspberry with hints of rose petals of Roodeberg Classic Rosé work their magic with tempting chocolate truffles topped with dried cranberries.
Truffles rolled in crunchy sesame seeds make indulgent taste companions for Roodeberg Reserve complementing the hints of dark chocolate and aromas of red plum, blueberries and crushed herbs of the wine. For the commemorative
Roodeberg 1949, launched to celebrate Roodeberg's 70th anniversary last year, rich crushed pistachio nuts blend seamlessly with the well-structured wine's nuances of dark cherry, blackcurrant and vanilla (pictured at the top of the story).
Classic truffle recipe by Elmarie Berry
Makes 30-40 truffles depending on the size
Ingredients:
400g good-quality dark chocolate
1 cup cream
110g butter
Method:
Finely chop the chocolate — a serrated knife will do this quickly and efficiently. Transfer the chocolate to a medium bowl.
Microwave the cream and butter on high until hot but not boiling, 30 seconds to 1 minute. Alternatively, heat the cream and butter over low heat in a small saucepan until steaming. Pour the hot cream mixture over the chopped chocolate and set aside for 5 minutes. Whisk the cream and chocolate together until smooth and shiny.
Pour the ganache into a shallow pan and refrigerate for 30 minutes. Scoop and roll the truffles. Use a tablespoon or small cookie scoop to portion the ganache into bite size balls. Roll the balls between gloved hands until smooth. Refrigerate for a few minutes before rolling the truffles into the topping of choice for each of the Roodeberg wines and place on a plate.
Storage and serving:
These truffles are best kept in the refrigerator for up to 2 months. Remove from the refrigerator about 30 minutes before serving.
Toppings for Roodeberg wine pairings:
Roodeberg 1949 – Crushed pistachio nuts
Roodeberg Classic Rosé – Chopped dried cranberries
Roodeberg Reserve – Sesame seeds
Roodeberg Classic Red – Cocoa nibs or sifted cocoa powder