HAYLEY SUTHERLAND, who hails from Fish Hoek, has been a chef lecturer at the Cape Town Capsicum Culinary Studio campus for the past three years.
Sutherland, who is a pastry chef and loves all things sweet, talks about her perfect Heritage Day menu, explains why vetkoek should make a comeback and shares a recipe for delicious milk tart macarons and a plain vetkoek.
How will you be spending Heritage Day?
With my family, and of course we will be having a traditional braai!
What does the day mean to you?
Celebrating how culturally diverse our beautiful country is and the unique culture of my family.
How do you define South African cuisine?
It is diverse with many different influences; a melting pot if you will. Although simple at times, you can't beat a traditional braai with braai broodjies and a potato salad.
What would be your perfect Heritage Day meal, why and who would you share it with?
A traditional braai with chops and wors. There would be various salad options – potato salad, coleslaw, mixed salad and braai broodjies. Not forgetting dessert which would definitely be a peppermint fridge tart.
What are your favourite three South African dishes and why?
Peppermint fridge tart – I am a pastry chef, but you cannot beat it, especially the next day.
Milk tart – So simple yet so satisfying.
Pumpkin fritters – My mother-in-law makes these and honestly – with cinnamon sugar – they are the best thing.
Are there any South African dishes that have fallen out of favour that you would like to see make a comeback?
The vetkoek as it is such a versatile product that can be enjoyed both sweet and savoury. It is about time that there is a revamp of it.
Sutherland shares one of her favourite Heritage Day recipes which incorporates an old favourite – milk tart – with a modern twist. It is taken from the Capsicum Culinary Studio recipe book.
MILK TART MACARONS (pictured top of the page)
FILLING
250ml milk
60g egg yolks
63g sugar
25g cornflour
2 cinnamon sticks
METHOD
Heat the milk and cinnamon until boiling point
Mix the egg yolks, sugar and cornflour until smooth
Temper the hot milk onto the yolk mixture
Return to the heat and allow the mixture to boil, continuously stirring
Remove from the heat, strain (remove cinnamon sticks)
Place in a bowl, with plastic wrap on the surface and allow to cool in the fridge
MACARONS
135g caster sugar
80g ground almonds
60g egg white
METHOD
Place the caster sugar and egg white in a bowl over a double boiler and cook it to liquid form (70°C)
Remove from the heat and beat on high speed until medium peak
On a low speed beat in the ground almonds, colour until combined
Pipe onto the silpat and bake for 7-10 minutes (depending how large they have been piped)
Remove from the oven and allow to cool completely before taking them off the silpat or they with split in half
Fill and store in an airtight container in the fridge for up to 1 week
NOTE: Do not flavour the macaron mixture, it will flop
To assemble: Spoon some of the cold milk tart filling onto a macaron and top with another
VETKOEK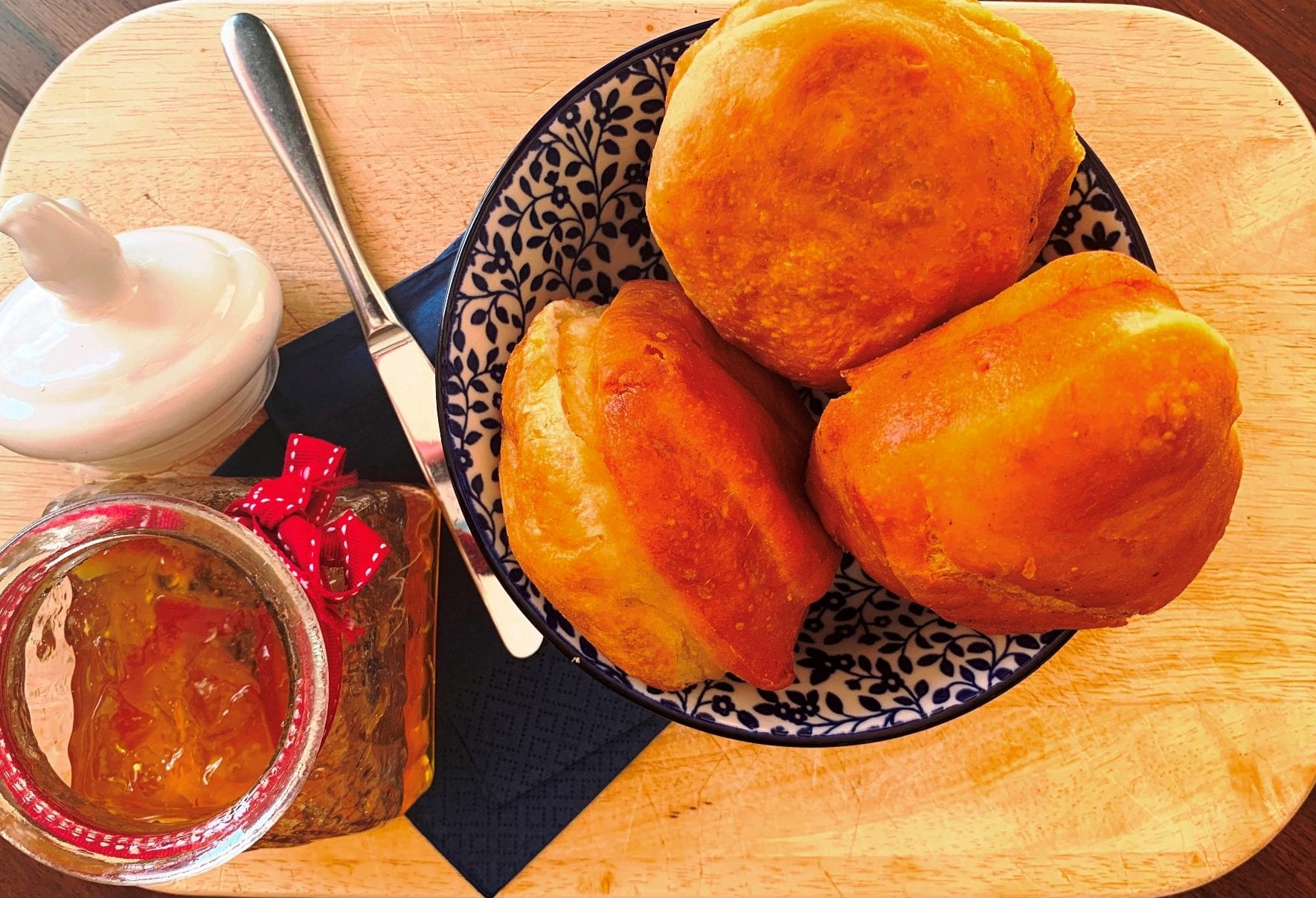 (Yields 4)
INGREDIENTS
125ml cake flour
2.5ml baking powder
pinch salt
¼ egg
62.5ml milk
Oil for frying
METHOD
Sift dry ingredients into a mixing bowl
Whisk egg and add with milk, to dry ingredients. Mix to a soft dough
Heat enough oil to cover base of frying pan
Pour spoons full of batter into the hot oil and fry to a golden brown on both sides
Drain on paper towels