CREATED as a tribute to South Africa's oldest Sauvignon Blanc bush vines, Spice Route Wines launched its Amos Block Perpetual Reserve this month.
The first hand-bottling of this sherry-style dry fortified wine was created from three vintages – 2014, 2015 and 2016 – and filled just one barrel. This translates into a little more than 400 bottles which are available exclusively at the Spice Route tasting room in Paarl.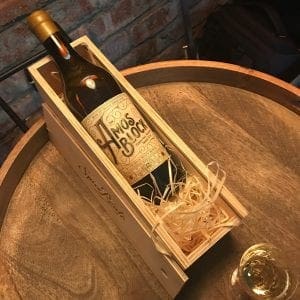 The little debut party for this exceptional wine was held in the suitably tiny No Reservations in Bree Street, where it was paired with a selection of Spanish-style tapas – the perfect accompaniment. In his speech, head winemaker Charl du Plessis said he'd been thinking about why he decided to make this wine but couldn't come up with an answer.
"I've always been fond of sherry, all my life. As a student about 30 years ago, my introduction to this was Old Brown, but this is completely different. There are not a lot of pale dry, or fino, sherries in South Africa," said Du Plessis.
Usually palomino grapes are used but Klein Amoskuil farm in the Swartland, home to Spice Route Winery since 1997, has the country's oldest Sauvignon Blanc bush vines, which are able to withstand the extremely dry conditions of the area. "They were planted in 1965 so I decided they provided a fantastic opportunity and have a nice story to tell," said Du Plessis. "In the Swartland you can't make a Sauvignon Blanc like in Darling or Cape Point, so we decided to make the fino style sherry."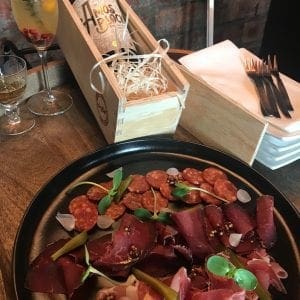 Amos Block is made from these vines, which are harvested from mid to late January each year. It is fermented without any additives in old French barrels, and lightly fortified, after which a flor yeast culture is added and the wine is left to age in the Swartland heat. A solera of the three vintages, the wine has aromatic hints of apples, almonds and walnuts, fresh and fully flavoured with a lingering finish. Because it is bottled straight from the barrel and unfiltered, it should be drunk within a few days of opening.
The drought has ruled out a 2017 vintage but Du Plessis is holding out hope for 2018. "When I travel overseas I always go to Spanish sherry bars in the UK, and I love this culture. Amos Block is typical of the kinds of sherries you get in these bars," he said.
For more information, go to www.spiceroutewines.co.za or call the tasting room on 021 863 5200. Follow Spice Route Wines on Facebook, Twitter and Instagram at @SpiceRouteWines.
PICTURE CREDIT: BIANCA COLEMAN