CHESCATO, the latest release from Leopard's Leap Wines, is refreshingly light with a lower alcohol and charming off-dry character – a delightful choice that is all about conscious consumption.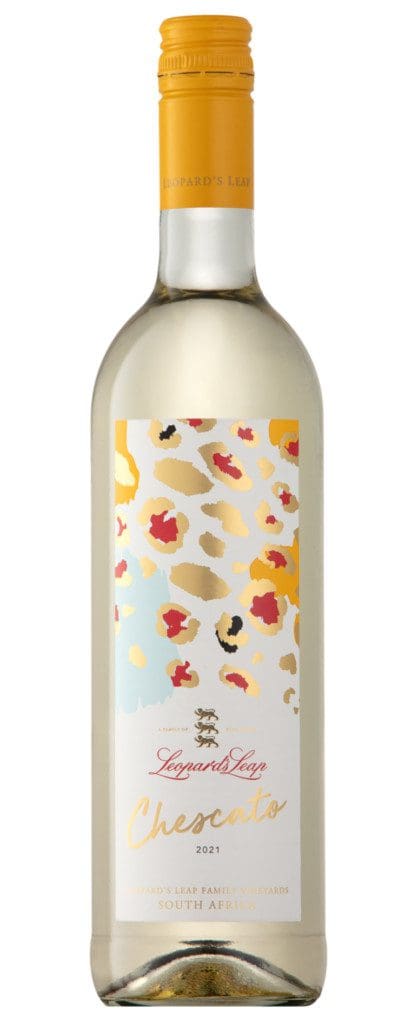 The sunshine of Chenin Blanc (70%) meets the vibrancy of Moscato (30%) in a bright and beautiful wine with a lovely perfume and a flirty touch of sweetness. Grapes are from the small and sunny winegrowing area of Voor Paardeberg, just outside Paarl. The Chenin Blanc was picked at 21 and the Muscat at 20 degrees Balling to ensure a lower alcohol, while a small percentage of the wine also had its alcohol removed prior to blending. Vinified separately, the two varieties were only blended before bottling. The ultimate blend is off-dry with beautifully balanced fruit and acidity.
As versatile as its blending components, the 2021 Leopard's Leap Chescato is a wine for all seasons and occasions. With its lively fruit flavours and floral bouquet, it is a delicious glassful to relish on its own in a warm spot, but it can make the most of any weather. Enjoy Chescato as a partner to subtle spices in wintery Malay-type curries or pour generous glasses with summer's sushi and salads, sandwiches and sweets. It's perfect for picnics, parties and playing – whether it is under blue skies or in front of toasty fires.
On the nose a playful perfume of apple and citrus blossom combine with enticing flavours of caramelised pear, candied fruit and orange peel. On the palate, it's juicy with ripe summer fruit, beautifully balanced by a crisp acidity.
Price: R60. Available from Leopard's Leap Tasting Room or online.
Competition: Buy a bottle of Leopard's Leap Chescato, follow the instructions on the neck label and stand a chance to win one of five shopping vouchers worth R3000 as well as a snazzy Chescato cooler bag filled with Leopard's Leap wines. T&Cs apply. 
Facebook | Twitter | Pinterest | Instagram
For more information on the various wines or the family-friendly offering at Leopard's Leap Family Vineyards, click here or call 021 876 8002.