DURING the past decade, port-style wines have managed to evolve in versatility, such as the De Krans Cape Pink which is used as a cocktail mixer, and expanded on the traditional styles, for example tweaking a Cape Vintage to produce a lovely and unique dessert wine called Espresso. It is also almost 10 years since the EU agreement that every port-style wine bottled outside of Portugal from January 2012 may no longer display the word "port" on the label. Taking into account that there are various styles of port, all "port-style" wines originating from South Africa exhibit the word "Cape" in front of the style, for example Cape Ruby, Cape Vintage.
Regardless of the twists and turns that port-style wines have taken, there still exists a definite and comforting place for its traditional styles and way of consumption. For those who are relatively unfamiliar with port style wines or who are interested in learning about and experimenting with ports,  it is important to understand the difference between a wine and a port-style wine, before breaking up the styles in three main categories might make things a bit easier.
"Port" is a style of wine and classified as a fortified dessert wine. Port is higher in both sugar and alcohol compared to a regular wine. This is achieved by stopping fermentation half-way through fermentation by adding un-matured brandy spirit (which raises the alcohol content and stops the fermentation). De Krans Wines is known to produce port-style wines in a slightly drier style than most other producers, giving the wine a more sophisticated mouthfeel.
When looking at port-style wines and where and when to use these wines, they can be divided into four categories. Firstly, port-style wines are excellent to cook with. The first port style that comes to mind is the Cape Ruby, one of the traditional styles of port with the name of the port referring to its brilliant ruby colour.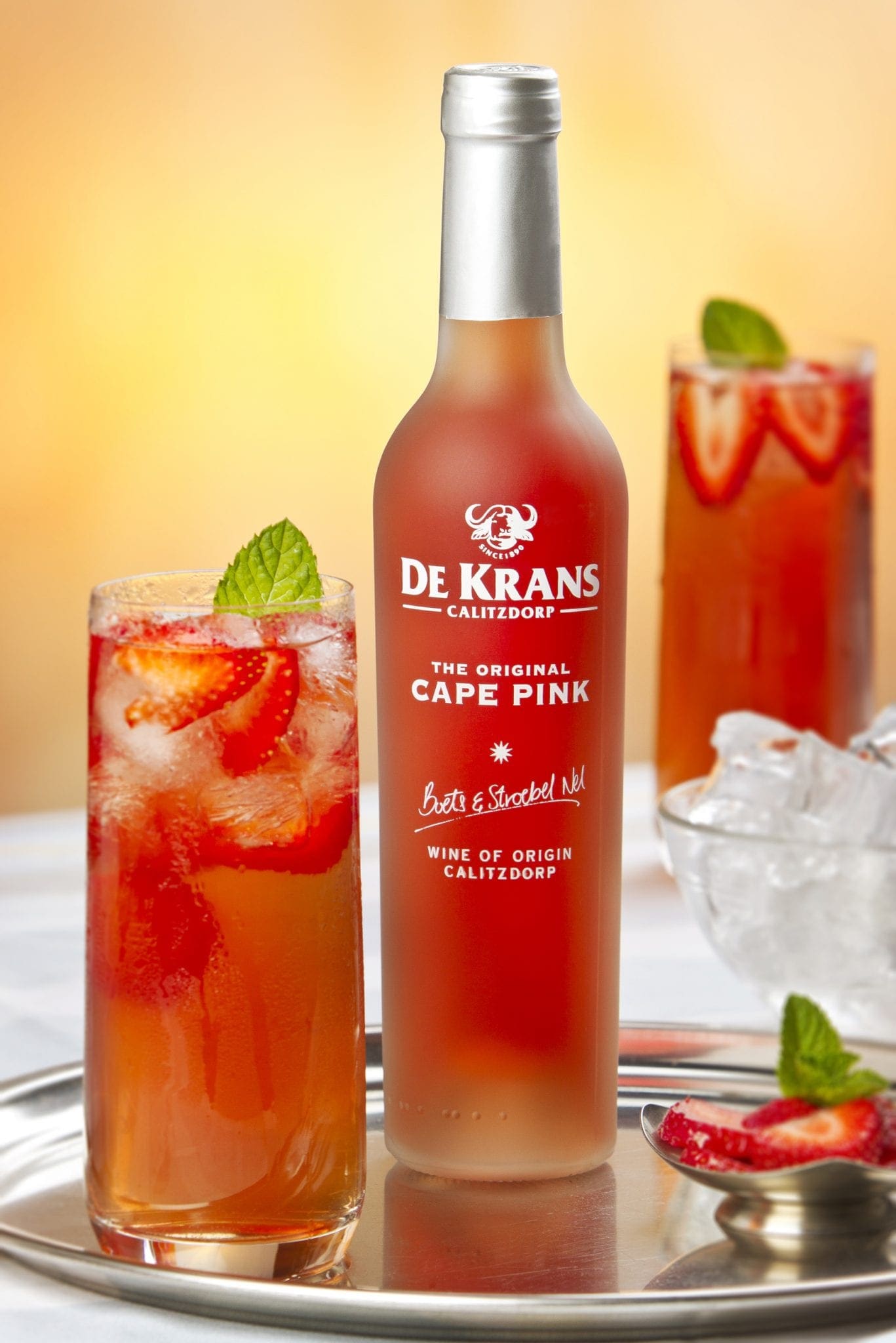 A Cape Ruby is a non-vintage port-style wine, indicating a blend of different vintages together to produce a well-rounded wine. The wine is smooth and structured and has velvety tannins to compliment the ripe plum, blue and red berries with a touch of cinnamon spice and violets.  Go ahead and add De Krans Premium Cape Ruby generously to your potjie or any meat dish in a slow cooker, while having a glass on its own. This will take your meat dish to that next level. Don't be afraid to experiment here. Some other De Krans port-style wine based inspirations include the Cape Pink honey glazed pork chops served with mustard mashed potatoes, Cape Vintage glazed oxtail served with rice, as well as a Tawny Port pecan nut pie.
Secondly and arguably the most common and traditional way to enjoy port-style wines is to simply sip on it, either on its own or paired with a dessert or cheeseboard. The De Krans Cape Vintage is a perfect introduction to enjoying port-style wines and pairs well with a baked dessert like chocolate fondant, a piece of dark chocolate, or well matured cheese. This port-style wine has a deep purple red colour, indicative of its intense, full and rich palate of red fruits, dried prunes, cocoa and spice. Tannins are more prominent in this port and this style is made to bottle age, or can be drunk at an early age as well. The Cape Vintage can keep for approximately 20 years in bottle when stored correctly. This port-style wine is an excellent, value for money and quality port-style wine.
Another port-style wine that works well on its own, or as a pairing, is the Cape Tawny, another traditional style. This port-style wine is named after its amber/tawny colour, a colour acquired by spending many years ageing in an oak barrel. The De Krans Cape Tawny Limited Release has been in oak for an average of eight years. Due to this ageing and slow oxidation, tannins are soft and fruity flavours have developed into nutty, toffee and caramel flavours. The Cape Tawny is an excellent alternative to sherry and best enjoyed slightly chilled, to lift the structure of this extraordinary style of port. The Cape Tawny also pairs well with baked winter puddings like malva pudding, crème brûlée, as well as baked cheese with drizzled honey, nuts and rosemary.
The third category is gifting. The De Krans Cape Vintage Reserve is the crème de la crème of port styles and as a result, a more costly port than the Cape Vintage. This port-style wine is ideal for gifting for special occasions and can age for 40 years or more in bottle when cellared correctly. Like the Cape Vintage, it is made from a single vintage but only the best grapes are selected, followed by a second selection process whereby only the best barrels are used to produce the final product. This port has a very aromatic nose of ripe red berries and cherries, stewed prunes and dark chocolate and has a dark black colour with plum red rim. This port-style wine from De Krans has won numerous Platter 5-star ratings, Veritas Double Gold medals and various other accolades in the past 20 years, or more.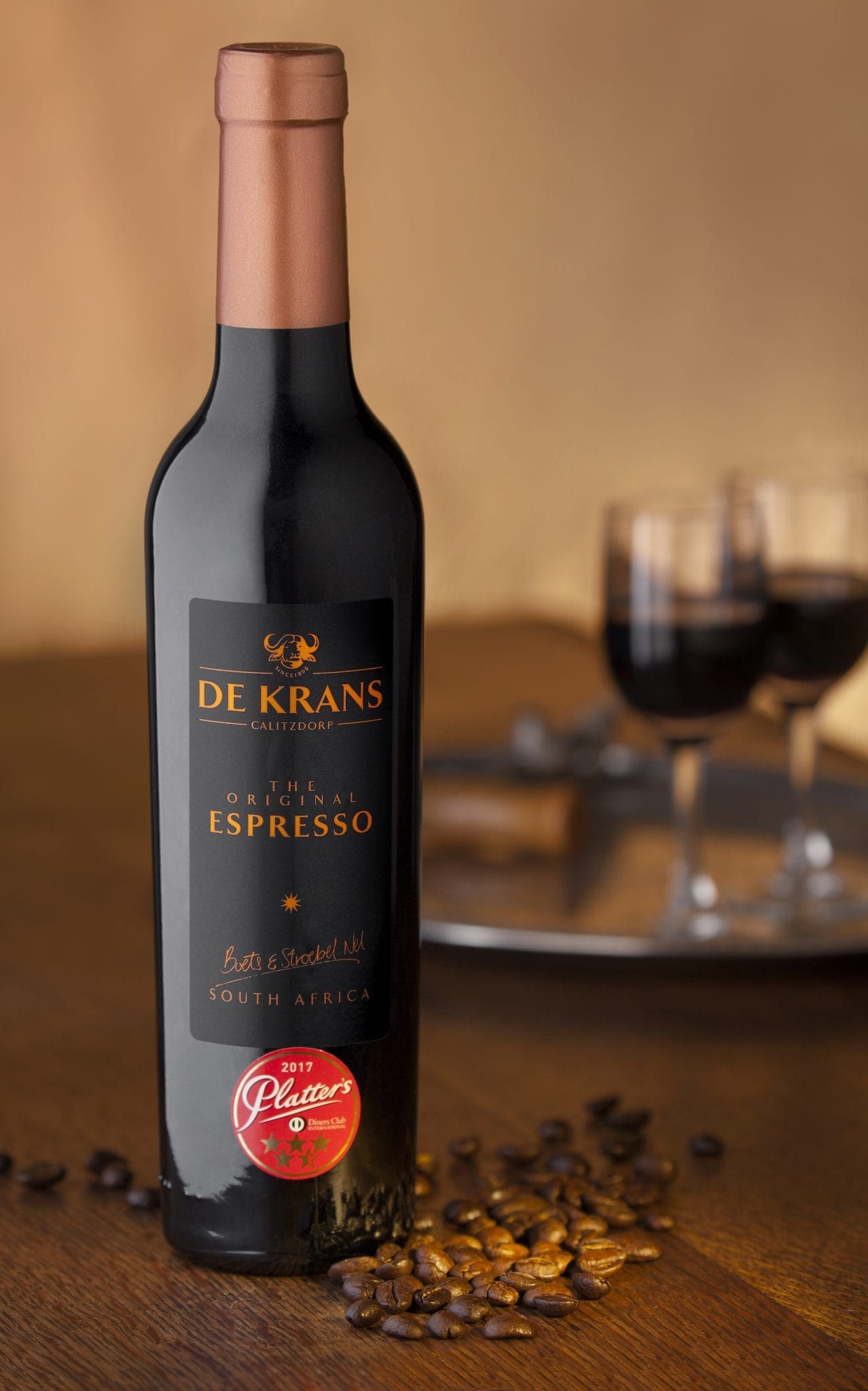 Lastly, port-style wines have taken up their rightful place as delicious and innovative cocktail mixers. De Krans produced the first Cape Pink in South Africa in 2008 and it has been a great success. As the name suggests, it is pink in colour, which is achieved by removing the juice from the skins of the grapes early during the production process. For a port it is drier that the other port-style wines, as well as a bit lower in alcohol – around 16% – and has fresh berry flavours as well as candy floss and a floral note. It works well with ginger ale and mint leaves, or mix it with ginger beer, bitters and a shot of gin. The options are endless here and there really is no wrong answer – it's all about playing around and finding that sweet spot that works well for you.
Another good example of a cocktail is the De Krans Espresso Martini. While the De Krans Original Espresso is not strictly speaking a recognised port-style wine, it is made from two Portuguese varieties, Tinta Barocca and Touriga Nacional. Instead, it is classified under our dessert wines and has a coffee, chocolate and spice flavour, owed to the heavily toasted oak with which it was in contact with. In addition to the Cape Pink and Original Espresso, the Cape Ruby also works well in a cocktail by adding a bit of tonic water.
Recommended retail prices: Cape Ruby, R95, Cape Pink R95, Cape Vintage R125, Original Espresso 375ml R95, Cape Tawny R259, Cape Vintage Reserve R375. These port-style wines are available in most liquor outlets in South Africa, as well as directly from the farm. For more information on De Krans and its interesting range of wines and port-style wines, visit the website.