IT really can't be overstated: Succession is brilliant television. It's been two years since the shocking season two finale, and season three – which landed on Showmax on October 18, a day after it premiered in the US – is keeping the tension tightly wound as Kendall (Jeremy Strong, above) takes on the mighty Logan Roy.
My review of the first three episodes (yes, they're weekly) will be up on The Plum List soon, but in the meantime, this is what critics are saying:
RogerEbert.com –  it "was a long wait, but the payoff is glorious… It's just as good as you remember it, if not better. … Season 3 swaggers with a new level of confidence. As the series itself so thoroughly explores, staying on top is no easy feat, but this new season manages to do just that."
"If Season 2 was a significant step up from the first," Empire Magazine says, "this third series is so miraculously funny yet mind-blowingly intense, Succession feels like it's now well on its way to reaching Sopranos, The West Wing, Mad Men-levels of excellence."
"Success hasn't spoiled Succession," CNN.com says of the series, which, "returns with all its Shakespearean and Murdochian overtones intact, with a bruising father-son battle over its fictional media empire…. The HBO series remains enormously fun."
Well, this one caught me by surprise; it wasn't even a blip on my radar. Maybe because it too has languished since 2019 between seasons two and three. It's been renewed for a fourth, and I could not be happier, even if it does mean I'm going back to rewatch and refresh (the story of my TV life, Narcos I'm looking at you). Sons Of Anarchy spinoff Mayans M.C. follows the life of Ezekiel 'EZ' Reyes (Emmy nominee JD Pardo from Twilight: Breaking Dawn Part II and Drive), a newly patched member of the Mayans M.C. biker gang on the California/Mexico border.
Once the golden boy with the American Dream in his grasp, EZ and his brother Angel (Clayton Cardenas from American Crime) are closer than ever after uncovering the truth behind their mother's murder while their father Felipe (Oscar nominee Edward James Olmos from Battlestar: Galactica) struggles to reconcile the choices he and his sons have made.
The cast also includes Critics' Choice nominees Sarah Bolger (The Tudors, Into the Badlands) and Raoul Max Trujillo (Jamestown, Riddick), Screen Actors Guild Award nominee Michael Irby (The Expanse, Barry), and Emmy nominee Richard Cabral (American Crime, End Of Watch), who was nominated for a 2019 Critics' Choice Award for Best Supporting Actor for Mayans M.C, as well as Emilio Rivera reprising his Sons of Anarchy role as Marcus Álvarez.
Mayans M.C. has an 86% critics' score on Rotten Tomatoes and was nominated for Best TV Action Series at the 2018 IGN Summer Movie Awards.
I binged Hacks a while back with DStv's Early Access feature, and it deserves every Emmy it was nominated for. The #2 show on Rotten Tomatoes' Best TV of 2021 (So Far), comedy-drama series Hacks centres on legendary Las Vegas comedian Deborah Vance, who takes on an entitled, down-on-her-luck Gen Z comedy writer in a bid to find fresh material and remain relevant as her performance dates start to dwindle.
Hacks was up for 15 Emmys, including Outstanding Comedy Series, with Jean Smart (Watchmen, Mare of Easttown) taking home her fourth Emmy as Deborah, and co-creator Luca Aniello winning Outstanding Director and sharing the Writing Emmy with Paul W Downs and Jen Statsky. This was just the fifth time a woman had won the Comedy: Directing category at the Emmys. Newcomer Hannah Einbinder and Carl Clemons-Hopkins (Candyman) were both nominated in the Outstanding Supporting Actress/Actor categories, while Golden Globe nominee Jane Adams (Hung, Happiness, Eternal Sunshine of the Spotless Mind) was nominated for an Emmy for Outstanding Guest Actress.
Already renewed for a second season, Hacks has a 100% critics' rating on Rotten Tomatoes, where the critics' consensus says, "A prickling debut that pulls few punches, Hacks deftly balances its sharp critiques of the comedy world with more intimate moments, all the while giving the incomparable Jean Smart a role worthy of her talents – and an excellent partner in Hannah Einbinder."
I haven't watched Love Life yet but it's on the list. I'm told it's an anthology series, and season two (from November 15) is supposed to be much better than season one. The new cast is led by three-time Emmy nominee William Jackson Harper (The Good Place, Midsommar, The Underground Railroad) as Marcus Watkins, who enters his 30s freshly divorced and as lost as ever. Forced to rediscover his identity as a single Black man in New York, Marcus must learn to find love again.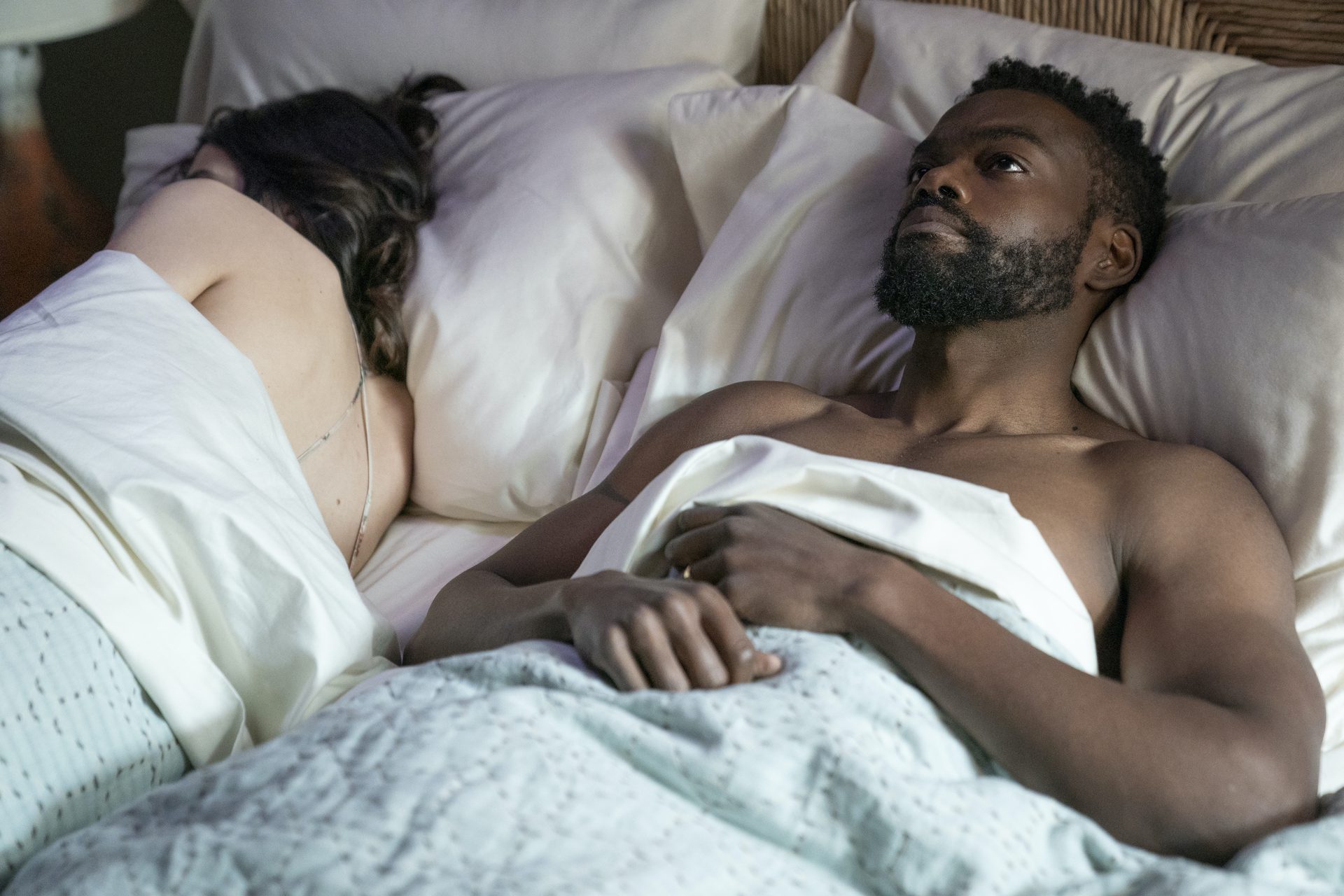 Season two has a promising 100% critics' rating on Rotten Tomatoes, with Variety hailing it as "a smart showcase for a talented actor who seizes it with both hands, giving the rom-com genre a jolt as welcome as it is overdue."
Black Reel winner Kimberly Elise (Diary of a Mad Black Woman, The Mosquito Coast) and Emmy winner Blair Underwood (L.A. Law, Dear White People, Agents of S.H.I.E.L.D.) co-star, with three-time Emmy winner Keith David (Greenleaf, Community and the voice of The Princess and the Frog's iconic Dr. Facilier) as the narrator this season. Season one star Anna Kendrick is back as a guest and also co-executive produces season two with four-time Emmy nominee Paul Feig (Zoey's Extraordinary Playlist, Bridesmaids).
Also on my list this month is I Hate Suzie, available to binge now. Suzie Pickles, a star on the wane, has her whole life upended when her phone is hacked and a photo of her in an extremely compromising position is released for the whole world to see. This excruciatingly honest show follows the various stages of Suzie's trauma episode by episode, through shock, denial, fear, shame, bargaining, guilt, anger, and acceptance as Suzie and her best friend and manager Naomi try to hold her life, career, and marriage together in the face of being exposed for who she truly is. But who the hell even is that?
I Hate Suzie was nominated for three 2021 BAFTAs, including Best Drama, Lead Actress (Billie Piper from Doctor Who, Penny Dreadful), Supporting Actress (Leila Farzad) and Writer (Lucy Prebble from Succession), winning the Emerging Talent BAFTA for director Georgi Banks-Davies. I Hate Suzie was also nominated for Best Drama at both the 2021 Broadcasting Press Guild Awards and the Royal Television Society Awards, among other accolades.
I Hate Suzie has a 95% critics' rating on Rotten Tomatoes. In its five-star reviews, The Guardian praised Piper's "truly astonishing performance" and called the show "exhilarating" and "scabrously funny", while The Telegraph praised it as "rude, crude and very, very funny." I think I'm going to enjoy it.
Rounding out November's diverse and well-balanced selection is BBC miniseries The Pursuit of Love, set in Europe between the two World Wars. It follows the adventures and misadventures of the fearless Linda Radlett and her best friend and cousin, Fanny Logan, as they seek out the ideal husband.
An adaptation of Nancy Mitford's celebrated 1945 novel, the romantic comedy-drama stars Screen Actors Guild Award winner and People's Choice Award nominee Lily James (War & Peace, Downton Abbey, Mamma Mia! Here We Go Again) as Linda, while Cannes Film Festival Best Actress Award winner Emily Beecham (Berlin, I Love You, Into The Badlands, Little Joe) plays Fanny. The cast also boasts the likes of Emmy nominee Andrew Scott (Fleabag, Oslo and Sherlock's Moriarty) and BAFTA winner and Golden Globe nominee Dominic West (The Crown, The Affair).
The directorial debut of actress Emily Mortimer (Mary Poppins Returns, Lars and the Real Girl, Match Point), The Pursuit of Love has an 87% critics' rating on Rotten Tomatoes, with London Evening Standard calling it "the most enjoyable period drama we've had in years… a love letter to women who want more, and a celebration of the right to be different. Nancy Mitford would approve."