WHO doesn't love magic? Like those who don't like wine or chocolate or kittens, I don't understand them and it makes me vaguely distrustful. But that's their problem. For the rest of us, there is Monday Night Magic.
Founded and produced by Marcel Oudejans of the Cape Town Magic Club, Monday Night Magic returns for its fourth season – making it the longest-running magic show in the country – on June 5 until July 31. For the uninitiated, allow me to explain.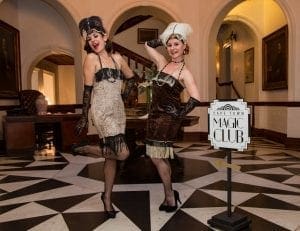 There are two shows every Monday night (in case that wasn't obvious before), at 7pm and 9pm. They take place in the coolest little theatre you could hope to find, in the basement of the Cape Town Club in Queen Victoria Street. Each show has a host – most of the time it's Marcel – a guest, a featured performer, and a headliner. You'll be ushered down the stairs and through the secret entrance (emphasising the mystical atmosphere) by members of Black Orchid Burlesque dressed in vintage 1920s flapper style which adds an extra touch of glamour. There, you can relax in the lounge and enjoy a drink from the bar while mingling with the magicians, before or after the show. It's the perfect photo opportunity for social media lovers.
I've attended shows in all three previous seasons, and seen many different magicians, mentalists and illusionists. Every time I walked out amused, amazed and awed. Part of me wants to ask how they do what they do (but we all know it's against the rules of magic to reveal that information) because it's just so damn unbelievable – and I usually sit right in front, as close as I can get; but at the same time I don't want to know. I would rather hold onto the childlike wonder for as long as possible.
Childlike, yes. Childish? Not at all. This is magic for grownups and there are age restrictions in place – no under-13s for the early show, and no under-18s for the late night performance, which can get a tiny bit risqué. This season, in addition to the magic, Diva Disastar from Black Orchid Burlesque will appear on three dates, just to shimmy and shake things up a little.
What you need to know:
When: Every Monday night, 7pm & 9pm, from June 5 till July 31, 2017
Where: Cape Town Club, 18 Queen Victoria Street, Cape Town
Ticket prices: Golden Circle R200, General Admission R170, Block booking prices available
Website: https://www.magic.capetown
Buy tickets: https://www.magic.capetown/tickets
Line-up of performers: https://www.magic.capetown/the-shows
PHOTO CREDIT: ANDREW GOREMAN