SOLO Studios – Intimate Art Encounters returns to the Riebeek Valley this month with what promises to be another highlight on the cultural calendar. Calling the event "Intimate Art Encounters" means exactly what it says. Seventeen artists' studios will be open to the public over the weekend of 18–20 August, with eight of these artists having invited external collaborators to co-exhibit in their personal spaces.
A further seven group exhibitions will be held at various galleries and venues, including two private art collections in exclusive guest houses. Spending time in the intimate spaces of the artists' studios will offer pass-holders an insight into their processes and inspiration. There is more information here.
I was part of a group invited to some previews of what to expect for the festival. After many visits to RK and gin and tonics on the veranda, I finally spent the night at the Royal Hotel. With the event only 10 days away, it's best not to waste a moment in booking your accommodation and making a weekend of it – as the organisers say, there is simply too much to absorb in a day, even if the town is an easy drive. Why rush?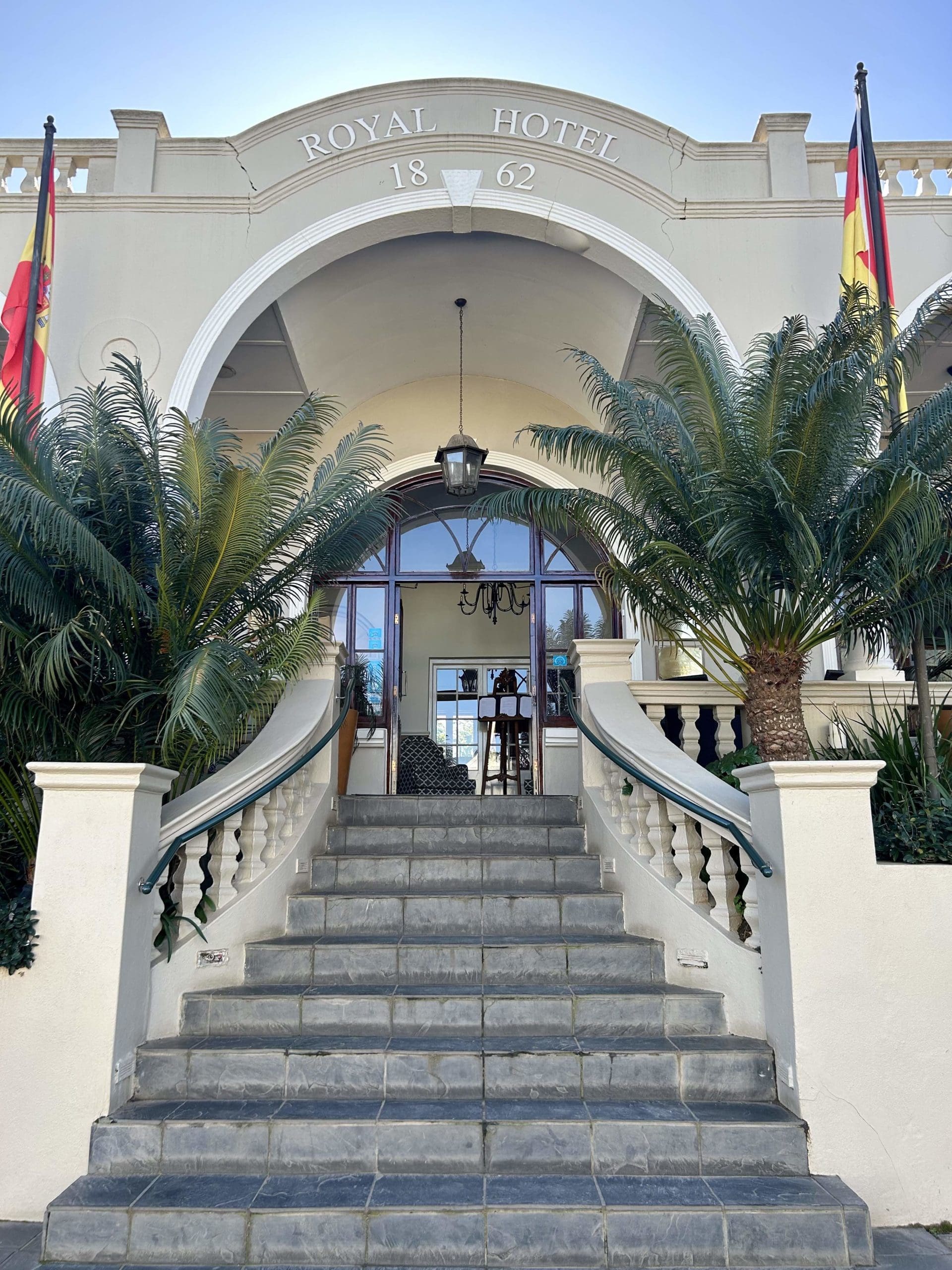 After meeting at the Riebeek Valley Wine Company Tasting Emporium, which is where visitors will begin their journey, we visited the Art House, or Kunshuis. It's mind boggling that this is the actual home of actual people who have chosen to fill it with magnificent art pieces – essentially a gallery. They live in a gallery. When they're not in Monaco.
The rest of the afternoon included a short performance by the Winelands Philharmonic Orchestra in the NGK, and visits to Pictorex (where I bought a beautiful photographic print), the For Life Centre, and to the studios of Ade Kipades (I love his abstracts) and Tamlin Blake, who wears many hats including that of chief curator for the Spier Arts Trust. There is more information on these below.
The next day, I went to visit my friend Almo Geldenhuys who relocated to RK in 2020. Not only was it a wonderful catch up, which saw me staggering under the weight of a huge bag of oranges plucked from the tree in his garden, but he's also hosting one of the Long Table dining events next weekend. I'll be covering that in a separate story.
And then, since I was more or less in the area, I popped over to Morreesburg to Morrees Deli & Bakery which is owned by two other dear old friends. Carien makes the most amazing sourdough breads and is championed by Riebeek Kasteel's Julien Debray, chef patron at Au Bouchon Rouge Brasserie which is right next door to the Royal Hotel. On Monday, August 28, there will be a collaboration between Carien, Julien and the Riebeek Wine Valley Emporium which includes a sourdough workshop, wine tasting and three-course dinner. Carien's bread is fantastic, as is Julien's food (being a real Frenchman and all) so I recommend you book for this quickly too. Details here.
It was altogether a rather marvellous 24 hours, which saw me rushing back with a precious cargo of frozen sourdough croissants from Carien, which had to go into the oven before they, I don't know, mutated or something. Whatever it is that sourdough does when you look away for a moment. Here is more information on Solo Studios.
For the event this year some exciting and relevant peripheral activities have been included to enhance the weekend art experience. The event will reach a crescendo on Sunday afternoon 20 August, with the performance of the Solo Symphony Concert by the Winelands Philharmonic Orchestra and featuring a collaboration with the local Riebeek Valley Steelband.  Expect original compositions to form part of this collaboration.
One of the reasons for the continued success of Solo Studios is an element of voyeurism. Rather than purchasing a work of art from a gallery or even online, Solo Studios offers the opportunity for the art lover to enter into the personal realm of the artist, in many cases within the confines of their home studios.  It is here that the buyer gets to meet the artist, and gets to understand their processes and inspirations.
For this year's edition, Klaus Piprek, co-founder and director, pushed the envelope a little further by extending an invitation to the creative community of Riebeek Valley to participate in a collaborative film production project, and challenging the artists to expose a single element which inspires them, in a production titled MONOMANIA.
MONOMANIA is defined as possessing an exaggerated or obsessive enthusiasm for or preoccupation with a one topic.  Seven artists, art fundis and poets participated in the project, all becoming amateur film makers in the process and exposing their inner obsessions.  The result is an eclectic compilation covering topics from womanhood, sexuality and erotica; to poverty, mental illness and depression; to motion, artificial intelligence and literature.  The seven short films are woven into a collaborative production of one hour.
A recurring highlight of Solo Studios has been the inspiring talks by leaders in their respective fields.  The 2023 edition promises to add to that legacy. Tamzin Lovell is the founder and CEO of Artfundi, a software platform that empowers art businesses through technology. She will present two talks, namely Art and Technology: Transforming Cultural Life and the Future of Artists, and The Living Legacy of Uche Okeke: Bridging Past and Present in Artistic Expression.  
Dr Nicky Terblanche, an academic, researcher, and entrepreneur, holds a PhD in Leadership Coaching and a Master's in electronic and software engineering. As a senior lecturer at Stellenbosch Business School, his expertise lies in AI coaching. He founded CoachVici.com, an organisation creating AI coaches, and leads research at Ovida.org. With more than 30 published research articles and book chapters, he frequently speaks at international conferences on AI's history, developments, ethics, and relevance to the art world. Nicky presents a talk on Artificial intelligence (AI) – what's all the fuss about?
The inspiring rise of wine sommelier Joseph Dhafana is well known, and his participation as captain of the Zimbabwean wine tasting team at the world blind tasting championships has recently been captured in the film Blind Ambition.
Joseph started his unlikely journey in Riebeek Kasteel, where, as an economic refugee from Zimbabwe, he got his first job as a gardener before being promoted to barman. Today, Joseph produces his own range of wines, and his meteoric rise to one of the most recognisable young figures in the wine industry is nothing short of remarkable.
Joseph returns to his roots in Riebeek Kasteel for Solo Studios 2023, where he will host two screenings of Blind Ambition, whereafter he will engage with the audience and give them some insight into blind wine tasting of some of his wines.
Another activity which has become a favourite at Solo Studios is an opportunity to be invited to long tables presented by some of the valley's finest hosts and chefs.  The 2023 edition includes offerings by Aardvark Eats, Kokos Huis with Intellego Wines, The Valley Deli with Allesverloren Wines, Olive and Vine (Almo's one), The Royal Hotel & Chef Giuseppe with Arbeidsgenot Wines. Due to previous popular demand, some Long Tables will be hosted on both Friday 18 and Saturday 19 August, and some of these are already sold out.
Giving back to the larger community was one of the founders' main objectives when establishing Solo Studios in the Riebeek Valley. Since its inception in 2016, the weekend has become increasingly popular in artistic circles.
Every year, this intention has materialised through donations to community projects. One of the more recent beneficiaries is the For Life Centre. This year, Solo Studios takes it a step further by including both the Riebeek Valley Steelband and the recycling art of the For Life Centre in the official programme. Visitors will have the opportunity to witness this art and its creation first-hand.
Mark Graham-Wilson and his colleagues established the For Life Centre last year as a community centre for art and mental health resources, with the aim of individual personal growth, community upliftment and development, reconciliation, and social cohesion. For Life strives to provide a sanctuary, especially for young people, where these objectives can be achieved by discovering meaning and purpose.
Pictorex is a printing studio and photographic gallery that offers more than 50 artists in the Riebeek Valley the option of printing of world-class quality.
With a passion and philosophy that true photography and art truly come to life in printed form, photographers William and Mary Walker provide a special service to the art community. Pictorex's exhibition as part of this year's Solo Studios includes a wide variety of art and photography.
Some of the participating artists have been involved in Solo Studios weekends for quite some time. Among them are Greta McMahon, Jacky Lloyd (sculptor), Leila Fanner, Louisa Gerryts, and Tanya Majo. Besides photos by William and Mary, works by Ad Goedhart and Rudolph Willemse will be displayed again. This year, there are photos by Linda Harrison and Johan Viljoen.
The official programme of exhibitions and events for Solo Studios 2023 closes on the afternoon of Sunday, 20 August. Join the locals – artists, musicians, staff and other residents – for an afterparty at La Parrilla (opposite the Royal Hotel).
The scenic Riebeek Valley is less than an hour's drive from Cape Town and other cultural centres such as Stellenbosch, Paarl and Franschhoek. Accommodation in the two small towns is limited and patrons are strongly encouraged to book tickets and accommodation well in advance. There is a variety of options of passes, from a Day Pass at R150 to a Premier Weekend Pass at R395. Peripheral activities may incur a surcharge.
For ticket sales and more information, click here or  call Shawn Hewitt on 082 528 6785.