FORMERLY a private residence and still owned by the family who used to live in it, The Light House is a graceful retreat in the heart of suburbia, where you will be pampered and spoiled by your convivial hosts, general manager Darrol Buckton and operations manager Hendrik du Toit, and their team.
There are only five suites, each individually named and decorated with a different theme. The abundance of glass and mirrors and chandeliers throughout – particularly in the bathrooms – give this property its name; it's all about the light, and not the beacon that stops ships from running aground.
On the first night I was the only guest so I got to peep into all the suites. Afro-Chic is all sandy neutrals with accents of animal print and subtle splashes of colour; The Hamptons is inspired by New York's Long Island paradise of the same name, a fashionable vacation spot for the affluent. It's decorated in calming shades of blue with touches of natural hues and rose. Bedford Manor is the honeymoon suite with a mahogany four-poster bed taking centre stage in this modern interpretation of a classic Cape Dutch manor home.
Manhattan reflects the vibrant edgy urban energy of New York, with subtle Art Deco touches and clean, uncomplicated design lines; and saving the best for last, my suite was the magnificent Mayfair, which echoes opulence and glamour from the early Georgian era with a palette of mink and silver, ornate in design with rich finishes that complement the antique furnishings. I was besotted.
Buckton and Du Toit not only oversee your every need, but they were responsible for the transformation from family home to boutique hospitality. Their background is in various disciplines of design (stage, film, fashion and interiors) where they acquired a wealth of references upon which to draw, and it shows in the exquisite and harmonious décor. What was new to them, however, was running a guest house and at this they excel naturally.
When I say they oversee your needs and whims, let me explain that they listen to you, whatever you are rambling on about, and then quietly act upon it later. I mentioned I needed to stop to buy a copy of Weekend Argus; the next morning it was laid next to my breakfast setting. I waffled on about loving daisies; the little flowers decorated my plate of eggs and bacon. You like pink? Your glass dish of sweets and chocolates on the bedside table will be tied with pink ribbon. That there were vases of pink roses in my suite was a happy coincidence. A personal and elegantly scripted card welcomed me, and there were so many of these thoughtful touches that I eventually lost count as I fell in love with these men as hard and fast as I fell in love with the property.
Upon arrival I had been greeted with a glass of chilled bubbly from Avondale, before we sat down for afternoon tea. The lounge is as gorgeous as the rest of the house, and I was urged to kick off my shoes and relax. A spread of cakes, cucumber sandwiches (obviously) and the most heavenly home baked scones with butter, strawberry jam and huge dollops of whipped cream, was set out on the table between delicate rose-patterned china and petals sprinkled between them.
While the tea – and breakfasts – are glorious affairs with all the to-die-for baked goodies, dinner is served only on request, with reasonable time notice. Your hosts, however, will be happy to offer advice on nearby restaurants, and wine farms with restaurants – like Faber at Avondale, and The Red Table at Nederburg. I visited the latter – Du Toit insisted on driving me so I could enjoy my wine – and had a fabulous meal there.
Earlier, I had visited the Visitors' Centre, where you can taste and buy Nederburg's selection of wines across its multi-tiered range. A personal recommendation is the popular Cabernet Sauvignon tasting to experience for yourself why Nederburg has earned an almost unassailable name for itself in crafting Cabernet Sauvignons of distinction. You can learn more about Nederburg and its rich history by booking an informative guided tour of the state-of-the art cellar (spoiler: it's huge) and other points of interest, such as the manor house and Old Cellar Museum that tells the Nederburg story in wonderful artefacts and pictures.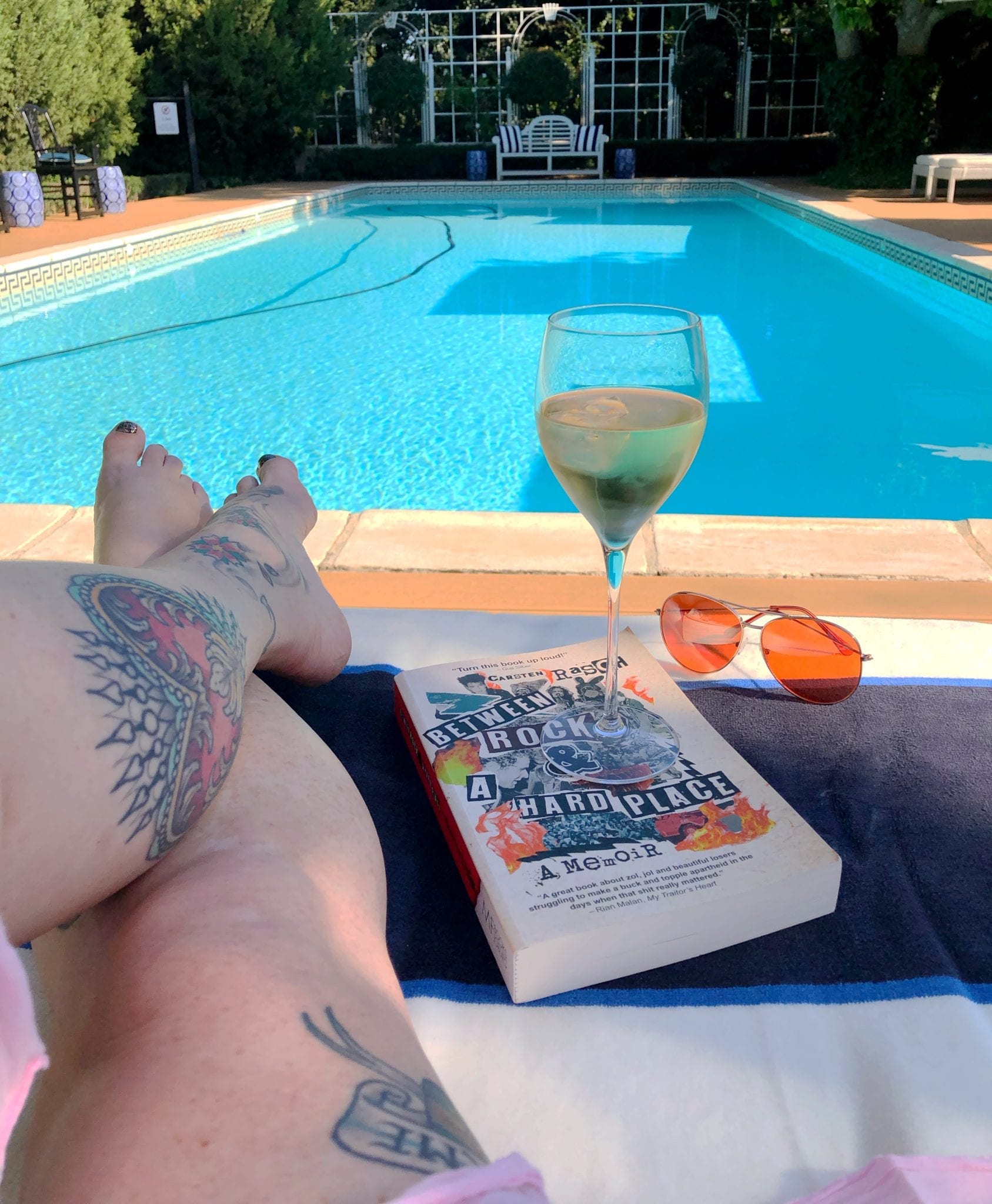 The season for swimming might be drawing to a close for all but the most adventurous, but a warm sunny autumn afternoon at the pool, with a bit of wine brought back from Nederburg, was just the ticket.
THE LOWDOWN
Light House Boutique Suites, 2 Lille Street, Courtrai, Paarl
Telephone: 021 863 4600
Email: [email protected]
[email protected]
Website: www.thelighthouse.co.za
Nederburg, Sonstraal Road, Dal Josafat, Paarl
Telephone: 021 862 3104
Email: [email protected]
The Red Table
Telephone 021 877 5155
Email [email protected]
Website: nederburg.co.za
PHOTO CREDIT: BIANCA COLEMAN ©
This story first appeared in Independent Travel on May 4, 2019