STEAM train travel is without a doubt an incredibly romantic trip down the memory tracks (possibly our parents' or grandparents') but there are a couple of things I didn't know, didn't occur to me, or had forgotten from previous journeys.
For example, it never crossed my mind the expedition would be interrupted at several intervals. We were on board the train from Cape Town to Elgin Railway Market; operated by Ceres Rail Company, the locomotives pull restored vintage carriages on this route every second Saturday. It had been a crackingly early start – rising well before dawn to be at the departure point opposite the Royal Cape Yacht Club at the appointed time of 7.40am.
It was worth it though, to see the majestic locomotives emerging through ethereal billowing clouds of smoke and steam, hissing and chuffing as they approached the carriages. I'm no Sheldon Cooper but I am rather fond of trains, and this kind is particularly appealing. I hadn't even got inside, and I was entranced.
Our carriage was a surprise – instead of the kind of seating you might expect, in rows, it was furnished with comfortable couches and armchairs. So frightfully civilised. We were conveniently more or less in the middle, with the bar carriage in one direction, and the dining car in the other. You can get your drinks from the bar and enjoy them in your seat, but coffee and similar are sit-down only in the dining carriage. Good thing I wanted wine, and apparently it's quite acceptable at 8.15am.
It takes quite a while to get completely out of the city but once we reached Somerset West and began the climb over Sir Lowry's Pass, the outing truly came into its own, scenery-wise.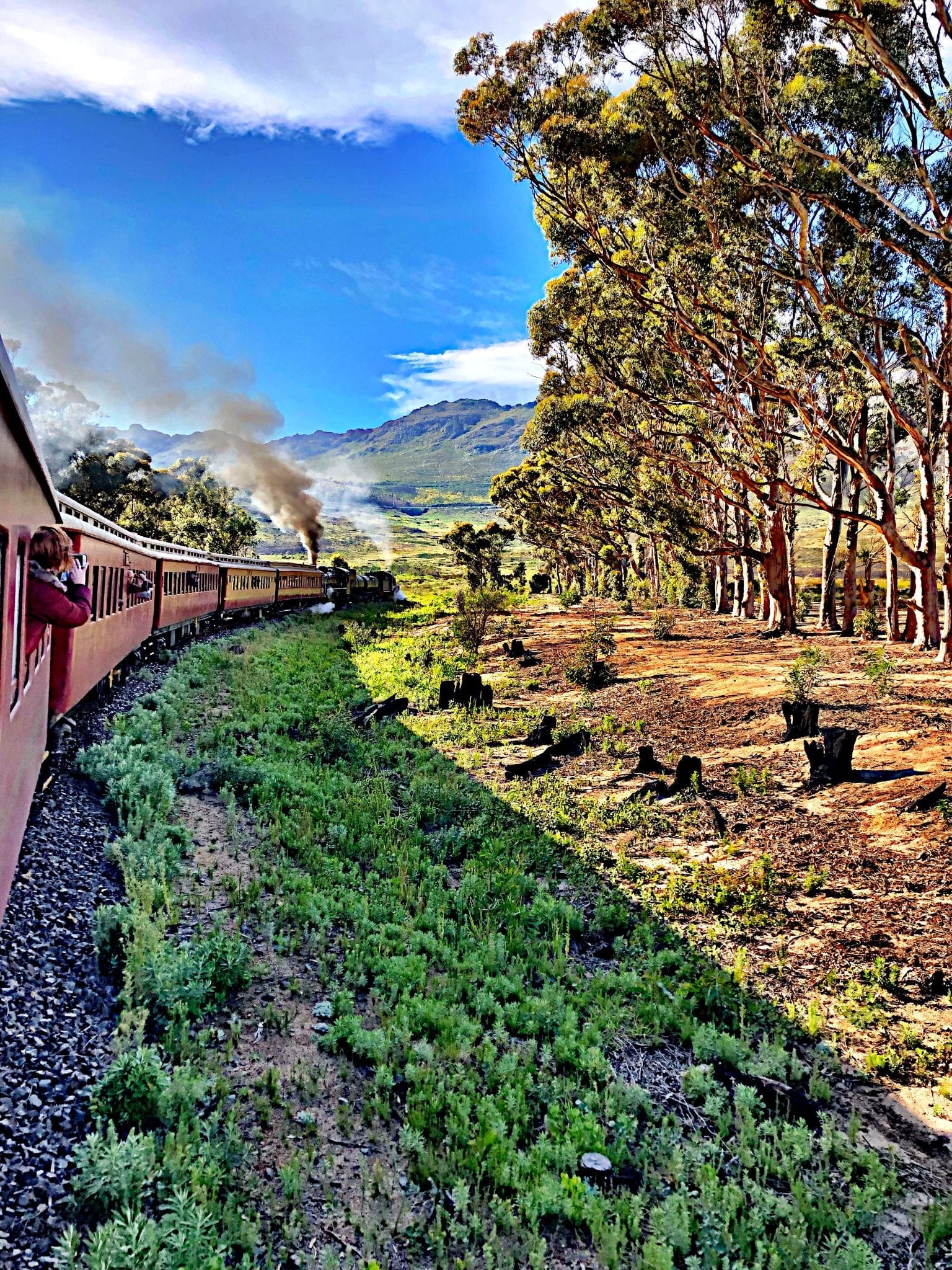 But first, we had to stop for a bit so as to "build up steam". Literally.
There was a soot-smeared man on top of one of the locomotives (there were two), shovelling coal like a demon to get us up and over the mountain. This was the detail that had eluded my expectations…no wonder it takes three hours to get there.
The other made itself clear as I stuck my head out the window so as to see the train snaking around the bends over the pass: you will get a face-full of gritty soot if you're not careful. I think it all adds to the charm, and I was happy to pay the price.
The train arrives in Elgin at about 11.30am, to much cheering and fanfare from the spectators at the market, which is right alongside the platform.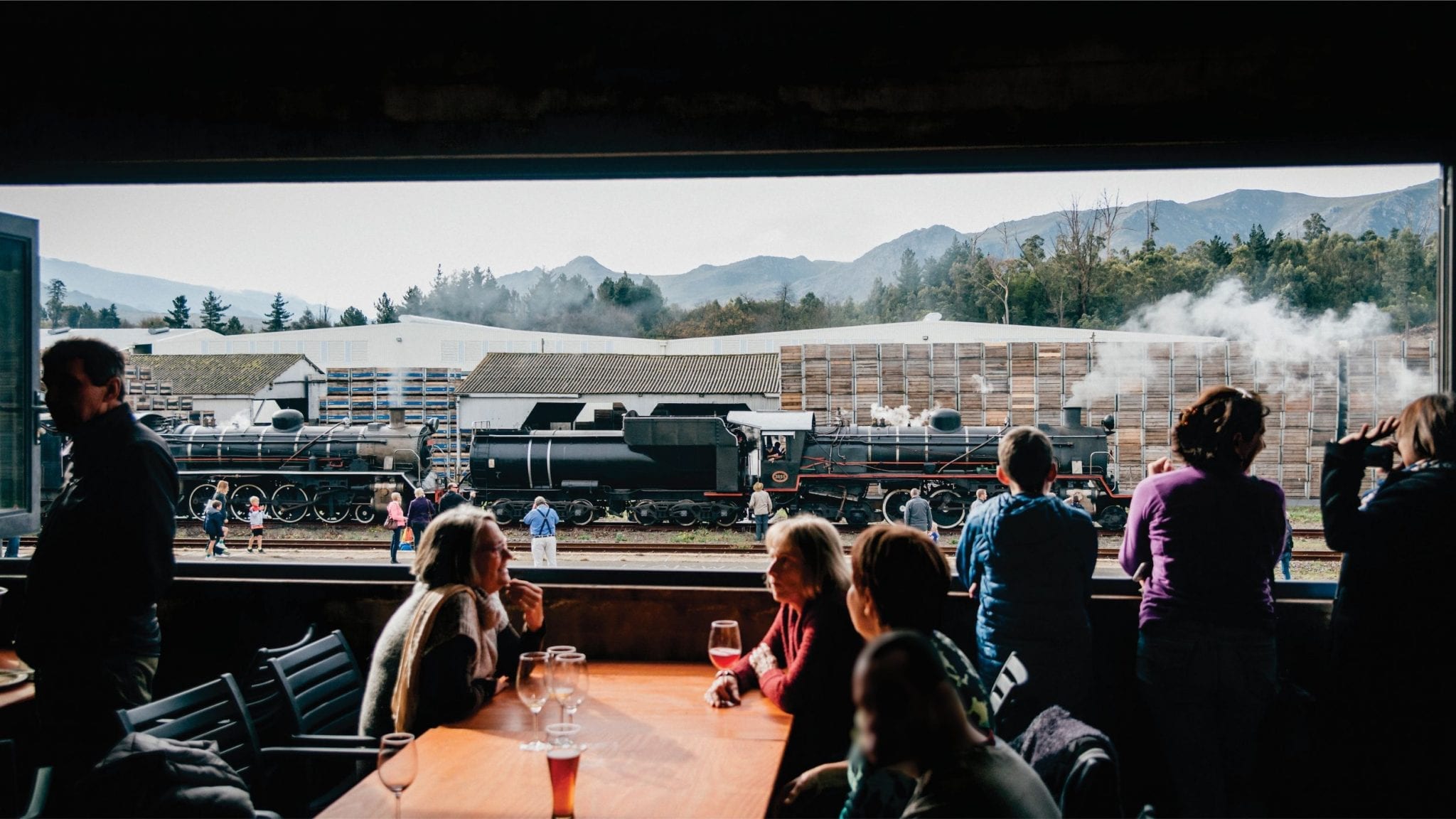 The brainchild of businessman Roger Orpen, who took his creative cues from the invention of steam and the industrial age and converted the old apple warehouse into a bustling steampunk station market, it opened in June this year. Inside are live music, lots and lots of food and drink, art, jewellery, clothing and more.
I was immediately whisked off to the bar for a refreshing and restorative beverage. Sue Harper and her friends love drinking gin and she says they could never understand why there was no "apple infused" gin on the market, that they knew of.
"We approached a local gin maker for some help and guidance, they were amazingly kind and patient with us," she says. "We not only wanted to make a nice gin but also wanted to use products from the local valley to infuse our gin, hoping to promote Elgin too. We decided on the name L-Gin long before the actual gin was made as we loved the play of words, and also thought the name was fun."
I agree with her about the clever name, and the drink was suitably delectable (and pink, my favourite colour).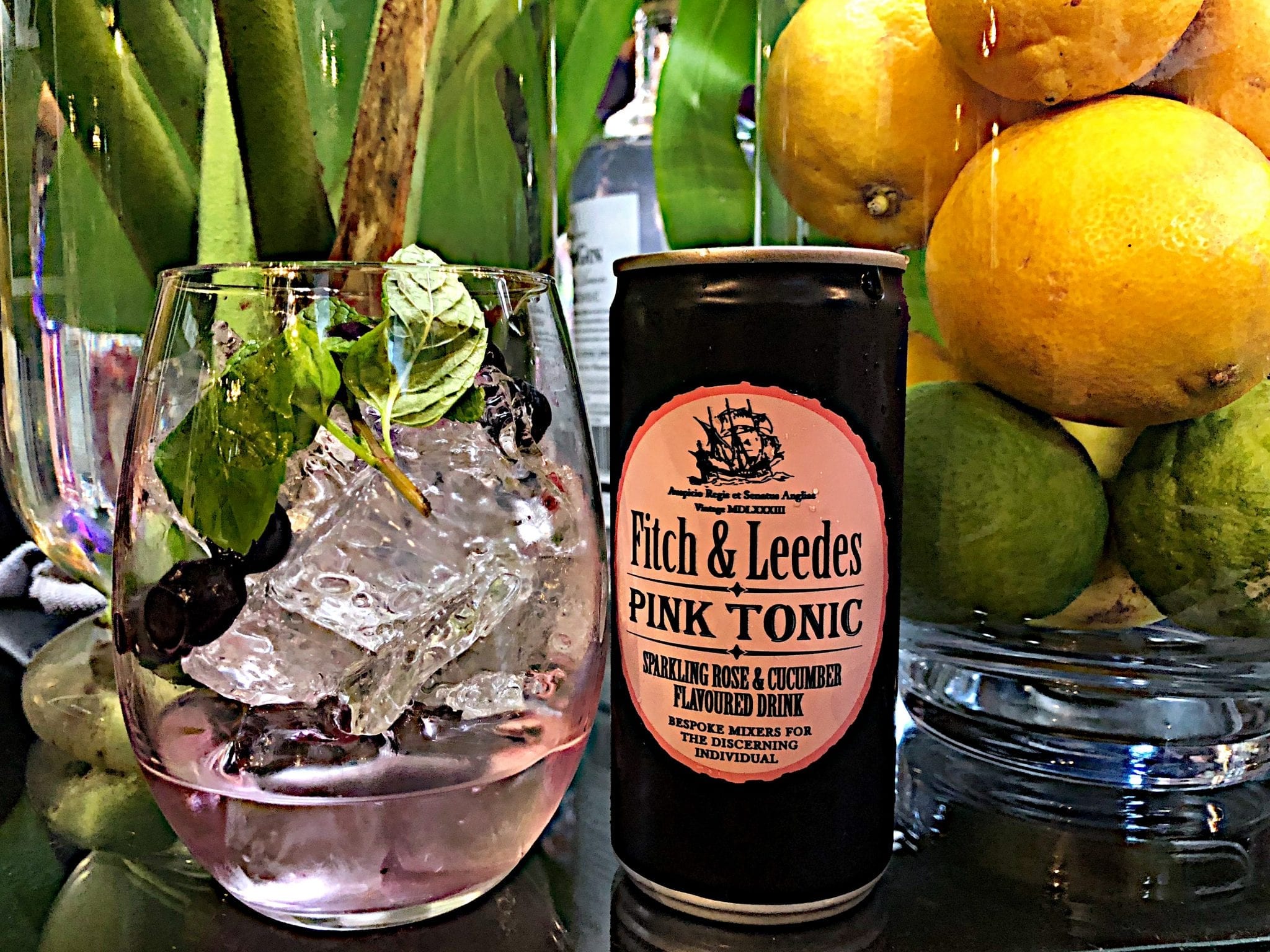 After a bite to eat and a spot of shopping for some exquisite and unusual clothes, it was time to head home. The train departs for the return leg to Cape Town shortly after 2pm, but if you're self-driving to Elgin perhaps you'd like to explore the wine farms and other attractions in the area. You can find out more about these from the Elgin Leisure Tours kiosk at the market.
The Elgin Railway Market is open Fridays 4pm till 8pm, Saturdays 9am till 8pm, Sundays 9am till 5pm, and the work space is open during the week from 9am till 5pm. Free parking is available.
CONTACT DETAILS
Address: Oak Avenue, Elgin Village, Elgin
Telephone: 021 204 1158
Email: [email protected]
Website: www.elginrailwaymarket.co.za
Ceres Rail Company: www.ceresrail.co.za