THERE is never a better time to be eating out than during winter in Cape Town. Fabulous specials are everywhere you look and every year I hope to try as many of them as possible.
A word of caution, however: not all specials are created equal. Frankly, I'm not after the free cup of coffee or glass of wine. Nope. We want the good specials. The specials that are true value for money. The ones that make putting on a bra worthwhile.
Foxcroft is one of those places for which we'll don underwear. Pants even. It's earned its great reputation, and if you've been waiting for an affordable chance to try it out, now is the time. Divine Lady D and I went there last week for lunch (because the special is a lunch one so it made sense). It wasn't a particularly wintery day at all, jolly hot in fact, but luckily these things are not weather dependant. Plus we could sit outside under an umbrella and admire the handsome fish in the pond. The netting which covers the water is probably because I'm not the first one to speculate as to how good a meal they'd make.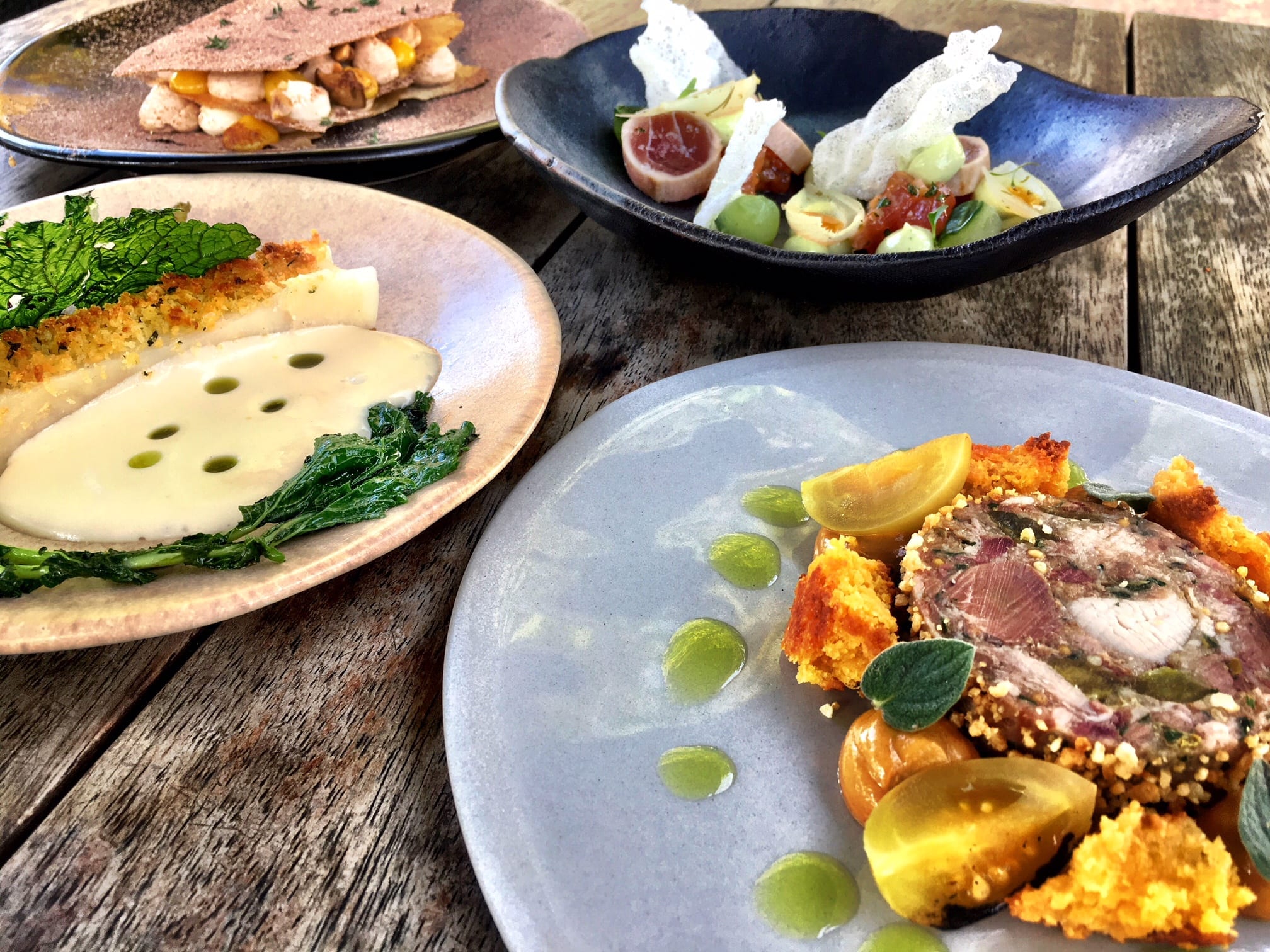 For this special, you can have two, three or four plates and it's very convenient that the menu comprises eight dishes. This meant we could gesture extravagantly at the menu and say "bring us one of each please!" This was only possible because we weren't planning to have dessert – of which there are four. From previous experience, I can advise you to consider this because the sweet dishes are quite spectacular.
Our palates were primed with gorgeous champagne poached oysters before the first round of four dishes arrived: seared tuna tatami with chipotle, avo, cucumber and rice puffs; turnip gratin with roasted onions, capers, crunchy parmesan and lemon thyme; chicken and ham hock ballotine with pickled green tomato, cornbread and marjoram; and sunchoke mille feuille with pickled mushroom, naartjie, hazelnut and burnt onion.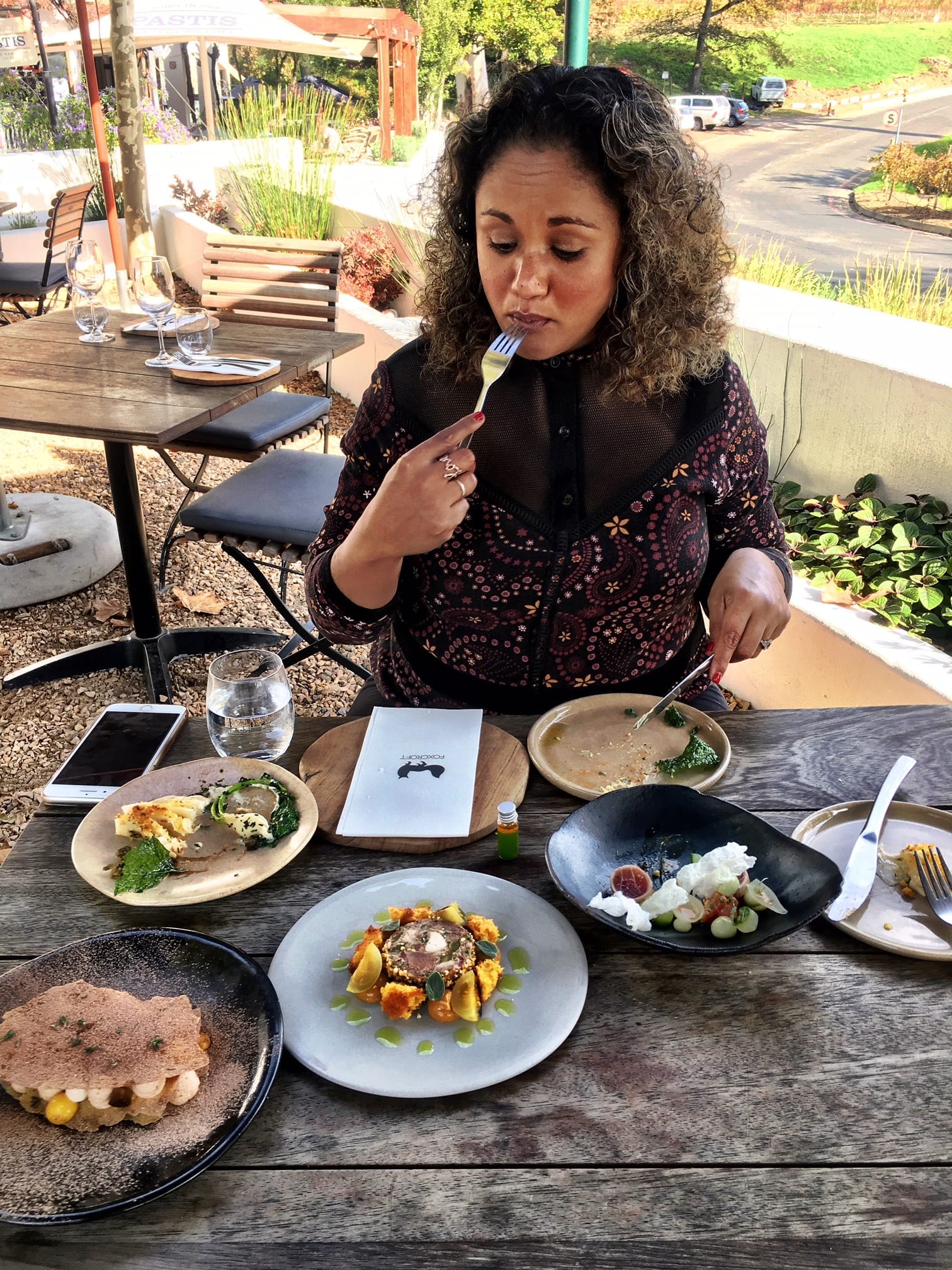 We wiped that out and the next selection arrived: free range pork collar with gochujang, white cabbage, sweet potato and kimchi; mushroom cannelloni with hazelnut, carrot, beetroot, and sherry veloute; yakiniku line fish with aubergine, sweetcorn, chicory, nori and a sprinkling of puffed rice; and our favourite – chicken and sweetbreads with spicy cauli, kohlrabi and tatsoi.
While there wasn't one we didn't enjoy, that chicken was amazing and sweetbreads are so delicious when you get past what they are. The cannelloni was a colourful riot on the plate, proving vegetarian is not synonymous with boring. While I've singled out these two dishes, all were wonderful and beautifully plated, and the creativity and use of more unusual ingredients is to be applauded.
The Foxcroft winter lunch special is valid on weekdays until July 31, 2018: two plates R195, three plates R245, four plates R295.
Click here to book, or call  021 202 3304
PHOTO CREDIT: BIANCA COLEMAN