THERE is so much power in the plant kingdom for health and healing. And from vibrant fruits and vegetables, irresistible nuts and grains, to wonderfully delicious and umami-rich mushrooms, it's all really good eating.
That does not mean you have to turn vegan or vegetarian for a lifetime, or even a day. Setting the record straight, Kathy McManus, who is the Director of the Department of Nutrition and Director of the Dietetic Internship at the Brigham and Women's Hospital, a teaching affiliate of Harvard Medical School in Boston USA, explains that: "Plant-based or plant-forward eating patterns focus on foods primarily from plants. It doesn't mean that you never eat meat or dairy. Rather, you are proportionately choosing more of your foods from plant sources."
But why choose grilled mushrooms over a beef burger, you may ask, even if it's only occasionally? Well, the health benefits of eating mushrooms and other plants are scientifically proven and well documented.
The Permanente Journal, which aims to advance knowledge in scientific research, clinical medicine and innovative health care delivery, in a recent nutritional update wrote: "Research shows that plant-based diets are cost-effective, low-risk interventions that may lower body mass index, blood pressure and cholesterol levels. They may also reduce the number of medications needed to treat chronic diseases."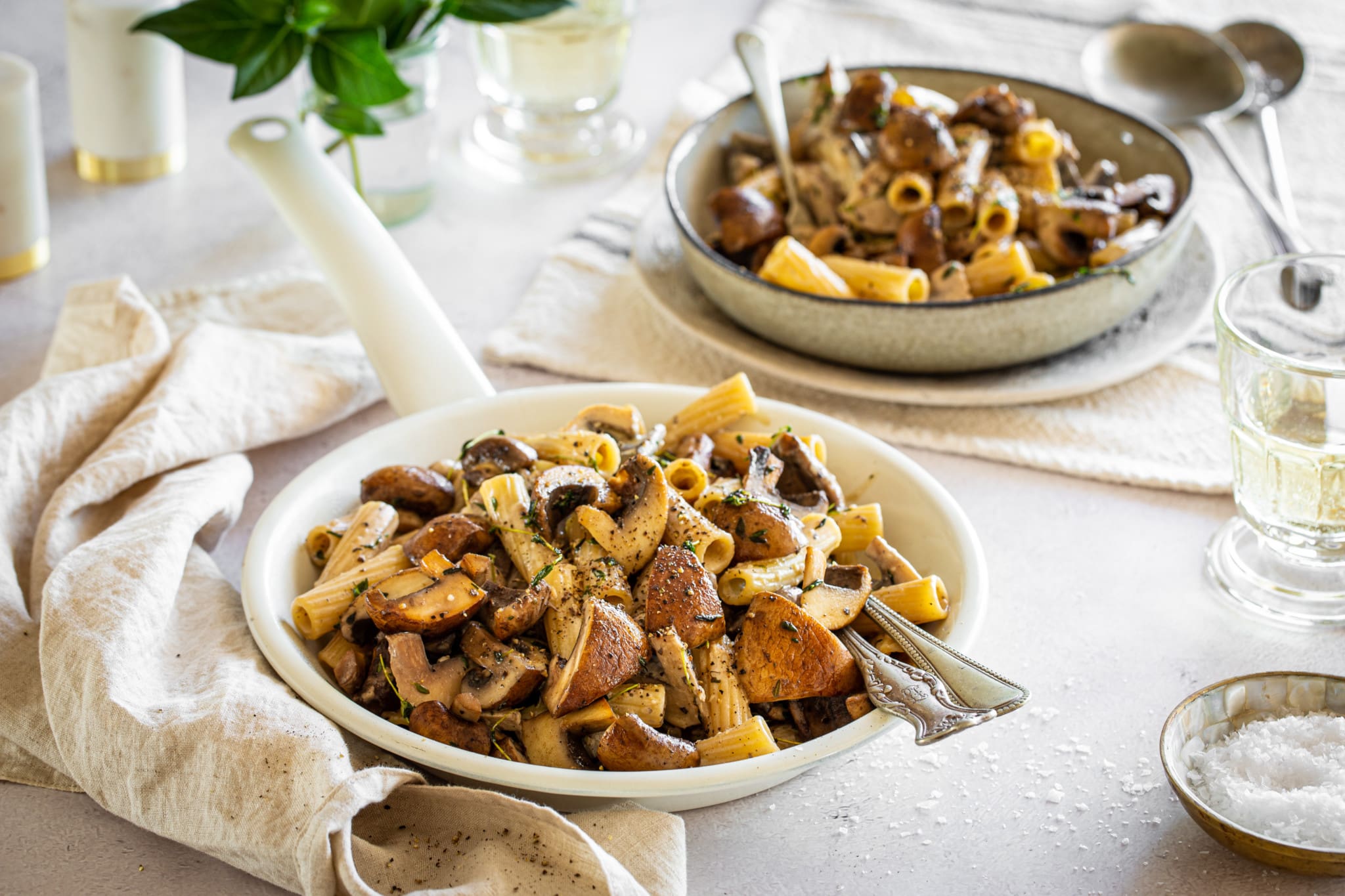 If you don't want to forgo animal products, mushrooms really are an amazing companion food to meat or an excellent meat-substitute due to their meaty texture and adaptable taste profile. They are also easy to find and prepare, making mealtimes a cinch. 
A 2016 US study using mushrooms as a plant-based alternative for meat found "that the most important drivers of liking were flavour and texture", with a meat and mushroom blend being highly palatable to participants. 
Some of your family's favourite dishes can be made with a mix of equal parts meat and fresh mushrooms, a trend known as blendability (look for the #) – think meat feasts like bobotie, lasagne and meatballs. Just chop fresh mushrooms finely and substitute gram for gram for half the meat in whatever you are cooking. This instantly lowers the kilojoules of the dish and ups the deep savoury umami flavour.
In addition, mushrooms can be used to bulk out foods and feed a crowd. They're perfect for adding to creamy chicken bakes, stews, pie fillings or even breakfast frittatas. The possibilities are only limited by your imagination.
"For many years (mushrooms have) been used for their unique ability to add flavour in lots of different cultures' cuisines. Mushrooms allow you to add extra taste without sodium or fat," states Rena Goldman, writing for the peer reviewed medical and health site Healthline.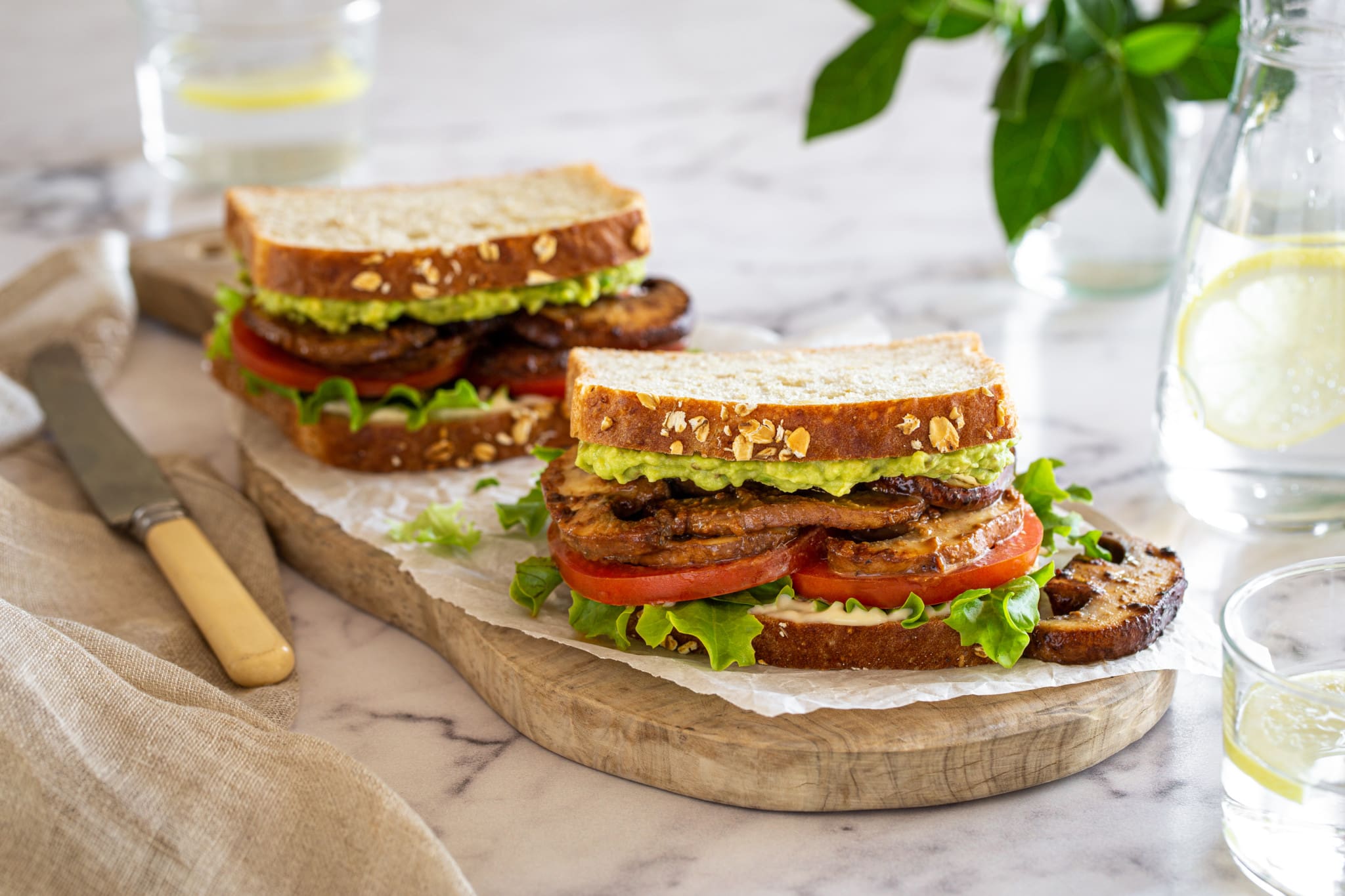 "You can't go wrong with mushrooms," says Rena. "They're fat-free, low-sodium, low-kilojoule, and cholesterol-free. They're also packed with fibre, vitamins, and minerals. Nutritional benefits vary depending on the type of mushroom. But overall, they are a good source of antioxidants, beta glucan, B vitamins, copper and potassium."  
Indeed, besides the obvious fact that they provide meal-time satisfaction, mushrooms have the most remarkable medical properties. According to the Harvard T.H. Chan School of Public Health, "perhaps the more interesting properties of mushrooms are their non-nutritive plant substances – polysaccharides, indoles, polyphenols, and carotenoids in which cell and animal studies have shown antioxidant, anti-inflammatory, and anticancer effects."
The anti-inflammatory properties of fungi are fantastic for healing the human body, and Medical News Today has highlighted that eating a plant-based diet "may serve as a complementary therapy for many conditions that become worse with chronic inflammation." Try adding more mushrooms to your eating plan to reap the easily accessible antioxidant and anti-inflammatory benefits.
Sadly, there are many myths around plant-based eating, including that you may be nutrient deficient and will always be hungry. The truth is that "plant-based diets offer all the necessary protein, fats, carbohydrates, vitamins, and minerals for optimal health, and are often higher in fibre and phytonutrients," insists Kathy. 
Nutritionists worldwide agree that mushrooms and plants are the most nutritious foods you can eat. As for hunger, we all know that not all kilojoules are created equal, and comparing cake kilojoules with vegetable kilojoules does not equate. Vegetables and mushrooms particularly are packed with fibre, which fills you up and keeps you fuller for longer, while generally lowering your kilojoule intake overall.
Something also to consider as you make your food choices is the ability of plants to protect and refresh the earth as they grow, with mushrooms being able to restore soil and many eco-scientists proclaiming mushrooms as one of the answers to climate change, with commercial mushroom cultivation being a highly sustainable crop.
Fungi are good for you and good for the earth – that's the real magic of mushrooms. And whether you serve them in a sauce on your beef burger, grill Portabellos as the patty, or even use them in place of the buns, once you move to mushrooms you'll happily never look back.
Simply put, the diverse flavours of mushrooms can expand your palate and reinvigorate your appetite and tastebuds. Click here for plant-based burgers, pizza, buddha bowls and curries that will open up your world.
Instagram | Facebook | Twitter
MUSHROOM GRAIN BOWLS WITH GREEN GODDESS DRESSING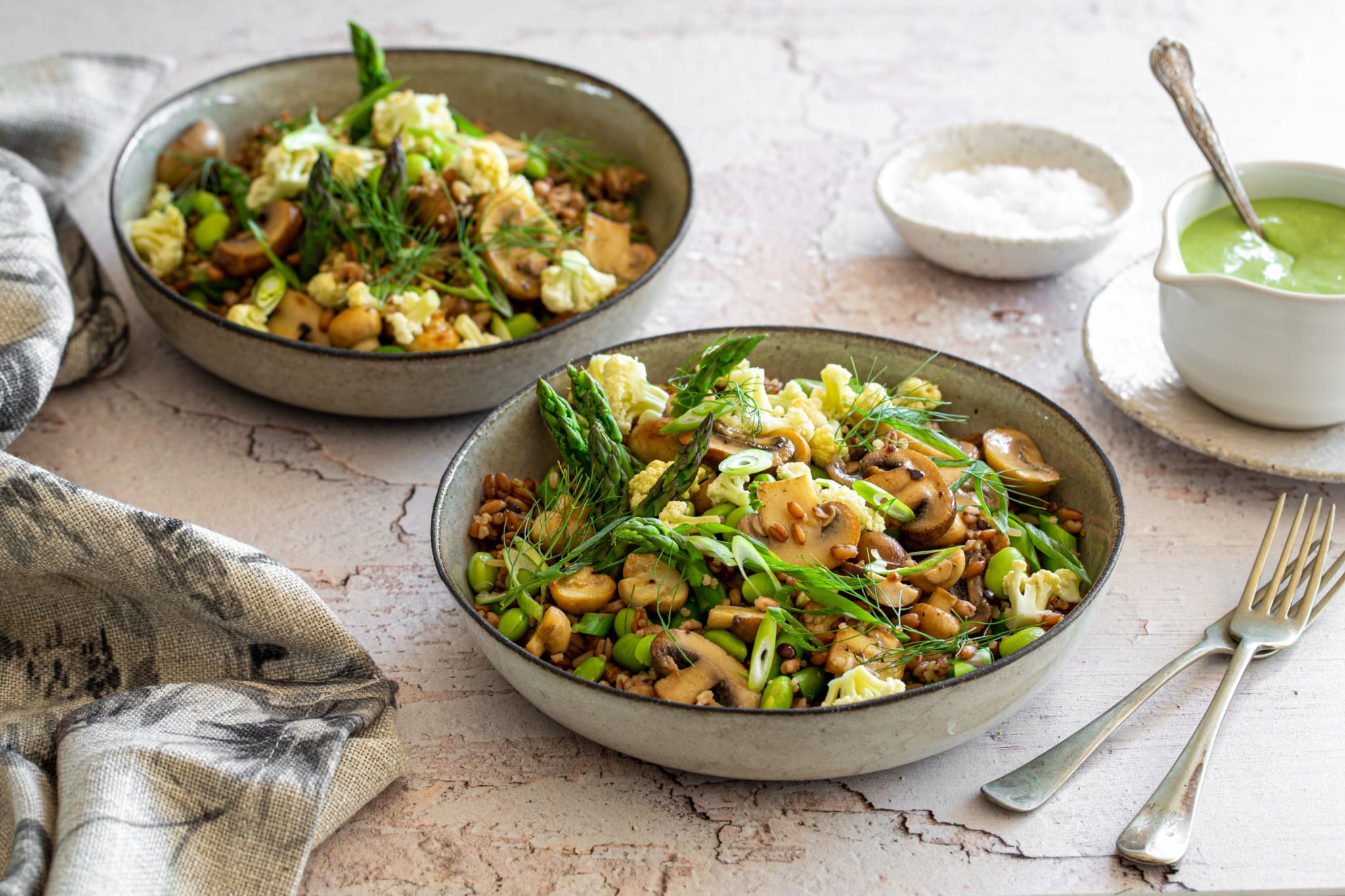 Serves 4-6
Ingredients
Dressing:
1 cup plain Greek yoghurt
1 cup packed fresh herbs
(chives, coriander, parsley and dill work very well together)

 

¼ cup spring onions, chopped
Juice of 1 lemon

 

1 small clove garlic, roughly chopped
Pinch sea salt flakes
Freshly ground black pepper
Quick pickled cauliflower:
300g cauliflower florets

 

1 cup apple cider vinegar
1 cup water
1 Tbsp sea salt flakes

 

1 Tbsp sugar
Bowls:
4 cups mixed grains, cooked (farro, spelt, barley and wild rice work very well together)

 

2 Tbsp olive oil
2 cloves garlic, finely minced

 

500g mixed mushrooms, white buttons, portabellinis and baby buttons

 

170g fresh asparagus spears, very lightly blanched

 

110g shelled edamame beans
Zest and juice of 1 lemon

 

½ cup spring onions, thinly sliced

 

Fennel fronds or fresh dill, to serve

 

Salt and pepper, to taste

 
Method
For the dressing:
Combine all of the ingredients in a blender, food processor or Nutribullet.
Process until smooth, adding a splash of ice cold water to thin it out until desired consistency.

 

Taste, to adjust salt and pepper.

 

Scrape into a jar and keep in the fridge.

 
For the pickled cauliflower:
Combine vinegar, water, salt and sugar in a small saucepan and bring to the boil.
Slice off the pretty top bits of the cauliflower florets and discard the thick stems.

 

(Use stems in a soup or stir fry.)

 

Add trimmed cauliflower to a heat-proof jar or bowl. Pour over the pickling liquid and allow to cool. Place in the fridge until ready to serve.

 
For the bowls:
Heat oil and butter in a large frying pan over medium-high heat.
Add garlic and cook until fragrant. Add mushrooms and cook, tossing them often until just tender and golden brown. Season.

 

In a large mixing bowl add the grains, mushrooms, asparagus spears, edamame beans, lemon zest, lemon juice and spring onions. Toss.

 

Spoon into bowls. Scatter over some pickled cauliflower.

 

Top with fennel fronds or dill and finally a generous drizzle of green goddess dressing.

 
CAPRESE MUSHROOM ZOODLES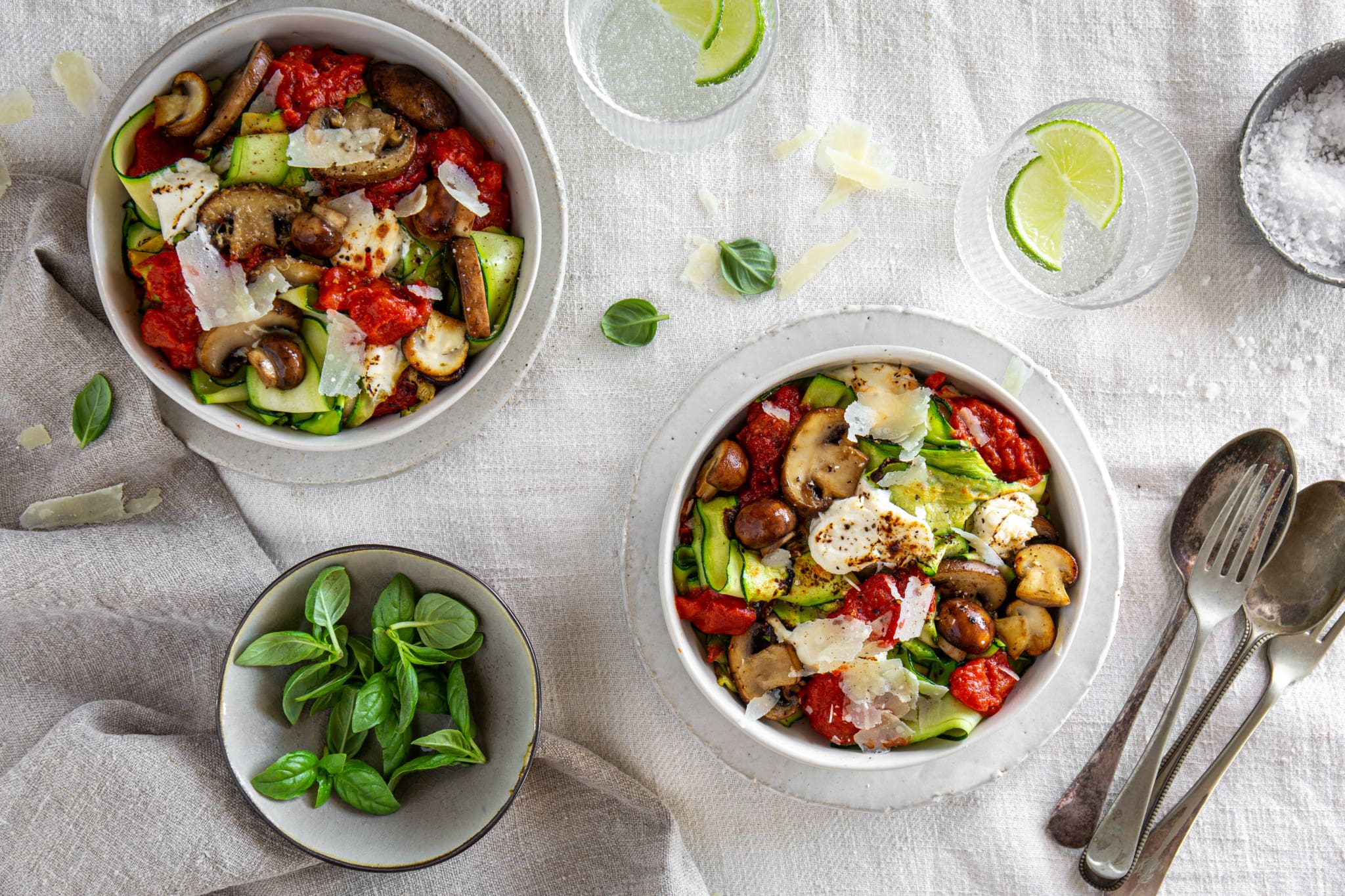 Serves 4
Ingredients
4-6 large zucchini / marrows

 

(if you cannot find large zucchini / marrows use extra baby marrows)

 

2 Tbsp olive oil

 

1 Tbsp butter

 

4 cloves garlic, finely minced
500g mixed portabellini and baby portabellini mushrooms

 
Tomato sauce:
1 x 400g tin whole peeled tomatoes
1 small red onion, peeled and halved

 

1 tsp chilli flakes

 

2 Tbsp butter
250g smooth ricotta cheese
¼ cup parmesan cheese, grated

 

Handful fresh basil leaves

 

Salt and pepper, to taste

 
Method
For the tomato sauce: 
Crush tinned tomatoes with your hands into a medium saucepan.

 

Add the butter, onion halves, chilli flakes and a pinch of salt.

 

Place over medium heat and bring to a gentle simmer. Cook, uncovered, for about 30 minutes.

 

Stir occasionally. When the sauce is thick and the flavour has developed, discard the onion and switch off the heat.
Using a vegetable peeler, shave zucchini into long, even ribbons.

 

Toss with a pinch of salt in a colander. Let stand until ready to use.
Heat oil and butter in a large frying pan over medium-high heat.
Add garlic and cook until fragrant. Add mushrooms and cook, tossing them often until just tender and golden brown. Season.

 
To assemble:
Preheat oven grill.

 

In a shallow baking dish spread out the zucchini ribbons.

 

Dollop spoonfuls of tomato sauce over the zoodles.

 

Top with mushrooms and spoonfuls of ricotta. Season well.

 

Top with freshly grated Parmesan and place until the grill for 2-3 minutes.

 

Serve into bowls and scatter with fresh basil leaves.