THERE is a scene in Goodfellas – one of my favourite movies – where Henry Hill (Ray Liotta) takes Karen (Lorrain Bracco) on a date to the Copacabana. The gangster doesn't do queues, or bookings apparently, as white-jacketed staff whisk up a table right in front of the stage, where there was no table before.
I had a little moment of this kind of preferential treatment when I arrived at Surfshack a few minutes before the noon opening time. Being greeted by name by the manager and being ushered in past the velvet rope while others waited in line, gave me a little frisson, I cannot lie. Once inside, I was offered my choice of tables on the deck; while the interior is gorgeous too, when it's one of the most perfect summery days, you simply have to take advantage of it lunching al fresco.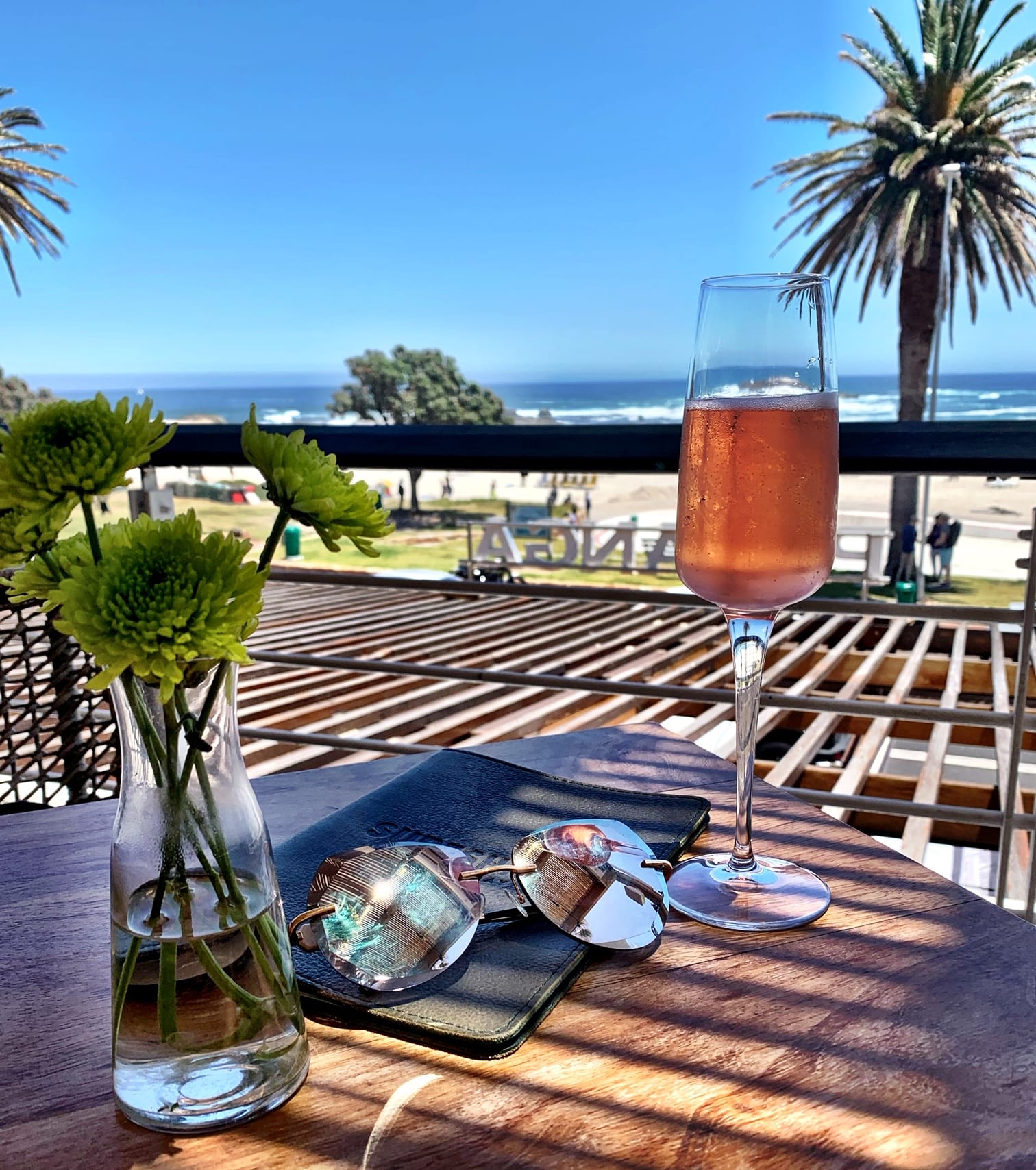 The star treatment continued throughout the leisurely few hours my friend Sexy Deborah and I spent at Surfshack, in particular from our main man, Tinotenda. Other waiters stepped in from time to time, like Blessing, who shared the story of how he got his name, and all of them were utterly charming and friendly. Service like this really does elevate the experience of eating out. The meal was a prelude to an overnight stay at The Marly, now sporting its extended new look (which you can read about here), and there too I found the service to be excellent on every level.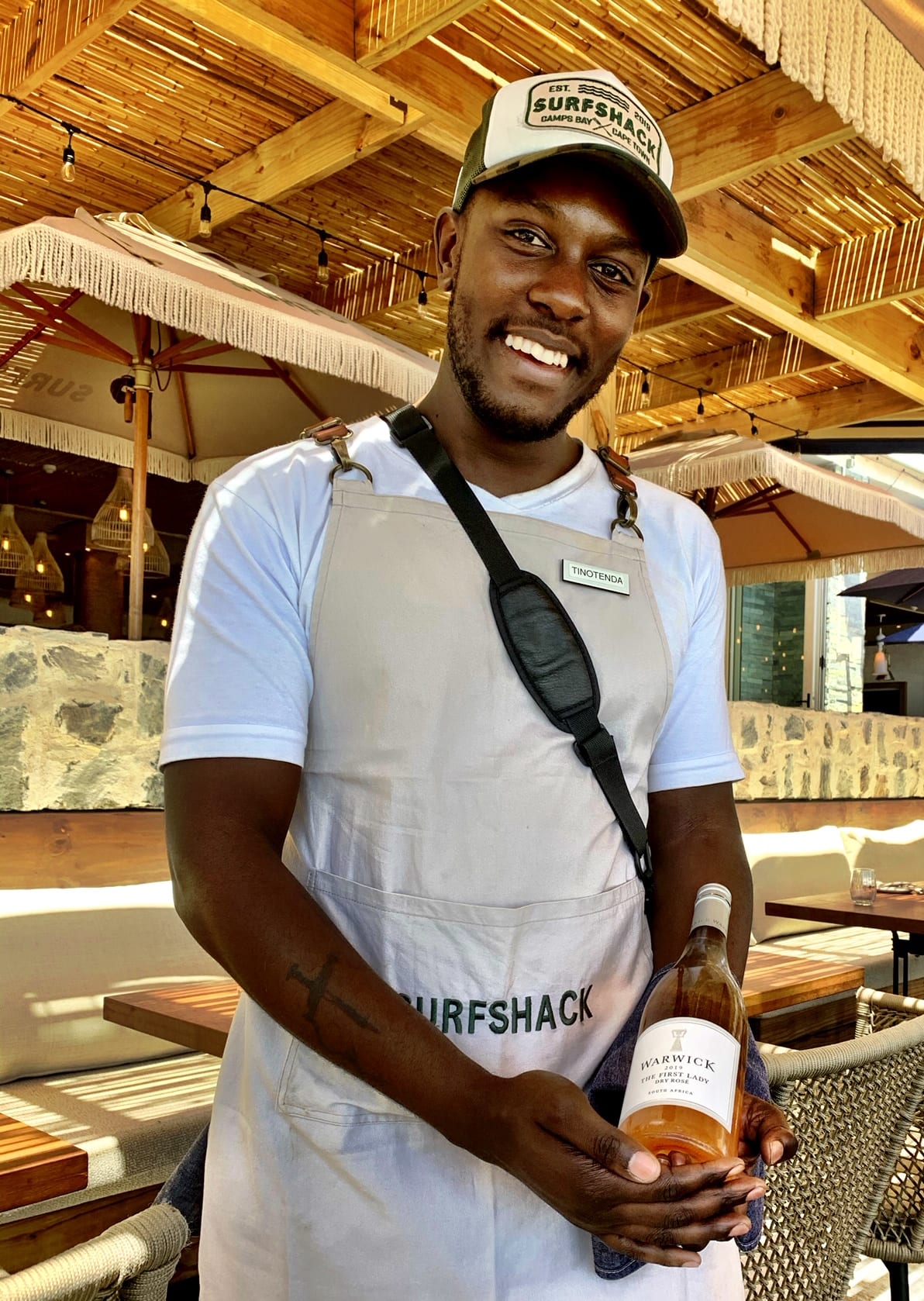 We began our meal with some bubbly, because it would have been just wrong not to, while we perused the menu. Tinotenda was on hand to answer questions and offer advice. It begins with "sharables", things like crispy curly corn on the cob, blistered jalapeno peppers, baked chicken wings, and rice crispy prawns. Based on the recommendation by Pienk Anja (another lovely lady who knows of what she speaks) I went with the seared ahi tuna with avocado, jalapeño, truffle citrus aioli, wasabi flying fish roe and crisp tortilla chips; Sexy Deborah opted for the cured salmon with citrus dressing, chilli angel hair, toasted coconut, puffed grains and seeds.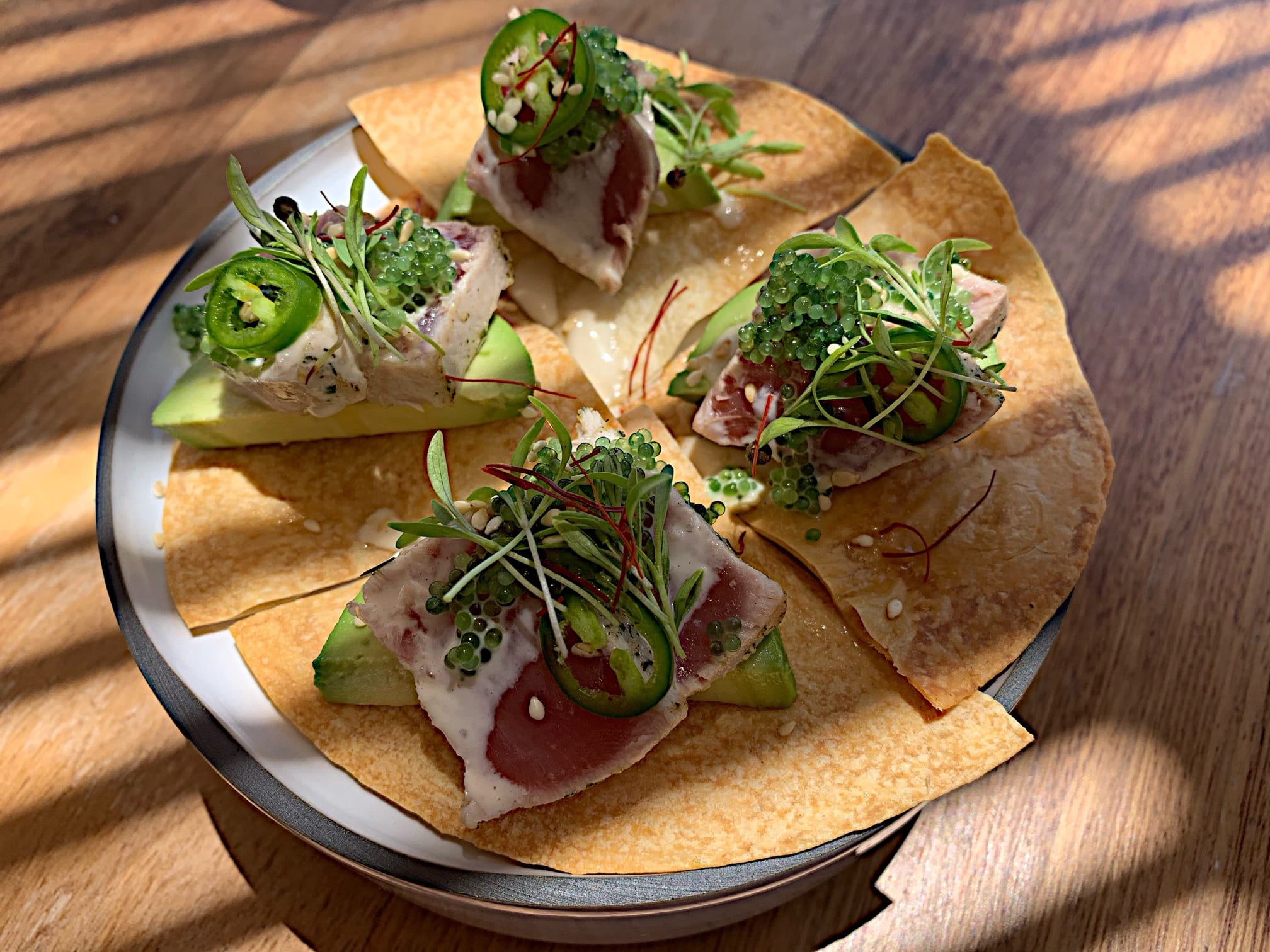 We were off to a great start.
The menu continues with salads, stuff in buns (like Poor Man's Lobster Roll – prawns, avocado, lime salt, chive aioli and potato roll, hot honey fried chicken burger, and – drooooool – bacon beer cheese burger), all-day brunch, and pizzas.
"Main Show" dishes include dry aged sirloin on the bone, jammy lemon butter steaks, sweet spicy BBQ ribs, grilled chicken kebabs with lemongrass, lime, coriander and green chilli; as well as a range of seafood and shellfish. Sides range from a simple salad (Tinotenda said to get this because it would look good in the photos, and he was not wrong) and French fries, to sweet and spicy coleslaw and whole corn on the cob.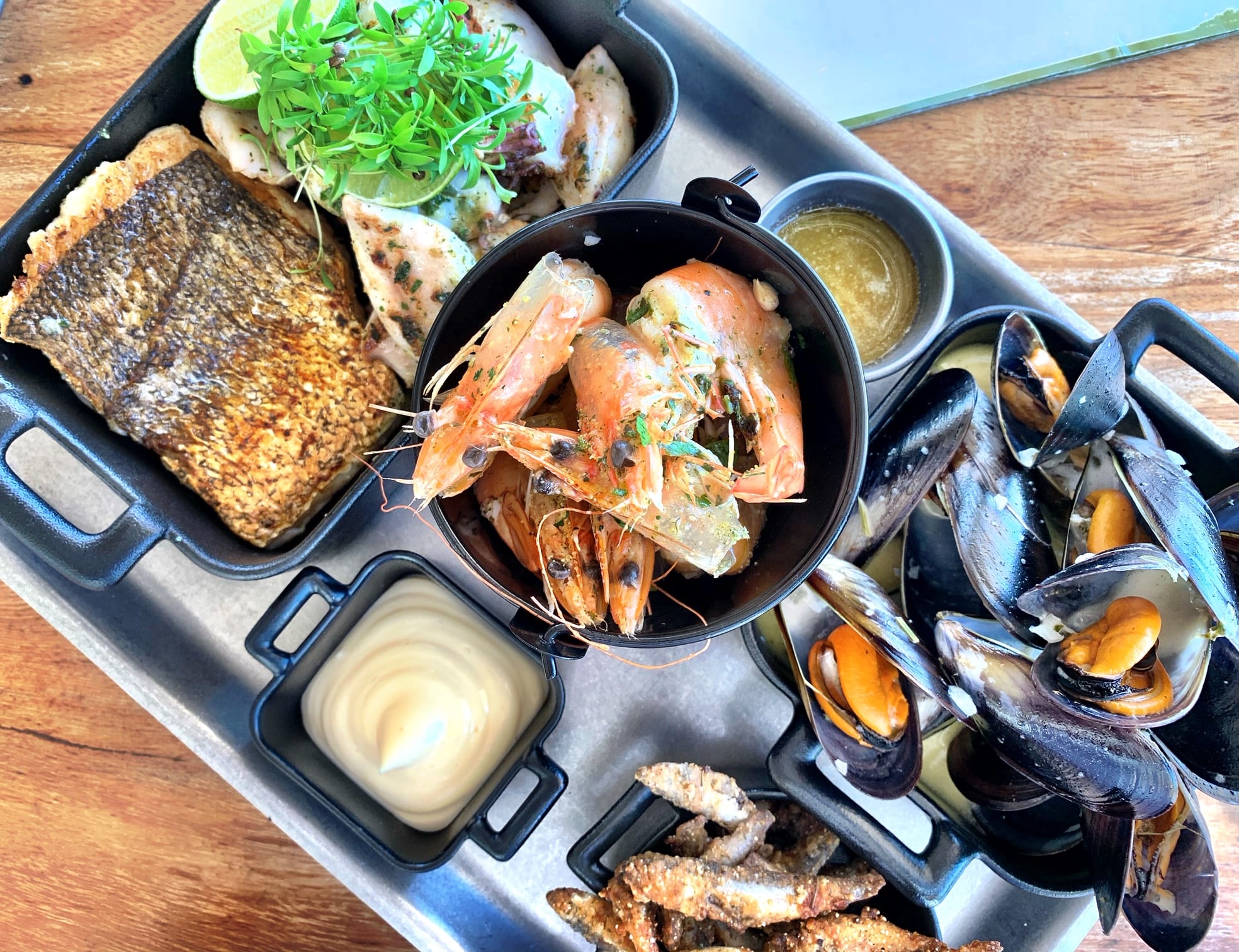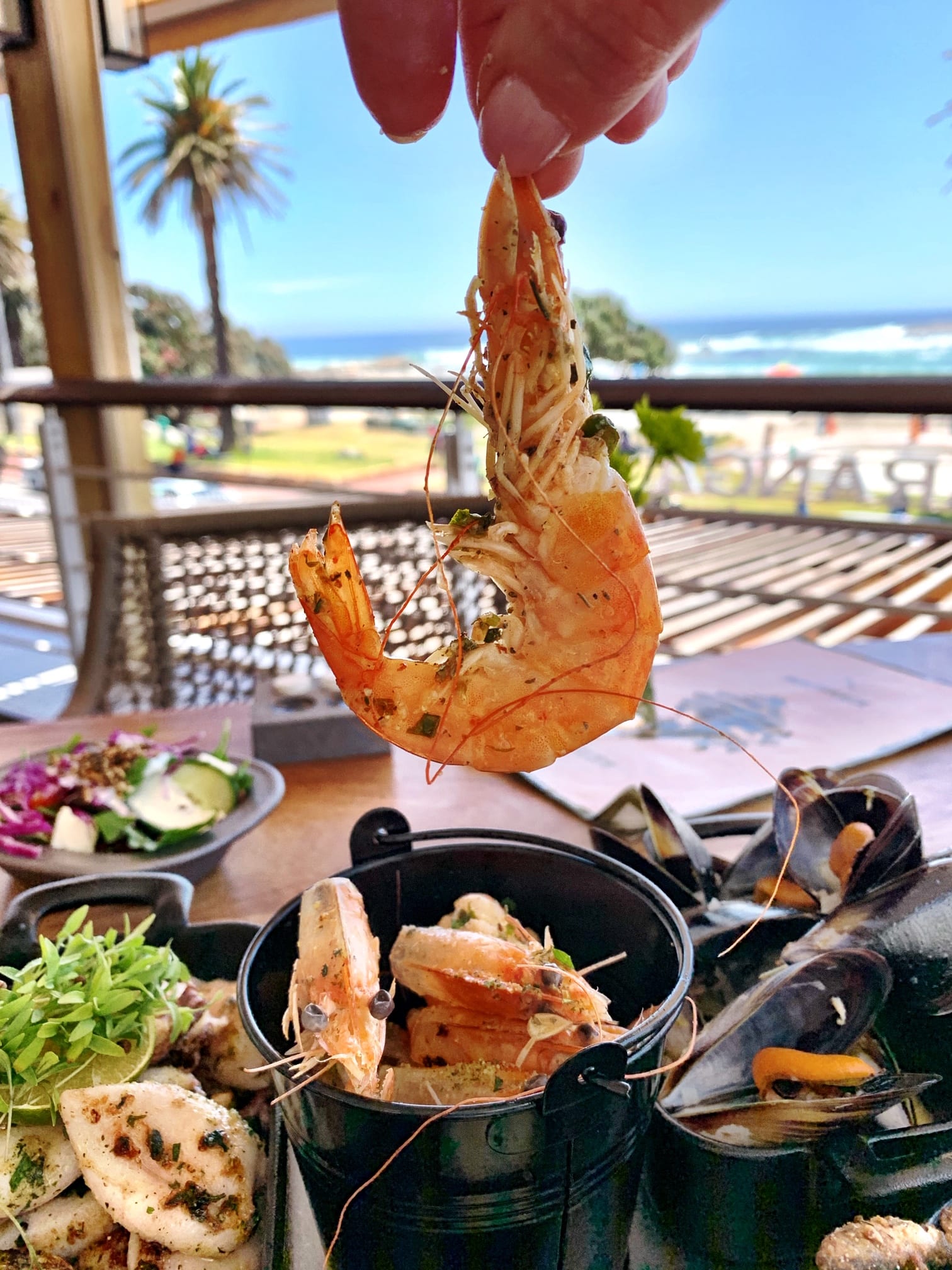 With the blinding white sand of the beach and sparkling blue of the ocean being our view, we decided to keep the theme going with what is immodestly called The Seafood Feast – to share. This comprised line fish (hake), calamari, prawns, whitebait and mussels, with lemon butter and aioli for dipping or slathering. Because the only thing that could make this better was something pink, we had a bottle of Warwick First Lady Rosé.
It's not true I only keep certain friends for their willingness to eat dessert, but it doesn't hurt. SD obliged by ordering the salted caramel tart with banana and passion fruit sorbet, which was a suitably tropical vibe to bring the meal to its climax. Yes, I really said that, and I can hear her chortling right now.
Further temptations include an ice cream bar with white chocolate, almond and caramelised cornflakes; Campfire & Marshmallow (chocolate, oat cookie crumble, praline ice cream and marshmallow); and "A Slice Of Birthday Cake" which can make every day a celebration with rainbow cake, whipped cheesecake and sprinkles. How cool is that?
Surfshack is part of The Kove Collection, along with La Belle Bistro & Patisserie, Chinchilla, and La Paranga, among others. It brings a casual, straight-from-the-beach feel with its casual menu, and divine cocktails. Sundowners anyone?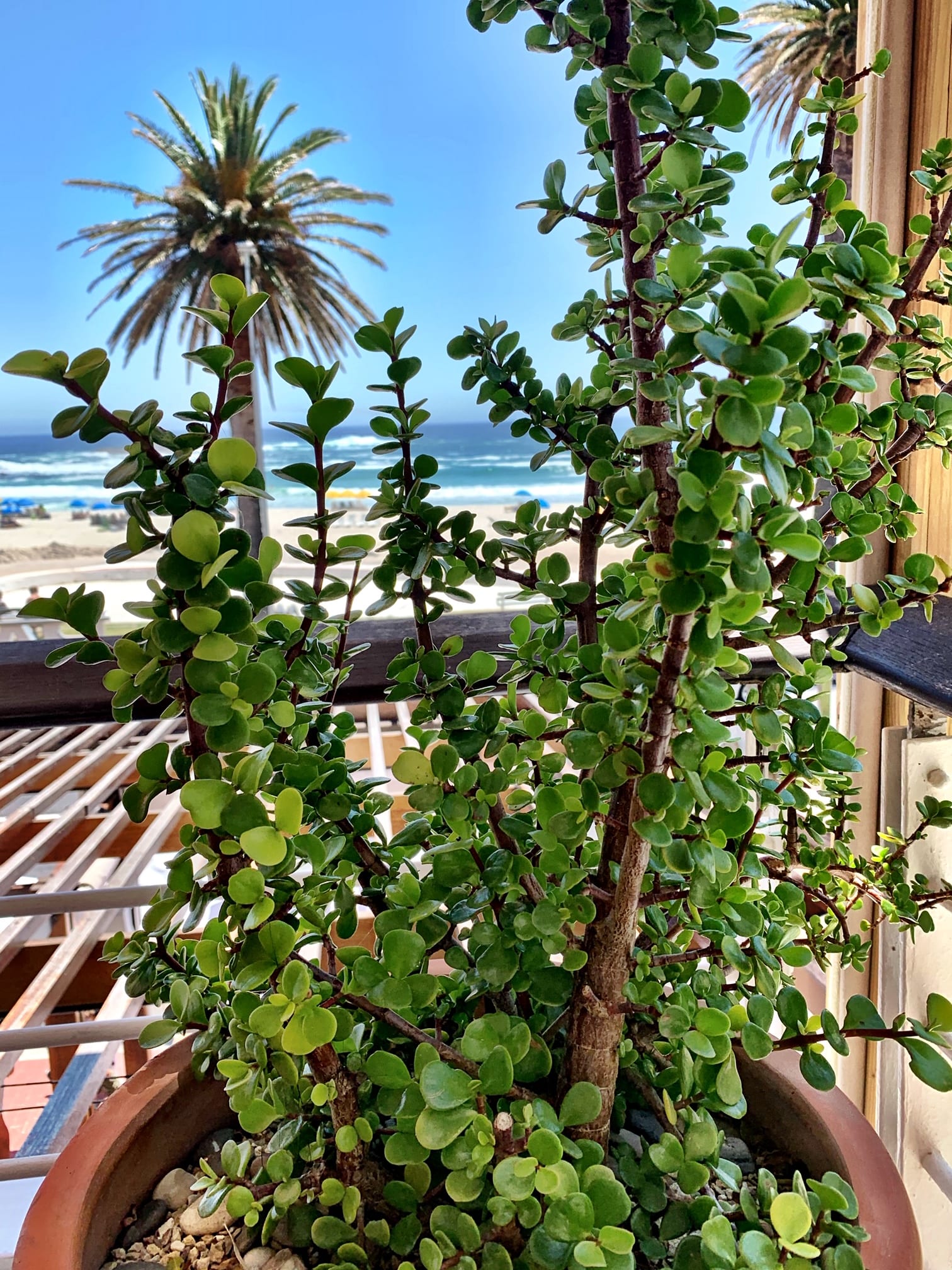 Find it at 201 The Promenade, Victoria Road, Camps Bay, Cape Town, open for lunch and dinner Mondays to Sundays from 12pm- till 11pm. For more information and bookings, click here, call 021 437 1802 or email [email protected]
#kovecollection #surfshack
PHOTO CREDIT: Featured image Claire Gunn, and Bianca Coleman ©