THERE was a bit of an awkward moment when I was on my way out of La Colombe the other day after lunch. I met chef James Gaag at the bottom of the stairs and he asked me what my highlights had been – and the lowlights. To learn, he said, which I understand. Feedback is important.
I felt like a deer caught in headlights, frozen but with eyes darting side to side trying to remember which way means you are making up stories and which is when you are accessing memories. Because I didn't have any lowlights to mention, but still felt as if I should, just so as not to let James down. The best I could come up with, so to speak, was that by course seven I was feeling too full to finish everything on my plate.
James offered some useful advice, saying the kitchen normally pushes out the courses faster and I had chosen the leisurely route. It's an interesting theory which I may try one day, but even though I encountered a bit of a speed bump I did manage to push through and do the dessert justice, and I was in no rush to cross the finish line. My only compromise was taking the almost-final treat home with me for later.
When it comes to describing a meal such as this, I'm torn between showing and telling all, and holding information back so when you go, you will experience all the thrills and delight of the culinary adventure. Therefore, I shall present you with some pictures and descriptions to tempt you, and hope you enjoy it as much as I did. In the order of the courses, we begin with the featured image above, with a personal note from James; it's a refreshing little beverage of lemongrass and calamansi to wake up the palate.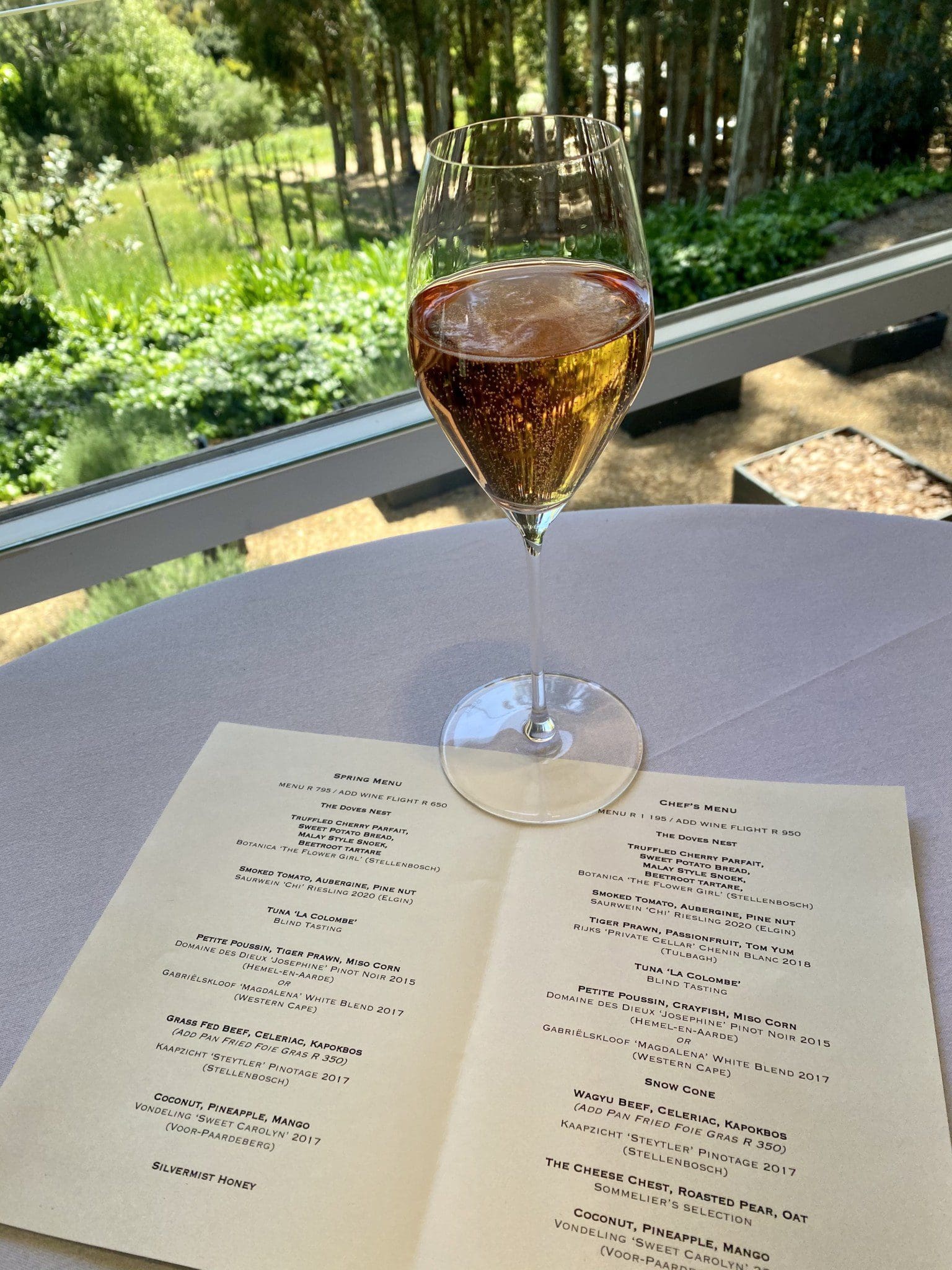 A generously poured glass of bubbles is the polite way to examine the bill of fare and decide between the Spring Menu (available until November) and the Chef's Menu. I like what they've done here; the shorter version includes dishes that are almost the same as the other, except with less expensive ingredients. Also, if you don't want to spend four hours on the meal like I did, you can choose the one on the left.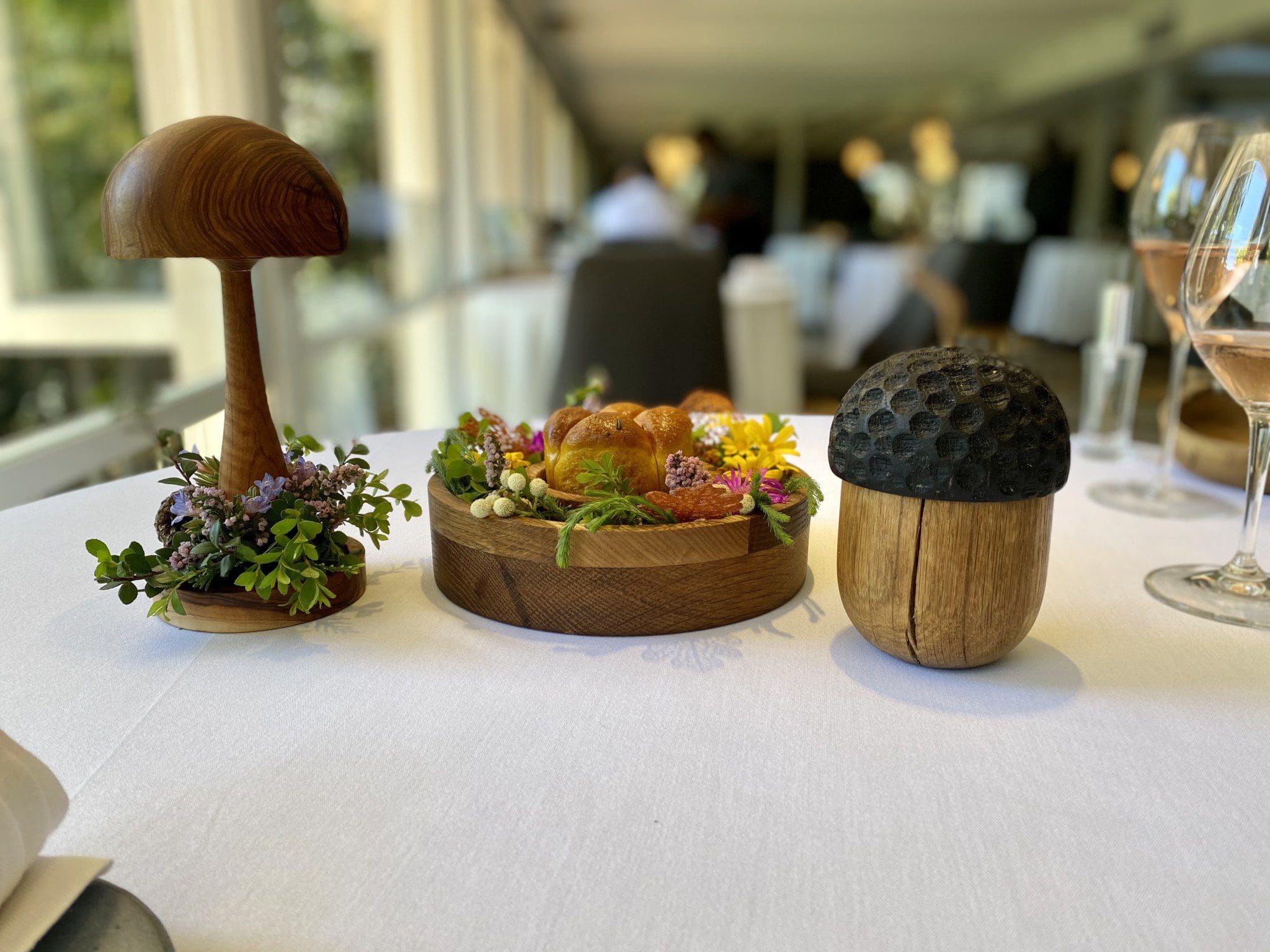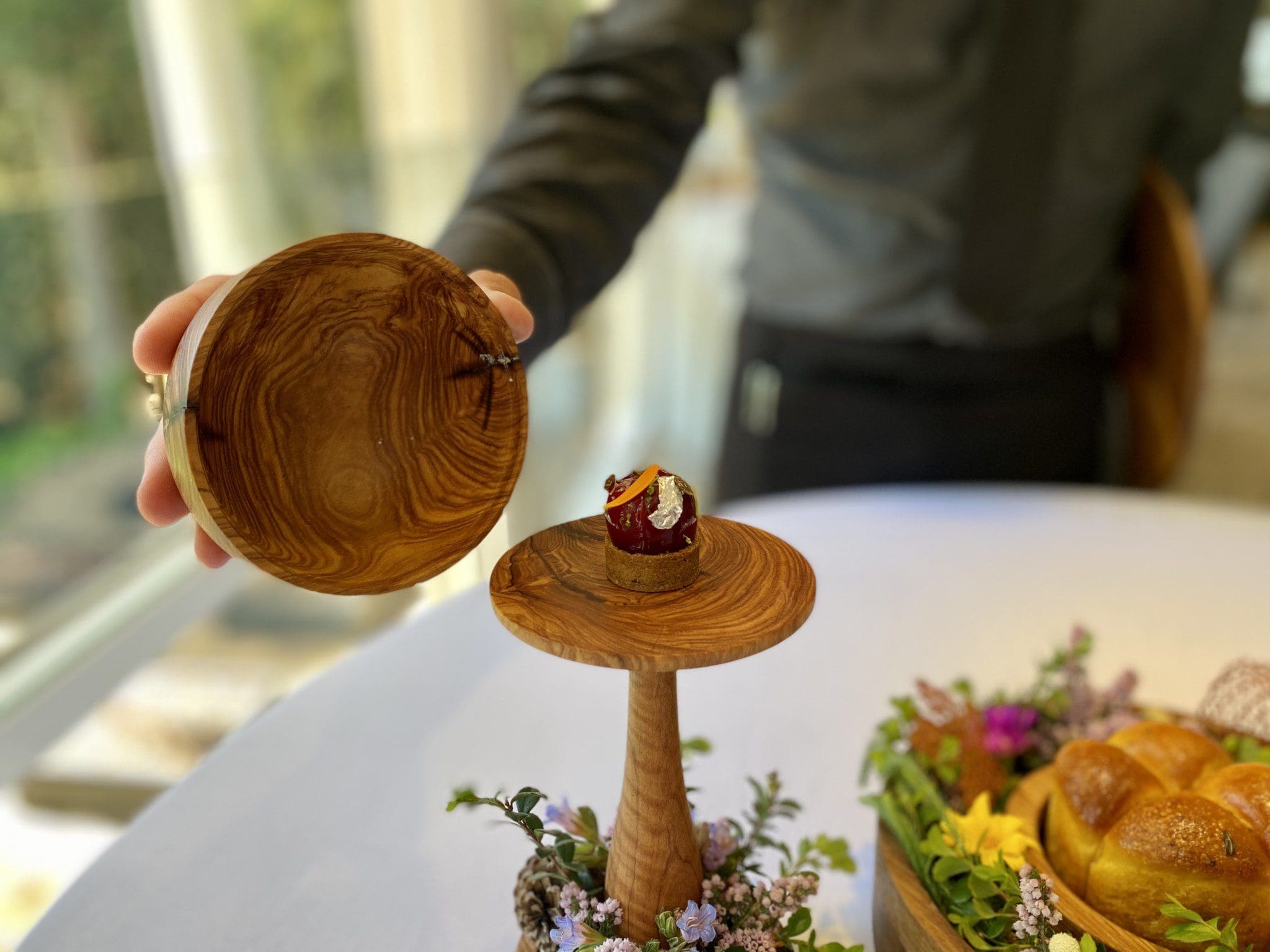 Presentation is always spectacular. I asked Alex, who was looking after me (and who also manages the restaurant on some shifts) about all the vessels and he said "we have quite a big storeroom". I'll bet. This is sweet potato bread, soft and warm like a pillow, glazed with rosemary oil; truffled cherry parfait (spoiler: it's not a cherry); snoek pâté with citrus gel; and beetroot tartare. The wild flowers and fynbos are picked from the slopes of the mountain outside and are different every day. This course was paired with The Flower Girl from Botanica, an unconventional wine – a méthode ancestrale sparkling Petit Verdot.
The smoked tomato with aubergine and pine nut is the first vegetarian dish James has put on the main menu. This was an easy highlight for me, served with a dash of drama. What you see above is not actually tomato but it's full of tomato flavour and umami punch. There's a broth, droplets of oil, the dark stuff is olive, and on top is a stalk of borage, which you can eat or not. The wine is Saurwein Chi Riesling 2020. This year's vintage has just been released so look out for it, it's lovely.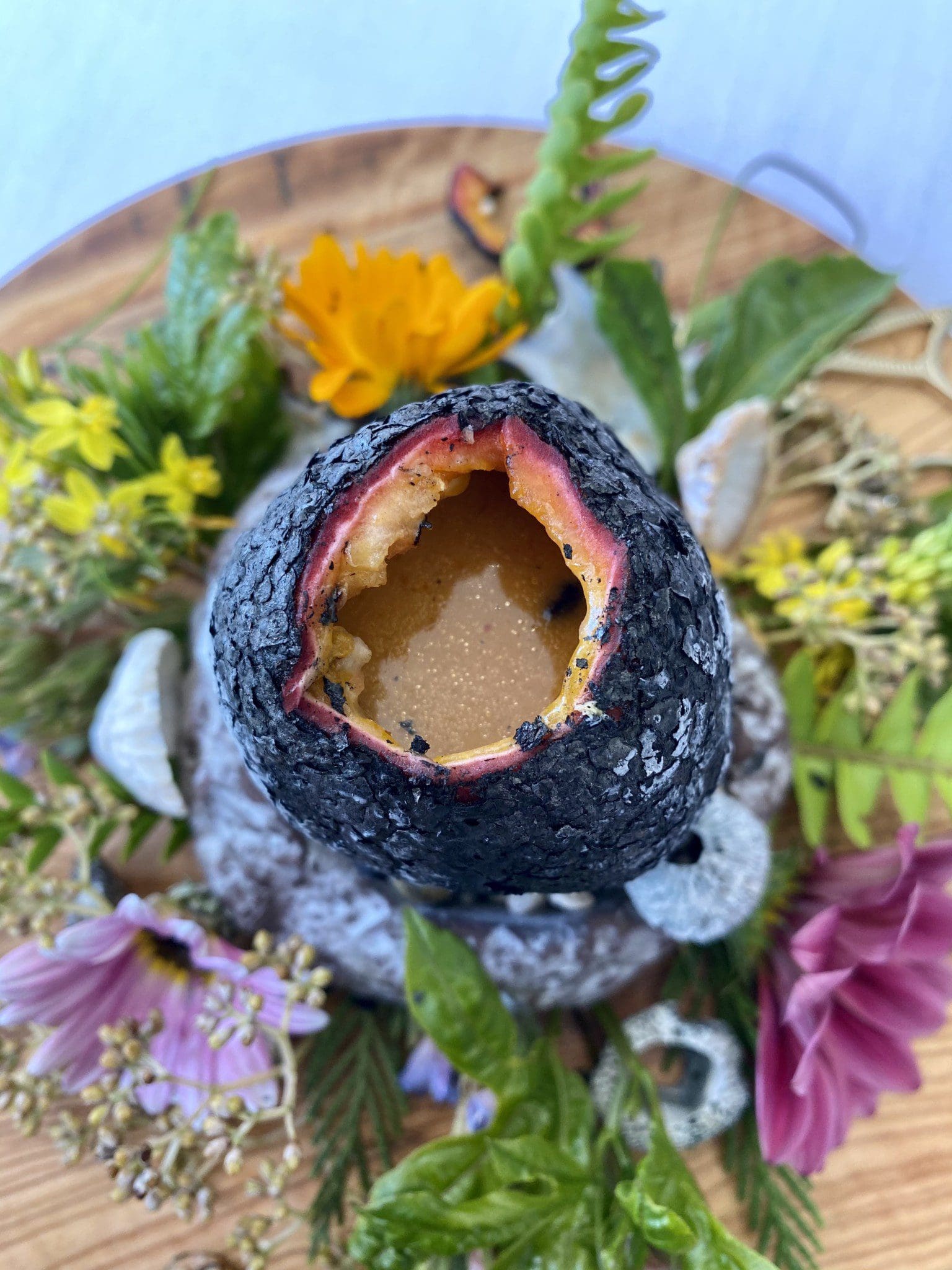 I love the passion fruit "dragon egg" and the tools you are given to access the tom yum soup inside (gorgeous little scissors to snip off the top but don't go too far or you'll mess) with corn and tiger prawn.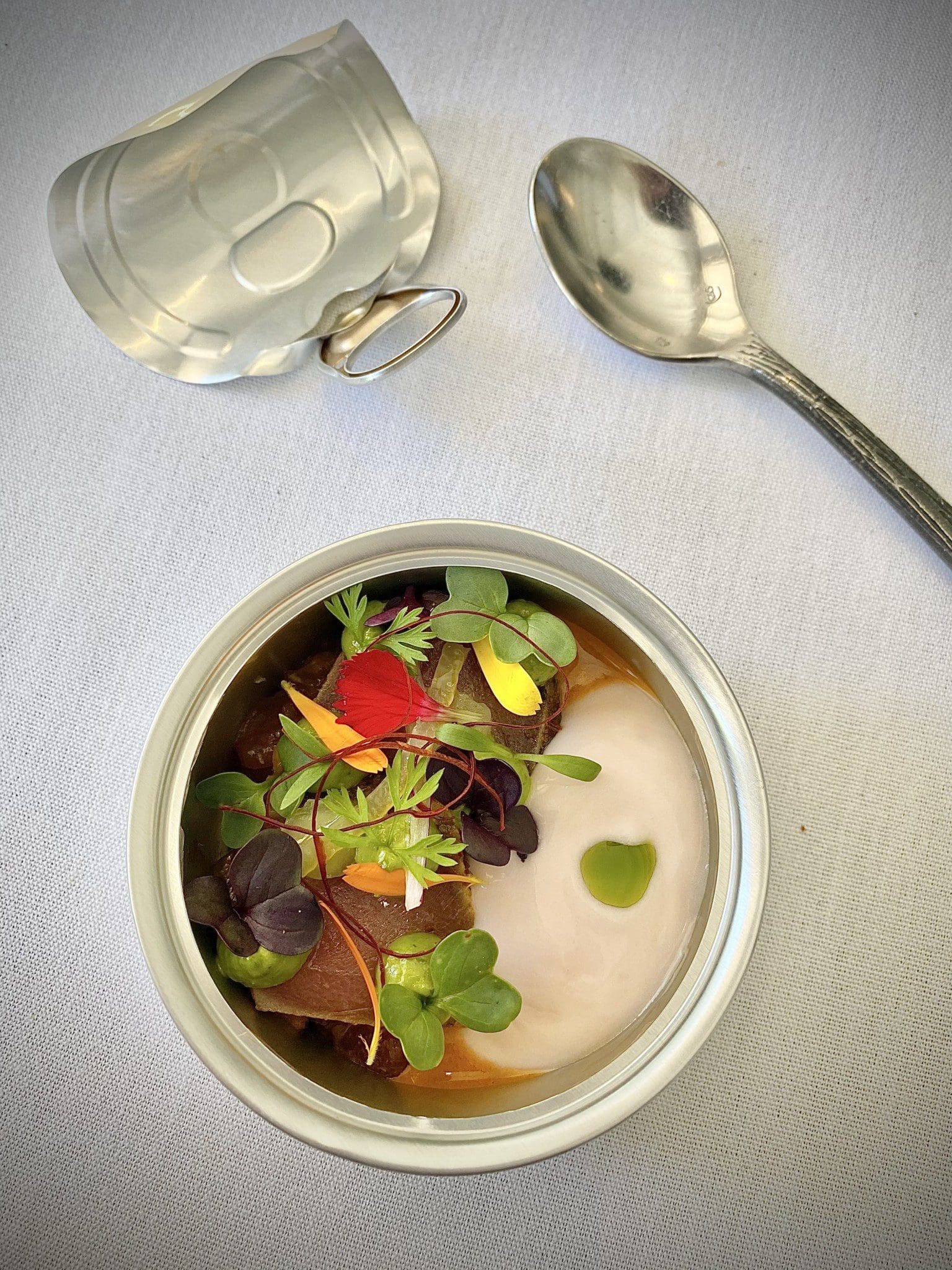 Ah, the famous tinned tuna. James brought this out for me, and pointed out the "description is no description". It does get tweaked from time to time. This course includes a blind wine pairing in a black glass, not to catch you out or anything, but for a bit of fun. Armed with a bit of basic knowledge of what goes with what, and bottle shapes, it's not too difficult – especially if you do a Sherlock Holmes process of elimination. Wily me, I got it right.
Here we have petite poussin, crayfish and miso corn. You get a bit of buttermilk-dipped deboned breast, thigh and wing, corn espuma, potato crisps, salsa verde, and perfect discs of crayfish. By this point that menu in the earlier pic was covered in scribbles and notes so that's the best I can do right now. There are two wine pairings to choose from, both equally good: Domaine Des Dieux Josephine Pinot Noir 2015, or Gabriëlskloof Magdalena white blend 2017.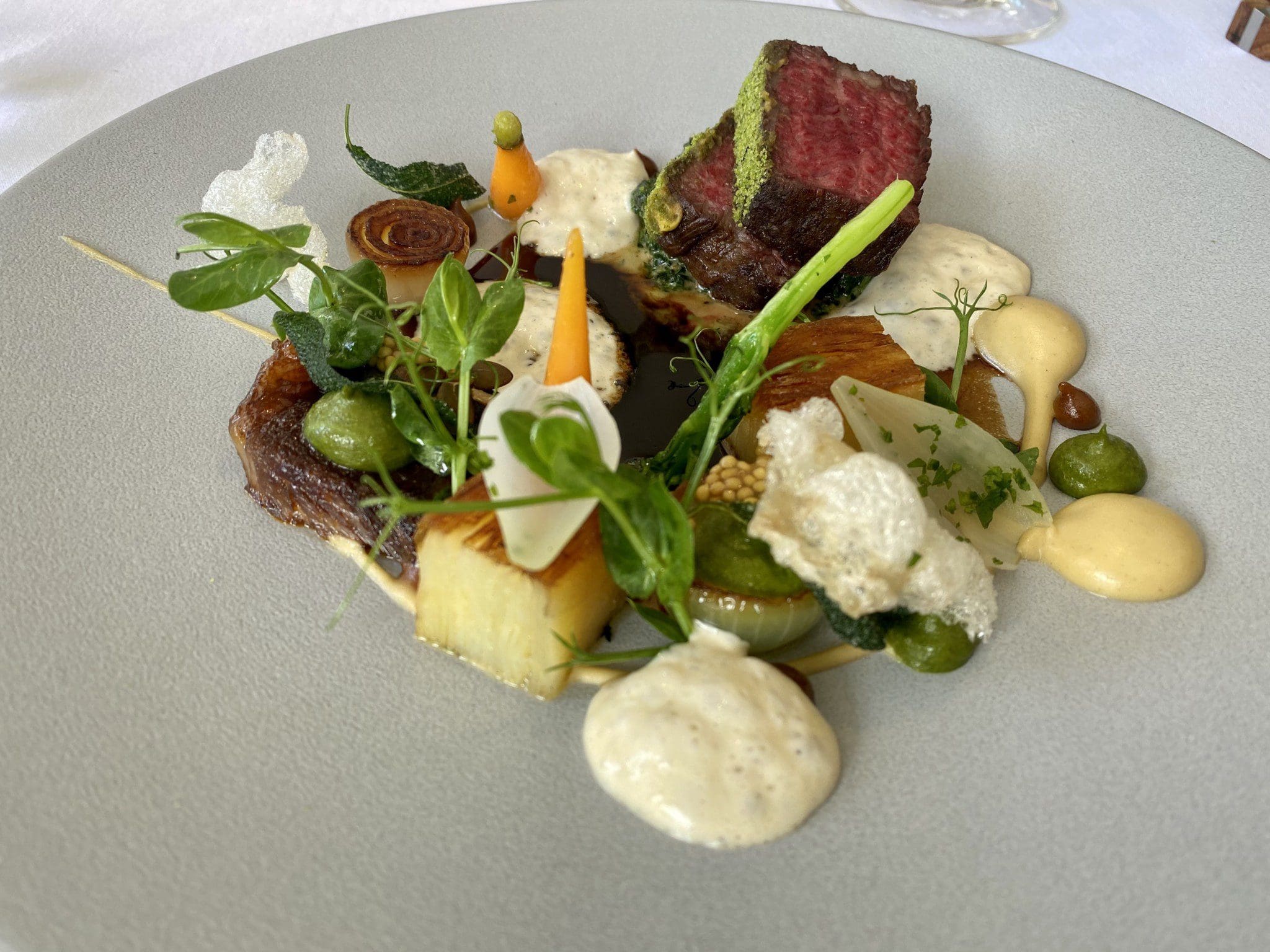 This is the course that nearly defeated me – that wagyu beef was incredible; I'm saving another pic of it for an Instagram post. Nope, not even going to try to figure out my menu notes. The wine, which sommelier Luke needed two hands to pour because it was a 3 litre jeroboam, is Kaapzicht Steytler Pinotage 2017. For this dish you have the option of adding foie gras for an extra R350.
Nearly there…on the menu, the cheese is served before the sweet dessert but because I prefer to end on a savoury note, I always ask for them to be brought to the table together. I don't have a sweet tooth, which I explained to Luke (sweet on sweet is often simply too much for me), and he recommended some bubbles (with a nifty pouring trick) with the coconut, pineapple and mango creation and it could not have been better. You get to choose a cheese – blue, goat's, boerenkaas and smoked – but looking undecided might also help you get two. You get to pick a port to go with that.
This is the Silvermist Honey, normally served with tea or coffee, heavenly little mouthfuls. I am not making it up when I say I am salivating at the mere memory.
There's more, of course, but that's for you to find out, and I'm going to leave it at that other than saying you really should go at least once in your life if it's something you need to save up for. If you're rich, go more often. La Colombe is open seven days a week for lunch and dinner. Click here for more information.
PHOTO CREDIT: Bianca Coleman ©