WITH so many restaurants in and around Cape Town offering tapas or small plates, it's important to remember it was Fork which led the way when it opened with this concept in 2006. As it approaches its 14th anniversary, it's still one of the best places in town for a bite-sized meal, big or small.
As we head into the summer season, this month Fork is launching a new menu created by its new executive chef, Ian Lilley. Fork's owner, Ed Saunders, invited me to come along for a preview yesterday and my verdict is that this is the best Fork has ever been. No mean feat for a place which has been around for this long; if it wasn't already good it would have shut down ages ago, right?
Before, the menu was arranged according to prices. This has changed, with the first section being mostly tried and tested favourites, with a few new dishes. Specifically, these are "Tapas With A Fork" – four pieces per plate and easily eaten with a fork (or your fingers). Prices range from R65 to R95. The middle part of the menu is called Table Tapas and comprises bowls or plates of a size suitable for two people sharing (R45 – R105). Then there is On A Board – more substantial meals, still to share or keep to yourself, from R85 to R150 – and desserts priced from R15 to R70.
London born and bred, Ian came to South Africa four years ago and opened a restaurant on Marianne wine estate in Stellenbosch together with his wife, Ulrike. To Fork – and Knife in Century City as well as the annual winter pop-up, Spoon – Ian brings a background in hotel kitchens and a finely tuned sense of how to parlay his classical training into delicious everyday morsels.
We began with fat full tumblers of delicious Secateurs Chenin Blanc, and Ian's first selection for us: grilled calamari with smoked aubergine purée on a potato rösti, with chorizo vinaigrette; pickled wild mushrooms with asparagus and guacamole (vegan), and caprese salad with a twist – sliced octopus, which was lovely and tender. It's not the easiest ingredient in the world and can often be tough and chewy, which might put a person off ordering it again. Ian has won the battle here.
Next up was smoked (on-the-premises) chicken Caesar salad on a cos lettuce leaf, with a parmesan crisp instead of croutons, and a quarter of a pickled quail egg. So simple, so divine. Incidentally, Fork does have a series of allergy-friendly menus and Ian says there should be a vegetarian/vegan one too. Ian's fifth selection for us was the seafood paella with chorizo, calamari, octopus and tiger prawns. After that I was invited to pick something myself.
The ostrich fillet with ruffled chicken liver parfait, sautéed spinach and red wine reduction, on top a little piece of puff pastry was a highlight. I've only now realised I forgot to take a photo of it, so that's a bit of a fail on my part. There was much lively discussion as to whether this can make its debut on the menu as "Fork's Ostrich Wellington" and I believe it can…it has the elements to get away with this, even if it's not strictly traditional. Liberties have already been taken, so run with it. Recipes are meant to be adapted and revitalised.
Turned out there was space for one more and I was not disappointed with my choice of Moroccan meatballs in a delicately seasoned tomato sauce with toasted ciabatta. Last but not least I was pleasantly coerced into trying the Eton Mess dessert (pictured above) to which Ian adds white chocolate mousse, with the cream, meringue and fruit. Damn, it was good.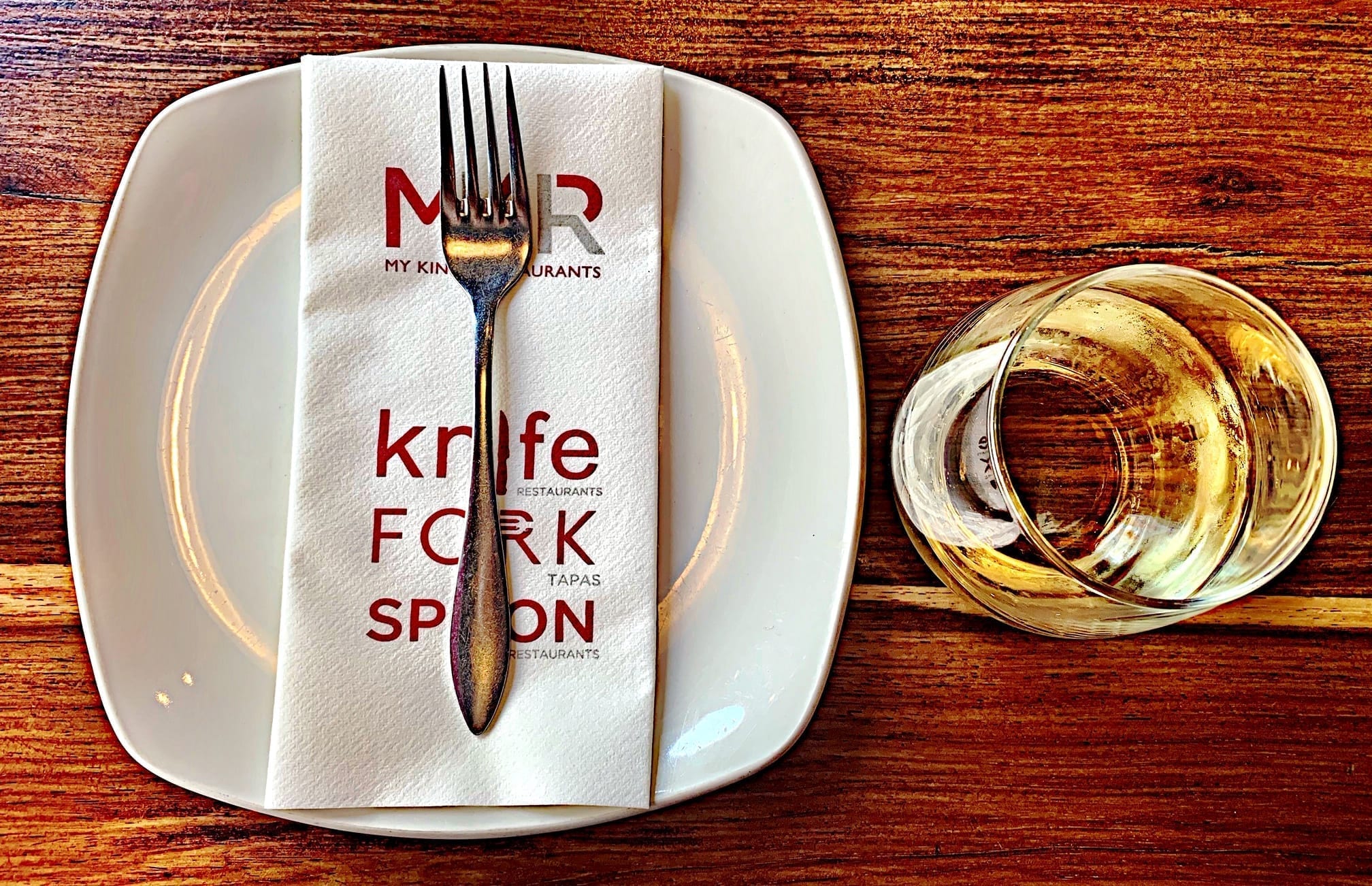 Fork (84 Long Street, Cape Town CBD) is open Mondays to Saturdays from noon till late, and one of the things I've always loved about it is that you can stop by any time for a quick snack and a glass of wine – or a full-on meal. The beauty of this open kitchen is that it's perfect for those awkward hunger pangs which don't follow conventional meal times, as well as for something to eat before or after a show (always so difficult to coordinate). Plus, there is the long-running lunch special between 12pm and 6pm: a selection of five pieces of tapas, a glass of wine, and a coffee all for R140.
For more information, call 021 424 6334 or 021 424 6098, or click here.
PHOTO CREDIT: BIANCA COLEMAN ©