WITH travel restrictions easing the world over, and South Africa off the dreaded "red list" of many countries, tourists are returning to our splendid shores. Here's where they can play and stay this summer season – and where you can also be a tourist in your own city.
In December 2021, the Mother City saw an increase in visitors, with Cape Town International Airport reporting a recovery of 66% for domestic and 29% for international arrivals compared with 2019. Alderman James Vos, City of Cape Town Mayoral Committee Member for Economic Growth, says judging by demand, this upward trajectory will continue for travel to Cape Town and South Africa. This bodes well for February, considered the "second" peak season in South Africa, and the Western Cape.
Tasso Evangelinos, CEO of the Cape Town Central City Improvement District (CCID), says, "Having won the Telegraph Travel Readers Award for 'The Greatest City in the World' in 2018 and the 2021 Travel + Leisure Award for the best destination in the Middle East and Africa, Cape Town – and its vibrant CBD – is the perfect destination for explorers and other travellers keen to make up for the hiatus of the past two years."
He adds that it's imperative to support the hospitality industry, as well as homegrown businesses, right now. "It's been devastating to see the ongoing impact of the pandemic and the travel bans on businesses in the Cape Town CBD. And now that South Africa's Covid-19 restrictions have been eased yet again, this is the time to have an adventure in our historic, beautiful Central City. It's open for business!"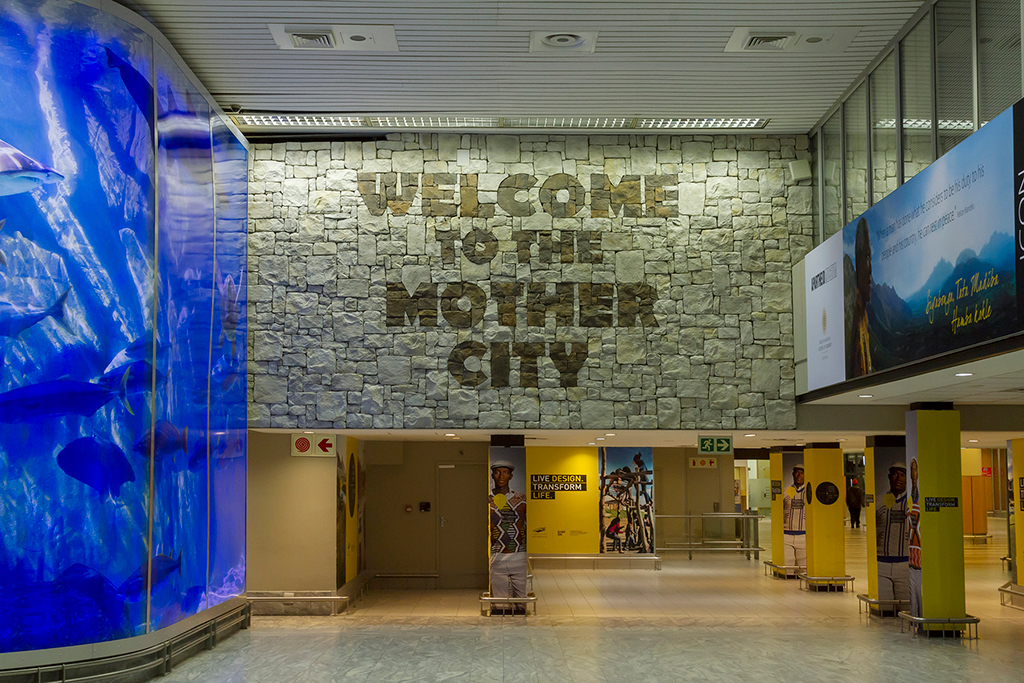 Here is the Cape Town Central City Improvement District guide to walking on the wild side in the Cape Town inner city.
Walking on sunshine: The best way to absorb the true spirit of Cape Town is through walking tours. As a qualified tour guide, Lesley Cox specialises in helping visitors imbibe the sights and sounds of the city through stimulating walking tours. Relaxed and informative, these on-foot excursions come highly recommended. Choose from Heritage City Centre, the Castle of Good Hope, the Company's Garden and other themed tours, such as Memorial Art in the City Centre
 Share a drink with Gorgeous George: Created out of two beautifully restored heritage buildings, Gorgeous George is a strong contender for the title of trendiest hotel bar in the city. Boasting incredible views, a fantastic restaurant, a rooftop bar, and a pool that seems hand crafted by the Gods of Summer themselves, Gorgeous George is where friends come to stay and play – and toast to the holidays. 118 St Georges Mall.
A no-fuss bus: If you want something a little less boisterous then look no further. Taking a red bus tour allows you to sit, relax and explore all that the CBD has to offer. With optional audio guides and the ability to hop on and off at your will, the tours are incredibly customisable. You can choose from a range of packages for children and adults, including a Hop On Hop Off tour between the CBD and the V&A Waterfront. Whether you want to spend your time sightseeing, sampling the local arts, culture and food scenes or mix it up, taking a bus has never been this fun. It's the perfect way to be a tourist in your own hood. 81 Long Street.
You deserve it, darling: While not an adventure per se, this is definitely the perfect way to kick off a successful year. Southern Sun The Cullinan offers signature spa experiences that are both indulgent and unique, creating the perfect symmetry of luxury and well-being. There is no better way to enjoy your holiday than by enjoying therapeutic massages, cleansing facials, and invigorating body treatments. Each element of a spa visit to The Cullinan is designed to stimulate the senses and get you ready for 2022. 1 Cullinan Street.

Food, glorious food: Nowhere else in South Africa will you find such an eclectic collection of gastronomic delights. Widely considered to be the nation's capital of food, Cape Town is where you can find everything, from exquisitely crafted meals by award-winning chefs like Luke Dale-Roberts, to glorious gatsbys. If you throw a stone in any direction, it will crash through the window of a culinary experience that could change your life or at the very least give you a beautiful new food baby. The Cape could be called the culinary capital of summertime delights.
SKY-HI ride: Strapped into a chair 146 metres above the City Bowl, everything about Cape Town looks serene, like a landscape painting brought to life. For a few moments, you are on top of the world and the view from up there is gorgeous. Like all good things though, those moments are fleeting and before you know it you are plunging back down to Earth on the thrill ride that brought you up there. This is the internationally renowned Sky-Hi ride at Hotel Sky, and it is one of only three comparable experiences in the world. 9 Lower Long Street.

Peruse the public art: Few things are more pleasurable than enjoying a low-speed amble through the CBD soaking up all the arts and culture that the Mother City has to offer. As an art and design tour specialist offering public and private tours, Kate Crane Briggs of Culture Connect hosts tours that are the "walk of the town". Focused primarily on design and architecture, heritage, and social history Brigg's tour is a fantastic way to reacquaint yourself with the CBD. 
Hone your craft: Meet cool people and socialise while creating something beautiful. Join the Craft Circle and bring your embroidery kit, clay toolbox, sewing machine, sketchbook or whatever you fancy. The three-hour sessions are hosted on Wednesdays by Andie Reeves, a teacher, textile artist and owner of the Cape Town Craft Club. 136 Bree Street.