DARLING SWEET, manufacturers of South Africa's favourite toffees, is celebrating National Toffee Day on Tuesday, January 8 with the launch of a ninth new flavour to its already burgeoning assortment, as well as new packaging for the entire range of its 150g boxes.
Says Darling Sweet's co-founder and product developer Hentie van der Merwe: "We are delighted to kick off the new year with a fabulous new flavour – Chocolate Toffee – that we think will be a hit with toffee lovers across the country. The decadence of dark chocolate adds depth and mystery to our rich butter-caramel toffee."
Adds van der Merwe: "We are also thrilled with the new packaging which has been designed by the UK-based South African artist Peter Mammes. It is the visual brilliance of his work that we so admire and that led us to commission him to create the unique, bold and playful designs that we have used for the new look for our entire toffee range."
Other toffee flavours available from Darling Sweet include Bird's Eye Chili, Coffee, Mint, Liquorice, Honey & Salt, Rooibos Chai, Orange & Cranberry and Tannie Evita's Classic.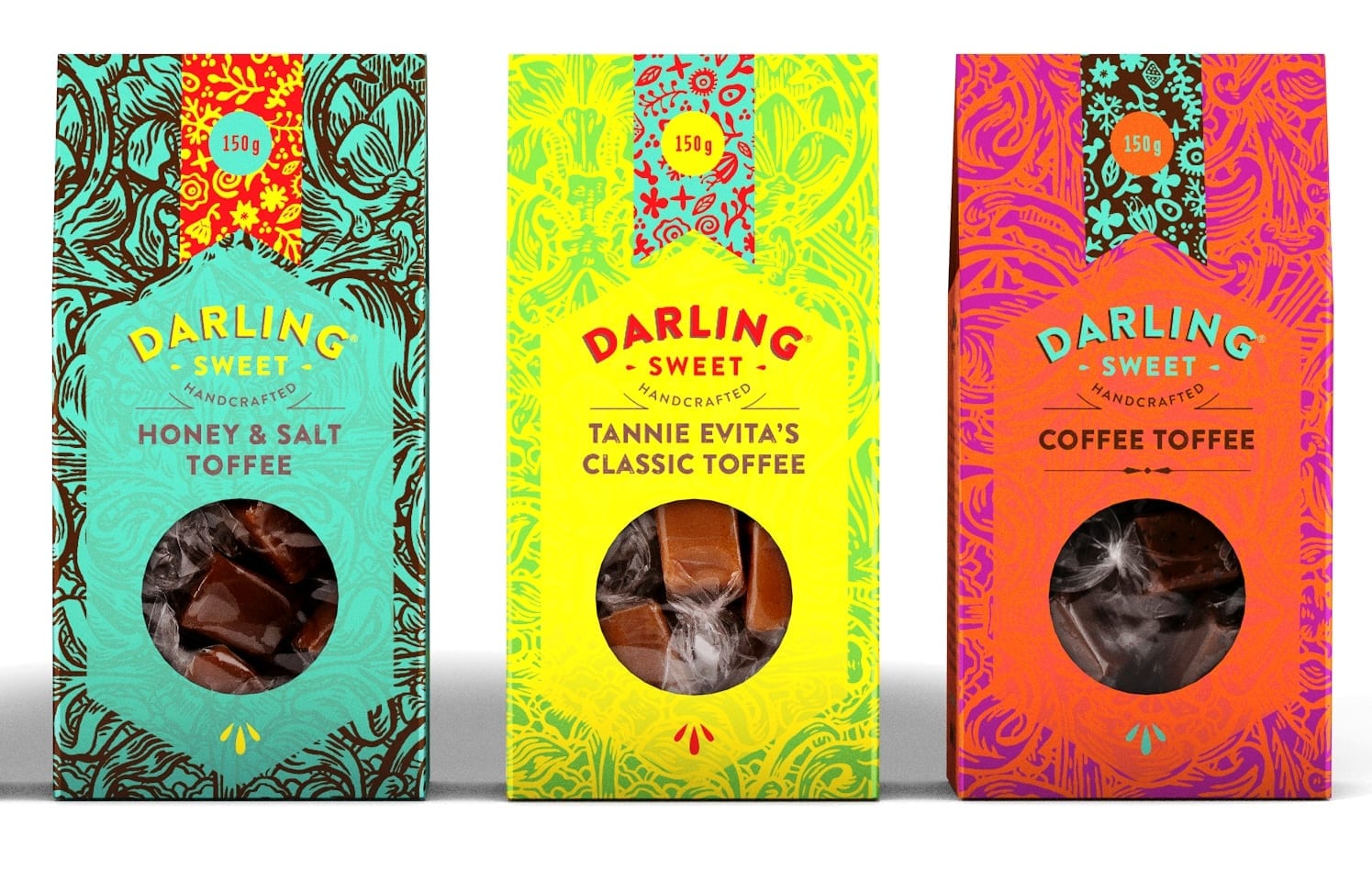 Recognised by the National Confectioners' Association, National Toffee Day is celebrated by millions across the world on January 8 every year as fans of the confectionery indulge in their passion. The history of this delicious sweet has sparked much debate, leading to various theories in efforts to explain its origin. Historians can highlight some important events related to food history.
The word "toffee" appeared in the Oxford English dictionary for the first time in 1825, and although it's not known when the word was first used it is believed to come from the word "tafia", a West Indian rum made with molasses or sugarcane juice. Another theory says that toffee's earlier spelling, "toughy" or "tuffy", referred to its chewy toughness.
Oddly, Americans refer to toffee as "English toffee" as their version is called Buttercrunch, the difference primarily being the ingredients, as "English" toffee is made with brown sugar, whereas buttercrunch is made with white granulated sugar and also includes a variety of nuts unlike traditional toffee.
Toffee Trivia: The largest piece of toffee weighed 1 334 kilograms and was created by Susie's South Forty Confections, Inc of Midland, Texas on 17 September, 2002.
Darling Sweet's 150g boxes retail at R57 and are available online or from selected outlets countrywide.