ONCE upon a time, because they were on a silly R10 special, I bought a pastel de nata from a supermarket. Just as a shopping snack, you understand. When I ate it, it made me so sad because it was…not awful, exactly, to the point of being inedible, but miles away from being as good as such a pastry can be. There are two morals to this story: one is that you get what you pay for, and secondly, until you know how good things can really be, you're doomed to believe things you have are the best they can be – until you learn or experience otherwise.
This was on my mind during my stay at Brookdale Estate in Paarl this past weekend. Look, it's not that bad. At least those people who shop at that supermarket are eating pastries and not going hungry; the Sun1 hotels (formerly Formula 1 and described as "bottom of the range budget hotels") serve their purpose too. I consider myself extremely fortunate to have only stayed there one interesting night, many, many years ago. I remember carpet tiles on the floor. I'm also deeply grateful that I have a lifestyle which includes staying at very decent hotels and various other accommodations with at least four stars (and feet pillows).
And then there's Brookdale Estate.
The farm was bought by Tim Rudd in 2016 and transformed from a brown wasteland to the thriving property it is now. The Manor House, although it looks like – from the outside – that it's been there for centuries, with its gables, was built for Tim to live in. Now, it's a gracious and grand place where guests get to feel as if they are the lords and ladies of the manor. I know the correct saying is "to the manner born" but in this case, the ease with which you slide into the luxury at Brookdale begs the change to "the manor born".
After a slight detour along the gravel road instead of the parallel paved road (yes, I'm the idiot), I arrived and was warmly greeted by GM Yvonne Coetzee. Her husband Gary is the chef. The Manor House itself has five en-suite rooms which are reached by a central grand staircase rising up from the entrance hall. As I descended later for dinner I wondered why no one had suggested I pack a flowing ball gown to trail behind me. It would have been perfect.
Yvonne showed me around the ground floor, with its office, dining areas, two lounges and walls lined with books. I met Eugene Joseph, one of the two butlers (the other is Julian Witbooi, who was in attendance for the evening shift), who attentively cater to your every need. Heck, they even give little bows when you thank them and I soon began to get an inkling of what it's like float in this rarified air of the super wealthy. As Yvonne mentioned, everyone is treated the same, which is very important.
"Your room begins here," she said, unlocking the door on the first floor. "Begins?" I said. Yvonne smiled. I stepped into a hallway lined with cupboards on one side, the large bathroom to the other. I have a no outside-shoe rule in my own home, and the first thing I wanted to do when I walked on those deep, plush, pale honey carpets, was kick off my boots. How can one be allowed to traipse in even the most minuscule particles of dirt? After Yvonne had shown me around, demonstrated the hidden TV at the foot the bed and the cunningly concealed power points in the bedside tables and dresser, and pointed out the tea chest, I quickly located the feet pillows and immediately felt better.
A pillow menu is offered, because not everyone can sleep on feathers, but I was delighted with those already on my bed and soon felt into a pleasant afternoon nap. I woke up to the sound of rain on the roof, perfectly timed an hour before the wine tasting downstairs. To refresh myself, I took the Twinings tea chest out the cupboard (which also had a jar of honey, and decanted bottles of spirits) and examined the flavours. I am more of a tea drinker than coffee, and although I have several flavours at home, I boringly reach for the rooibos almost every time. Here there was no rooibos. "Ask for some," my brain said. "No," I replied, "I am going to work my way through these new ones." And so I did – Indian Chai, Four Red Fruits, Lady Grey, as well as Chamomile for sleepy time, and eternal favourite, Earl Grey.
Our wine tasting was conducted by Alessio Ballerini, assistant winemaker to Kiara Scott: Chenin Blanc, Serendipity Rosé and Syrah from the Mason Road range, and the flagship Chenin Blanc of which the older vintages are now sold out. A 375ml bottle from 2019 was in the room's mini bar, as a special treat. Brookdale also makes a 16-variety white Field Blend (currently sold out) which sounds fascinating, and a similarly multi-variety red blend is on the cards. During October, for breast cancer awareness, Brookdale has partnered with Getwine with a special offer to raise funds for Project Flamingo. You can read all about it here.
Afterwards, I retired to the library to "look" at the books, and by look I mean "borrow" some. Showing unusual restraint, I selected just two, which I disclosed to Yvonne. I didn't really need them, as I already had my own but, like with wine and records, I find it difficult to resist; the accumulation is like a security blanket for me.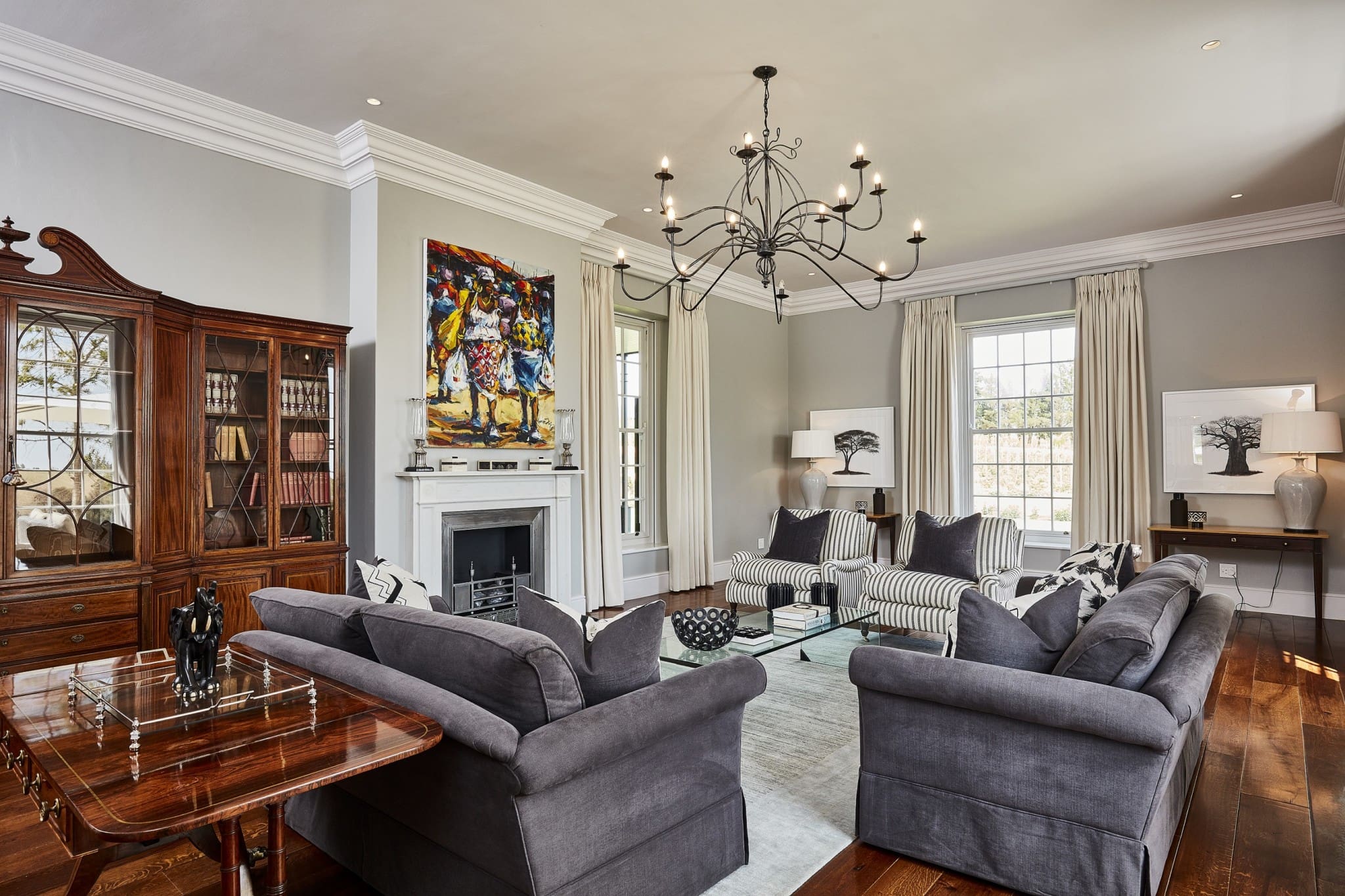 By dinner time, what was previously the office had been transformed into an intimate dining room with two tables (one for me, the other for the German couple) and a fire crackling in the grate. The rain had stopped but the sky was still dark and heavy. Because the Manor House was formerly someone's home, the kitchen is one which fits with that. If guests wish it to remain behind closed doors, it can, but otherwise it is open to visitors. "What's for dinner," I wandered in and asked Gary. I was not expecting a five course menu but that's what we got. He and Azriel Coleman (oh how we laughed and laughed when I asked him his surname) prepared trout tartare to begin, followed by spinach and ricotta tortellini with parmesan and Chenin Blanc cream sauce (heavenly), and toasted pumpkin seeds. Many ingredients are harvested from the garden while others, like the ricotta, are made in-house.
Gary came out with each dish to explain it. I loved the next course of roasted cauliflower with red onion, hummus and dukkah. Vegetarian, vegan even, can still be delicious. The main dish was pink springbok with espresso jus with the faintest tease of cinnamon, broccolini, dauphinoise potatoes and – Brussels sprouts. I loathed these as a child, when the iron-rich pink centres made them revoltingly bitter. A lot has changed in the intervening decades and they've been bred to be rather good.
Dessert was white chocolate torte with a perfect quenelle of berry sorbet (Azriel's handiwork), white chocolate mousse and strawberries from the garden. I loved every mouthful.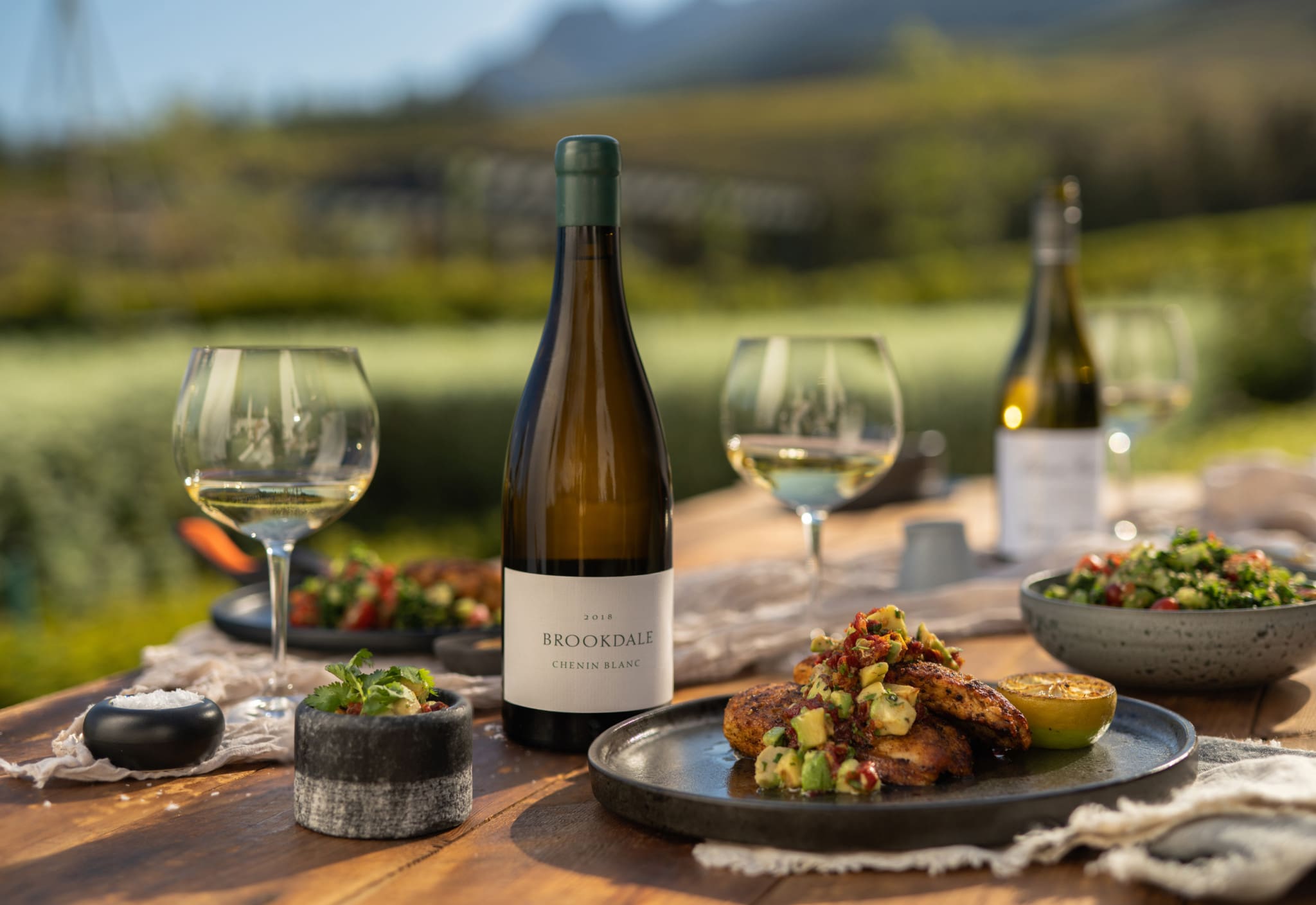 Breakfast the next morning was equally good, with individual Continental plates and freshly baked croissants which by their nature are so flaky I made the most dreadful mess all over the table, myself, and the floor. Eugene was very kind about it. For the hot plate, you can have eggs any way you like them, with your choice of bacon (streaky, as it should be), chicken sausage, tomato grilled or not, and mushrooms with sprouts and spinach; or the daily special, which was shakshuka. Before I left (on the paved road this time), Yvonne showed me around the garden, and the pool house, a cool haven on a hot day. The soft blanket peace and quiet is disturbed only by birdsong.
In addition to the five rooms in the Manor House, there is a separate vineyard suite for extra privacy. Whichever you choose, you can be assured of splendid accommodations, impeccable service, exquisite food (menus change for every meal), and plenty of wine. Above all, you will be made to feel like the most special person in the world, and that is priceless.
For more information, click here.