MOONSHINE. The very word conjures up all manner of romantic images, from its illicit history in the Appalachians when it was made in moonlight and the men who would drive it to the big cities during Prohibition, thus becoming the forerunners of stock cars and hot rods, to its enduring place in popular American culture, from music to film and television.
You can read more about it here, but the real story is that we now have our very own local 'shine.
The simple definition of moonshine is "clear, unaged whiskey". It's the way all spirits begin life before being aged in barrels, which give them their colour. Silver Creek Southern Moonshine is handmade in small batches, right here in South Africa. Randfontein to be exact. The range has already received some significant attention in the form of five medals at the 2017 Michelangelo International Wine & Spirits Awards.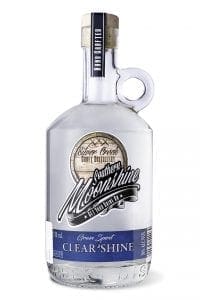 It was launched to Cape Town media at one of my favourite hole-in-the-wall bars, Dust & Dynamite, a very fitting venue. "If you like grappa…" said Silver Creek Craft Distillery founder and chief distiller Mark Taverner, cradling a jug in his arms. Oh hell, I thought inside my head.
What a relief to taste it and find it to be nothing at all like grappa. Southern Moonshine is smooth sippin' whiskey and slides down a real treat.
The collection is led by the flagship Clear 'Shine, a smooth and genuine pure spirit diluted to 50% alcohol by volume (ABV) – in American terms, 100% proof. This is the Michelangelo double gold winner. I was torn between this one and the Charred 'Shine (same ABV) which is flavoured with an oak barrel essence. Both are delicious over crushed ice or whole rocks. Both are in my possession.
There are also four flavoured 'shines, lower in alcohol (24% ABV) and made exclusively for the distillery in Louisville, Kentucky. Classed as aperitifs, they are Apple Pie, Bon Fire (cinnamon), Salted Caramel and Chocolate. I'm not a fan of sweet drinks but the chocolate and salted caramel are actually jolly nice, especially mixed together. These 'shines raked in the other four Michelangelo medals. All are packaged in fat jugs with a convenient finger-hole at the neck for easy swilling. Sexy AF.
"The flavoured whiskey category grew by 40% in the US in 2016. It remains one of the fastest growing segments in the market and, as they say, when America sneezes, the rest of the world catches the cold. As with craft beer and gin, we believe moonshine could be the next big thang in South Africa!" says Moonshine Mark.
"We model our moonshine after the traditional Bourbon whiskey mash bill or recipe that comprises of 51% yellow and white corn, to which we add crushed wheat and malted barley. All our grain is locally sourced," he continues.
"The process we use to make our moonshine produces a far smoother spirit than its Appalachian Mountain predecessors, where the spirit was born. Silver Creek Moonshine is triple distilled."
Drink your Southern Moonshine as is or with a mixer, and you'll also notice it's very happy inside cocktails. Find it at selected bars, restaurants and retailers around the country. The Clear and Charred 'Shines retail at around R370 for a 750ml bottle and the flavoured moonshines for R260.
For online orders and more information click here, or follow on Facebook at SilverCreekSouthernMoonshine and Instagram @silvercreeksouthernmoonshine. Join the conversation by using #getyourshineon.
SOME LINKS FOR FUN
Moonshine runners and their role in the history of hot rods
The origin of stock car racing