FITCH & LEEDES, the popular range of premium mixers, is shaking up your lockdown by adding some pizazz with a series of blended quarantini mocktails to create your own special happy hour at home. Beat the lockdown blues with these easy to follow virgin cocktails created in collaboration with Omniblend high performance blenders and food blogger and photographer, Nita West from Shutterbloggin.
Dabbling in the art of mixology with easy to find, non-restricted ingredients, is a fun way to break lockdown monotony. Opt for the blended version of the minty classic Mojito or the Malibu Peach Lemonade Slushie for a taste of summer. If you're in the mood for something slightly more decadent, try the Cranberry Cream Mocktail which includes a homemade recipe for a syrupy grenadine.
Leave your Instagram feed green with envy with the citrus infused Cloudy Cucumber mocktail, with or without a shot or two of your favourite gin, if you still have some of course. With winter in the air, make the Spicy Ginger Ice Tea your lockdown immune booster. Usually the perfect accompaniment to your favourite spirit, the mixers take the lead with these exciting mocktails.
Fitch & Leedes has a range of tonics including Indian Tonic as well as more hipster Pink, Blue and new Coral Grapefruit. The range also features a variety of mixers from Club Soda, Lemonade, Bitter Lemon and Ginger Ale, to the trendy Cheeky Cranberry, Spicy Ginger Beer and Peach Lemonade.
The Classic Mojito (pictured above)
Ingredients:
12 to 14 small mint leaves
30ml fresh lime juice
1 tbsp superfine sugar or replace with simple syrup made from xylitol
120ml F&L Club Soda
Method:
Blend all the ingredients together and garnish with mint leaves and a wedge of lime. Serves 2.
Malibu Peach Lemonade Slushie
Ingredients:
160g fresh peach / nectarines (peeled and frozen)
120g fresh pineapple (peeled and frozen)
350ml F&L Peach Lemonade
***Ice cubes (optional)
Method:
Blend all the fruit together and pour it into a glass. Top up with F&L Peach Lemonade and ice cubes. For a slushie texture, add a few blocks of ice to the blender.
Cloudy Cucumber Gin Mocktail

Ingredients:
1 large English cucumber
Strips of lime zest
2 tsps raw sugar – optional
2 lemon / lime wedges
F&L Bitter Lemon
30ml fresh lime juice
***120ml gin (optional)
Method:
Place a whole cucumber with half a bottle of dry lemon into the blender (peeling optional).
Run it through a fine sieve and collect the juice in a glass with ice cubes, add in some freshly squeezed lime juice and a slice of lime. Top up with a F&L Bitter Lemon and garnish with lime zest and a cucumber slice.
Cranberry Cream Mocktail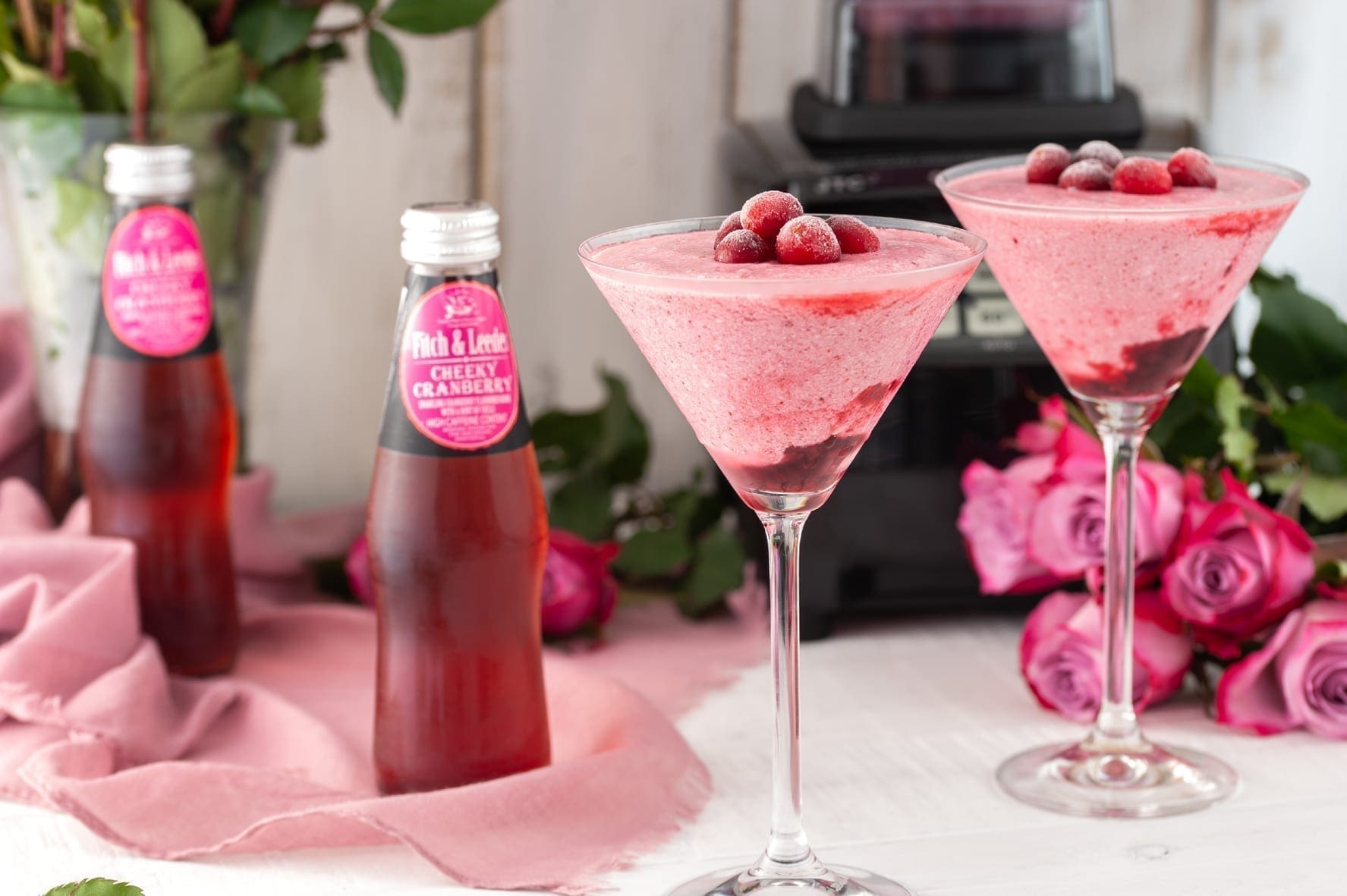 Ingredients:
100ml F&L Cheeky Cranberry
80ml apple juice/ puree
40ml lime juice
20ml coconut cream
2 dashes grenadine
Method:
Fill the blender with ice cubes, add all ingredients and blend. Add the grenadine to the bottom of your glass and top with Cranberry Cream.
Homemade Grenadine recipe
Ingredients:
500ml xylitol
250ml frozen berries
250ml water
Method:
Add all ingredients to a pot and boil for 10 minutes, allow it to cool before storing in the fridge.
Spicy Ginger Ice Tea
Ingredients:
375ml honey & ginger tea (option to use any herbal blend)
250ml crushed frozen pineapple pieces
200ml F&L Ginger Ale
Lemon slice and a few frozen berries to garnish
Ice cubes
Method:
Fill glass halfway with crushed ice (add a little F&L ginger ale to get your ice moving in your blender) Add ginger ale and tea to taste.
Garnish with berries.
Fitch & Leedes mixers are available at leading stores or online during and after the lockdown.Get in the mix with @FitchLeedes on Twitter, Instagram and Facebook.