ZOLA NENE and I are becoming quite good friends. She just doesn't know it yet.
Last week, the vivacious TV presenter, author, celebrity chef and food stylist – just a few of the things she does – was in my living room co-hosting the 25thanniversary celebrations for Checkers Odd Bins. With her was my real friend, whom I know in real life, the clever and lovely Malu Lambert. We actually Whatsapp each other, that's how real we are.
I saw Zola again last night as she hosted the 2020 Sauvignon Blanc South Africa Top 10, but technically that hadn't happened yet when I was writing this, so it has to be another story.
The Odd Bins people sent a box of three tissue paper-wrapped bottles of wine, with a big card declaring it was marking 25 years of South Africa's best kept secret. I don't think that's entirely true though. And it shouldn't be either, because it's flipping fabulous. In case you are still in the dark (where have you been? No, never mind, I don't want to know), Odd Bins is the wine section where you can find fantastic bargains but you will never know from whence the wine came. All the bottles are relabelled to render them anonymous but you can be sure they are tremendously nice.
For the event, we did an old-fashioned cheese and wine vibe. Well, not like it was in the 1970s, when all you had was cheddar or gouda, cut into cubes and skewered on toothpicks with tiny cocktail onions, usually lurid green ones. These days we have access to many more wines, and the knowledge that different types go with different cheeses. That's the theory anyway.
I'd been sent off to Checkers to purchase Brie, goat's cheese, and a mature cheddar. As it turned out, as it always does when I'm attending an online event with a friend, we missed which of the first two went with the Rosé and which with the Sauvignon Blanc. We were confident the cheddar would pair with the Merlot and we were correct.
Thanks to Malu, who sent me her prep notes (see? Real friends!) I now know the Brie and Rosé were paired. Thank goodness, we kinda got that right too; there was a 50/50 chance. It was a Cinsaut Rosé, Bin 74, from the Swartland, and it retails for just R54.99.
It has, says Malu (and I actually did manage to jot this down myself, legibly even): "Lots of bright red fruit, very fruit-forward wine…pomegranate, raspberry, watermelon, but also some white peaches, citrus peel, and a touch of chalky minerality, which is quite common for Cinsaut to have an earthy nuance. All those red fruits deliver on the promise, and this wonderful cleansing acid that just prepares your palate for more cheese!"
Rosé pairs well with soft cheeses – semi-soft white rinded cheeses such as Brie and Camembert. Brie in particular pairs well with a fruity Rosé, says Malu. "The mild flavour of the young cheese is well balanced by the soft acidity and fruitiness of the Rosé and complements the, it kind of gets into step with it."
Next up was a Sauvignon Blanc from Bin 238, with the goat's cheese. It sells for R59.99.
Now. Malu knows I'm not a huge Sauvignon Blanc fan. Wait, let me explain – it's not that I don't like it; some of them can be a bit hostile towards me when they're all green and uptight, but once we've all relaxed around each other, things go much better. In this case, I was pleasantly surprised. It was a rather lovely wine. Malu said so too: "This is lovely, it reminds me of my granadilla vine at home, not just the fruit but that dark leafiness, reminds me a bit of those lollies to make you jolly that you get on the beach – and this will make you jolly. The acidity is really quite stony, like river pebbles – and it kind of hops across your palate, super citrusy finish."
Why it works with the goat's cheese is that while it's earthy and tart, most of them are a bit of a blank slate, says Malu, so the citrus and mineral notes found in a Sauvignon Blanc bring out the wonderful nutty and herbal flavours found in the cheese. The acidity is also a great way to cut through the heaviness of the goats' cheese.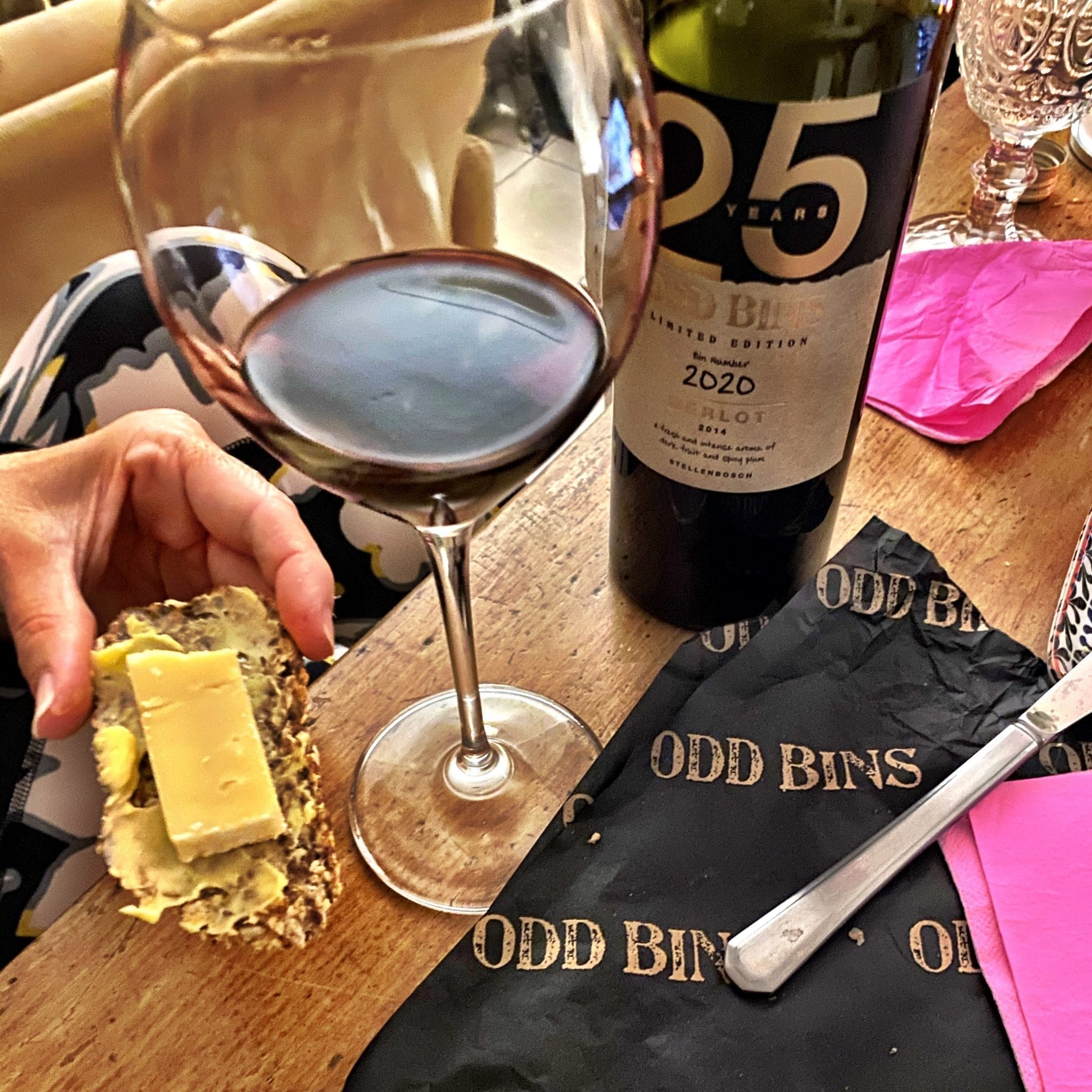 Finally, we got to the 2014, Bin 2020 Merlot which Malu's notes describe as having "dark spicy plums and damson fruit, rose petal purity, and black cherry density.
"Supple tannins, with a chocolate twist on its tail, the acid is linear, driving through all that velvety plushness, refreshes the palate, gossamer…"
And I'm afraid that's where it ends. Perhaps we were all too jolly by that time and none of it mattered anymore. Let me put it this way: my friend and I polished off the bottle of Merlot, all the Brie, all the goat's cheese and a fair amount of strawberries. I'd call that a decent party.