STEVE CARELL is a gifted and versatile actor, from comedies like 40-Year-Old Virgin, and voicing Gru in the animated Despicable Me franchise, to dramatic roles in films like Battle Of The Sexes and Welcome To Marwen, and serious outings, for example Foxcatcher. He got an Oscar nomination for that one. For many, however, his most well-known role was that of Michael Scott in the American remake of Ricky Gervais's workplace comedy, The Office.
He returned to small screens in 2019 for Apple TV's The Morning Show, opposite Jennifer Aniston and Reese Witherspoon. This month, his 10-episode series Space Force, co-created with Office colleague Greg Daniels, lands on Netflix on May 29, 2020.
Space Force…sounds familiar, right? Not only has the show been in development for well over a year (announced in January, 2019), it draws from real life. "A couple weeks ago, taking a break from confusing reporters with his statements about the ongoing global pandemic, President Donald Trump flouted social distancing restrictions to pose with military advisors and a new flag for his vaunted Space Force initiative," writes Hollywood Reporter's Daniel Fienberg. "He boasted about the development of a speedy new weapon and, seeming not to remember its actual name, dubbed it 'the super-duper missile.'
"This is a thing that happened in real life. You can't make this stuff up."
In Space Force the series, Carell plays four-star general Mark R Naird, who on the day of his promotion to the highest rank in the armed forces, is also appointed to head up the new branch of the military. A war hero and experienced pilot, Naird was hoping for Air Force.
He uproots his family and moves to Colorado where the Space Force headquarters are built (extremely quickly, for a top secret location). Naird's wife Maggie (played by Lisa Kudrow) is described as "a Washington Air Force wife who has sublimated parts of herself to her husband's career for two decades. But as he takes on his biggest challenge, she is growing in a different direction," Netflix teases. From being unhappy about the move at the end of episode one, the second episode finds her in prison (later revealed to be for 40 years) but with no explanation. Ever. I'm sure I couldn't have missed this detail as I became obsessed with it, constantly waiting for it.
So Naird is in Colorado with his sulky teenage daughter Erin (Diana Silvers), and a directive from the never-named POTUS (although it's blatantly clear it's Trump in all his glorious idiocy) to put "boots on the moon" by 2024. Then there's a joke that he actually typed "boobs".
Naird's significant other – work wife/husband – is Dr Adrian Mallory, played by John Malkovich. The men are at odds in the beginning, but their relationship warms up over time. These scenes are the best in the whole series, even if Malkovich is being Malkovich (still excellent) and Carell is channeling Michael Scott through Workplace Comedy 101.
Caroline Framke from Variety elaborates: "Given its creative team, it's not altogether surprising that Space Force is at its best when letting its workplace dysfunction take over. As a jock Air Force general, the typically stoic Noah Emmerich (The Americans) is having a blast as Mark's outsized jerk foil. Jimmy O Yang's (Silicon Valley) turn as an underling scientist gets a boost from his dry delivery, and is especially good as he gets more time with Tawny Newsome's Angela, a down to earth captain determined to make her mark. Carell's never better than when opposite Malkovich, as compellingly weird as ever in an otherwise meek role."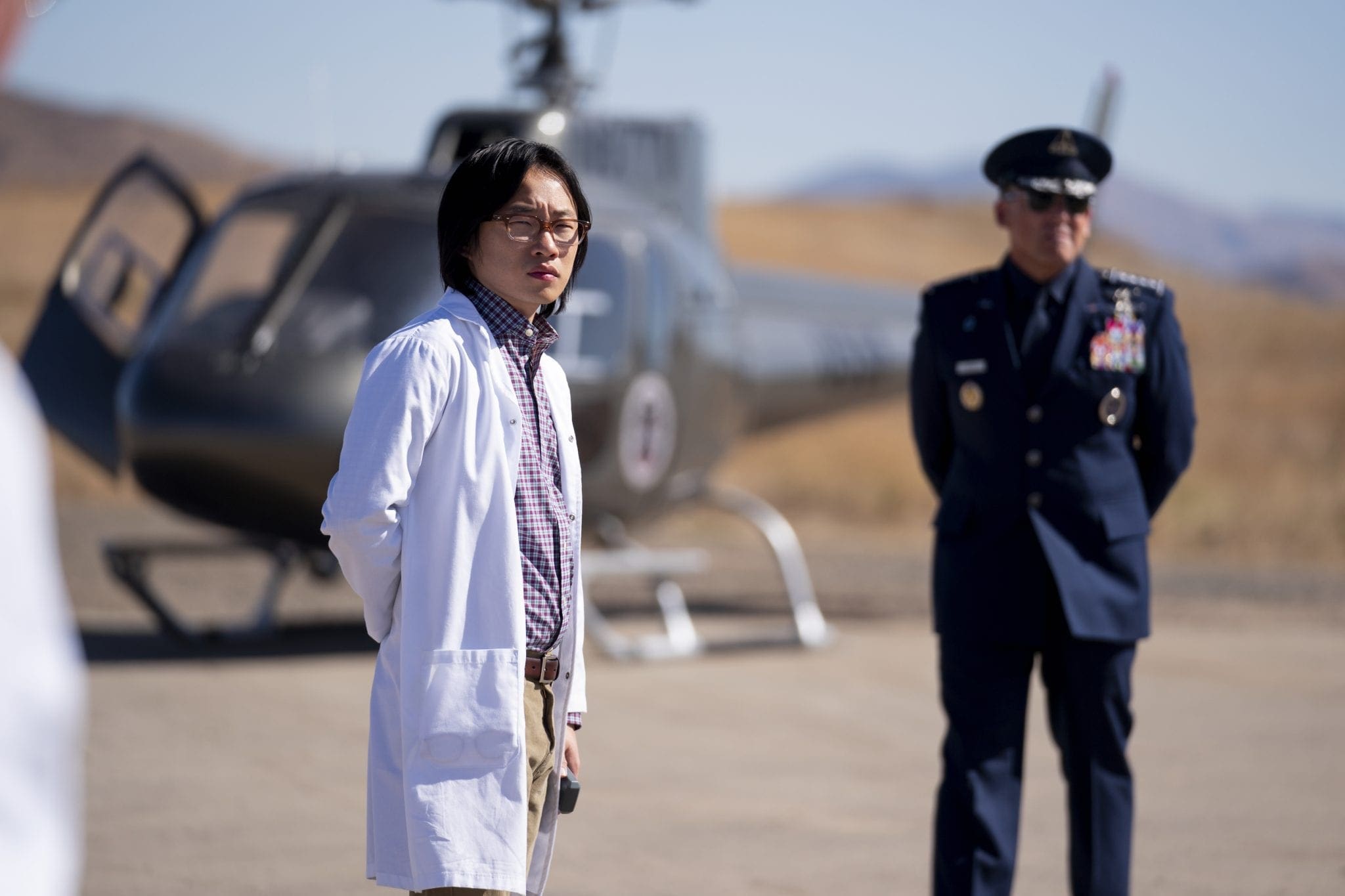 Also in the cast is Ben Schwartz (Parks & Recreation) as an obnoxious social media manager named F. Tony Scarapiducci (and referred to as "F***" Tony), the late Fred Willard as Naird's father who has dementia, and Jane Lynch (Glee) as the chief of the Navy. She has few lines and little screen time, but one of them is brilliant. No spoilers – but it's a reference to her gender.
"There was, clearly, no expense spared in the making of Space Force," says Framke, describing the new comedy as "a splashy flex of Netflix's powers."
Sets are expansive and slick, gleaming and pristine. Every episode brings new familiar faces, stellar production design, and the kind of confidence that only the total support of a network can bestow, she continues.
New Scientist disagrees on the money subject, and needs to point out which Space Force it is referring to: "Space Force the sitcom is, likewise, a labour of love, produced on an obviously low budget. Its small satisfactions take a while to build."
There are moments that shine, but as Fienberg accurately puts it: "Space Force just isn't close to consistent — especially in the first half of the season, the misses outweigh the hits."