WHOA! How was that first episode of Euphoria season two (weekly episodes every Monday, day after the US)? No surprise that HBO said the premiere drew 2.4 million viewers across all its platforms on Sunday night, making it the strongest digital premiere performance of any HBO episode on HBO Max since the streaming service's launch last May.
The Guardian wasn't impressed though, headlining its review "far too much nudity, sex and violence". How much is too much anyway? Yes, that was all there, and there was a lot of it right from the opening scene, but I don't think those elements overpowered the narrative nor were they gratuitous. The episode focused on Fezco's (Angus Cloud) – Rue's (Zendaya's dealer and friend) back story, his little brother Ashtray (Javon "Wanna" Walton) – learn how he got the name, and his no-nonsense grandma, played by Kathrine Narducci – Charmaine Bucco on HBO's hit series The Sopranos.
Elsewhere, there is a New Year's Eve party going on – masses of people, loads of alcohol, drugs (once Rue, Ash and Fez get there after a crazy side quest to fetch the merch), Lex looking for Cassie who is MIA and then found by icky Nate instead who bangs her in the bathroom while Maddy bangs on the door and that is a whole situation to play out, music, dancing, Jules trying to connect with Rue after having left her on the platform at the train station after which Rue relapsed, icky Nate laying into McKay which is really sleazy since McKay and Cassie were an item in season one, which included a pregnancy and actual feelings, and Rue making a new friend in the laundry room, bonding over whatever the current snorting powder is…one to stop the heart, another to start it again.
As the midnight countdown begins, Fez – who had been having a rather promising evening chatting to Lexi – sidles over to icky Nate and makes a bit of "any New Year's resolutions?" chit-chat, and icky Nate says "hey, the last time we talked, didn't you say you wanted to kill me?"
Yes, Fez did. Click here to refresh your memory as to why. The only thing that annoyed me about all this is that Fez didn't get a drop of blood on his white T-shirt. The episode ends with a close up on Jules and Rue's faces. Jules look horrified; Rue is just like, softly and quite possibly impressed, "damn".
Two series which I've watched and recommend, and are available to stream now, are Dr Death and season two of Why Women Kill.
In Dr Death, Joshua Jackson (Little Fires Everywhere, The Affair, Dawson's Creek) stars as the ostensibly brilliant young neurosurgeon Dr Christopher Duntsch. This is a good time to tell you this is based on a true story, and you can watch the four-episode true crime docuseries, Dr Death: The Undoctored Story, also on Showmax.
We put so much trust and faith in doctors, from GPs to surgeons, and it's terrifying to confront the fact that not all of them either have our best interests at heart, are grossly incompetent, or perhaps narcissistic psychopaths. Any combination of that spells disaster for patients.
After several of Duntsch's procedures end with patients maimed or dead, two fellow physicians and a Dallas prosecutor set out to stop him… and discover a system rigged to fail the most vulnerable among us. The cast includes Oscar nominee Alec Baldwin (Mission: Impossible – Fallout, BlacKkKlansman, Glengarry Glen Ross); Golden Globe winner Christian Slater (Mr Robot, True Romance, The Wife); Critics' Choice nominee AnnaSophia Robb (Words on Bathroom Walls, The Act); Meryl Streep's daughter, Grace Gummer (Mr Robot, The Hot Zone, American Horror Story); and five-time Emmy winner Kelsey Grammer (Frasier).
Based on Wondery's hit podcast of the same name, which has over 50 million listeners to date, the eight-episode limited series has a 91% critics' rating on Rotten Tomatoes, with AV Club saying, "This adaptation manages to improve on its source material, perhaps because the story of Dr Christopher Duntsch is so monstrous, it must be seen to be believed."
It's a bit odd in that there are multiple timeframes to keep up with, and the drama is distinctly underplayed with the pace often slow, but that gives it more gravity…the "normality" and frustration of it, and how things can go so horribly wrong, deliberately and otherwise.
Why Women Kill, created by Emmy nominee Marc Cherry (Desperate Housewives, Devious Maids) is also, as the title tells you, about murder, but in a much lighter vein. It's season two of an anthology series, which is to say it's not much like the first one, which told the stories of three women living in the same house in different decades, and why they were driven to kill.
This time around, there is one central character, Alma Fillcot (Emmy nominee Allison Tolman – Fargo, Good Girls), a frumpy 1940s housewife desperate to join an exclusive local garden club, presided over by Rita Castillo (Teen Choice Award winner Lana Parrilla from 24, Once Upon a Time). Veronica Falcón (Ozark, Perry Mason), MTV Movie Award nominee Nick Frost (Fighting with My Family, Shaun of the Dead) and Teen Choice Award winner Matthew Daddario (whose older sister Alexandra played Jade last season) co-star.
Things just keep getting increasingly complicated, involving Rita's rich old husband whom she married because of exactly that and expected him to die much sooner; Rita is also having an affair with a struggling actor, who is also seeing Alma and Bertram's daughter on the side; there's a private investigator digging up the details of Mrs Yost's disappearance, and absolutely gorgeous costumes that Alma apparently pilfers from her closet.
But try as she might, Alma just can't get into this snobbish club, and when a woman is scorned, that's when the revenge plots are hatched…
For newly added The United States Vs Billie Holiday, Andra Day was nominated for a 2021 Best Actress Oscar and won Black Reel, Golden Globe and Webby Awards as legendary jazz singer Billie Holiday, who was targeted by the Federal Department of Narcotics with an undercover sting operation led by Federal Agent Jimmy Fletcher, with whom she had a tumultuous affair.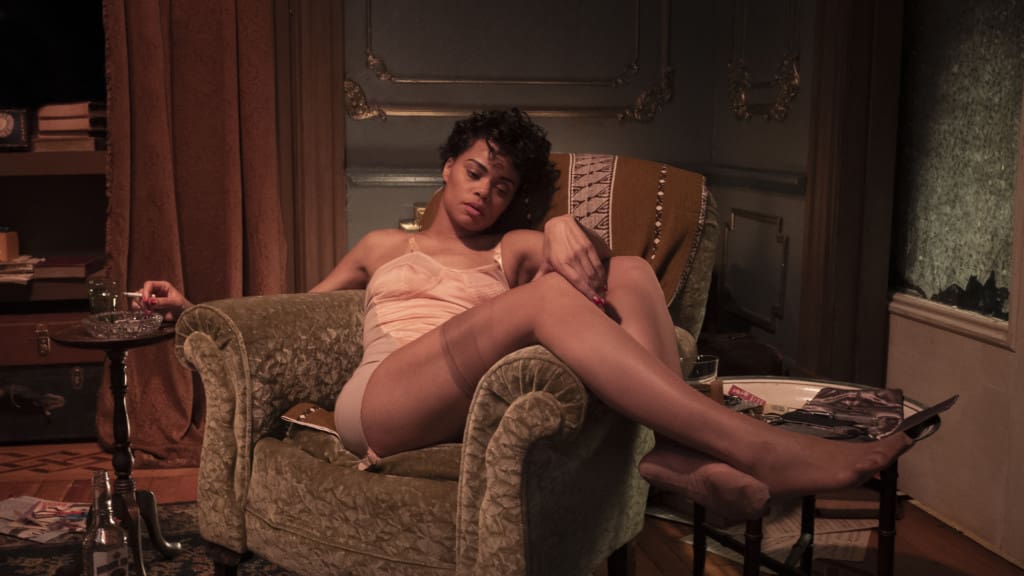 Two-time Oscar nominee Lee Daniels (Precious, The Butler) directs this adaptation of Johann Hari's book Chasing The Scream, which I'm so looking forward to watching. Black Reel winner Trevante Rhodes (Moonlight), Screen Actors Guild nominee Garret Hedlund (Mudbound) and four-time Emmy nominee Natasha Lyonne (Russian Doll, Orange Is The New Black) co-star.
As Deadline puts it, "You simply cannot say enough about what Day achieves in this role, particularly being a first-time actor. She gets beneath the skin of Holiday, giving a raw and honest portrait of an artist under duress but determined in her belief that she can use that art and talent to make the world a more just place."
Still to come this month and on my radar is Promising Young Woman (from January 20). Everyone said Cassie (Carey Mulligan in an Oscar-nominated performance) was a promising young woman… until a mysterious event abruptly derailed her future. But nothing in Cassie's life is what it appears to be: she's wickedly smart, tantalisingly cunning, and she's living a secret double life by night. Now, an unexpected encounter is about to give Cassie a chance to right the wrongs of the past in this thrilling and wildly entertaining story.
Writer-director Emerald Fennell (Killing Eve) won the 2021 Oscar for Best Original Screenplay – just one of 110 awards the film has won. Promising Young Woman has a 90% critics' rating on Rotten Tomatoes, where the critics' consensus says, "A boldly provocative, timely thriller, Promising Young Woman is an auspicious feature debut for writer-director Emerald Fennell – and a career highlight for Carey Mulligan."
Emmy winner Bo Burnham (Inside, The Big Sick), Emmy nominees Laverne Cox (Orange Is The New Black) and Connie Britton (The White Lotus, Nashville), Critics' Choice nominee Alison Brie (GLOW), Teen Choice winners Jennifer Coolidge (The White Lotus) and Adam Brody (The O.C.) co-star.