FRESH off the toy rack (the third season launched in the US on 4 October), Chucky, the slasher comedy horror series about a doll possessed by a dead serial killer sees Chucky (Brad Dourif) take a stab at politics. The President of the United States James Collins (Devon Sawa) sets Chucky loose in the White House when his son insists that it's Take My Doll To Work Day.
Chucky was nominated for Best Horror Series at this year's Critics Choice Super Awards, with Brad Dourif up for Best Villain in a Series as the title character. With a 91% Fresh on Rotten Tomatoes, and an 87% audience rating, critics and fans alike are obsessed with Chucky's creative kills and meta horror commentary.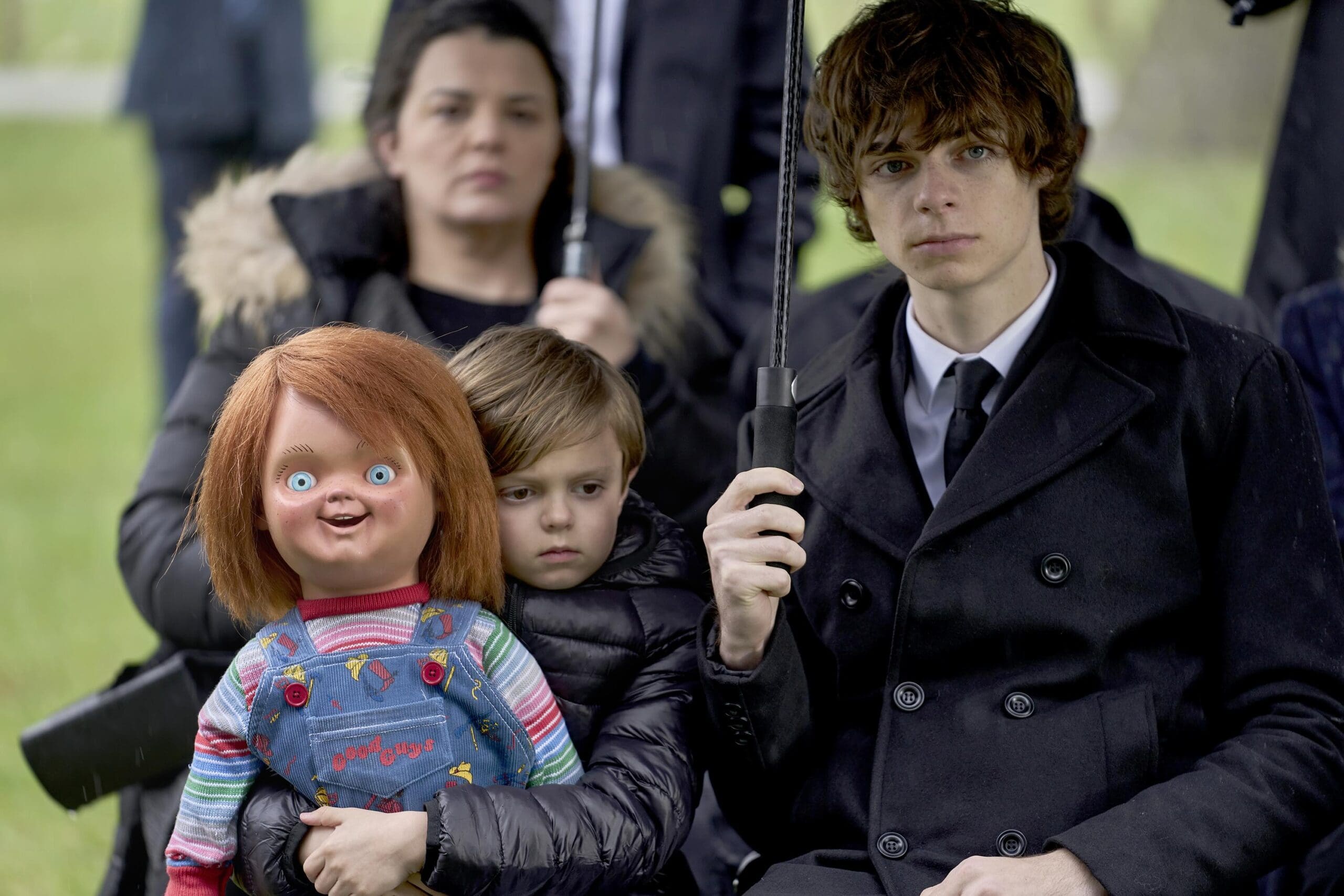 Chucky's not the only one making a comeback; the OG gang's all here including Jennifer Tilly as Chucky's ex-turned-enemy Tiffany Valentine, Zackary Arthur as Jake Wheeler, Bjorgvin Arnarson as Devon Evans, Alyvia Alyn Lind as Lexy Cross, and Fiona Dourif as Nica Pierce.
Watch Chucky season three from 23 October, with two new episodes every Monday, and catch up with seasons one and two until then.
In Scream VI, the core four survivors of the Ghostface Murders leave Woodsboro to start new lives in New York City. In a city of eight million people, Sam Carpenter (Melissa Barrera) – the daughter of the OG Ghostface Billy Loomis (Skeet Ulrich) – her sister Tara (Wednesday's Jenna Ortega), and twins Chad (Mason Goodin) and Mindy Meeks Martin (Jasmin Savoy Brown, the teen Taissa in Yellowjackets), whose uncle was horror film buff Randy Meeks, should be safe, right? Wrong. Ghostface is leaving a calling card at each Big Apple crime scene – an original mask from their earlier killing sprees. Reporter Gale Weathers (Courteney Cox) and film geek turned FBI agent Kirby Reed (Hayden Panettiere) must unpick modern horror conventions to work out what Ghostface is up to this time. PS: Need caller ID? Roger Jackson returns as "The Voice" of Ghostface.
Named Best Movie of 2023 at the MTV Movie Awards, Scream VI is the #20 biggest global box office hit of 2023 so far. It won Best Fight at the MTV Movie Awards for Courteney Cox, and nabbed a nomination for Best Song for Demi Lovato's Still Alive. AV Club says it's "one of the franchise's best (and most brutal) sequels", while Independent (UK) calls it "wholly satisfying and ridiculously fun," giving it a 4/5-star rating.
Watch Scream VI from Monday, 30 October.
Cocaine Bear was nominated for two 2023 MTV Movie Awards: Most Frightened Performance for Jesse Tyler Ferguson (Mitchell in Modern Family) and Best Villain for The Bear (stuntman Allan Henry performed the bear's movements as a reference for a team of animators). Chicago Sun-Times calls it a "wildly entertaining and darkly hilarious B-movie blood-fest."
There's nothing more peaceful than a walk in the woods, unless you run into a bear who's off her rocker on 34kg of cocaine, thanks to a drug plane shedding its cargo in delicious, bite-sized bricks. Everyone in the forest, from hikers to rangers, the police and mobsters are frantically trying to find the rest of the drug shipment. This movie – loosely based on a true story and not at all based on physics – absolutely delivers on the bonkers promise of its title.
Directed by Emmy-nominated actor and filmmaker Elizabeth Banks (Charlie's Angels, Pitch Perfect 2), with The Americans stars Keri Russell and Matthew Rhys (Perry Mason), Margo Martindale, O'Shea Jackson, Jr (Straight Outta Compton), Jesse Tyler Ferguson, Kristofer Hivju (Tormund Giantsbane in Game of Thrones), and the late Ray Liotta (The Many Saints of Newark).
Watch Cocaine Bear from Thursday, 19 October.
Awards shows are notoriously stingy when it comes to horror and science fiction, but Showmax is home to two of the biggest SAFTA winners in this genre over the past two years: Gaia (2023 SAFTAS for Best Feature Film, Directing, Cinematography, and Original Music/Score) and Fried Barry (2022 SAFTAS for Sound Design and Original Score).
In Gaia (above), two off-the-grid survivalists (Silwerskerm winner Carel Nel from 4 Mure and SAFTA nominee Alex van Dyk from Die Stropers) save a forest ranger (SAFTA nominee Monique Rockman from Nommer 37) who's injured during a routine mission. But what starts out as a welcome rescue grows more suspicious as the son and his renegade father reveal a cultish devotion to the forest.
Set in the Tsitsikamma National Park, 2023 Best Feature Film SAFTA winner Gaia is a breakthrough for Jaco Bouwer, who won the 2023 Feature Film Best Director SAFTA, which now shares the shelf with his 2022 Best TV Drama SAFTAs for 4 Mure, a five-part kykNET series set in the same hotel room, but with different stories in different genres each episode.
As well as racking up a Best Cinematography SAFTA, Gaia won Best Cinematography at South By Southwest (SXSW) as well as Best Film, Director, Editor, Sound Design and Hair and Make Up at Silwerskerm, and the best Original Music/Score SAFTA, as well as the Best Feature Film award at the 2023 SAFTAs. The ecological horror has a 85% critics' rating on Rotten Tomatoes, with Decider hailing it as "a standout at South By Southwest" and describing the film as a "psychedelic-mushroom Cronenberg-via-del-Toro eco-body-horror creepy-creature freakout … visually potent … strange, beautiful and disgusting."
Critics the world over were positively foaming at the mouth over Fried Barry, which was Rotten Tomatoes' 10th best-reviewed sci-fi and fantasy movie of 2021, with an 80% critics' rating. In its five-star review, ComicBook.com hailed Fried Barry as "the most demented movie of the year… one of the most memorable, visually arresting, and unique movies I've seen in ages", adding that Green gives "the best alien-in-a-human-body performance since Vincent D'Onofrio in Men in Black".
Barry (stuntman Gary Green) is a drug-addled degenerate who – after yet another bender – is abducted by aliens. Soon Barry is riding shotgun in his own body as an alien visitor assumes control and takes it for a joyride through Cape Town. What follows is an onslaught of drugs, sex and violence as our alien tourist enters the weird and wonderful world of humankind.
One of the most anticipated streaming titles of 2023, HBO's The Last of Us is set 20 years after modern civilisation has been destroyed by a fungal pandemic. Joel (Critics Choice Super Award winner Pedro Pascal from Game of Thrones and The Unbearable Weight of Massive Talent) is hired to smuggle 14-year-old Ellie (BAFTA winner Bella Ramsey from Game of Thrones) out of an oppressive quarantine zone. But what starts as a small job becomes a brutal journey as the pair traverse the US, depending on each other for survival.
Based on the computer game of the same name (many of the voice cast reprise their roles), the series is written and executive produced by Emmy winner Craig Mazin (Chernobyl) and Neil Druckmann from The Last of Us and Uncharted computer game franchises.
One of the creepiest films on the menu is Smile. Trauma leads to terror when a smiling patient commits suicide in front of therapist Dr Rose Cotter (Sosie Bacon, Mare of Easttown) – after telling her that she's being followed by something that she describes as, "It looks like people, but it's not a person." As Rose looks into the story, though, she starts to doubt her own sanity (below).
In Resident Alien, Alan Tudyk (Hoban "Wash" Washburne in Firefly and Serenity) plays a grumpy, ancient alien (below) trying to pass as a small-town human doctor while he tries to decide whether he should go through with his secret mission to wipe out humanity in this inventive horror comedy series created by Chris Sheridan (Family Guy, Resident Alien) and based on the comic book of the same name by Peter Hogan and Steve Parkhouse. Two seasons are available to stream.
It's 1968 in America, but the sleepy small town of Mill Valley seems stuck in the past as it cowers in the shadow of the Bellows mansion on the outskirts of town. Within its walls, Sarah, a young girl with horrible secrets, turned her tortured life into a series of scary stories in a book that has transcended time, ready to terrorise a group of teenagers who go poking around the supposedly haunted mansion. This is Scary Stories To Tell In The Dark.
Oscar winner Guillermo del Toro (Crimson Peak) and director André Øvredal (Trollhunter) turned their dark imaginations and eye for the gothic grotesque to bringing the iconic book series – whose illustration of spiders popping out of a cheek boil tends to linger – to screen in eye-watering detail, winning Best Horror/Thriller Film at the National Film and Television Awards in the USA. It's aimed at younger horror fans, but The Rotten Tomatoes critics' consensus is that it's a "ghoulish good time", with NME calling it "disturbing enough to scratch even the most seasoned genre buff's itch".
A group of rich 20-somethings, a remote family mansion, a hurricane party, and one party game gone very, very wrong…now someone's going to have to wash blood out of the sofas and curtains. Not released in South African cinemas, Bodies Bodies Bodies (below) has an 86% critics' rating on Rotten Tomatoes, where the critics' consensus is that it's impeccably cast and smartly written. Entertainment Weekly calls it, "Summer's must-see horror comedy".
Guillermo del Toro's eye-meltingly beautiful film Crimson Peak is a gothic romance steeped in horror. In the late 1800s, a British nobleman (Tom Hiddleston, Kong: Skull Island) seduces an American heiress (Mia Wasikowska, Alice in Wonderland) and ghost story writer, and whisks her away to live with him and his sister (Jessica Chastain, Scenes from a Marriage) in their crumbling haunted mansion…but not for long.
The Baby (below) stars Michelle De Swarte (The Duchess) as 38-year-old Natasha, whose life implodes dramatically when she is unexpectedly landed with a baby. Controlling, manipulative but incredibly cute, the baby twists Natasha's life into a surreal horror show. As she discovers the true extent of the baby's deadly nature, Natasha makes increasingly desperate attempts to get rid of it. She doesn't want the baby, but the baby definitely wants her.