Tintswalo Atlantic, the award-winning five-star boutique lodge just metres away from the high-tide mark inside Table Mountain National Park, with panoramic views of Hout Bay Harbour, the dramatic Sentinel mountain peak, and the Atlantic Ocean, reopens today, October 1, following a fire in February, 2019.
The fire destroyed the main section of the lodge and while it was being fixed up, it was decided to re-do some of the guest suites as well. Last week we got a preview of this amazing property which has surely one of the most spectacular locations in Cape Town.
Built along the shoreline, the waves break almost at your feet; in fact, if you manage to grab the swing on the rocky beach at the right time of day, your feet will actually be in the water.
You're greeted upon arrival in the parking area off Chapman's Peak, with a refreshing cool towel to wipe the grime from your hands and face, accumulated during the gruelling journey from the City Bowl. Ice cold water is poured and you can stop for a moment to appreciate the view from above. A shuttle takes you down to the lodge via a steep and winding road, for which anyone who drives their own car will be most grateful.
There, you get another welcome drink before being ushered into the lounge. Several lounges, actually, with massive poofy couches and chairs filled with cushions from which you might never rise again. Glass doors open the entire space to the deck, and the ocean below, and the shades of blue reflect the surroundings as does the abundance of shiny shells.
Beyond the lounges is the dining area, indoors and out, and thereafter the route to the 10 rooms (and one two-bedroomed villa) which can accommodate a maximum of 24 guests. The rooms are called Island Suites. Individually decorated, they are named accordingly: from Robben Island, Madagascar and Zanzibar, to Java, Corsica and Sicily. They all have wood-burning fireplaces and armchairs, as well as private decks, and all the bathrooms have tubs against the large window so you can soak and sigh as you contemplate The Sentinel. For the water-wise there are walk-in showers, and the toiletries are Africology – natural and eco-friendly in keeping with Tintswalo's commitment to conserving the environment.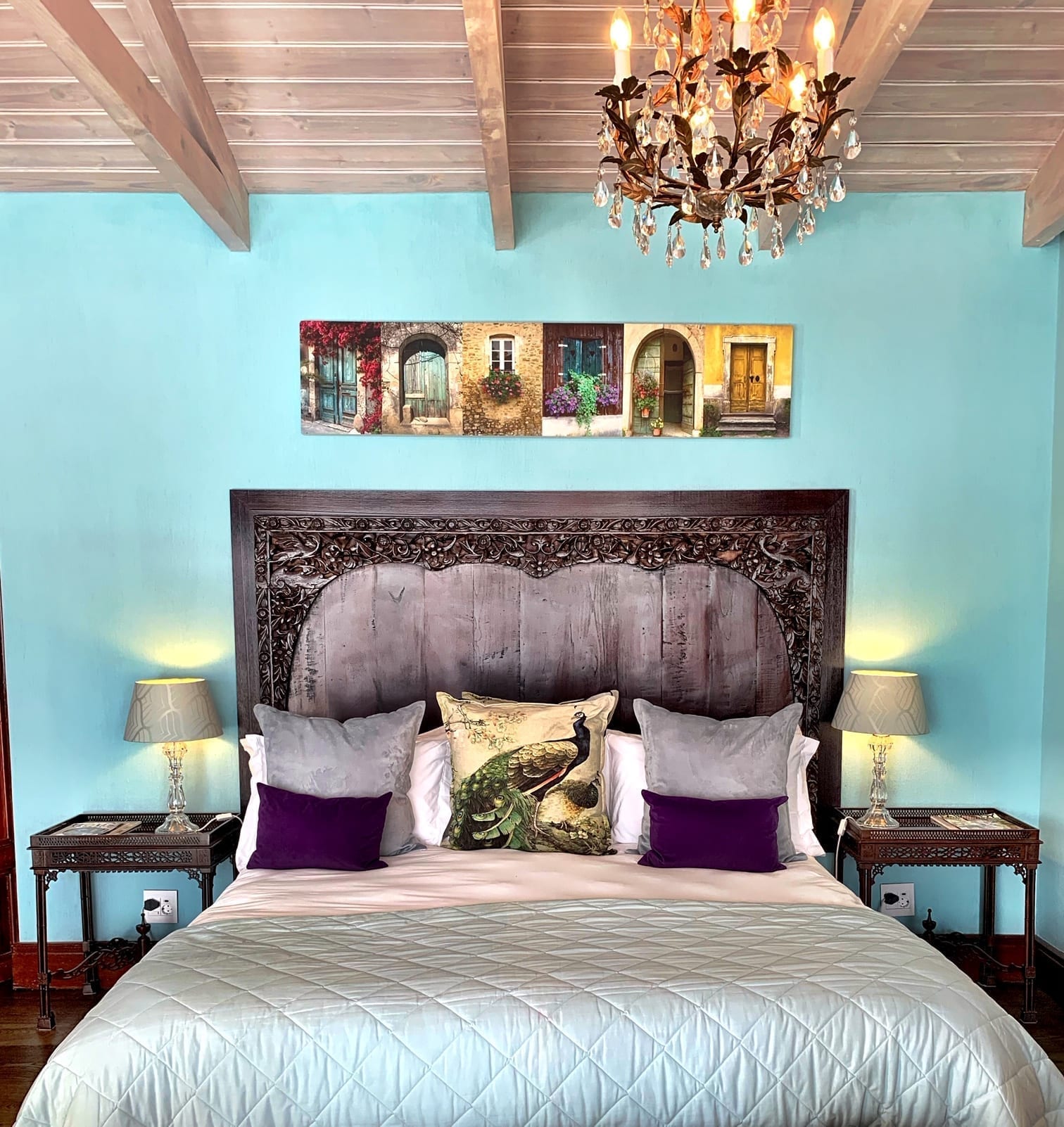 Our Ithaca suite was right at the very end of the walkway which hugs the mountainside. We were assured no snakes had ever been found in the rooms. We were left to settle in with a bottle of rosé in an ice bucket and a cheese and fruit platter to stave off the hunger pangs before dinner. It was the most perfect of days – hot and sunny (but not too hot) and no wind, which we took advantage of by spending some time by the heated pool.
At about 6pm we headed to the main deck for sundowner cocktails and canapés, before a three-course dinner. When it comes to sunsets, Hout Bay has some rather good ones and we weren't disappointed. A blaze of orange and purple was followed by deep blue inkiness as the lights across the bay began to twinkle.
Later, when we got back to our room, we found the turndown service included soft velvety robes, the plushest of slippers (feet pillows, as my friends know I call them), big bottles of water (so necessary after all the wine) and a fortune cookie. A Tintswalo signature touch is a poem to ease you into your dreams.
Coinciding with the re-launch, Tintswalo Atlantic is taking a new marketing approach to focus on resident guests only. In addition, more accessible room rates have been introduced to invite guests to immerse themselves in the full Tintswalo hospitality experience. Room rates include bed and breakfast and start at R6500 per room per night (low season May 1 to August 31); to R9600 (high season) and R11500 in peak season December 15 to January 15.
Says CEO, Lisa Goosen and one half of the mother daughter team with Gaye Corbett: "With tragedy comes opportunity and after the fire the re-launch has provided us with the prospect of fine tuning our product offering. Tintswalo Atlantic is synonymous with luxury, privacy and seclusion. This is what we will highlight as our service promise. We'd like to present guests with a bespoke and exclusive, private lodge experience, complete with the warm South African hospitality and personal service our brand is known for.
"Family owned and managed, Tintswalo Atlantic is a magical, emotive place. The sensation of love, gratitude and peace is what we'd like for our guests to experience when they stay with us. It is a Tintswalo tradition for every guest to be invited to make a wish before they leave this special place, by casting a pebble into the ocean and taking this special moment away with you."
Mine broke when it hit the rocks so I don't know what that bodes for my wish.
Included in the rate is complimentary wi-fi and extravagant full breakfast (buffet and à la carte), as well as the Sundowner Cocktail of the Day with a selection of canapés. Room service, in-room massages, transfers and a range of sightseeing excursions are available too.
Non-resident guests will be accommodated once a week only at the Tintswalo Atlantic Where else in the World Wednesday Lunch, where a limited number of casual diners are welcome by prior reservation and subject to availability. The three-course lunch is R960 per person. Resident guests will have the option of booking for lunch and dinner daily.
CONTACT DETAILS
Tel: +27 11 300 8888
Email: [email protected] / [email protected]
Online: Web, Facebook, Twitter and Instagram
PHOTO CREDIT: BIANCA COLEMAN ©