IT all began with an invitation to dinner in Cradock (which you can read about here). It's more than 800km, which is a bit far for one stretch. Luckily I have connections with the Cape Country Routes people so with some planning, a two-week road trip was planned.
When I announced I would be embarking on this adventure on my own, reactions were mixed. My mother pursed her lips and said "you know I'm going to worry" which is fair, because she always worries when I drive anywhere farther away than the V&A Waterfront. "Oh you're a brave one," said Marlene next door but I could tell she was impressed. There were others who simply couldn't contemplate being alone in a car for that length of time, and those who approved wholeheartedly in understanding the strain of being in such close quarters, for so long, with another human.
Me, I'm comfortable on my own; in fact I prefer it most of the time, especially when travelling. Plans can be made or unmade without discussions which can leave others upset or sulking, nurturing grudges and plans to murder you in your sleep. I can decide when, if and why I stop (photo opportunities, bathroom breaks which are determined by whether it's worth overtaking the same 17 trucks a second time – no, knyp till you get where you're going). The (minimal) mess in my car is my own, and no one will interfere with or complain about my music choices, let alone have the audacity to turn down the volume. What's not to love?
I was very happy with my itinerary, which took me from Cape Town to Montagu, then on to Oudtshoorn via Route 62, up to Graaff-Reinett and Nieu Bethesda, down to Cradock then Addo, before heading back in the direction of Cape Town along the Garden Route. Theresa Gibbon, PR for CCR, suggested I spend two nights at each place, because as she put it, I "need time to fall in love and experience a property". I'm so glad I took that advice because not only did I have that time to fall in love, it made the whole road trip far more relaxing than if I'd been checking in and checking out before I'd even had time to unpack my toiletry bag.
Driving manageable distances every second day allowed me the luxury of cruising often below the speed limit (thank goodness because cops trapping on the side of long deserted roads are A Thing) and enjoying the scenery and wide open spaces.
The first stop was Montagu, which didn't quite feel like a road trip…yet. I've been there a few times for weekends, and through it even more on my way to Barrydale. It's a lovely little town, with an excellent book shop, and the Montagu Country Hotel. Mention that to almost anyone and they'll say "oh yes, the Art Deco place." Yes indeed.
During lockdown in 2020 when there really wasn't anything else to do, the owners of the hotel gave it a significant facelift. This was after previous, much-loved, owner Gert Lubbe passed away. Homage is paid in the new Lubbe Lounge, where his portrait hangs on the wall above the fireplace. Here, guests are invited to relax on one of the many Art Deco couches and armchairs in the hotel, read a book, have a chat, or sip a pre- or post-dinner drink.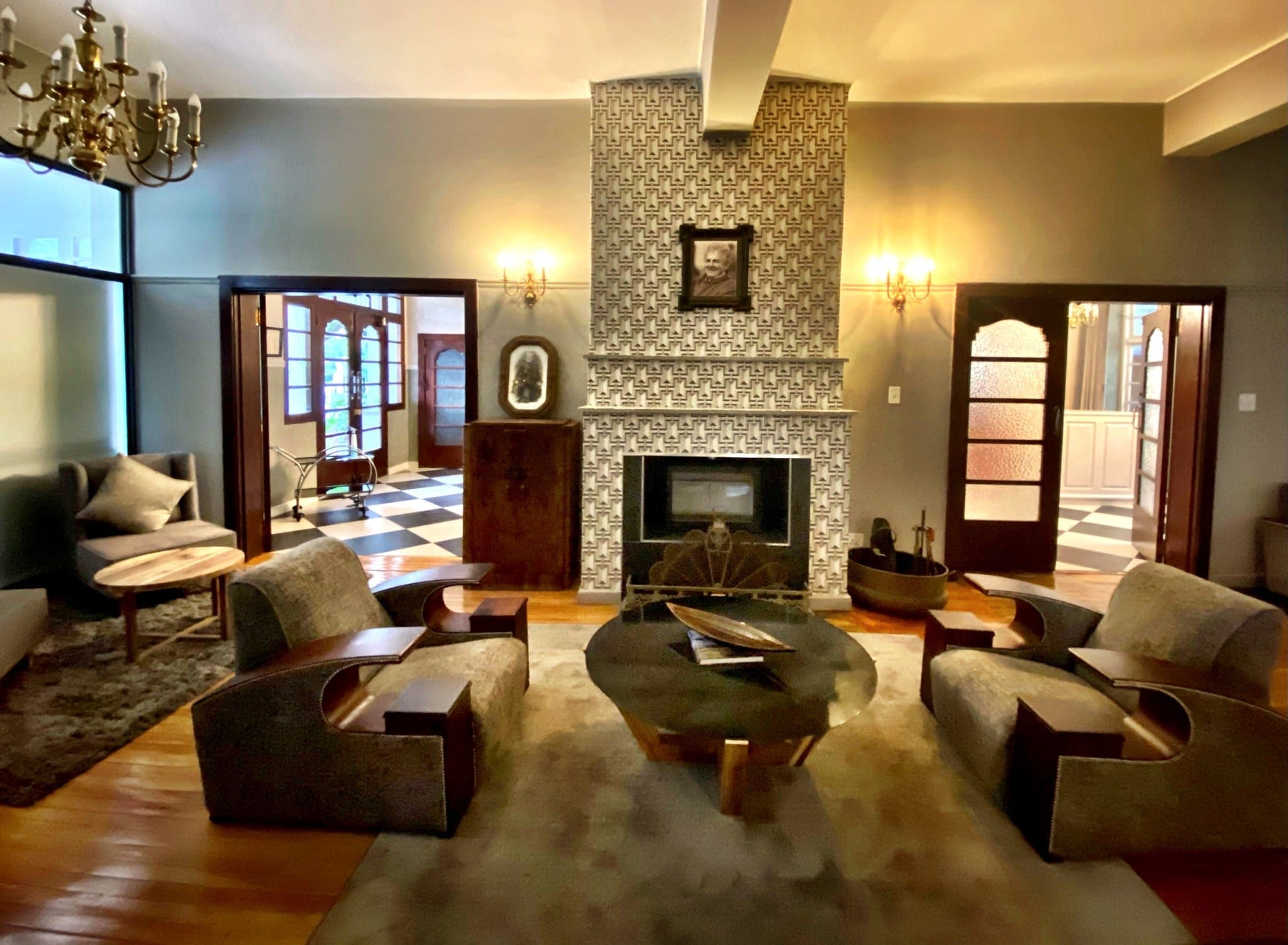 Also new is the Feathers & Flatcaps bar and the enlarged outside deck, and a small art gallery between the reception hall, linking to the Charlstons dining room where dinner can include Karoo lamb pie and malva pudding. It's getting a bit cooler now but you can also take your meal outside on the patio, under the trees. It's a very pretty garden, with little seating nooks and stone sculptures lurking between the greenery, and there's a spa and a hair salon tucked away too. Two self-catering suites have been added, one of which is specially equipped for disabled guests.
In addition, the hotel is now home to the Montagu tourism information office (and shop) where you can find out about things to do while you're in town, as well as an activity hub where you can rent a bicycle to explore the town and surrounds, or book a tractor ride. If, like me, two wheels are not your thing, the American Dream Cars are a big attraction here. PJ Basson, who worked with Gert for decades at the hotel, and who is dedicated to continuing the legacy, took me for a drive in the sky blue 1956 Cadillac. The clouds and sprinkling of rain did nothing to dampen my spirits as I marvelled at the car's pristine interior, electric windows, power steering, and the rumble of its engine.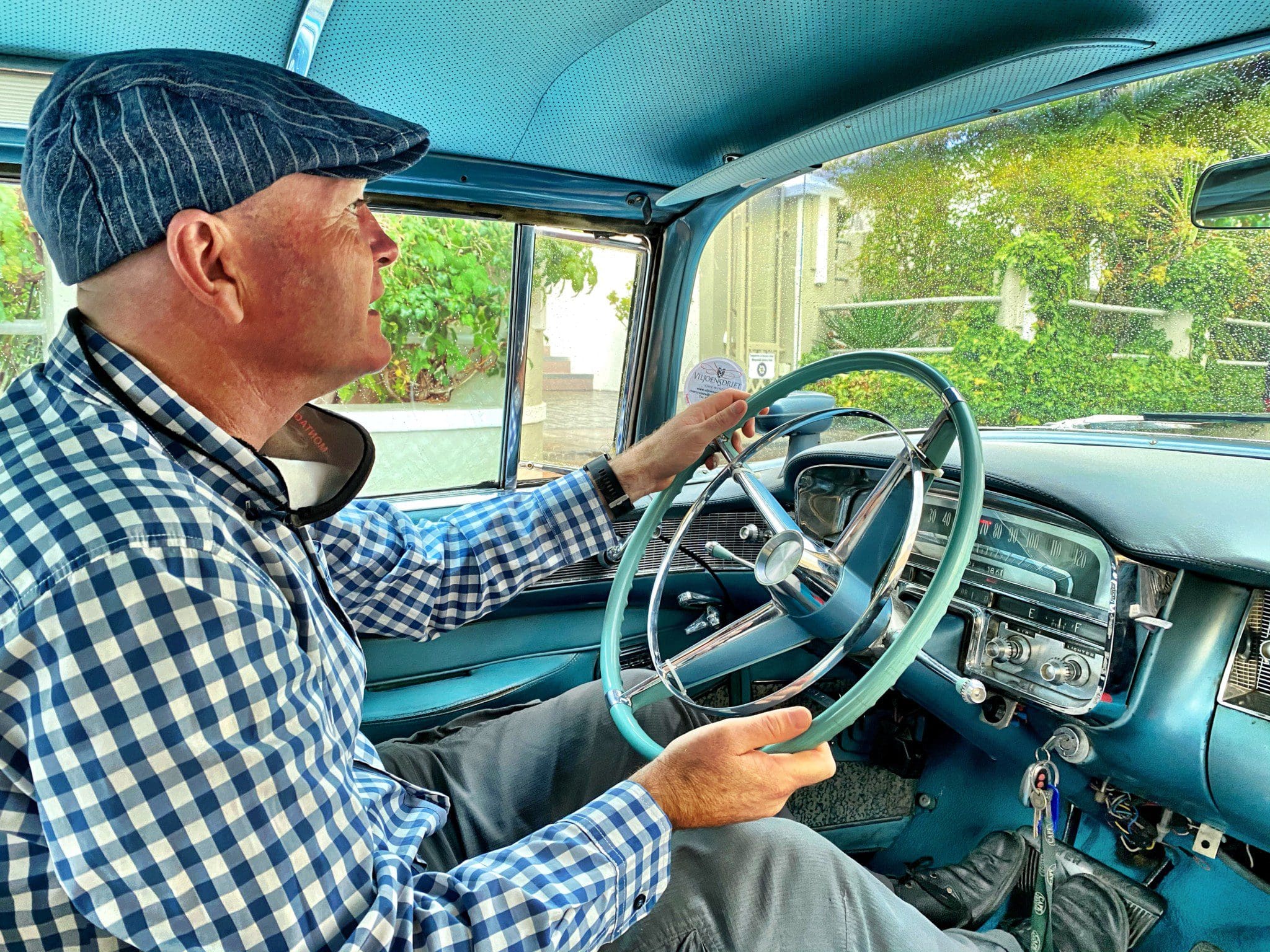 Montagu Country Hotel is a wonderful tribute to the art and design of the 1930s when Art Deco was at its peak, without sacrificing any of our modern-day comforts, and houses a truly magnificent furniture from the era. Importantly, it is home to two cats: haughty Coco, the Maine Coon, who has been in residence for many years; and newcomer Gatsby, who apparently pitched up one day in December and decided he liked it and would stay. If you should hear him miaowing outside the door of your room, let him in. He just had to go when he grew too possessive over the duvet…another reason to travel alone.
For more information, click here.
PHOTO CREDIT: BIANCA COLEMAN ©