WHEN they make it look so effortless, you know you are in the presence of true talent… ballerinas, singers, acrobats, magicians…and David Kramer. His latest musical, Langarm, now on at The Fugard Theatre, is pure Kramer magic.
The story of love and intrigue set in the story-world of Cape Town's ballroom dance culture in the 1960s when the threat of the new apartheid laws were hanging ominously overhead, is deftly driven by the songs. These are complemented by the extremely fine vocals, exquisite dancing, fabulous costumes and all-round powerful energy. Yes, I think those are enough adjectives for now.
The tale begins with the recently-widowed Dinah Levin (Kim Louis – reuniting with Kramer after 20 years, having been in Kat And The Kings on Broadway), who invites her recently-dumped nephew Jeff (Cameron Botha – Funny Girl, West Side Story) to come help her manage her late husband's hotel, the Canterbury. This being a street name not far from the Fugard itself gives us an appropriate sense of location.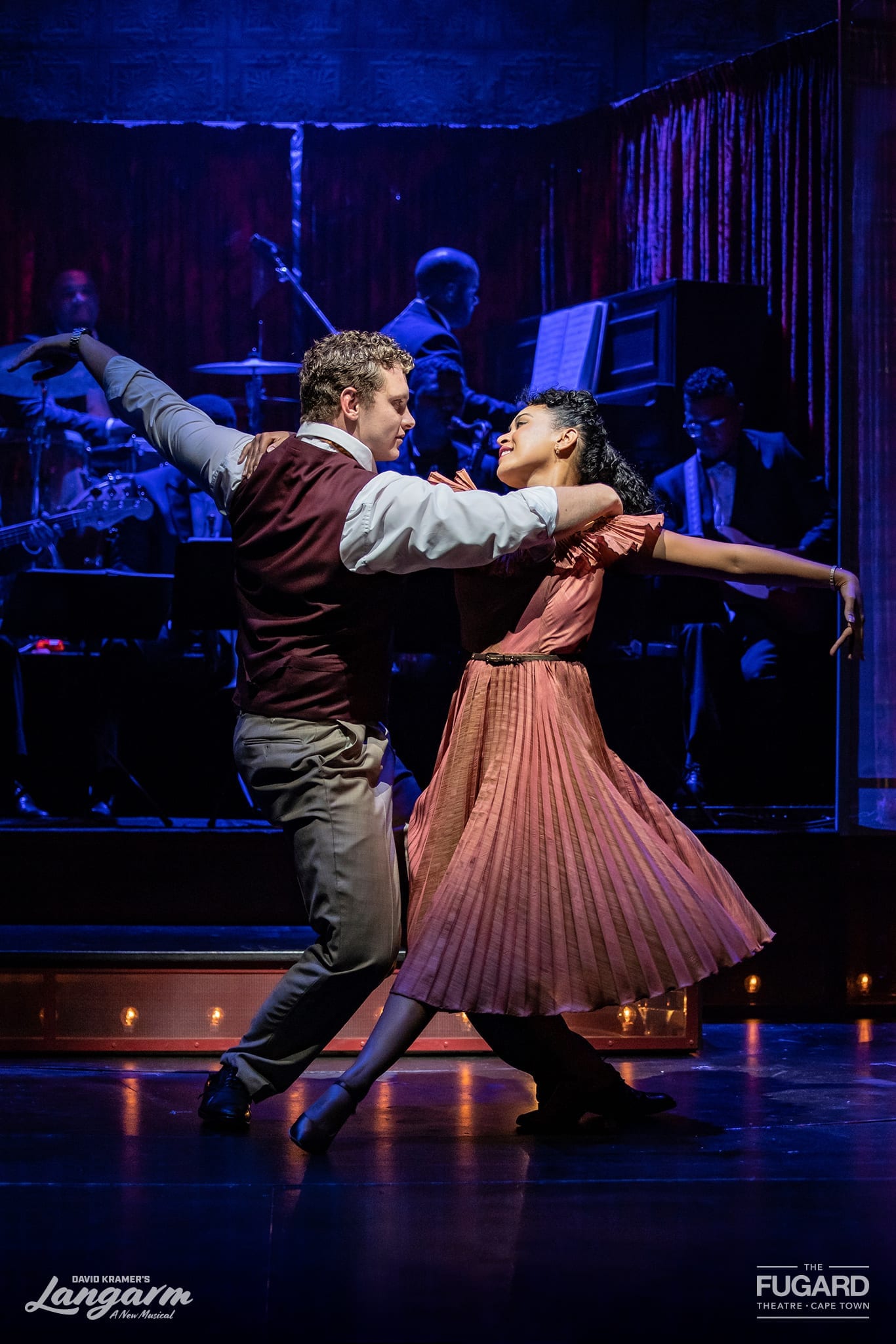 When Jeff meets ballroom dancer Angelina (Rushney Ferguson – King Kong, District Six: Kanala), he's quite taken with her, and when her dance partner bails on her she asks Jeff to step in for the very important championships in Swaziland. Easy? Not at all – the laws of the time could see them both jailed for fraternising across the colour lines.
Then there is Eddie Jephta, the leader of the Moonlight Serenaders langarm band, which comes to play at The Canterbury Hotel when Jeff decides to introduce langarm dance evenings. There are more secrets here, old ones reaching back into the past, which Dinah must confront.
Eddie is played by Elton Landrew who was in the award-winning Ellen: The Ellen Pakkies Story. He originally played Young Kat Diamond in the David Kramer and Taliep Petersen musical Kat And The Kings, touring Germany and Austria as well as the Tricycle Theatre in London.
The cast is completed with a superb ensemble of singers and dancers: "We have brought together some of SA's most established stage performers with the country's phenomenal rising talent," says Kramer.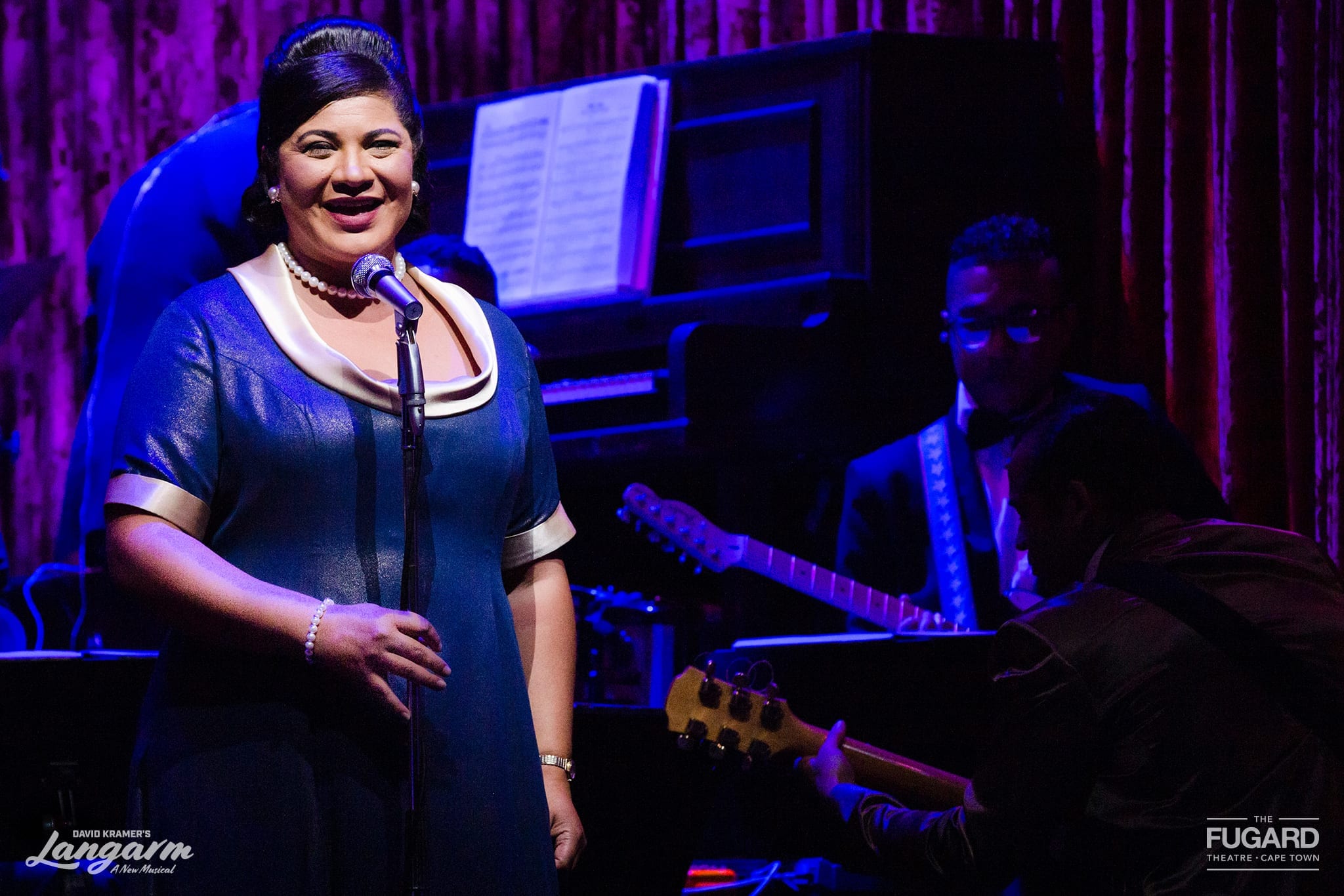 The esteemed Eddy Cassar wrote this post on Facebook after seeing the show, and I hope he doesn't mind me sharing it here, because it really does sum up everything I felt too, and I can't say it better:
"David Kramer's new musical, Langarm at The Fugard in District Six, is not to be missed. I have always loved the way Kramer tell stories, creates characters and brings them to life.
"You can see that Langarm has been crafted by a perfectionist. Every aspect of the production is beautiful. The attention to every miniscule detail, is spectacular.
"The production introduces many new characters to the stage, most unknown to the industry. Kramer has shaped them into stars that shine so brightly in this story.
"Expect one beautiful song after another, world-class acting, dancing and singing, great costumes, a magnificent set and lighting, a super-tight band and bucket loads of energy and enthusiasm.
"Don't miss this one Cape Town. Booking I would imagine is heavy.
"It's our duty to support local theatre – you won't be disappointed."
Langarm has a recommended age advisory of no under 12s, and will be performed at The Fugard Theatre from Tuesdays to Saturdays at 8pm with a matinee performance on Saturdays at 3pm.  From Sunday December 16, there will be an additional Sunday matinee at 3pm. There will be a Monday night performance at 8pm on December 31 also at 8pm.
Tickets ranging from R150 to R260 can be booked through The Fugard Theatre box office on 021 461 4554 or through The Fugard Theatre's website. There is a 20% discount for the Friends of The Fugard members. These discounted tickets can be booked through the box office.
Visit the ground-floor bar for a before and after show drink and snacks. If the weather plays along, enjoy the panoramic city views from The Fugard Theatre's rooftop bar. There is secure parking for a small fee directly opposite The Fugard Theatre in Harrington Square.
FEATURED IMAGE BY JESSE KRAMER