THE region is famously recognised – all over the world – as being the home of some of South Africa's best Sauvignon Blancs, and D'Aria is a member of that prestigious club.
The wine industry has been dishing out a lot of awards lately – Michelangelo and Veritas announced their winners this month, and in the 2018 FNB Sauvignon Blanc Top 10 competition, D'Aria's The Songbird 2017 is right up there along with other fabulous Durbanville wines including De Grendel Koetshuis 2017 (wooded), Diemersdal Winter Ferment 2018, and Nitida Wild Child 2017 (wooded).
As we slip gently into spring, there is no better time than now to sample these and the 2018 vintages; Sauvignon Blanc is the quintessential warm-weather wine, with its crisp and refreshing notes and exotic tropical aromas. The valley itself is a treasure trove of historic homesteads, stunning landscapes, award-winning restaurants and some of South Africa's premium wine labels. Even Jack and Charlie Stein – sons of acclaimed British chef Rick Stein – have been in the area recently, filming a new 13-part food and wine television series titled Wine, Dine & Stein, which will have a local and international broadcast next year.
For Capetonians, Durbanville is an easy day-drive but why not book in somewhere for a night or two, and make the most of the region? At D'Aria there are 12 fully serviced, air-conditioned cottages; not the fanciest of accommodations but certainly comfortable, with nothing lacking.
Long-stay guests will enjoy the laundry and catering services, and there is 24-hour security. Amenities include selected satellite TV channels and heated towel rails.
The two-bedroomed cottages – set in a row overlooking the vineyards – have stoeps with built-in braais, which we found to be the perfect antidote to Friday afternoon work stress. A bottle of wine was on the kitchen table to welcome us, and it was opened to toast the fire as the sun set. Make sure you take your own wood and firelighters as these are not supplied.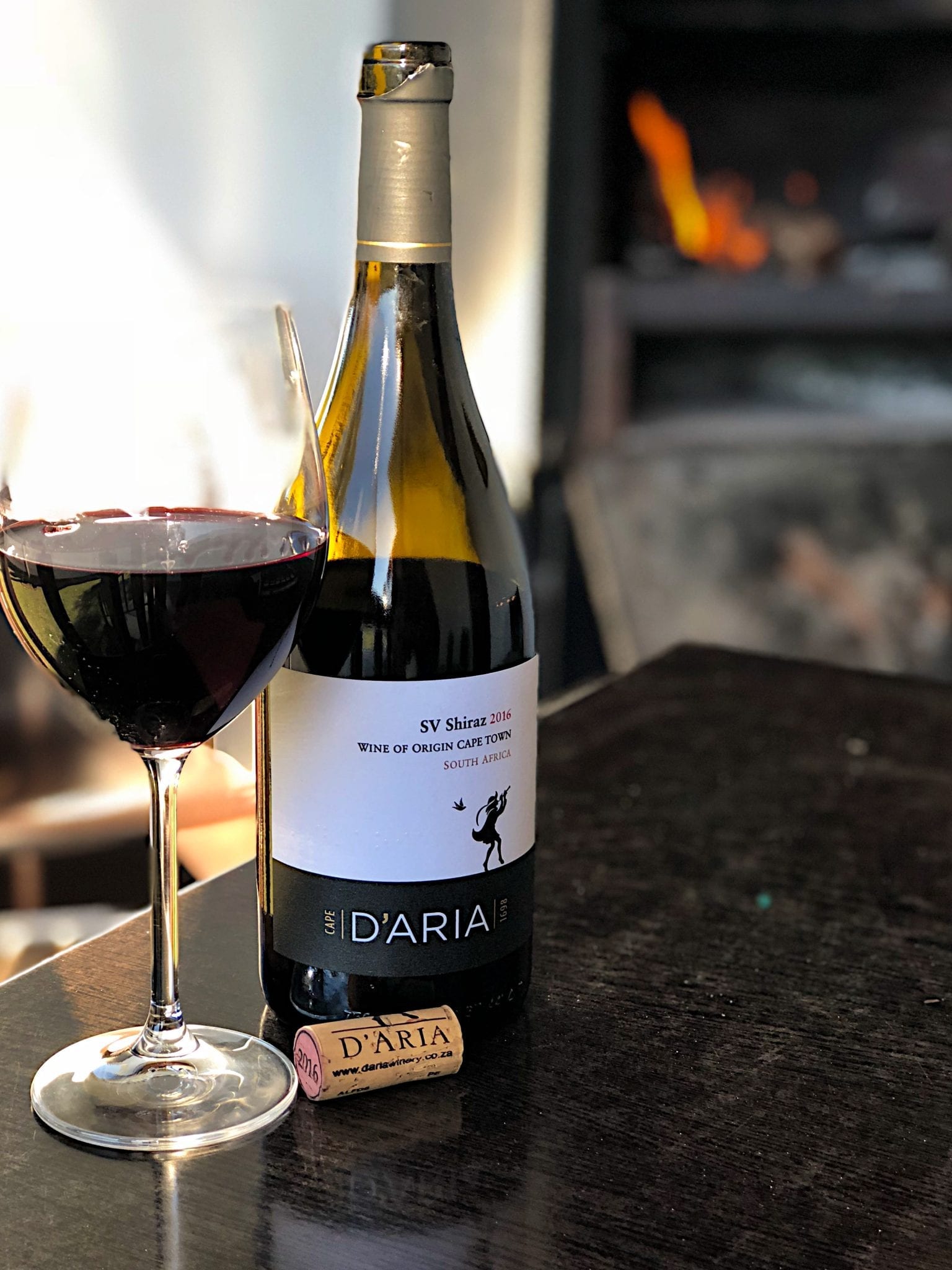 I would like to say this is a quiet winelands escape but that would not be entirely accurate; D'Aria is located on a busy road, which you can see from your cottage, and there is a lot of traffic noise, especially in the afternoon when others are going home from work. Quieter are the mountain bikers racing around the nearby track. I mention these things so you can plan accordingly; I suspect absolute silence is not as important to families with small children, who bring with them a racket all of their own. There is lots of grassy space in front of the cottages where they can play too.
Guests can stroll through the surrounding vineyards, cycle as mentioned, or go the more mellow route of wine tastings and wine route tours, which D'Aria will happily arrange.
Should the notion of cooking over coals pall (although I can't imagine how or why), D'Aria's Poplars Restaurant is there to serve at your pleasure, as are many off-site restaurants in the area – on wine farms and not. Celebrity cook Jenny Morris has just opened her second Yumcious with its famous Kilo Table ((SUBS CORR)) just down the road, and this weekend you can get a free wine tasting for two when you order a Picnic Goodie Box at Tables at Nitida.
Also in the Durbanville Wine Valley is Hillcrest Estate where live music and other festival-type events are often held in the Hillcrest Quarry. This Sunday, Prime Circle are in concert from 8pm-11pm.
For many years, there were 12 farms in this wine route, but then Meerendal (which is one of the venues for this season of Galileo open-air movies) sold off a bit of itself and Canto became the lucky-for-some number 13. The new boutique winery makes an excellent an unwooded Chardonnay, Merlot, and MCCs which it pairs with macarons. The deli offers a selection of nibblies for you to build your own picnic.
While all 13 have something special to offer, Signal Gun can be singled out as it makes craft beer as well as wine, which it pairs with biltong. How South African is that?
THE LOWDOWN
Where: M13 (Racecourse Road), Durbanville
Telephone: 021 975 5802
Email: [email protected]
Website: www.daria.co.za
This story first appeared in Travel (Independent Media) on October 20, 2018