WHEN I was doing the usual casual Googling after my stay at La Petite Ferme in Franschhoek I came across this post: "Want a great night's sleep? This property was highly rated for its very comfy beds."
This I can vouch for most enthusiastically.
As a frequent traveller, I have come to seek out what I call the "unicorn bed". In the urban dictionary, the definition of a unicorn ranges quite a bit, often drifting into risqué territory – trust me, you do not want to know what this particular search turned up – but generally it can be taken to mean "the rare creature who is able to give you the thing you always wanted but thought you could never have" and applied accordingly.
In my case, this is the hotel/guest house/B&B bed. It's crazy, given how much time I spend in strange beds, but I seldom sleep well, certainly not on the first night. Most of the time is spent tossing and turning, and before I learned to remove it, getting deeply entangled in the extra top sheet under the duvet. It's been a waking nightmare, I tell you.
And then I stayed at La Petite Ferme.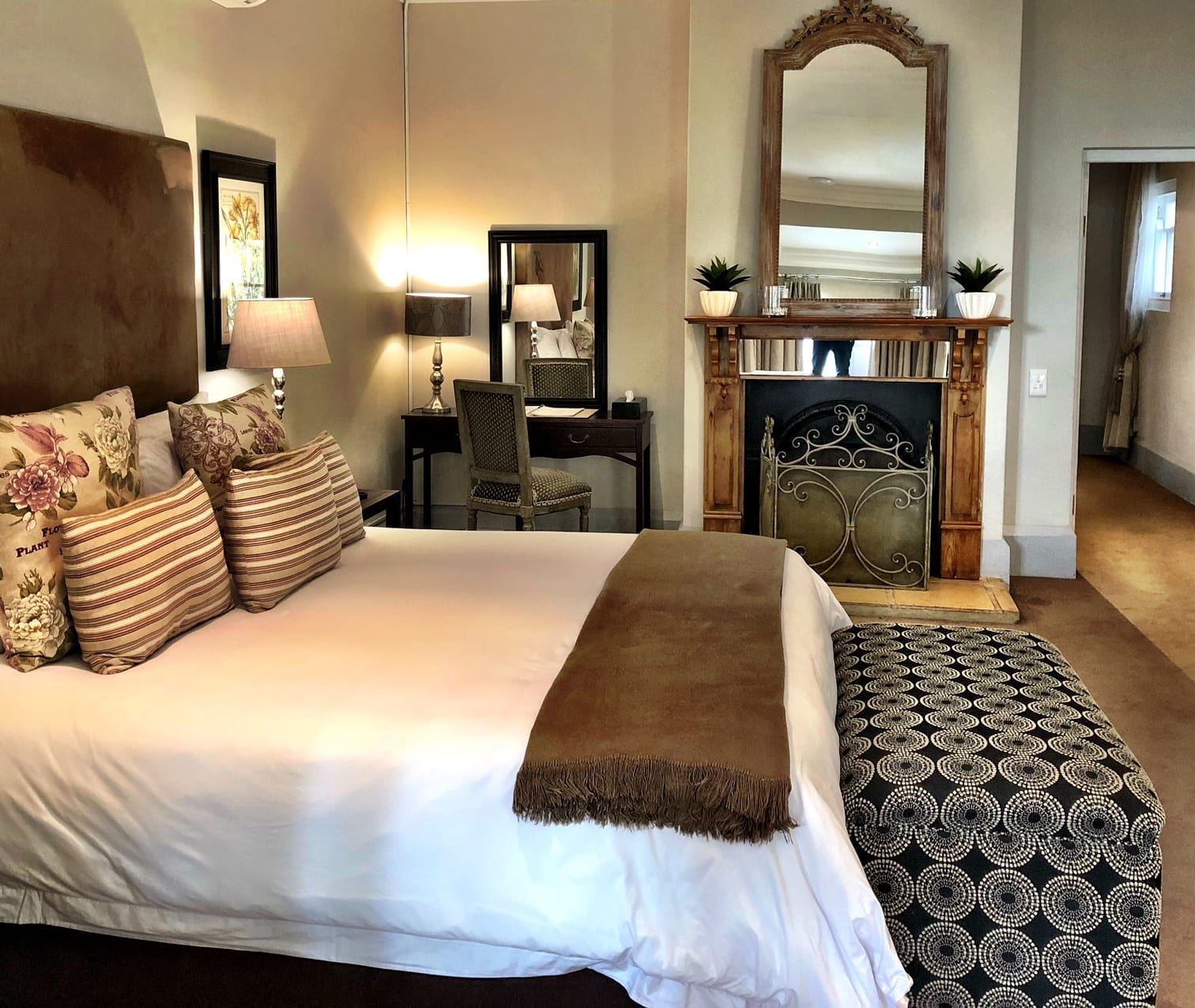 This beautiful working farm is located at the foot of the Franschhoek Pass and has unrivalled views across the entire valley below – from the restaurant, tasting room, and the suites in the Manor House, of which there are four. Five additional and individual Vineyard Suites lower down on the property are currently being renovated.
Our suite was The Library…two rooms with a connecting corridor and even a guest loo, and literally bigger than my city bowl apartment. Arriving on the wings of the promise of rain I was delighted to learn The Library has not one, but two fireplaces. Two! Double the opportunity to burn piles of wood.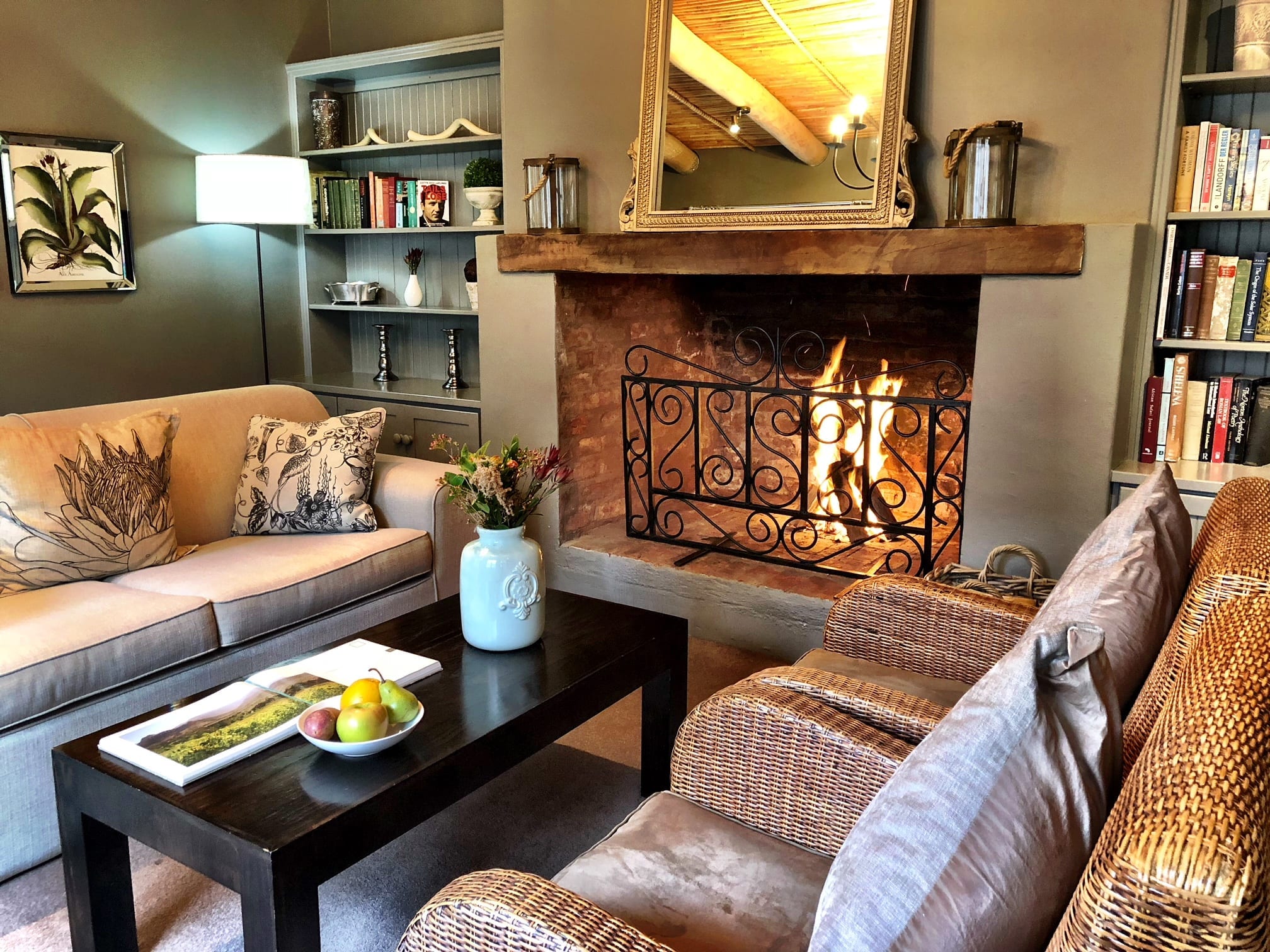 Given its history, Franschhoek is francocentric, as is La Petite Ferme; the décor in these suites could easily make you think you are residing in a chateau, perhaps somewhere in Bordeaux or Alsace. It's luxurious, sophisticated, elegant and comfortable all at the same time.
The Manor House suites all open up onto deep, sheltered verandas overlooking the private pool, and below that, a sloping hill of vineyards resplendent in their autumn bronzes and oranges. The clattering on the roof? That's the peafowl, do not be alarmed. With the property backing onto the mountain behind it, troops of baboons often lead foraging parties through the vines.
I learned that La Petite Ferme loses about 30 to 40 percent of its chardonnay grapes to these marauders, who favour this particular varietal above all others. Sometimes you just have to pick your battles, so the farm buys in extra grapes and makes a delicious wine called Baboon Rock.
This information came about during the wine tasting hosted by La Petite's tour guide Avron Williams (pictured above). Weather permitting, these mid-morning sessions (after a yummy breakfast of an omelette filled with famous Franschhoek salmon trout) include a little walk down to the vineyards, and a tasting of six wines. The experience is fun and informative, brightened with Williams's twinkling sense of humour and no small measure of romanticism. It's also free, so that's always a good recommendation.
But about that bed…as I slipped under the sheets I could feel myself sinking into the mattress as the pillows moulded around my head. "This is it!" I thought to myself. "If I don't sleep here…"
The next thing I knew, it was morning. Unicorns do exist – just not everywhere.
Besides the superb accommodation and the attentive care provided by the staff, La Petite Ferme's restaurant is a destination for guests and day visitors alike. It has just launched its new autumn menu, and is running a monthly series of collaborative "Chefs And The Vine" dinners until August.
Each soirée is presented by winemaker Wikus Pretorius and includes a tutored pre-dinner tasting of handcrafted wines from La Petite Ferme's cellar and compared with others from nearby terroirs as well as from afar, making for fascinating discourse.
The evenings begin at 6.30pm with canapés and Méthode Cap Classique wines, and include a four-course meal for R750 a person. Dates are June 28 (barrel-fermented chardonnay), July 26 (cabernet sauvignon) and August 23 (red blends).
Bookings are essential; email [email protected] or call Marinda Armstrong on 021 876 3016. For accommodation enquiries, go to www.lapetiteferme.co.za. There are currently three very attractive winter specials on offer.
This story first appeared in Independent Traveller on June 16, 2018
PHOTO CREDIT: BIANCA COLEMAN