IT'S been 11 years since Bertus Basson opened the award-winning Overture restaurant at Hidden Valley Wines in Stellenbosch. This month, he added number six to his growing empire of eateries. I invited myself to Eike on its second night and there are a few things I'd like to share.
First of all, and because you are definitely going to want to go there, it's not easy to find (unless they've since put a sign up on Dorp Street). Long story short, it's not on the road; stand in front of Simply Asia and you'll see a driveway to your left. Go there. Go on – it looks wrong but it's not.
Turn the corner around the building to your left, and then diagonally left from there, you'll see the entrance, with its classy glass doors and warm welcoming light behind those old-fashioned dimpled windows you'll remember from Ouma's house.
Heritage is what informs a lot of Basson's cooking, in all his restaurants, and while tradition forms the foundation for many dishes, they are all elevated with his unique creativity and vision. Waxing lyrical? Perhaps. Stick with me.
"When you visit Italy and you go to a restaurant, it is a cultural expression of Italy," says Basson. "Eike expresses South African food, not just the cheesy bits, but also about what is kiff about South African food."
Open for dinner only, Tuesdays to Saturdays, Eike serves a set menu of multiple courses (dietary requirements will be accommodated as far as possible) which will, in Basson's words, change as inspiration strikes. You can sit at a table, or at the wide marble kitchen counter where you can watch the team up close as they plate and present in this calm and unconventional version of the pass, with its murmurings of "yes Chef" repeated like a quiet culinary benediction. Basson will be there as often as he can, but Eike remains in the capable hands of Kyle du Plooy who was previously the sous chef at Overture.
I'd been sitting there a few minutes when Basson leaned over and pushed the rose gold plant pot closer to me. "That's your first course," he said. Which part, I wanted to know? Sometimes you just can't tell what's edible and what's not. "The roasted kale with dukkah," he replied. The curtain had gone up in this theatre.
That was followed by a teeny tiny wildebeest and celeriac "taco" bite, served on crumpled tissue paper on a giraffe bone. The third dish was called crayfish cocktail, and at this point I was flying happily blind without a menu, frantically scribbling notes, taking photos, and posting on Instagram. The presentation is highly dramatic, with a platter of shells and a bowl of billowing smoke. "Oyster espuma" is the only thing I can make out in my notebook, and something about "jelly".
A pause for breath, and Basson lit a candle and put in front of me. "Do you know the story of the 'opsitkers'?" he asked, and then told me it is the candle which a father lights when a young man comes calling on his daughter. When the candle burns out, the suitor must go home.
How lovely, I thought.
Then I was served sourdough bread, lamb biltong, and cucumber soup (a very short description), and discovered the candle was made of beef fat and as it melted it could be spread on the bread.
Bobotie was deconstructed into lamb tartare with crispy yellow rice puffs, and waterblommetjies found a new identity with Cape bream and oyster in a pool of viskopsop. You can translate that but it just won't have the same ring to it.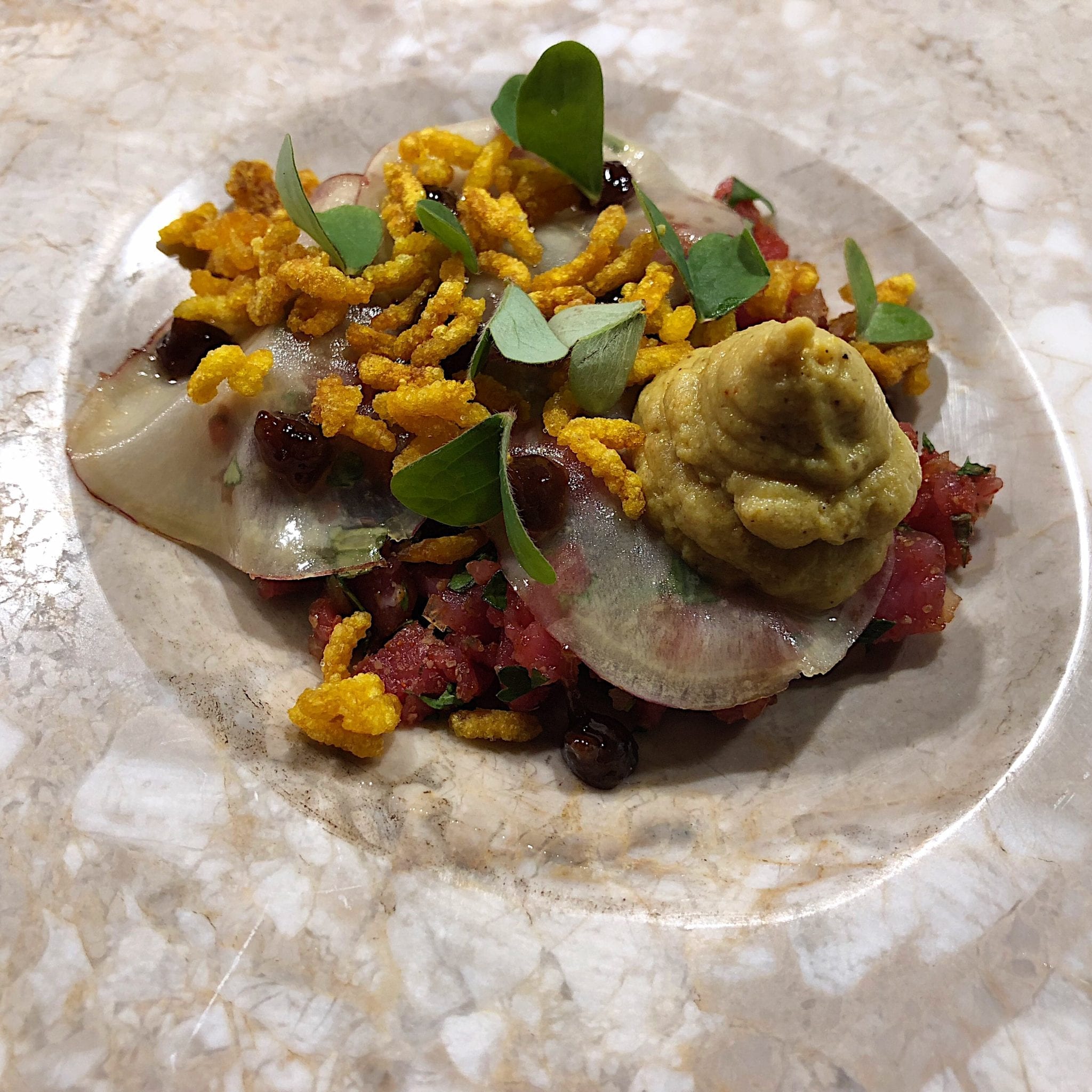 The main act had been in the making all this while; giant steaks – plankievleis – strung up over a hot flame, and then finished on the grill. Gorgeously pink inside, with golden fat, it was served sliced with light-as-air pampoen poffertjies (pumpkin puffs) on pureed spinach, with crispy potatoes and beef fat gravy.
We were reaching the denouement of this particular production, with a pre-dessert of strawberries, rose foam and sorrel. I'd acquired a menu by this time, and learned the final course was called "What happened in the Garden Of Eden?"
Coming full circle from the pot plant in the beginning, the shiny green apple and a quenelle of sorbet were not what they appeared to be (see top of story). No spoilers; you can discover it for yourself. I will say, however, the fresh and light conclusion to this exceptional meal was perfection.
I asked Basson about the creation of the menu. "We've been planning Eike for quite some time. I believe that a menu has to be well-balanced between flavour profiles and textures, proteins and vegetables," he says. "It would irk me that guests come to Eike and leave hungry so I decided to make the main course substantial and 'braai'."
Basson says he hates to be pigeon-holed, and although those South African roots are undeniable, his restaurants reflect that. "Overture serves contemporary produce-focused winelands cuisine in a beautiful setting on Hidden Valley Wine Farm. We also have two burger joints, The Deck at Hidden Valley and De Vrije Burger in Stellenbosch, both serving what we believe is the ultimate burger," he says.
"Spek & Bone is small wine bar that serves small plates to share, has a great wine list and a kick-ass playlist. Spice Route is a family style eatery that serves simple crowd-pleasers with lots of space for the kids to run and incredible winelands views."
Eike serves dinner Tuesdays to Saturdays from 7pm. Telephone 021 007 4231, email [email protected], or click here for more information.
This story first appeared in Weekend Argus Saturday Live on August 18, 2018
PHOTO CREDIT: BIANCA COLEMAN