ERRIEDA du Toit and her husband Ian were seated across the table from me at last week's celebratory luncheon at KWV's Cathedral Cellar in Paarl.
"Bianca, you've been around…" she said. That is not inaccurate, but in this case it was leading to a question as to whether I have ever encountered anyone who gives with as much abundance as chef Mynhardt Joubert. I don't believe I have. His generosity is expansive, his deliveries legendary, and his kindness unrivalled.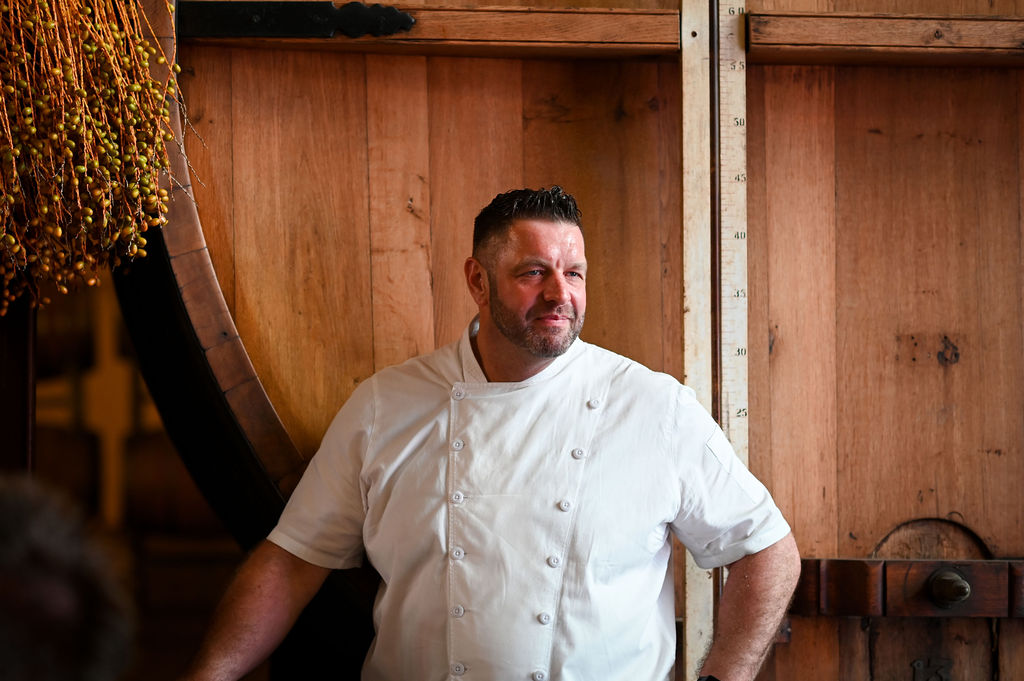 For example, his annual Festive Fruitcake Charity Drive. Beneficiaries include Helpende Handjies, a small NPO run by Wilma Christoffels in Montagu. Wilma feeds and supports 30 children in the community and relies on donations. It includes buying school accessories for children who cannot afford them. 
The other organisation is Butterfly House, a community resource in Paarl that facilitates positive change in a vulnerable community. Over 300 children are registered to participate in their programmes to receive meals and stationery, with access to shower facilities, homework, and recreational spaces – all in a safe environment. The founding vision of Butterfly House was to address and expand the holistic care practices provided by Drakenstein Palliative Hospice (DPH).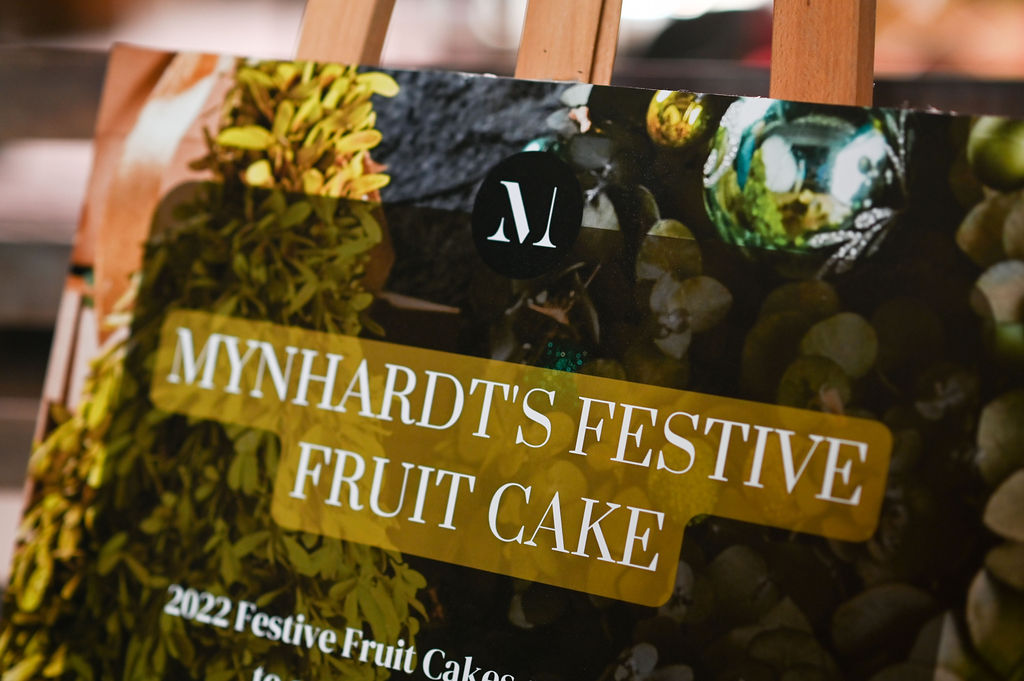 You can read more here, with details on how to order, and even the famous recipe should you want to give it a try yourself. Tick tock, though – the baked cake needs to be generously fed before the big day for maximum results. Already in possession of one cake baked by Mynhardt's team, and another (slightly lopsided) made by me, my tally is now up to three with the goody bag from last week. Errieda told us how she had given her cake ingredients to a friend who loves to bake but is not currently in a position to do so, and this is an inspiring ripple effect of Mynhardt's initiative. Paying it forward and all that. Kindness begets kindness, and I'm glad I'll be able to share my own fruitcake riches.
Cathedral Cellar is an imposing venue, one which really does fill a person with awe, and could even rob one of breath for a moment. It was set with a long table, sparkling glassware and glorious king proteas. We drank Cathedral Cellar wines, and we feasted on Mynhardt's festive menu. It began with a seafood salad (a sad miscommunication about my mussel allergy saw me with a bowl of chicken) on a chopped papaya, citrus and pineapple salad.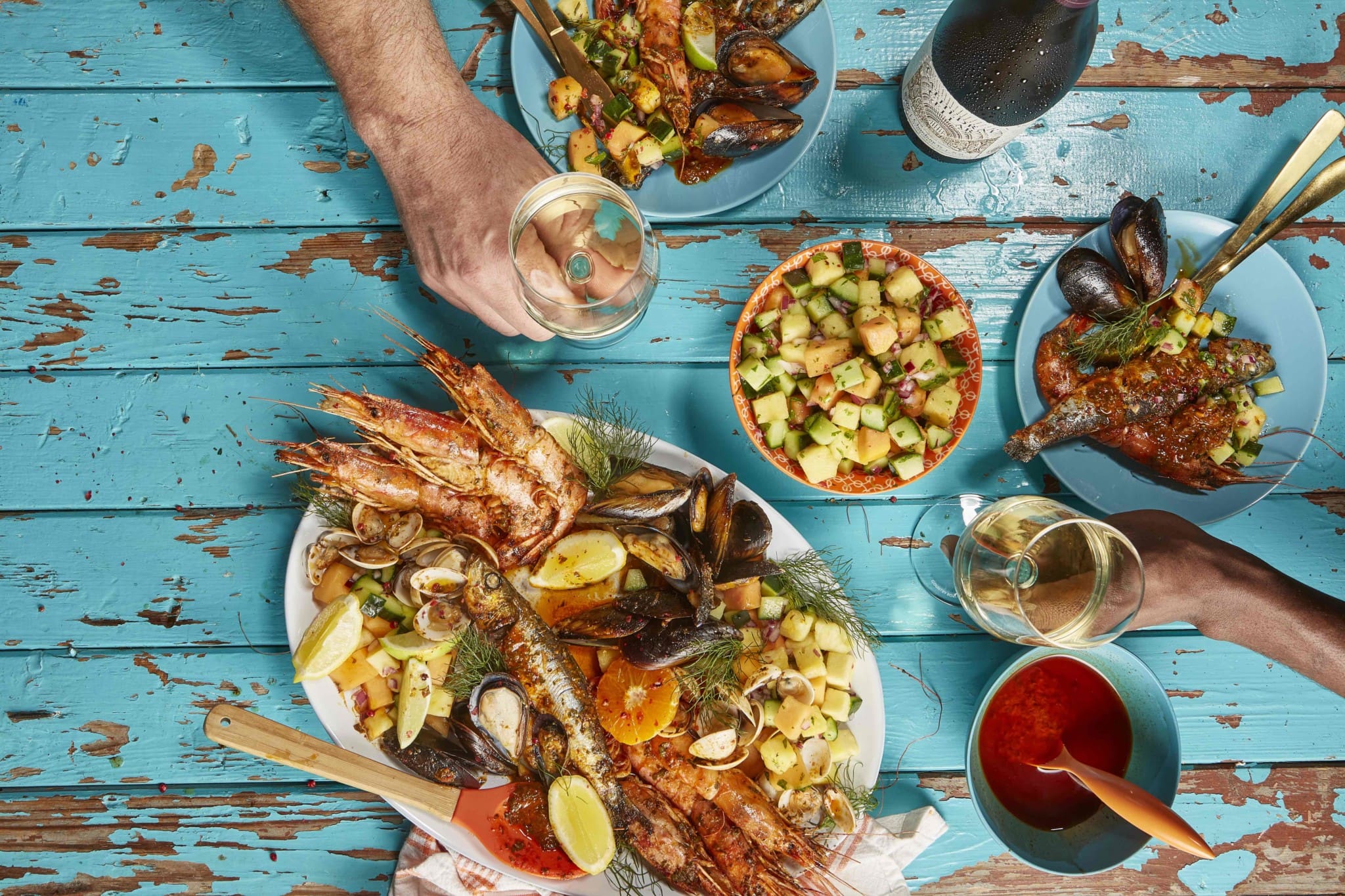 The next course was grilled baby chicken, then duck roulade with berries and pickled ginger (a combination I wasn't sure about at first but it totally works), and a burger on a charcoal bun. "My mom has been preparing hamburgers for years and I have adapted her recipe for this special edition – we serve ours layered with roasted aubergine, mushrooms, pickled red onion and gorgonzola cheese. The essence is still there and although she might raise an eyebrow to my invention I'm sure she will approve," said Mynhardt.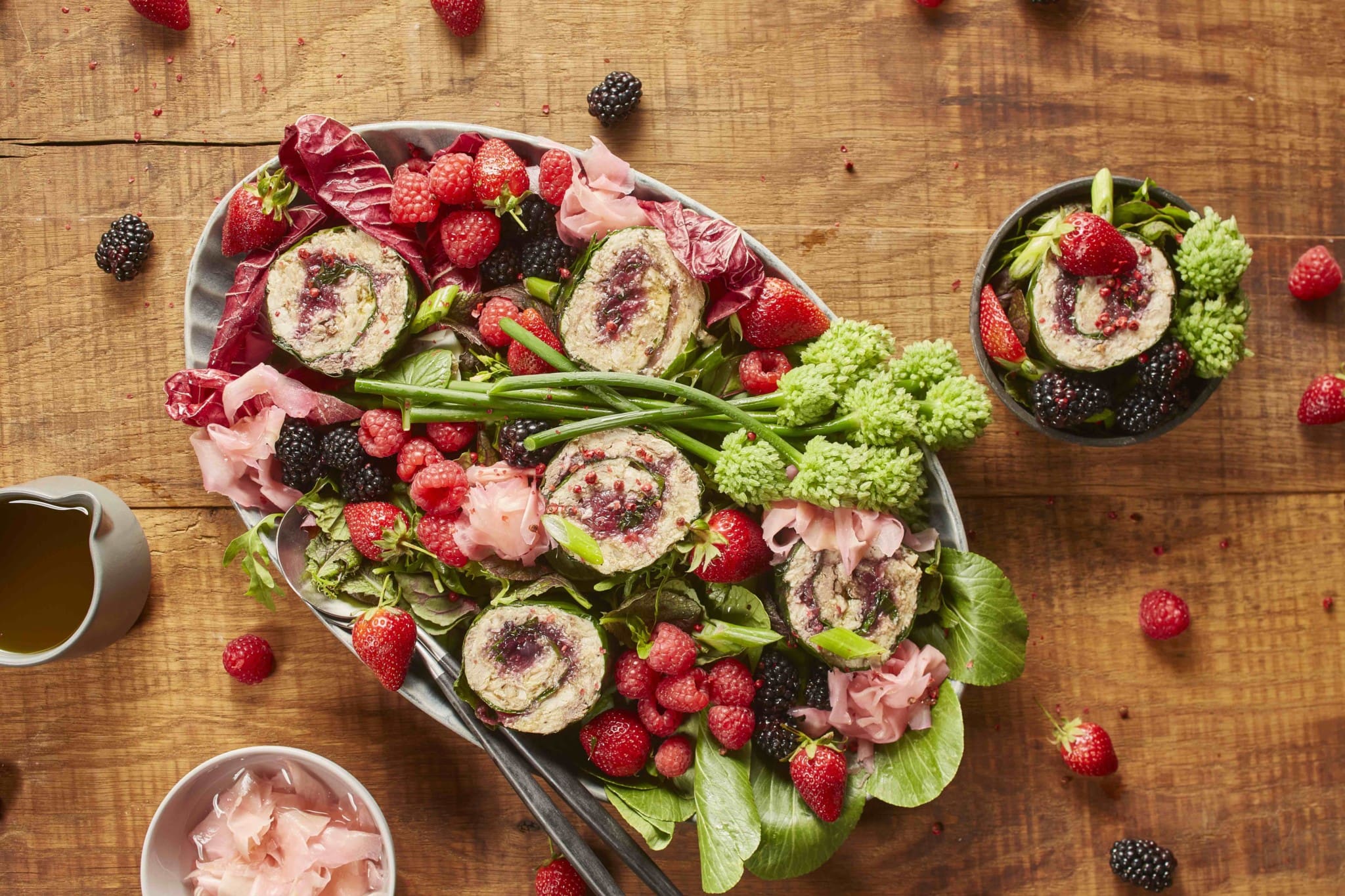 The final main course was lamb loin chops with asparagus – one of Mynhardt's all-time favourite ingredients – and a bold tomato and caper sauce, which I loved. The dessert was another unusual combination which put the savoury and the sweet together on one plate: a dark chocolate tart with candied ginger and cheese. "The first time I tasted this tart I was completely speechless," said Mynhardt. "The original recipe heralds from The River Cafe Cookbook by Rose Rodgers and Rose Grey and we have adapted and made it our own over the years. A recent addition has been the candied ginger and strong bold cheese which I prepared for a magical dinner under the full moon in the Karoo on the fig farm Weltevrede. Serving this dessert with The Cathedral Cellar Pinotage is sure to have everyone coming back for more and undoubtedly asking for the recipe, go ahead and share!"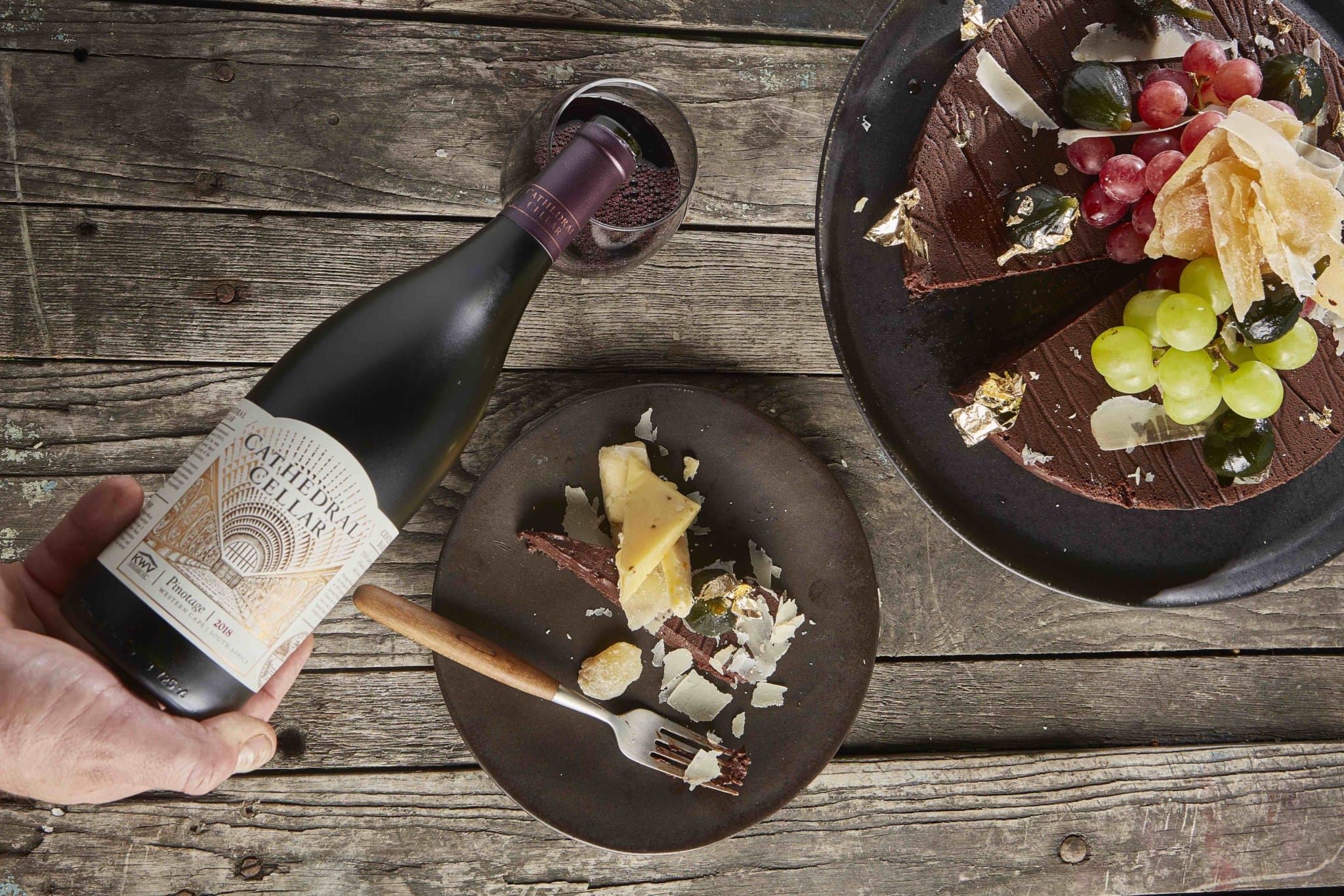 It was a beautiful affair in every respect, the kind that fills the heart with everything we hope for at this time of the year. Find hundreds of delicious Mynhardt recipes here. More information from the event press release follows.
Cathedral Cellar is ending the year on a contemplative note. Giving expression to this mood are the inspiring words by Marthinus Versfeld, one of South Africa's greatest philosophers. Highly regarded for his profound insight into food and wine, and how they shape our values, he was invited to contribute to Wyn en Wysheid (Wine and Wisdom), an anthology published in 1978 to commemorate KWV's 60th anniversary. 
Today, 44 years later, Versfeld's contribution to KWV's celebratory book continues to inspire. "His chapter reveals a remarkable understanding of the essence of wine, with views that resonate with our ethos," Cathedral Cellar brand manager Tanya Blokdyk says. 
Wines with a sense of place
With its dramatic barrel-vaulted roof and stained-glass windows reminiscent of a grand cathedral, Cathedral Cellar, built in the 1930s, is an architectural showpiece. Earlier this year, Cathedral Cellar reopened for private bookings.
Enjoying Cathedral wines in their brand home makes Versfeld's philosophy of "place" more tangible, Tanya says. For him, the essence of wine was essentially an expression of place. "Time and place shape the essence of wine, just as it shapes humans," he wrote. "A biography expands on the time and place of man's birth and death. Similarly, every wine is a piece of history. It is an occasion, a confluence of time and place, and that is why we drink it on weddings and birthdays. A wine contains the earth in which the vine was rooted, the sea breeze across the dunes, the aroma of trees and shrubs on the dam wall. The quality of a wine is in the reflection of these circumstances. Their bouquet a plea for place – not space." 
"A wine captures the expansiveness of a place or terroir, and reflects this in its hue, aroma and taste," KWV chief winemaker Justin Corrans says. With Cathedral Cellar wines, this sense of place is reflected in their substance, vibrant colours, layered aromas and engaging palates. "In a single sip you can travel to the best vineyards in the Cape Winelands and experience their incredible beauty."
Versfeld's views on wine complement his opinion on food. "I'm really moved by Versfeld's philosophy of food as an expression of self, and how your food affects guests at your table," Cathedral Cellar ambassador chef Mynhardt Joubert says. For Versfeld, to eat was to assimilate the world. "When we eat, we create an objective world, we create an object for love," he wrote. "You cannot cook without love. There must be something creative in you, a feeling of the possibilities of your matter, a feeling for the people you are serving."
"For Versfeld, inviting someone over for a meal was a serious business, as a meal reveals your views of the world," Mynhardt says. "He said that you don't really know someone until you've eaten at their table. Recipes not only tell you how to prepare food, but how to be human. This really resonates with me."
Simplicity, love, nostalgia, and historical and spiritual references are all themes Versfeld explores in Klip en Klei (Stone and Clay), his book on the philosophy of food. These are themes Mynhardt has adapted into a memorable paired menu for Cathedral Cellar.  
For instance, Versfeld's take on the preparation of fish finds expression in Mynhardt's seafood platter paired with Cathedral Cellar Chardonnay, while his grilled baby chicken paired with Cathedral Cellar Sauvignon Blanc is inspired by the philosopher's simple preparation of pheasant. Versfeld's story about wild ducks in Dordrecht is relived in Mynhardt's five spice duck roulade paired with Cathedral Cellar Shiraz. The value of nostalgia is explored with a charcoal brioche burger paired with Cathedral Cellar Cabernet Sauvignon. The spiritual connotation of fire is evident in Mynhardt's summer roasted leg of lamb chops paired with Cathedral Cellar Triptych, while expression of place is once again explored in the menu's grand finale: a dark chocolate tart with candied ginger and cheese paired with Cathedral Cellar Pinotage, in memory of a "magical dinner under the full moon in the Karoo".
"It's our wish that Cathedral Cellar will create memorable times, when moments become memories and provide an anchor of belonging and a sense of place," Tanya says.
Cathedral Cellar is both a KWV wine portfolio and events venue. The wine portfolio includes Cathedral Cellar Cabernet Sauvignon, Cathedral Cellar Shiraz, Cathedral Cellar Triptych (a red blend), Cathedral Cellar Pinotage, Cathedral Cellar Chardonnay and Cathedral Cellar Sauvignon Blanc. A beautiful copper line drawing depicts the Cathedral Cellar on the wine labels and honours its most impressive feature: 32 stukvats (barrels), each measuring about three metres in circumference and decorated with intricate carvings that tell the story of the South African wine industry. Cathedral Cellar is one of the first wine brands in South Africa to embrace augmented reality by allowing users to scan its wine labels for an immersive, living wine label experience using the LABELinmotion app.
Chef Mynhardt's events in the Cathedral Cellar are characterised by their fine balance between the bold and the understated. Think bright colours counterpoised with foliage, chandeliers, French linen tablecloths and cream porcelain plated with heritage-inspired cuisine.  Mynhardt thrives on working closely with his guests to create original and truly captivating events. To book this sought-after space for groups of 50 to 300, click here.