YES, you read that correctly. I, the meat-and-everything-else eater is saying try veganism. Veganuary is a real thing, a global movement which began in 2014 and has gathered more than a million followers in nearly 200 countries.
The idea – challenge – is to go animal-free for the whole month. Okay, so we're a bit late for that now, but even ditching the meat, eggs and dairy for one day of the week is a step in the right direction. A sudden and radical change in eating habits, like any diet, is not going to be easy and can set you up for failure, so don't beat yourself up if all you can manage is Meat Free Monday.
The thing is, nowadays there are so many more delicious options for those wanting to make the transition to veganism, or vegetarianism. It's a global trend and you can see it in restaurants and in supermarkets. All the big chains have plant-based ranges, and chefs are regularly offering vegan options on their menus which are way more creative than the dull and boring dishes of yesteryear.
Which brings me to meat replacements or substitutes. I wrote a story for Daily Maverick in 2019 (remember that wonderful year before the whole world went mad?) for which I ate a vegan burger at The Kind Kitchen in Woodstock. At the time I was of the opinion it was good and palatable enough but it would never fool me in a blind tasting.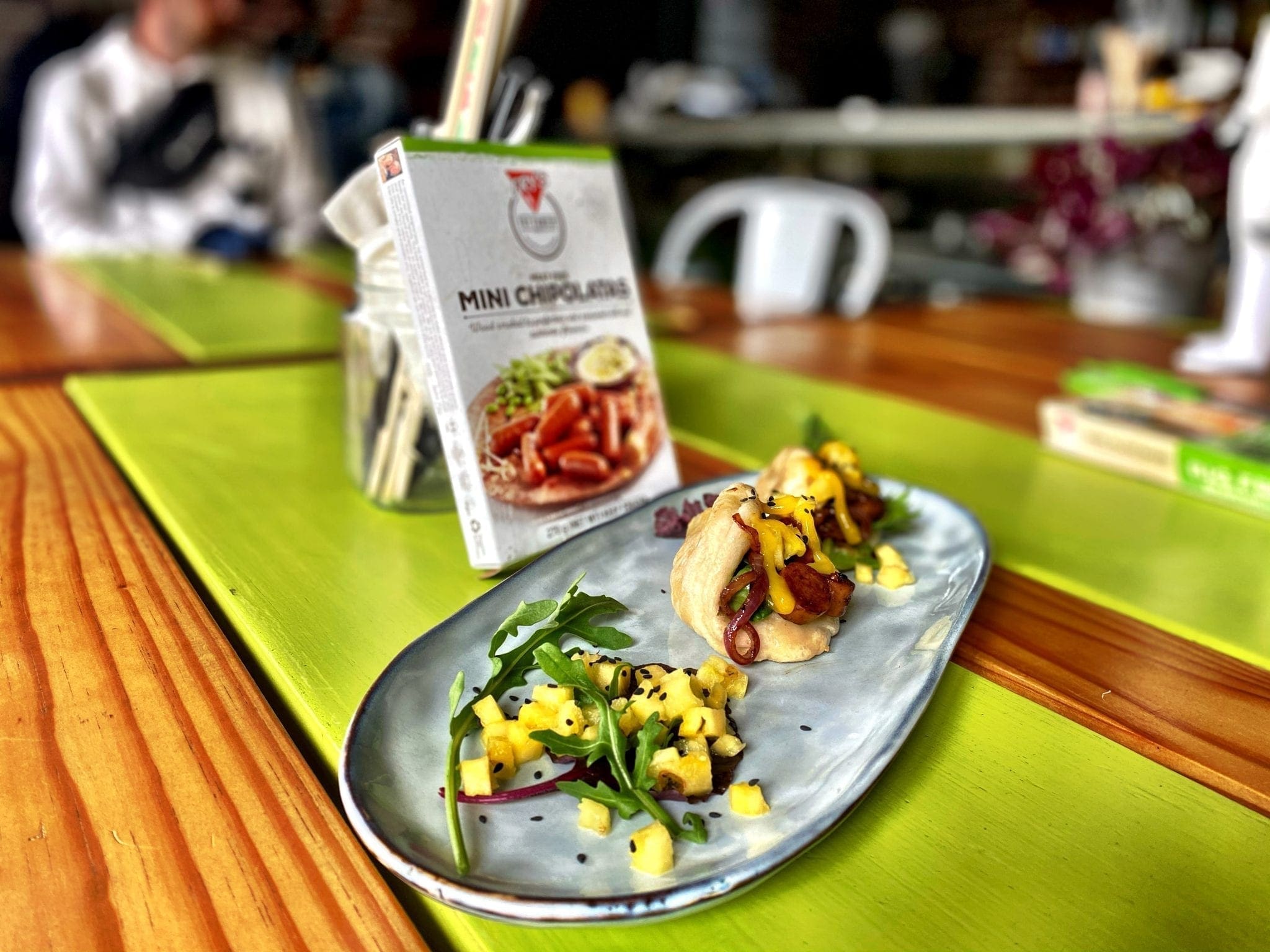 Because eating is a big part of my job, it's useful to have as few dietary restrictions as possible, and I think this is a huge benefit in general; I get to enjoy (almost) all the food, and for the record, I love vegetables and am crazy for a meal of different textures and colours. As much as I believe it's not always necessary to have a starch on the plate, neither is it incomplete without animal protein. So I was open to the invitation from Fry's – makers of meat replacements – to return to The Kind Kitchen where owner and chef Jay Mac would create some wonderful dishes using its products. I was to be joined by Grant Hinds, gaming video creator and vegan of seven years' standing, and we would swop notes (in front of a video crew, I might add).
Jay is a fantastic chef, and he really pulled out all the stops. It was a scrumptious feast and there was not one dish I did not like. Still, full disclosure, I'm never going to think I'm eating meat instead of any of these replacements – which included chipolata sausages, nuggets (mimicking chicken), pea protein mince and burger patties – but if I absolutely had to give up meat or die, these would make it much easier.
During our conversation, Grant and I discussed many aspects of being vegan, and like any lifestyle it can actually be unhealthy if you do it wrong. For example, you could legitimately live off chips but it's not going to do your body any favours. However, Jay's loaded fries with the mince were killer, as were the nachos. He cooked the pea protein mince in TKK's homemade jalapeño tomato salsa, then layered it on oven baked gluten free salsa chips, topped it with homemade coconut based cheese sauce and finished it off with house guacamole and chunky onion tomato salsa. Absolutely nothing you wouldn't want to eat, right?
We had sticky Korean bao buns with kimchi, pineapple salsa and baby greens, and plum sauce to enhance the smoky Fry's chipolata sausages; and rice paper rolls with crispy nuggets, julienned veg, micro greens and edible flowers served with peanut-butter mango satay…as beautiful to look at as to eat.
We finished big with Jay's smoky BBQ Big Fry "bacon & cheese" burger with kale slaw (this was almost a bridge too far for me, the kale of all things) and shredded lettuce on a turmeric and charcoal bun. There are many mysteries and magic to vegan ingredients: bacon is made from carrots which are steamed, baked and smoked and then slightly crisped when frying with soya sauce.
Without a doubt, an interesting experience and definitely food for thought. If you fancy giving this a try for yourself, check out the We Love Veganuary group on Facebook where you'll find like-minded souls, ideas, tips, yummy eats, and support.
PHOTO CREDIT: BIANCA COLEMAN ©