SHAKES and cakes, all day breakfasts and classics, and tapas: that's what you can expect at Tapasco which opened on Huguenot Road in Franschhoek on September 1. It's owned and run by German couple Tim and Nadine Roggenbach, who needed to find something to do during lockdown while their guesthouse was closed.
Ashbourne House is award-winning but it's like a zombie, says Tim ruefully. "Alive, but dead." Weekends are picking up, but the weeks are still quiet, which has been the case for everyone in hospitality for so long as they wait for the return of international visitors. "We're looking at doing something for pensioners," says Tim. "They can come any time, they have regular income, and they appreciate what Franschhoek has to offer."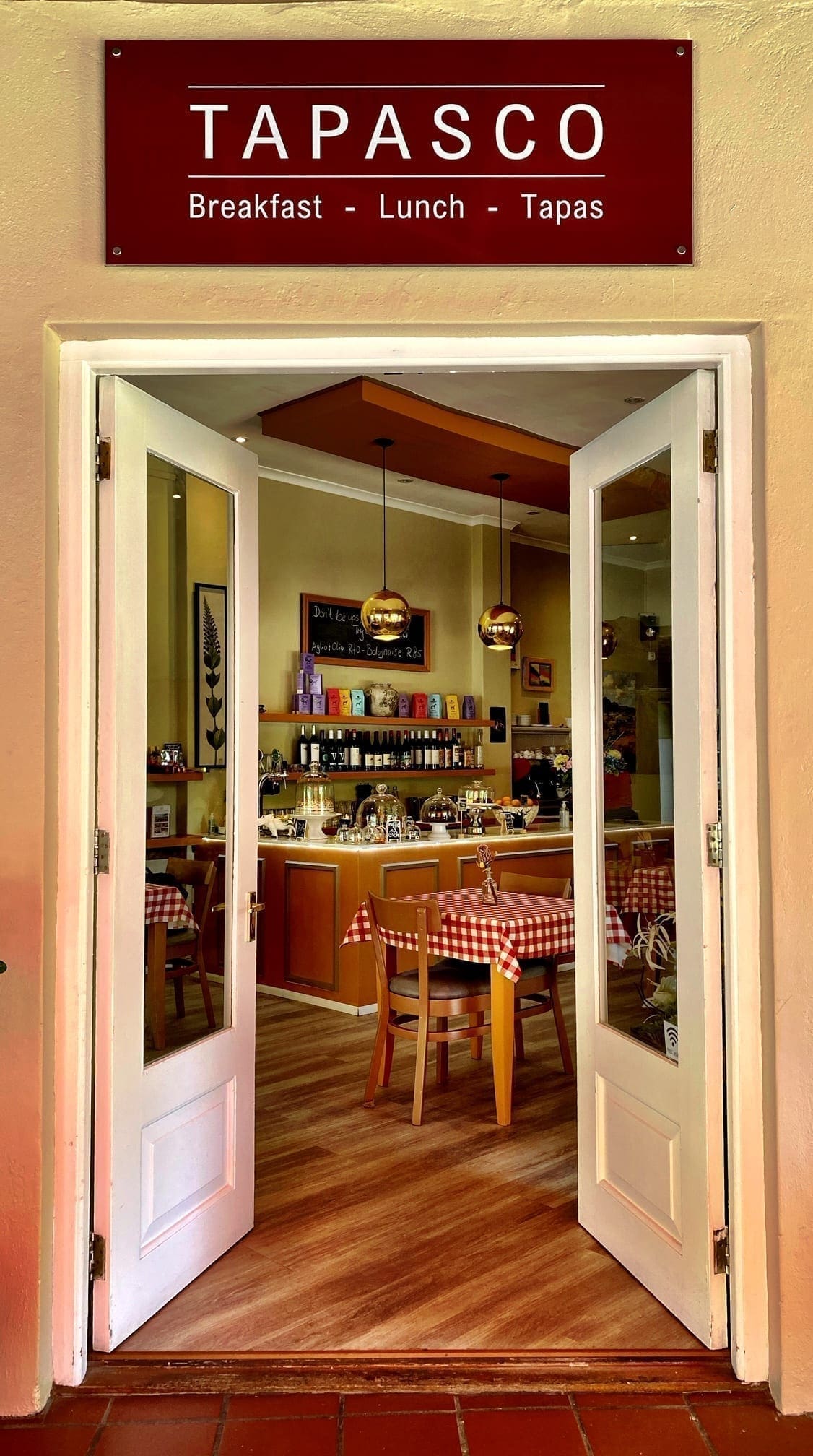 Instead of sitting around and thinking about everything that had gone wrong, Tim and Nadine began looking for opportunities on the main road. "We always liked this spot, it's at the entrance to Franschhoek," says Tim. It was previously a pancake house, and then The Village Tart. "It closed at the beginning of lockdown and we took it over," says Tim. "We changed the entire concept; we didn't want to focus on sweets."
That said, Tapasco has a selection of really good cakes: red velvet, carrot, cheese, and something called Cold Dog, a directly translation from the German "kalter hund". It's something that was very popular at children's parties in the 1970s, says Tim, and then it disappeared in the mid-'80s. "Then for whatever reason, it made a comeback. It's very simple, very delicious."
I tried it and he is not wrong: Tennis biscuits and cocoa flavoured with rum. That's it, although the rum is most likely an adult addition. The red velvet is also excellent.
When deciding on the new concept for 62 Huguenot Road, Tim says they are not chefs, and felt Franschhoek didn't need another fine dining establishment. "We wanted a place locals can enjoy and afford to have an uncomplicated meal and a glass of wine – any time of the day. All our wines are from the Franschhoek area, and we use local ingredients as much as possible."
Not being chefs, they decided to get someone on board who knows his stuff, and also happened to be sitting around doing not much during lockdown: Neil Jewell. His restaurant at Spice Route couldn't open until everything else did so he was at a bit of a loose end. Jewell consulted and trained the staff, and head chef Jackie Hoffman – who has many years of experience at La Quartier Francais and Leeu Collection – took over from there. The cakes and breads are the responsibility of Priscilla Persence.
From the tapas menu I sampled the squid and chorizo with aioli and lemon, a best seller; followed by smoked magret duck with pumpkin, coconut curry and crisps, and a half portion (so I'd have space for cake, obviously) of lamb kofta with burnt lemon sumac. I loved the presentation, which is a half lemon crusted with sumac which you squeeze over the lamb, covering the meat with the juice and spices.
Vegetarian tapas options include whipped ricotta with beetroot and spiced honey, caraway crystal rolls with carrots and feta, and vegetarian bitterballen with herb and yoghurt dip. For meat eaters, there's chicken liver parfait, chicken satay skewers and five chipolatas with wholegrain mustard, which is as delightfully uncomplicated as Tim wanted. If I'd had more time and belly capacity, I would have ordered that too, just because of its simplicity.
The all-day breakfasts include muesli, scones, French toast, omelettes and scrambled eggs with Franschhoek trout; or build your own with two eggs any style and toast (gluten-free available): bacon, boerewors, mushrooms, baked beans, tomatoes, avo, and cheese. BLT, burgers and pastas are among the classics, as well as hearty German dishes like bratwurst with sauerkraut and mashed potatoes.
Special mention must be made of Professor, the waiter, who is one of those guys who is just simply so lovely, and so charming that you can't help but leave a bit of your heart behind.
For more information, click here.
PHOTO CREDIT: BIANCA COLEMAN ©