WITH a menu that includes salads, burgers, pizzas, sushi and seafood, as well as a full range of starters, main dishes and desserts, you really can't say The 41 doesn't have what you feel like eating right now.
Plus, as is the norm at this time of the year, there are loads of splendid specials. You can order à la carte, or opt for the set menu which is two courses for R180, three for R220, and includes a glass of wine.
Chicken livers, melanzane and soup of the day are the starter options; main courses are ostrich steak with chakalaka salsa, phuthu pap and atchaar yoghurt; Thai chicken and prawn curry; and the catch of the day served with spring onion mash, prawn butter sauce and broccoli. For dessert there is chocolate lava cake, a confection enticingly called Apple Nemesis, and ginger crème brûlée.
We had a mixture of dishes. I began with prawns wrapped in kataifi, with avo tzatziki (pictured below). Kataifi is a Middle Eastern pastry which is phyllo which has been finely shredded into thin strings which are then wrapped around whatever else you're using in the dish – sweet or savoury. My friend had the calamari with pesto on a potato nest, on chef Aristotle's recommendation.
For main course I chose the herbed chicken which is served with mushroom ragout and smashed potatoes, with a side order of creamed spinach with onion and nutmeg (see top of the page). Being half a free range bird, it was a huge portion. My friend had the aforementioned catch of the day, and finished with the crème brûlée (pictured below).
Add in some wine, beer and coffee, pair with a sunny day, an ocean view and great company, with a good helping of super service, and you have all the ingredients for a fab lunch.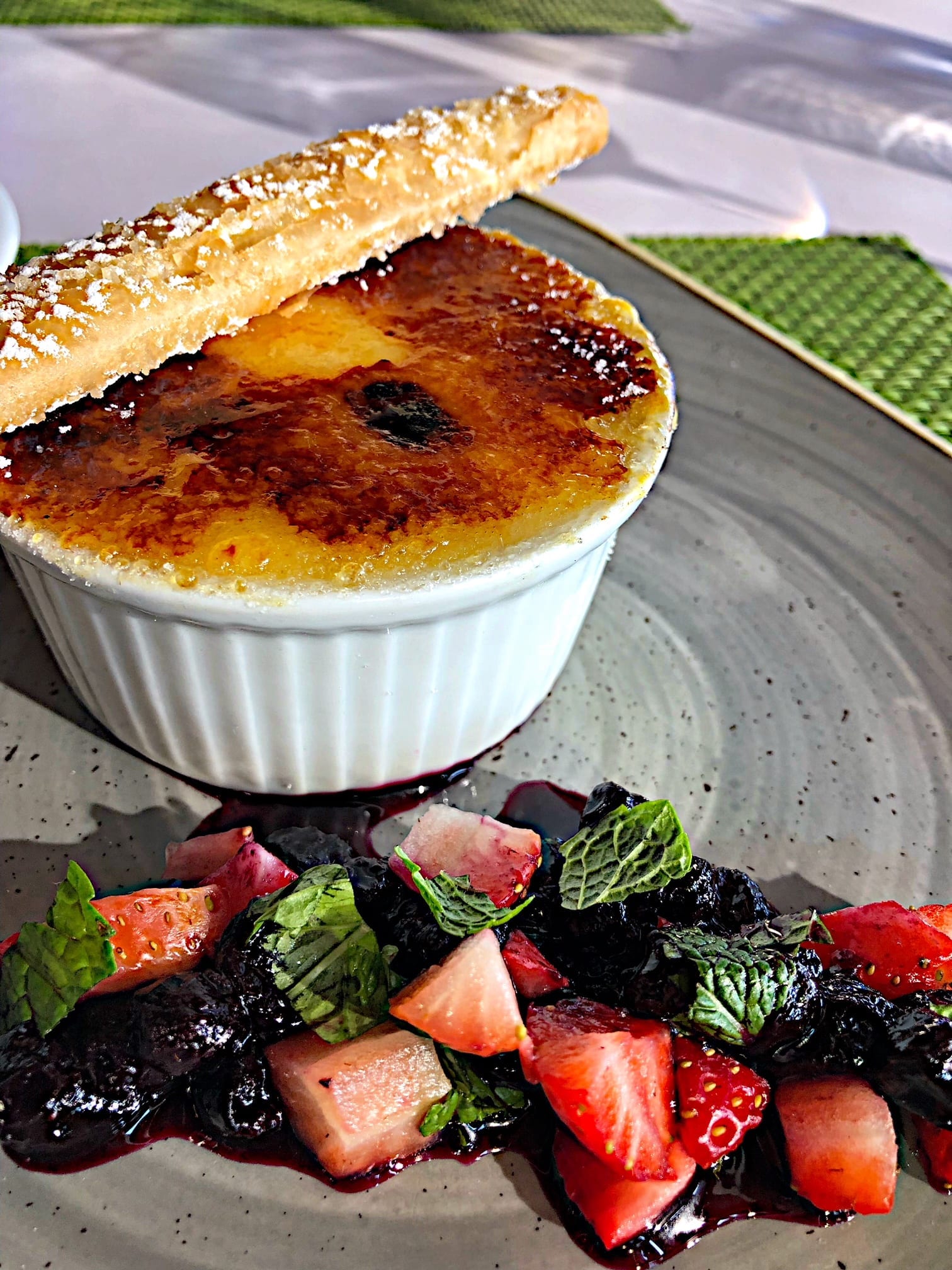 From today (June 29) all Fifa World Cup matches will be screened live, with sound, in the afternoons. Later matches will be show silently. However, from the quarter-finals onwards (July 6-15), all will play out with sound. During the matches, all burgers are R95 with a free Stella or Castle Lite.
During Pasta Week (July 2-8), all pastas will be half price. Options include seafood spaghetti with calamari, prawns and line fish in tomato bisque sauce; tagliatelle with grilled zucchini and a feta tomato sauce; penne with cured pork, radicchio and parmesan cream; and ravioli with ricotta, sun-dried tomatoes, basil and a yoghurt sauce.
The 41 has a VIP loyalty programme which gives you a 10% discount on all meals and a R300 voucher for your birthday, among other preferential benefits. Daily happy hours from 3-5pm will have you sucking back cocktails like there is no tomorrow; and Jazz On The Bay events will take place on July 12 and August 16, with a five-course meal with wine and live music for R295 a person.
The 41 is on Victoria Road in Camps Bay. For more information, call 021 437 0558, email [email protected], or click here.
PHOTO CREDIT: BIANCA COLEMAN ©