SOME things are worth getting out of bed for; others are worth driving 80km in unseasonal torrential rain for (and back again) – and that would be a tasting and lunch at Le Lude in Franschhoek.
We met with winemaker Emma Bruwer, who shared her story and that of the owners, Nic and Ferda Barrow. Emma grew up on a wine farm in Robertson (Springfield). She ended up at Le Lude for a harvest three years ago and here she still is.
"Bubbly was never part of my plan but I love the production of it and I like the specificity of it; I like that you can control everything so much. You can control your final product so much and you can change it at almost any phase," says Emma. "There's never 'these are my grapes, that will be the wine'. You can constantly alter your product. It remains interesting and almost fun in that sense."
Le Lude only does bubbly, which was always the intention when the Barrows bought the farm in 2010. "They'd spent a summer in France and were walking through the Loire Valley, through Chateau Le Lude where there are the most beautiful rose gardens," Emma tells us. "The smell of the roses together with the Champagne they were drinking gave them the idea of the experience they wanted to bring back here."
Le Lude's first vintage was 2012, released about two years ago. At R1900 a bottle, there were still 20 left as of last week, just saying…The 2013 vintage Cuvée was launched this month, and was part of our tasting, which showcases the non-vintage wines as well.
The idea behind the NV Brut and Brut Rose is that they are always on the market, should never be sold out, and should never change. "You should know what to expect from it," says Emma. "It's like picking up a bottle of Moët – you don't ask what vintage it is, or who the winemaker is – it should be constant. That's what we want."
The Brut is about 70% Chardonnay which gives it a great steeliness and linearity, says Emma. "We want the tight acidity and freshness. For me a Brut should always be vibrant, always fresh and alive.
"What we really steer for at Le Lude is to have something with purpose and something that is clean and crisp. All our wines have that golden thread of acidity that run over your tongue. Wine should move from the tip of your tongue to the back of your tongue in a straight line."
The Rose is about 60% Pinot Noir, and it ages faster than Chardonnay does in the bottle so it softens earlier. Emma describes it as "elegant, very dainty and feminine, with great strawberries and cherries on the nose. The light blush colour reflects the wine, which is actually dryer than the Brut."
We finished with 2013 vintage Cuvee, which is about 80% Chardonnay with small fraction of it fermented in oak which gives a bit more roundness on the palate bit more complexity.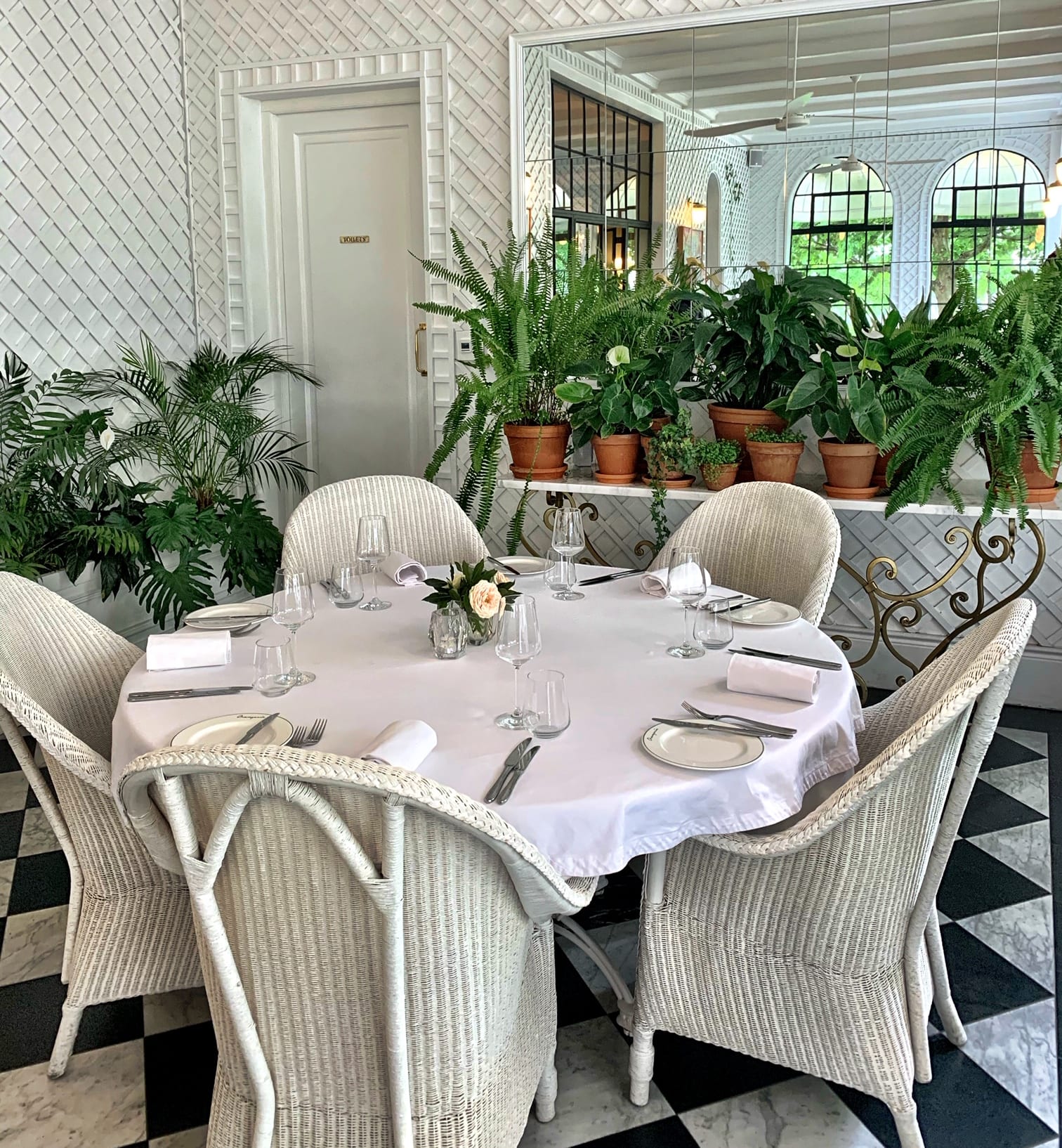 After the tasting we repaired to The Orangerie, the charming restaurant with its white wicker chairs, black and white tiled floor, large windows and abundant greenery. Its décor is different to that of the tasting room, which is softer and muted, but both whisper of that quiet elegance that is oh so French. Look around and you'll notice many delightful touches…
Chef Nicolene Barrow prepared lunch for us, which began with fabulous Gruyère and spinach quiches. Our starters followed: burrata with tomatoes, and Parma ham with pears and crème fraîche. For our main course we were served line fish with a velouté and petit pois, and fat triple-fried chips. Diva's dish included mussels. Dessert was salted chocolate tart with dulce de leche ice cream which disappeared very quickly.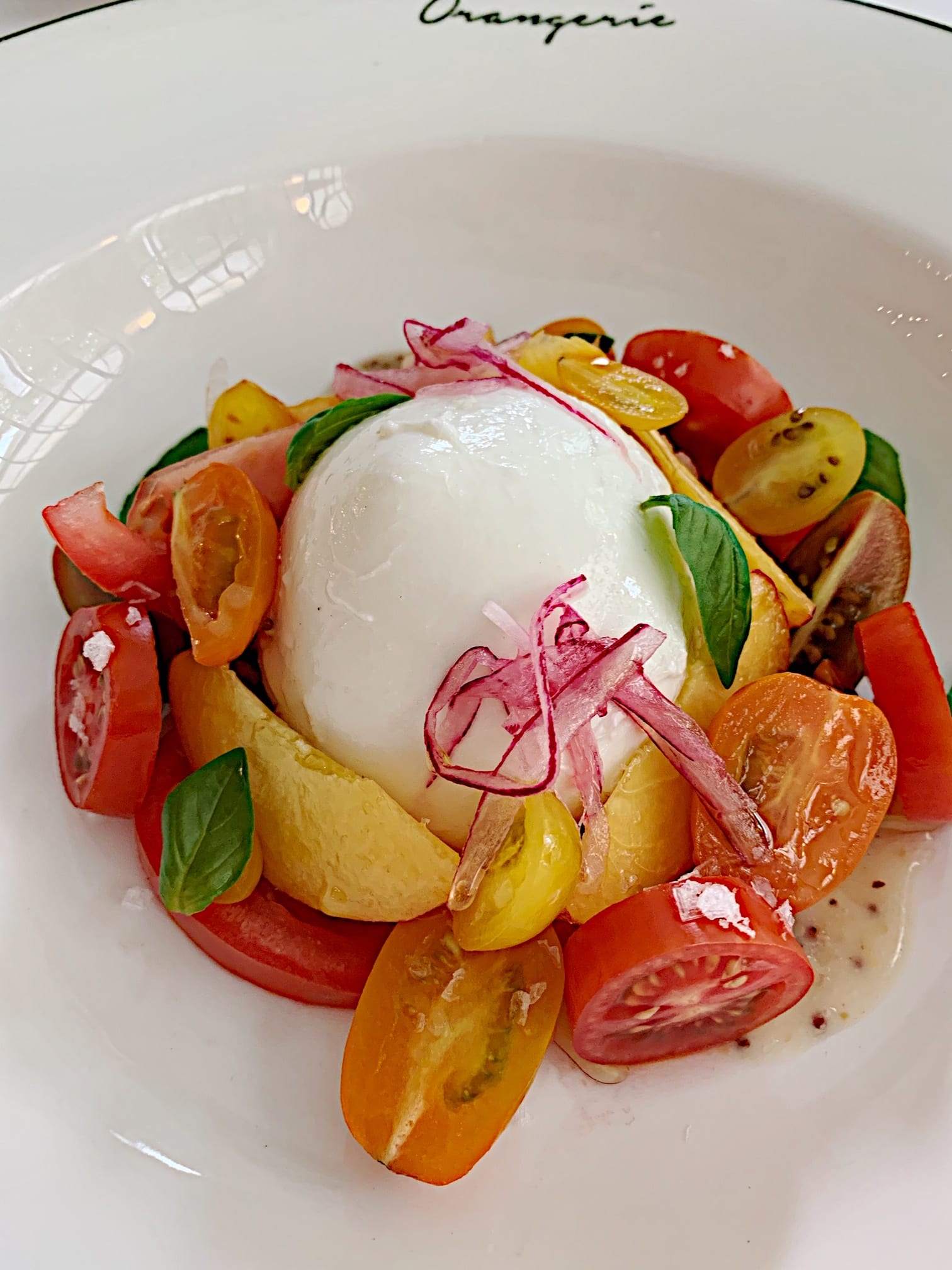 On our way out, the maître d hove into view bearing a tray of freshly baked madeleines. "Oh but…" he began (referring to my low carb preference). Please. When it comes to madeleines right out the oven, all bets are off. At least this time I only had one.
For more information, click here.
PHOTO CREDIT: BIANCA COLEMAN ©