FROM July to October 2019, when the Knights of the Muscadel Vine will be inducted into the newly established Muscadel Museum at the Karoo Art Hotel in Barrydale, food and wine personalities will present eight exceptional festival dinners with wines of the same calibre.
"There will be something for everyone, and it is affordable," says hotel owner Theo Nel. Special rates for overnight accommodation at the hotel will be available over these weekends (see below).
FESTIVAL PROGRAMME
Louis van Reenen, the Joubert quartet, Marlene Van der Westhuizen, Marietjie Koekemoer Swanepoel together with Annatjie Reynolds, Errieda du Toit and Daleen van der Merwe; Vickie de Beer, and Anel Potgieter together with Martelize Brink, Derek Lowe and Peter Veldsman, will conjure up wonderful and distinctively Klein Karoo dishes. Johan Odendaal will lead guests on a journey through the Middle Eastern desert sands to India and back to the Klein Karoo.
There will be plenty opportunities to sample and savour red and white Muscadel, before and during the meals. In addition, top winemakers will present wines specially selected to pair with each menu. Taste the best of Hermanuspietersfontein's Wilhelm Pienaar, Meyer and Schalk-Willem Joubert of Joubert-Tradauw and Cordoba respectively, and be there for the maiden launch of Kontras. Wines from DelAire Graff, De Grendel, Muratie and Allesverloren will contribute to the festivities. There is also a surprise (or two) in store for guests – in wine terms, that is.
Each wine crafted by the Knights of the Muscadel Vine, who will be immortalised in the museum, will be on offer during Derek Lowe and Peter Veldsman's colossal feast. This will be, without a doubt, the biggest and most unique Muscadel tasting in South Africa. Ever.
FESTIVAL DINNERS
Saturday, July 13, 7pm, R500
The Joubert quartet consists of three Barrydale-born brothers. Meyer Joubert owns the well-known wine farm Joubert-Tradauw and is named after his grandfather on his mother's side, the famous Prof Meyer de Villiers of Stellenbosch. He will be joined by his brothers Schalk-Willem of Cordoba, and Cobus. The fourth Joubert, Emile, is a wine writer for Die Burger and for many years his mother was editor of Die Wynboer.
The Jouberts like surprises. They can trace their DNA back to Italy and France and have decided to share the dishes from their countries of origin as well as those from the country of their birth. The starter is Italian, the main course from the Luberon, and the pudding of the Cape. Schalk-Willem will be pouring his new rosé and from the Cobus and Meyer cellars comes a one-of-a-kind old Cape wine. Emile will bring a New Zealand Sauvignon Blanc to the table and to close the meal, something sweet from Portugal. Emile will lead this evening of food and wine conversation.
Who will be cooking for the Jouberts? It's a mother and daughter team. Mom, Celia Rabie, joined the Cape food scene 18 years ago when she opened an eatery in Hermanus. Five restaurants later and she's just sold her popular Betty Blue Bistro. Her daughter Inemari is a chef and food stylist who has worked with Vickie de Beer, Abigail Donnelly, Chris Erasmus, Anna Carolina Alberts, and in Nice with Jan-Hendrik Van der Westhuizen. After returning to her home country, she worked on two seasons of the SABC 's Koskaskenades.
Saturday, July 27, 7pm, R500
Marlene van der Westhuizen has just published her eighth cookbook: Plate/Bord. She's the dynamite that comes in petite packages and can often be found making an appearance in front of television cameras or on the pages of magazines. She cooks and entertains at her homes in South Africa and France, inspiring future cooks and above all inviting guests to join her inner circle and share her love of food. There are few people who entertain as regularly as Marlene. A trademark of gathering around her table is the many new friendships that are forged.
Her menu includes oxtail and lentil soup, dreamy creamy mushroomy lamb shanks with polenta, a cheeseboard with white Muscadel, and Klein Karoo winterpoeding (baked pudding) with red Muscadel.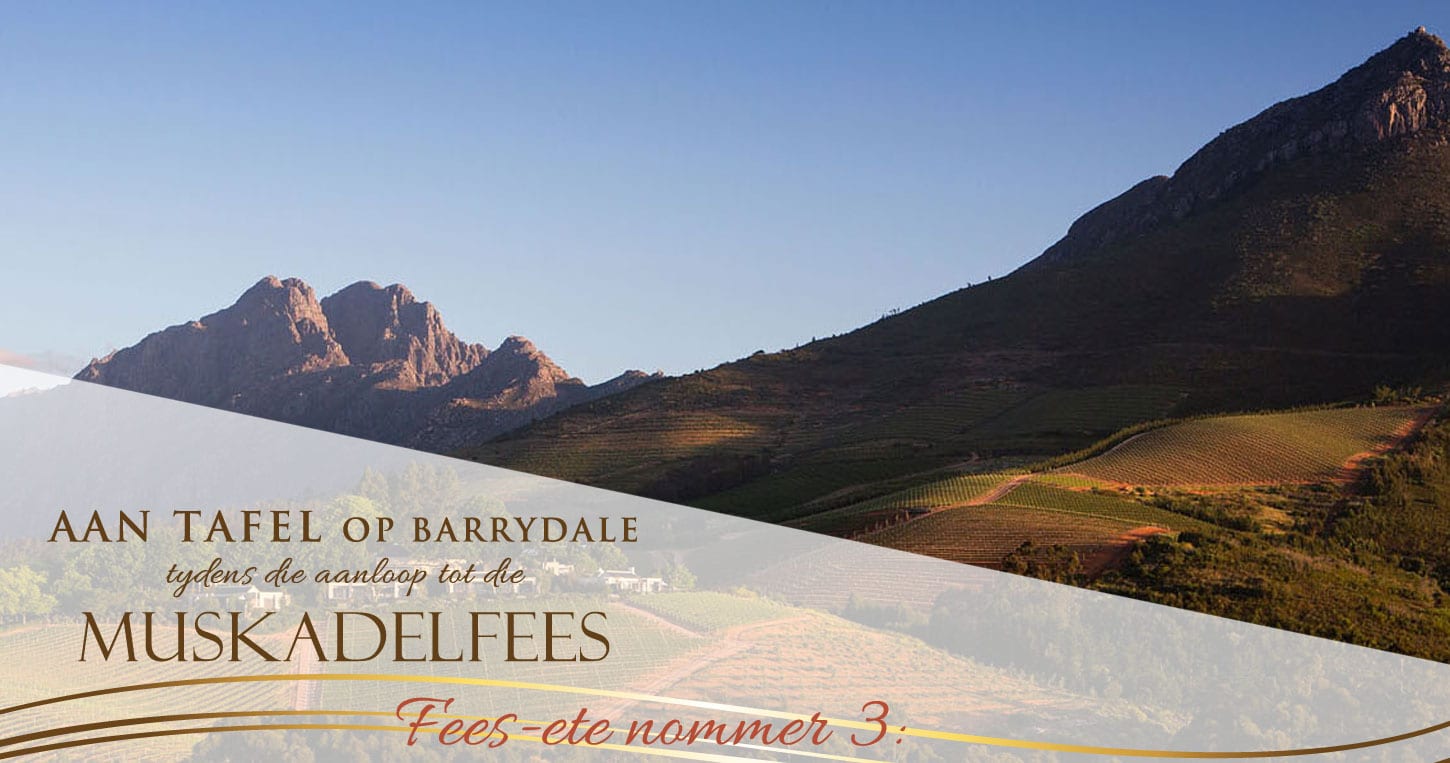 Saturday, August 3, 7pm, R500
Before getting married, Annatjie Reynolds was a home economist with the Sannie Smit Meat Board and, together with Sannie, Marty Klinzman of Kenwood fame and Peter Veldsman, pulled off dozens of demonstrations. Now she's a farmer's wife to the core. Dynamic Marietjie Koekemoer's son Chris Swanepoel (junior) was previously a winemaker at Simonsig and is currently working in Germany. Together with a German winemaker friend, Johannes Kopp, he embarked on Kontras, a private project. The two winemakers buy up carefully selected blocks of vineyards in South Africa for the Kontras Cabernet and Chenin Blanc.
This wine is made at Muratie, the home of Annatjie and Marietjie's aunt, diva absoluta of wine farm hospitality and culinary arts: the indomitable Annatjie Melck, and her son Melck. Marietjie was and is involved with dozens of cooking opportunities. No wine speakers at this meal, just wine, friendship and a cracking good time.
The menu begins with Muratie Lady Alice MCC served with canapés, followed by homemade boerewors with tomato-and-onion smoor, fresh garden herbs and Karoo biltongballetjies served with Kontras Chenin Blanc (maiden vintage) 2018.
Karoo lamb brawn, farm bread, nutmeg butter, slaphakskeentjies, pomegranate soup, roasted rack of springbok with bone marrow butter, whole dried peaches steeped in Muscadel, cinnamon and dried naartjie peel, and Barrydale cheese with makataan preserve are among the local delicacies on this night.
Saturday, August 10, 7pm, R500
Home cook evangelist, Die Burger columnist and the driving force behind KykNet's Kokkedoor series, Errieda du Toit, together with cookbook guru Daleen van der Merwe, will present dishes from Saam, Errieda's soon-to-be-released cookbook.
A century or so ago, community cookbooks emerged as a means for women to raise funds. Errieda began gathering and studying these cookbooks and then compiled the ever-so-slightly tongue-in-cheek Saam. Every recipe has its own colourful story and every dish is as rich in flavour as its era of origin. Daleen van der Merwe should have been a restaurateur – practical cookery is her forte and this expresses itself on the menu.
De Grendel's flagship wines along with its Three Spades cider will be served.
On the menu: Miss Birkett's garden tomato soup with crisp cheese biscuits; cold beef tongue with bacon-and-almond-mustard mould; chicken pie made with sour-cream pastry with mini ginger-biscuit frikkadels, pumpkin fritters with white Muscadel sauce; Bredasdorp bowling club rice in a thermos flask; and Lettie's seven-layered salad.
Dessert will be malva pudding made with red muscadel and served with malva-leaf sorbet, and coffee with noorsies (noorsdoring-kontreikoekies).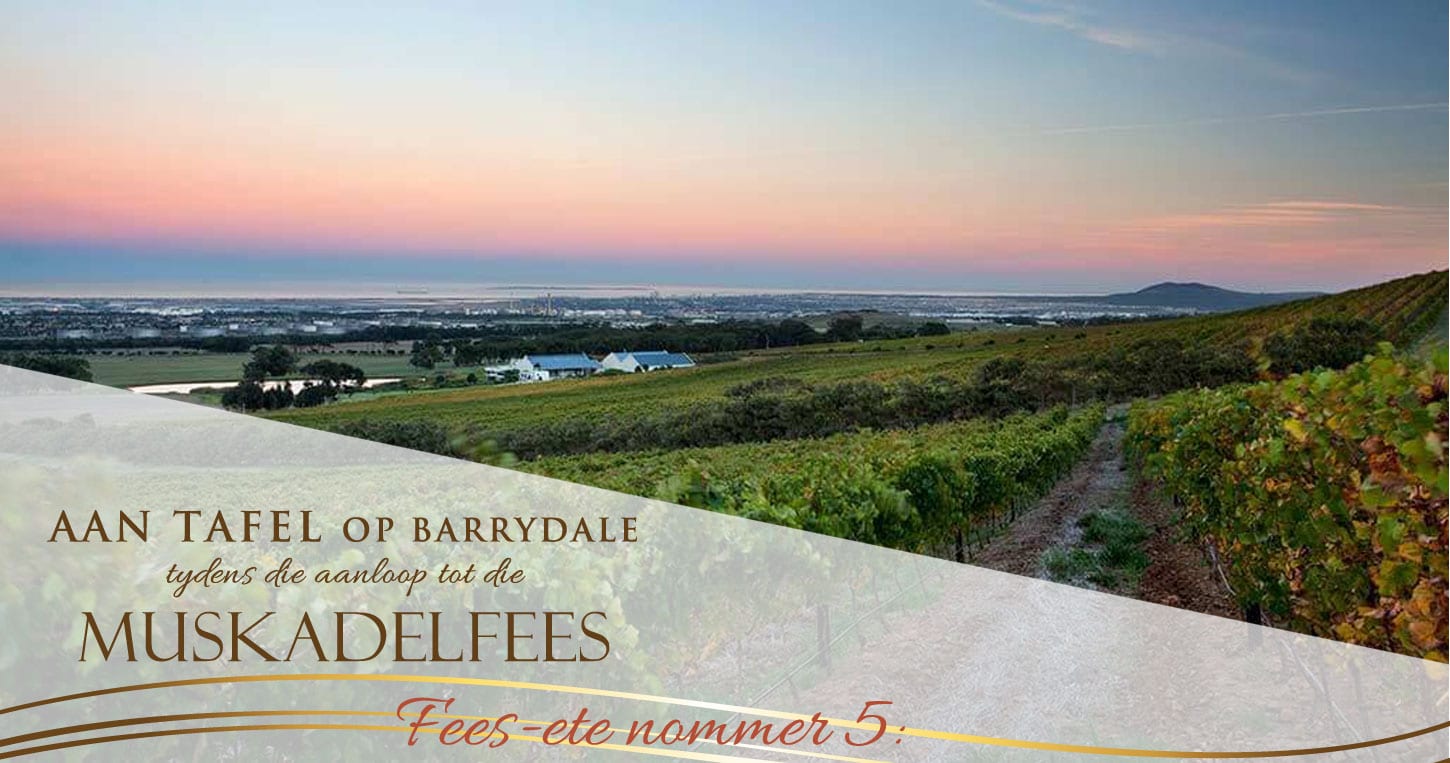 Saturday, August 17, 6.30pm, R750 (limited to 24 guests)
Johan Odendaal – MasterChef Top 10, winner of a multitude of South African and international awards and currently executive chef of six eateries in Riyadh, Saudi Arabia, and executive chef at Peter Veldsman's restaurant Emily's for more than 20 years – is making a special trip to Cape Town to share his masterful knowledge along with his recent food experiences in the desert and India, against a South African backdrop.
This seven-course dinner will present a crossroad of food culture and flavours – from north to south and west to east – and a personal spice journey. Muscadel wines will be poured throughout and a local beer served with the main. An in-depth discussion around the use of spices in our cuisine will conclude this extra special evening.
Expect dishes like thick Masoor Dahl soup with za'atar; deep-fried chicken puffs with a Cape twist; novelty seafood korma with channa and granadilla; knock-out mutton curry with basmati rice with tobacco-onions, sambals and pappadums; a soupçon of sweet potato with chaat masala and lemon water; and ginger pudding with chilled Muscat d'Frontignan.
Saturday, August 31, 7pm, R500
Vickie de Beer is the award-winning food editor of Rooi Rose and multiple Galliova Award winner as the best food writer in the country. She is a product of the Institute of Culinary Arts in Stellenbosch and author of three outstanding cookbooks. Her greatest triumph is The Low Carb Solution For Diabetics, which she penned on discovering her son, Lucca, is diabetic. This won her the Sunday Times Cook Book of the Year award in 2015. Vickie is charming and personable, and an evening with her is one of grace and elegance.
Allesverloren Muscadel as well as Shiraz and other wines from the same stable. The evening will begin with Muscadel cocktails served with ripe Brie on brioche adorned with Muscadel-poached quinces. The starter will be duck liver parfait with Muscadel jelly and almond melba toast; followed by  pulled pork with pak choi, sweet potato and sticky rice. Apple tarte tartin with Gorgonzola ice cream will conclude this feast.
Saturday, September 28, 7pm, is the turn of Anel Potgieter and Martelize Brink – a formidable duo and one is just as bubbly as the other.
Since 2004 everyone has known Martelize as Radio Sonder Grense's bright morning star. Now she's revealing her other talents. Her father was the renowned potjiekos king of Paarl and as it so happens, the apple didn't fall far from the tree. Although she's in a wheelchair, her talent and skill lie in her hands. Food blogger Anel is Rapport's food writer as well as a TV chef and content producer for the Expresso Morning Show's food programme. This passionate foodie can wax lyrical about good food and wine.
The menu details are still simmering and will be announced at a later date.
The Muscadel festival culminates on October 12 at 11am with the inauguration of the Muscadel Museum at the Barrydale Karoo Art Hotel. Theo Nel will welcome guests, the Knights of the Muscadel Vine will be inducted, and there will be a Muscadel tasting. The hotel's culinary team will be joined by the highly acclaimed Peter Veldsman to serve a spectacular lunch, which will cost R500.
The menu begins with a terrine of "things feathered" served with fresh berries and avocado , followed by a chilled soup of greens (wild sorrel, sorrel, baby onions, cucumber, baby courgettes, six kinds of herbs and an olive-oil emulsion). Main course will be lamb noisettes with a light red Muscadel jus, green beans, leeks and asparagus, and baby potatoes fragrant with turmeric and chilli. A traditional Old Cape soetwynpoeding wiith brandy custard will be served for dessert.
IMPORTANT NOTE
The food personalities will only be cooking what appears on their menus. No allowance can be made for alternative options or special dietary requirements.
ACCOMMODATION
Two types of accommodation are available: luxurious, and extremely luxurious. The extremely luxurious Great Karoo room is R650 per person sharing, R900 for a single person. The luxury Klein Karoo room is R500 per person sharing, and R800 for a single occupant. Discounted ull weekend rates will also be available (Friday afternoon until Sunday just after breakfast).
Direct enquiries via email only to [email protected]