OUR lunch at Salsify last week is the current record holder for the longest one (so far) this year; clocking in at five hours, it's going to be hard to beat.
To be fair, that did include a chat with chef Ryan Cole afterwards, and a long-overdue catch-up with a friend I haven't seen since before Before, but still. It was almost dark when I left. I love this time of year so much and always get a little sad around about now knowing the solstice is less than two weeks away. Oh well, the world must keep turning.
You have three choices at Salsify: the Winter Menu, the Reduced Menu, and the full eight-course Chefs Menu. At another, slightly shorter, lunch today, we debated whether there should be an apostrophe in there, a discussion which was not resolved as we do not know for certain whether it is one chef or many.
In any case, it's actually nine courses because the meal begins with Kitchen Gifts, tiny mouthfuls that are every bit as delightful as that sounds. Every course is brought to the table by a different chef (implying there are indeed many) and explained in detail. It never fails to impress me how much work is put into creating something so small in size, with all their multiple elements. With glasses of bubbly we were off to a fine start.
Next up is cold poached abalone with egg yolk dressing and white sturgeon caviar (due to potential allergy, my substitute was daikon). Cold smoked rooibos with porcini and goat's cheese mousse and puffed sorghum follows. The poached langoustine on chive gnocchi with potato emulsion and shavings of truffle is remarkable for being an utterly opulent dish – made with locally sourced ingredients.
After slow cooked duck breast, pink in the middle, with pear hoisin and pancetta cream; and pan-roasted line fish with smoked snoek and apricot (classic South African combo), and potato and curry leaf emulsion, you are aware this a marathon, not a sprint. Portions are perfectly sized so as not to overburden the belly. My friend was hesitant in the beginning and wary of so many courses but I pointed out to her that it was in nobody's best interest for the chef(s) to fill us up too much, too soon. I was right, of course.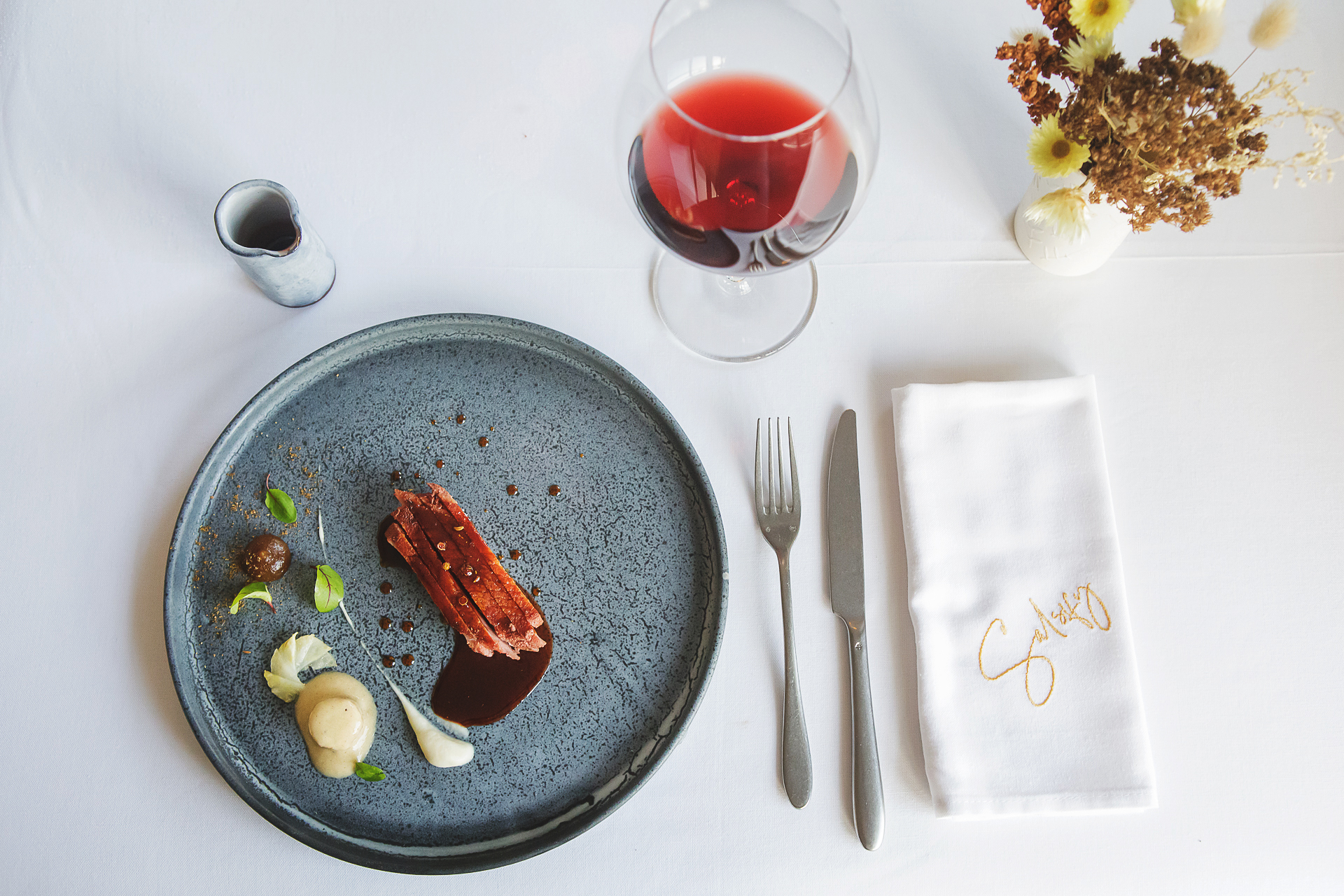 The Wagyu beef – also local, from the Karoo – is served with "krummel pap" (please don't tell my parents I ate this after a lifetime of refusing it at home; in my defence, this is nothing like home pap), sun choke, aged balsamic, and the intriguing "potjie essence". Being currently in the middle of a potjie story for Daily Maverick, I had to know more about this clear example of the Baader–Meinhof phenomenon. In fine dining words, it's a jus, originating from oxtail – and made in a potjie, with lots of other secret ingredients. As is the pap. I absolutely adore this. Also that the fish at Salsify is caught by Ryan's brother off Cape Point, or Ryan himself, sometimes their Dad too. Along with foraged ingredients, like the cherry guavas, num nums, and chestnuts for the cake in the second dessert, this all combines into a wonderful ethos of hyper local sustainability driven by seasonality.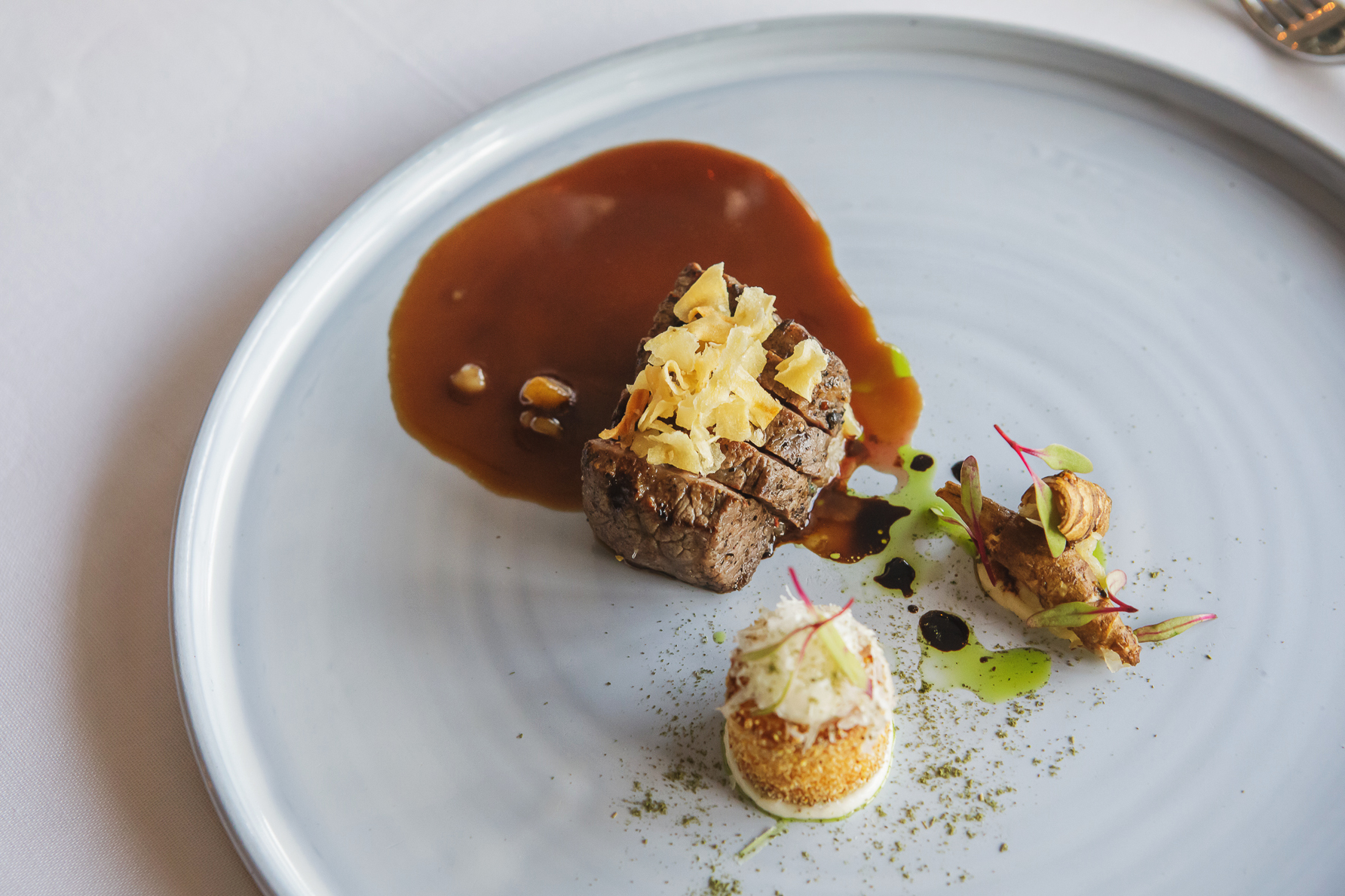 Did you pick that up? There is pre-dessert and dessert, which is something I strongly support. Hobbits have breakfast and second breakfast and elevenses (plus four more meals in a day), so why not? Be like Frodo. The pre-dessert is light and refreshing – num num sorbet with guava butter and lime yoghurt – to jolt your palate back into action. Almost finally is chestnut cake with pine nuts, sheep's milk ice cream, chamomile and honey.
You can include a Boutique wine pairing, or a Gem Series wine pairing with your meal. I requested not too much wine, because driving, but Simba, who attended to us impeccably, cheerfully ignored me and brought many delicious wines to the table. Wines like Radford Dale AD Pinot Noir 2013, Alheit Vineyards Cartology 2020, and Ken Forrester's FMC Chenin 2012, a magnum no less. Simba, I thank you from the bottom of my heart, and resounding applause for all the chefs.
For more information, click here. Follow @salsify_at_the_roundhouse on Instagram, and check out my profile @biancaleecoleman later this week for my own pics of this meal.
PHOTO CREDIT: ANDY LUND