WHEN the finalists – as voted for by the public – for the annual Wolftrap Steakhouse Championships are announced, I eagerly skim the list; firstly for Cape Town steakhouses, and secondly for ones I haven't been to.
The competition is in its fifth year and has become well spread out around the country. This year, two of the top 10 finalists are in our city: HQ and Rare Grill. I immediately fired off an email enquiring about the latter.
It turns out it is owned and run by Greg Bax (formerly of Hussar Grill, and with whom I did a steak master class last year), a guy who is serious about his steak. Remarkably, he opened his restaurant in October 2016, and here it is, already represented in this competition, which has not yet been won by a restaurant in our city.
I don't get to judge – that is now in the hands of Pete Goffe-Wood and his team of regional experts – but if I did, Rare Grill would get my vote. A new aspect of this year's competition is that in addition to the overall winner, there will be a number of special awards, including but not limited to Newcomer of the Year, Chain Steakhouse of the Year and Steakhouse Legend of the Year.
We went there for dinner last night, where we had a fantastic time and a superb meal. It's a tiny, intimate venue, which is just the way I like it, with wood panelled walls, raw brick, an open plan kitchen and a gorgeous picture of  a young and sexy cleaver-wielding Marco Pierre White. The beer tap at the bar is also adorned with a cleaver.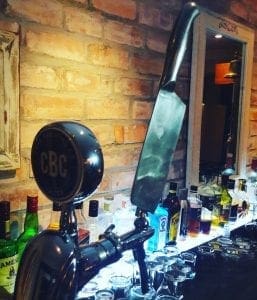 The menu and wine list are similarly compact, with further steak specials chalked up on a board. My dear friend started with classic carpaccio and finished it before I'd managed to extract the delicious rich marrow from one of bones I was having.
Moving on to mains, we both ordered from the board: a great big sirloin on the bone for him, and a smaller sirloin for me, topped with Wolftrap onion marmalade and blue cheese sauce, a lovely combination of sweet and savoury. I let Greg decide how the steak should be prepared, and it was just right…medium rare but more rare than medium (something I always struggle to explain). Side dish choices include sweet potato mash, nice fat rustic wedgie fries, battered onion rings, creamed spinach, salad, and baked cabbage.
Besides sirloin, fillet and rump (recommended; Greg gave us a little sample to taste) which can be ordered in standard portions or bigger, there are just four other main dishes – baby calamari, peri peri chicken, pork ribs, and steak rolls.
It takes a lot to get me out of my city bowl comfort zone, but Rare Grill is well worth the effort. Find it at 166 2nd Avenue in Kenilworth, and call  076 460 0423 to make a booking. Trading hours are Mondays to Saturdays 6pm till 10pm.
Wolftrap Steakhouse Championships 2017 finalists in alphabetical order are:
· Beef Boys Grill, Potchefstroom – North West
· HQ, Cape Town – Western Cape
· Jayz Grill, Pietermaritzburg – KwaZulu Natal
· Karoo Cattle and Land – Irene, Pretoria – Gauteng
· Little Havana, Umhlanga Rocks – KwaZulu Natal (2015 champion)
· Rare Grill, Kenilworth – Western Cape
· The Cricketer, East London – Eastern Cape
· The Godfather, Centurion, Pretoria – Gauteng
· The Grumpy Griller, George – Southern Cape
· The Local Grill, Parktown North, Johannesburg – Gauteng (2013, 2014 and 2016 champion)
The winners will be announced on July 18 at noon at The Local Grill in Parktown North.
The 2017 champion will also receive one 12-bottle case of The Wolftrap wine each week for the duration of the championship year and will host next year's awards ceremony.
A steakhouse is defined a restaurant that specialises in grilled beef and that has a menu solely based on steak or with a clear and dominant section of the menu dedicated to steak and grills. It should be clear that steak is the primary focus of the restaurant.
Judges rate the steakhouses according to a wide-ranging, standardised score-sheet which examines all aspects of dining out and encompasses the total experience, but focuses on the quality of the steak and the side dishes that are part of a steak meal.
More information:
www.facebook.com/SteakHunter
twitter.com/thesteakhunter
#SteakChamps
www.steakhunter.co.za
[email protected]