THE tireless work of South African non-profit organisation Reach for Recovery (R4R) is funded each year by the Power of Pink campaign, a South African Mushroom Farmers' Association's (SAMFA) initiative.
R1 from every pink punnet of fresh mushrooms sold nationally at Pick n Pay stores during October is donated to R4R's Ditto Project. The sole objective of this very special project is to provide free silicone prostheses to breast cancer survivors who cannot afford reconstruction after the life altering and heartbreaking reality of a mastectomy. 
Launched in 2011, the Power of Pink campaign has resulted in just under 8000 silicone prostheses provided to financially strapped breast cancer survivors at a cost of more than R5.5 million.
"To our astonishment, 2020 saw the highest amount raised since the campaign's inception. Big hearted South Africans contributed just under R700 000 despite their own financial hardships brought on by a year of lockdowns and job cuts. We and the Ditto Project recipients have been truly humbled by this generosity," says Stephné Jacobs, Reach for Recovery's national chairperson.
"We couldn't be prouder of our association with Reach for Recovery's Ditto Project. The dedication of every R4R volunteer and the immense kindness of all South Africans who support the campaign is such restorative testimony to the goodness that lives in people," adds SAMFA chairperson, Ross Richardson
"Courage is grace under pressure," said Ernest Hemingway in a 1929 interview with poet Dorothy Parker for The New Yorker magazine. He, of course, was right. Over these difficult Covid-19 years, it's a mantra that has fuelled and furthered R4R's most delicate of work, performed out of the public eye.
"Lockdown regulations and the vulnerable health of breast cancer survivors in need brought about new challenges for R4R and our Ditto Project," explains Stephné. "But being survivors ourselves, we realised very quickly that we could and must continue with our services in other ways. As we have done for 53 years, we continued our work with the assistance of advanced technology. Our organisation's Peer Support Services passionately offered ongoing much needed support via telephone, WhatsApp, and video conferencing. I am proud to be able to say we were able to comfort women who not only went through mastectomies but who would also have had to live through the dreadful experience in complete isolation if we were not at the other end for them."  
While fresh mushrooms and breast cancer have a strong humanitarian connection in South Africa, there is another scientific link between fresh mushrooms and the fight against breast cancer. In 2010, the Beckman Institute at the City of Hope Cancer Center in California found that eating just 10g of mushrooms a day more than halved people's risk of developing breast cancer. That means eating just one fresh mushroom a day – a staggeringly easy step in self-care to avoid the ravages of such a terrible disease.  
So in 2021 let's once again take courage together, for our own health and the restoration of breast cancer survivors. Let's once again buy fresh mushrooms in pink punnets at Pick n Pay stores from now until the end of October, in an extended Power of Pink campaign. For more information, contact Gina McLoughlin on [email protected] or 082 413 7538.  Alternatively go to SAMFA's website here. Recipes courtesy of SAMFA.
MUSHROOM HARVEST BOWL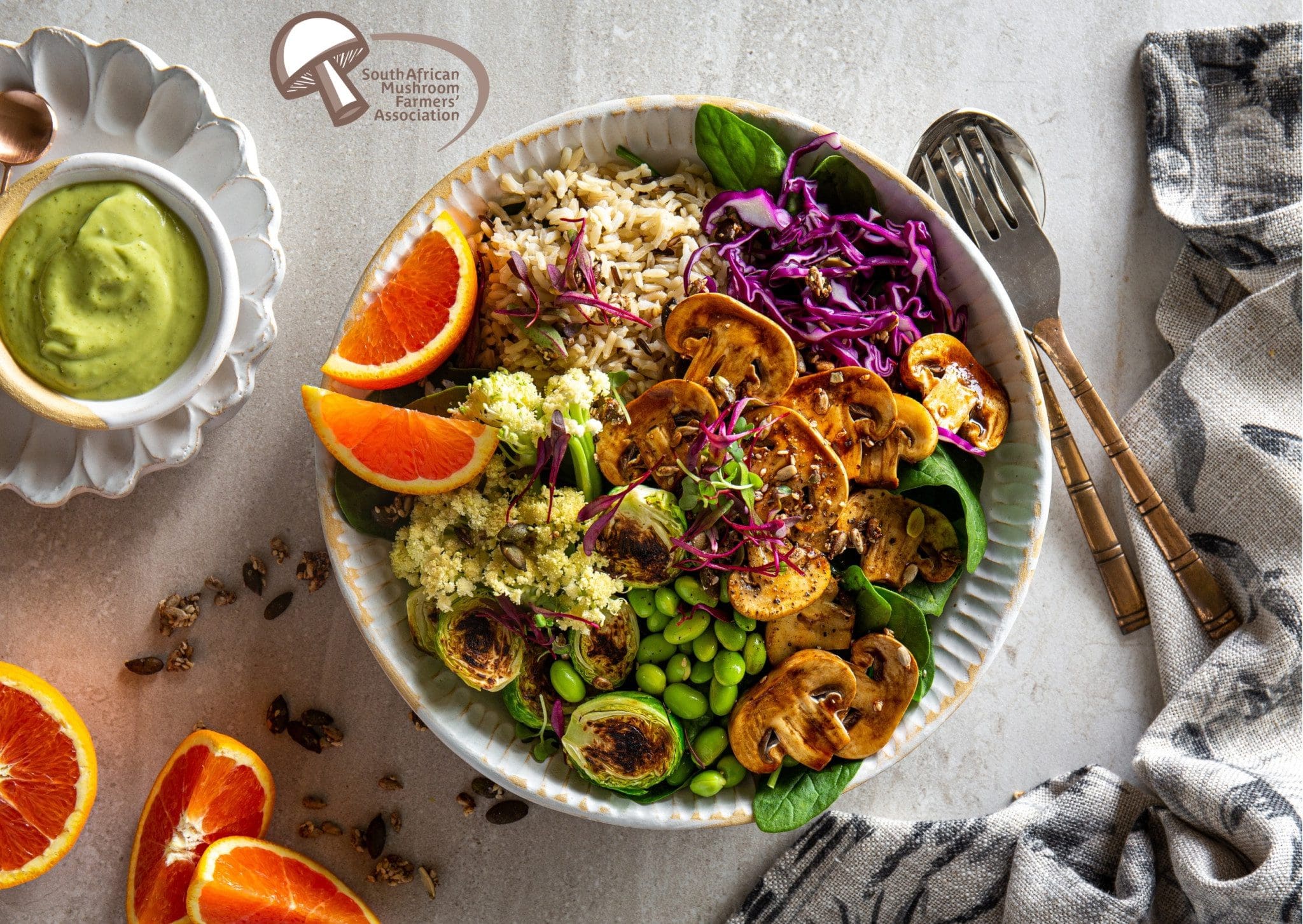 Serves 2
Ingredients
Pickled cauliflower:
1 cup apple cider vinegar
1 cup water
1 Tbsp black mustard seeds
2 Tbsp sea salt
2 Tbsp sugar
1 small head cauliflower, cut into florets / 300g cauli blossom florets
Avocado dressing:
1 avocado, pitted
¼ cup olive oil
2 Tbsp lemon juice
2 Tbsp blood orange juice
2 Tbsp fresh basil leaves, chopped
½ garlic clove, grated
½ cup – ¾ cup cold water 
Salt and pepper, to taste 
Harvest bowl ingredients: 
8 brussel sprouts, sliced in half 
Olive oil
Salt, to taste 
2 Tbsp butter
250g white button mushrooms, sliced
1 Tbsp soy sauce 
2 cups baby spinach
1 cup cooked wild & brown rice mix
½ cup purple cabbage, shredded 
½ cup edamame beans, steamed 
½ cup pickled cauliflower / cauli blossom 
2 Tbsp toasted mixed seeds
Blood orange wedges, to serve 
Method
For the pickled cauliflower:
Put all the ingredients except the cauliflower in a medium sized saucepan. 
Mix and bring to the boil. 
Place cauliflower in a large heatproof jar. Pour over the hot pickling liquid. 
Allow to cool in the jar and then seal and keep in the fridge. 
(Pickle can be made up to a week before) 
For the avocado dressing:
Combine all the ingredients in a blender and season lightly. 
Blend until creamy, adding extra water if necessary to reach a smooth consistency. 
Transfer to a jar and keep in the fridge for serving. 
To assemble the bowls:
Toss the brussel sprouts with some olive oil and salt. 
Place in a cast iron pan on medium high heat. 
Cook until charred on their cut side and tender. Set aside. 
In the same pan add the butter and when sizzling add the mushrooms. 
Sauté until the mushrooms release their liquid and are golden brown. 
Switch off the heat and pour over the soy sauce and toss. 
Season with black pepper. 
Divide the baby spinach as a base between the two bowls. 
Working in little pockets divide the rice, purple cabbage, edamame beans, pickled cauliflower, charred brussel sprouts and mushrooms evenly. 
Sprinkle everything with the toasted seeds. 
Serve with a wedge of blood orange and the avocado dressing on the side. 
MUSHROOM, ASPARAGUS & BROCCOLI CRUSTLESS QUICHE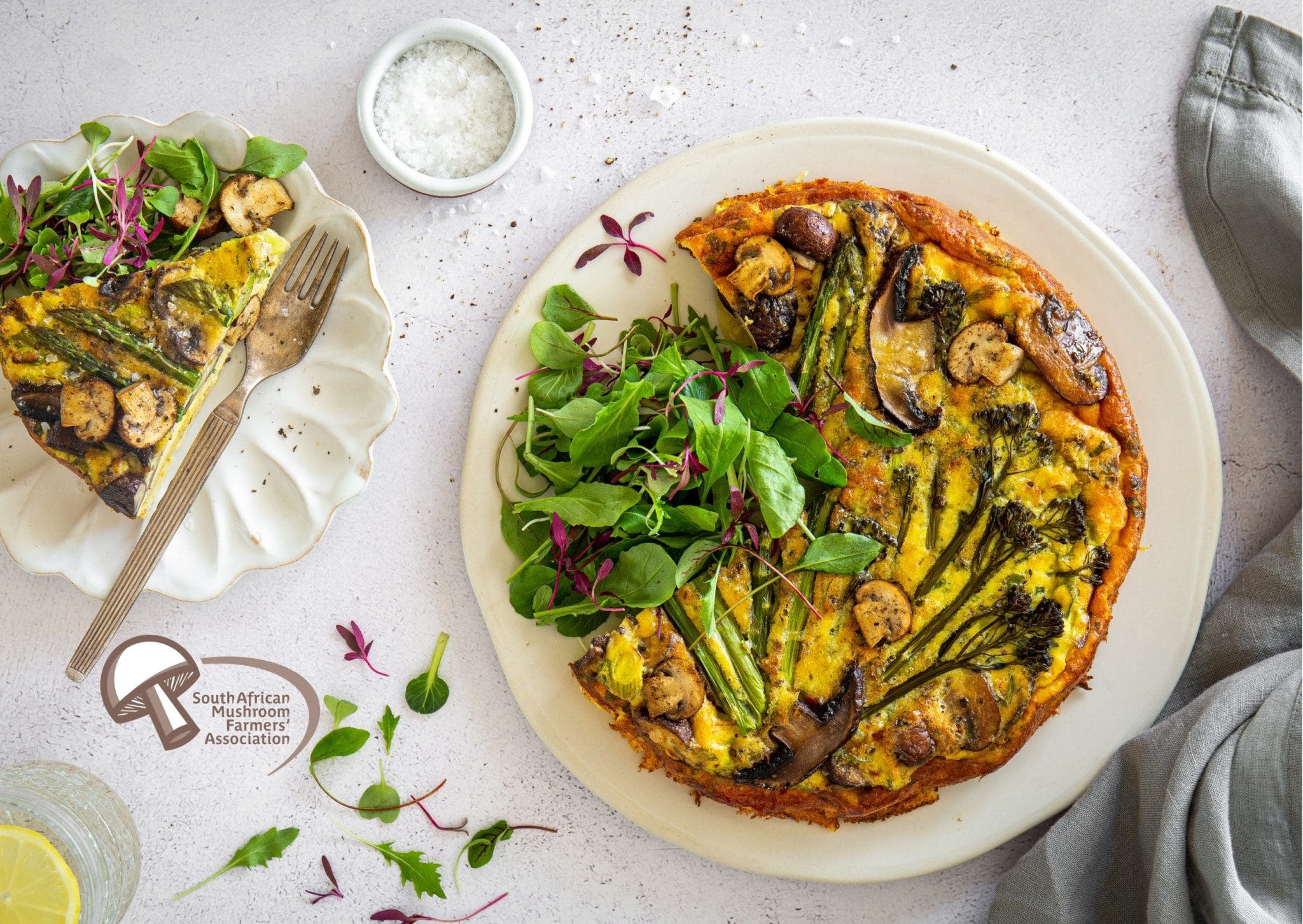 Serves 6-8
Ingredients
2 Tbsp butter, plus extra for greasing 
400g mixed cultivated mushrooms, sliced (button, portabellini or portabello)
50g asparagus, sliced
50g tenderstem broccoli, sliced
12 XL free-range eggs
1 cup Greek style plain yoghurt
1 ½ cups grated hard cheese (mature cheddar, havarti or boerenkaas work well) 
4 spring onions, sliced
1 tsp mixed dried herbs 
Salt and pepper, to taste 
Method
Preheat oven to 165˚C.
Butter and line a 22cm springform pan or tart tin. 
Heat the butter in a large pan over medium-high heat. 
When melted and foamy, add the mushrooms and cook until golden brown. Season.
In a large mixing bowl whisk the eggs and yoghurt together. 
Add in the cheese, spring onions, herbs and season well. 
Place cooked mushrooms, asparagus and broccoli into your prepared tin.  
Pour over the egg mixture and make sure everything is evenly distributed. 
Bake in the oven for about 1 hour until the egg is set. 
Allow to cool slightly before removing from the spring form tin or slicing straight out of the baking dish. Serve with a crisp green salad on the side. 
GRILLED VEGETABLE PLATTER WITH YOGHURT & HERB DRESSING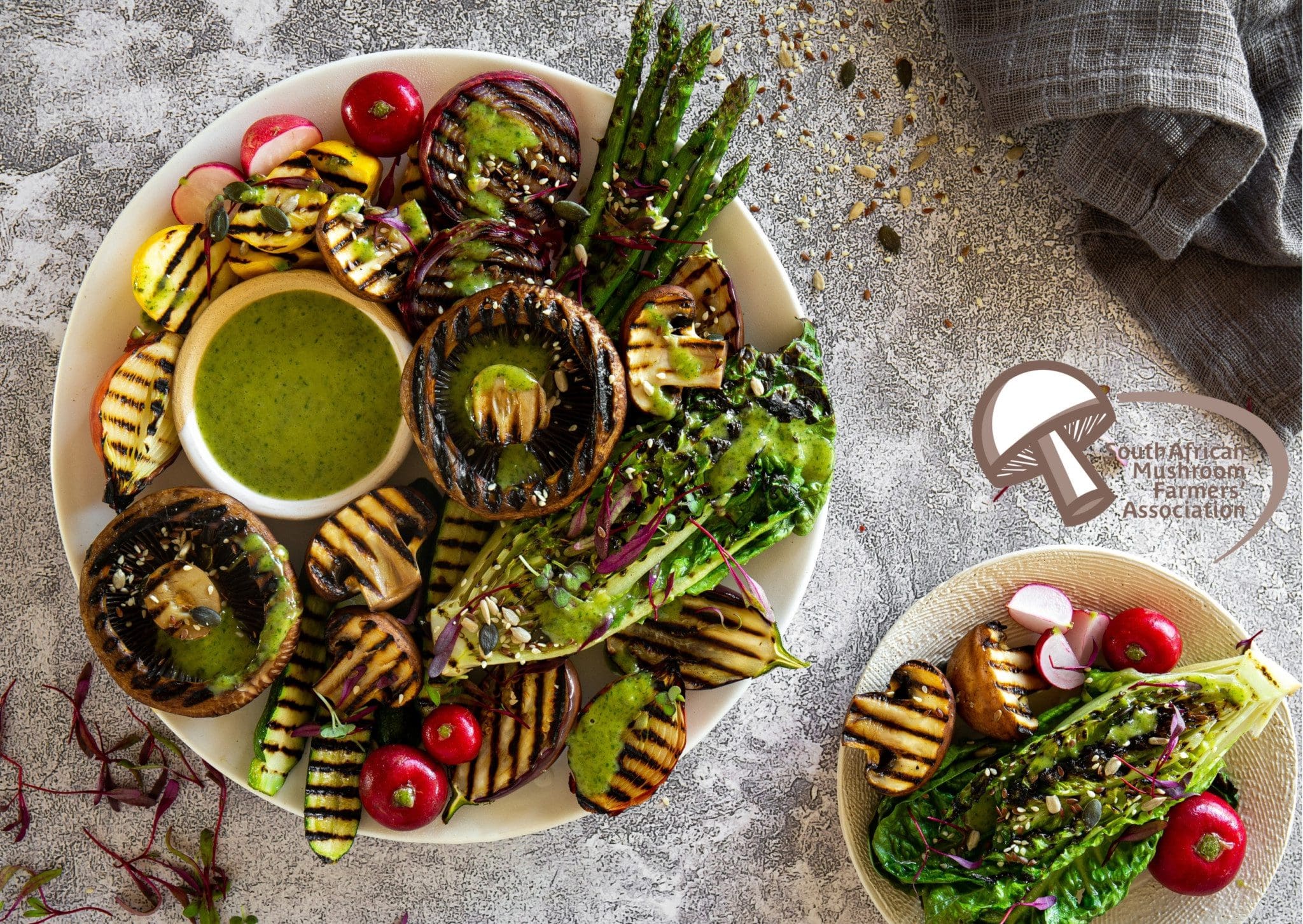 Serves 6 
Ingredients:
Herb dressing:
1 cup mixed herbs (basil, coriander and parsley work well) 
3 Tbsp olive oil
3 Tbsp plain yoghurt
3 Tbsp lemon juice
1 Tbsp honey or maple syrup
2 tsp Dijon mustard
Salt and pepper, to taste 
Grilled vegetables:
2 large portabello steaks
400g portabellini mushrooms, sliced in half 
1 red onion, sliced into thick rounds
2 pearl onions, sliced in half 
1 head of romaine / cos lettuce, sliced in half
100g / 1 bunch asparagus spears 
6 small courgettes, sliced in half 
6 baby eggplant, sliced in half 
6 patty pans, sliced in half
Olive oil
Salt and pepper, to taste 
Micro herbs and crunchy fresh radish, for serving
Method
For the dressing:
In a blender, combine all the ingredients. 
Season to taste with salt and pepper.
Thin out with a little cold water if desired. 
For the vegetables:
Preheat braai or griddle pan to medium-high heat.
One vegetable at a time, toss in a drizzle of olive oil and season with salt and pepper.
Grill in batches. Flipping once, until tender and lightly charred. 
To get really defined grill marks press the vegetables down using a metal spatula as you place them on the griddle pan / braai. 
Serve the mixed grilled vegetables with a generous drizzle of the herb dressing.