HEADING out to Paarl on a sunny autumn day is food for the soul, especially if you take time to explore less familiar spots or to discover new offerings at familiar destinations. Autumn is the perfect time for multi-generational visitors to discover this beautiful Boland town. The diverse offerings will entertain young and old. Couples, families and groups of friends will find loads to see and do.
Less than an hour's drive from Cape Town, Paarl is renowned for its gracious hospitality, unparalleled scenic beauty, wide open spaces and an array of tourism attractions. These factors definitely contribute to safe travel choices during Covid. The various wine estates, restaurants and tourist attractions have enough space to comfortably allow social distancing, while product owners are highly aware of Covid protocols and promote strict adherence to the guidelines. 
An early morning rock painting workshop (above) at Expressive Art Studio situated in the vineyards on the scenic Ridgeback Wine Farm sets the tone for a two-day expedition in the winelands.  The quaint studio on the hilltop offers beautiful views and doubles up as an art gallery the first weekend of the month. Treat yourself to a delicious breakfast or lunch at The Deck Restaurant or pop in at the new wine tasting to try its three vegan-friendly brands. 
Venture a bit further to the foothills of the Paardeberg Mountain to the popular Perdeberg Cellar. Talented chef Rob Hahn is in charge of the Eat@Perdeberg family-friendly eatery that showcases home-style, seasonal dishes made from locally sourced produce and paired with Perdeberg wines or very own craft beer. Parents can sit back and relax beneath the trees, while children can enjoy the fun garden play area. The menu also includes wood-fired pizzas and a picnic for two for which booking is essential.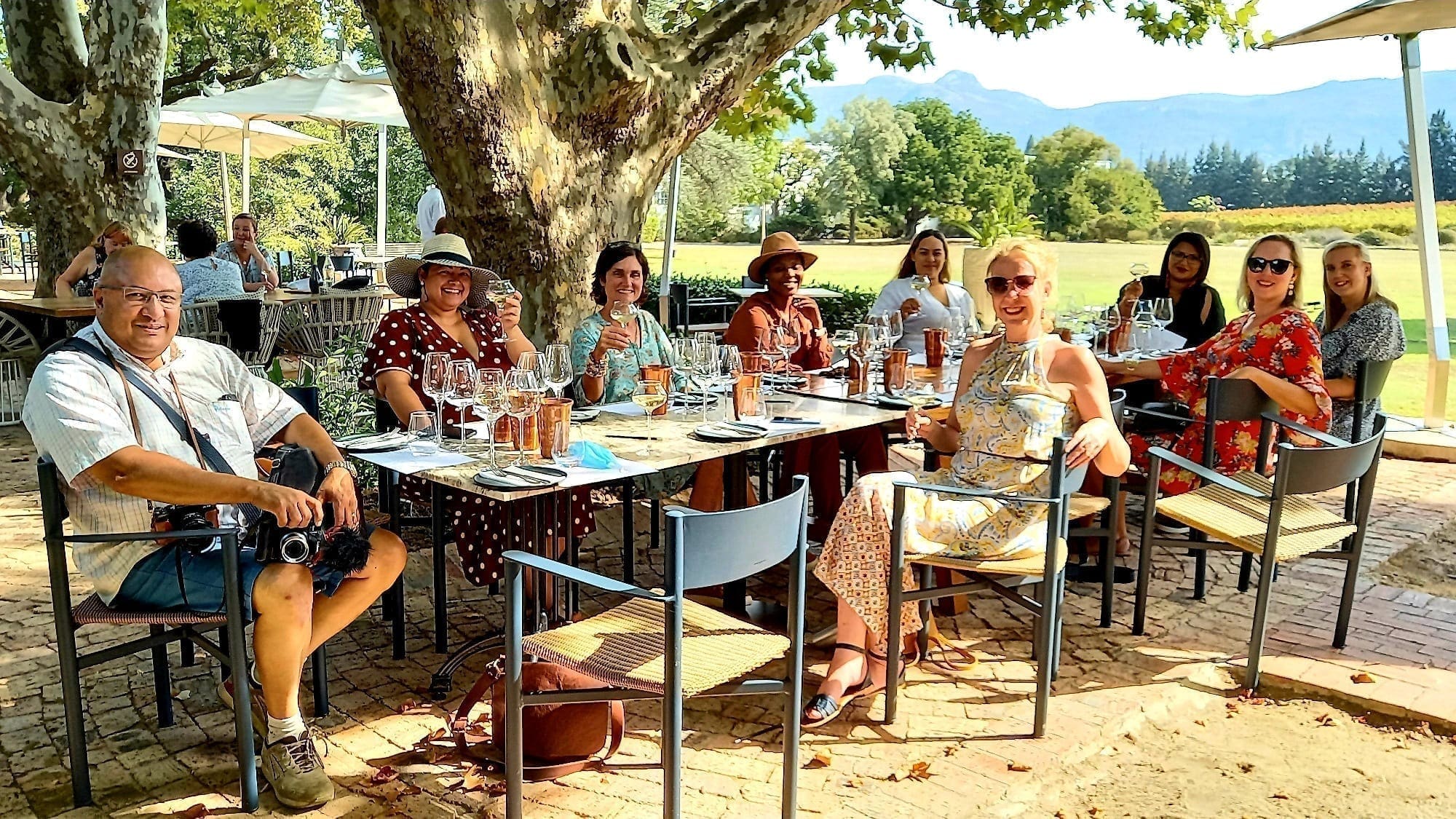 Paarl is steeped in winemaking history and Nederburg (above) has featured on the esteemed World's Most Admired Wine Brands list no less than five times. The iconic manor house completed in 1800 is a national monument and home to the beautifully revamped Manor Restaurant. Explore its world-renowned wine ranges perfectly paired with the à la carte menu or delicious charcuterie platters.
Paarl boasts a rich and diverse history, which can be explored during a guided historical tour (below). It takes its name from the huge granite outcrop that stands proudly on the crest of Paarl Mountain and was founded in 1687, which makes it the third oldest settlement in South Africa. 
The town features various architectural styles that compete for space with plenty restaurants and coffee shops spread out along the 12 kilometre-long Main Street.  If you prefer a self-guided tour, you can opt for the Paarl VoiceMap app or simply pop in at the tourism information centre and get a printed map.
At 24 Station Street (below), celebrity chef Mynhardt Joubert creates an overwhelming sensory experience with each dish. Stunning décor combined with attention to detail, passion and skill  provide the winning recipe for a once in a lifetime dining experience.  
A visit to Brenda's at Spice Route Destination outside Paarl encapsulates the wonder and mystery of the world of spices. It was her quest for fresh produce that spurred Brenda into making her first jars of fig and apricot jam in 2007. At Brenda's it is all about carefully combining fresh ingredients, traditional flavours and new ideas to create coveted food products.
Since 2013 Wilderer, South Africa's first private distillery and home to its multi award-winning gin, has a second location at La Grapperia Pizza & Bistro at the celebrated Spice Route Destination in Suider-Paarl. A new addition is the Beach Bar where visitors can kick of their shoes, lounge around and sip on delicious cocktails while admiring spectacular views all the way to Cape Town's majestic Table Mountain.
The latest gem at Spice Route is Jewell's restaurant. Owner and chef Neil Jewell is a charcuterie master and creates incredible varieties for sumptuous platters. The varied menu also includes smashed beetroot salad, pearl barley risotto and the pièce de résistance – a plate of sweets featuring madeleines, natural wine gums and chocolate truffles.
The accommodation offerings in Paarl are diverse enough to suit every budget and occasion, ranging from the luxurious double rooms at Laborie Estate with its spectacular views to Madeliedie Guest Accommodation, a quaint heritage home that was transformed into a bed and breakfast. Find more accommodation recommendations online here. 
Browse the website and make your bookings beforehand to avoid disappointment.  Alternatively, pop in at the tourism information centre for recommendations or contact them on +27 (0) 21 872 4842 or [email protected].  For the latest news follow @Visit Paarl on the various social media platforms.