OVER time, I have eaten at One&Only Cape Town on various occasions, from Nobu – which of course is amazing – to the "big" restaurant which has been helmed by the likes of Reuben Riffel and Gordon Ramsay. To date, the dishes we sampled last week in the Vista Bar & Lounge, created by Karen Dudley, are the best I have tasted at this venue.
To know Karen (pictured below) is to love her, and she's all about the love – and it shows in this all-day menu. It's been almost a year since I last saw her, when I wrote this story for Daily Maverick. Quick update: her new book is now due out early 2023.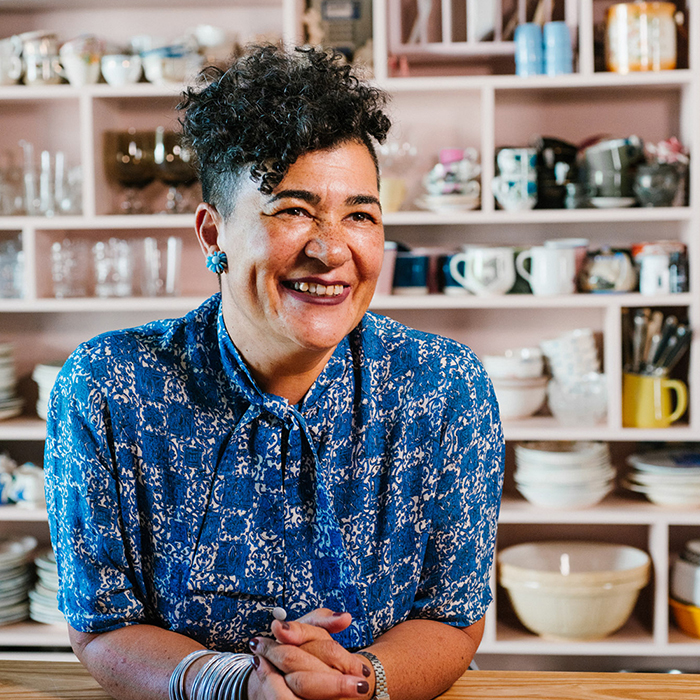 The Vista Bar & Lounge has been modified a bit (I've pasted the full press release below), and you can now pop in for a meal any time from lunch till late. The dishes we were served are from a menu that is light and summery, bursting with freshness. Karen talked about how, when she had her famous Woodstock restaurant The Kitchen, she and her staff would tweak and taste recipes until they had new salads, new flavours for their repertoire.
"We created food that would tug at people's hearts and sometimes seduce them," she said. "Sometimes it would make them feel good and virtuous, sometimes it would even inspire them, but most of all we created something that was memorable that would bring people back again and again.
"And so when One&Only invited me to consider a vegetable-led menu it kind of prickled that instinct in me. Would they really indulge me? Would they really let me do some vegetable alchemy? Would they let me just do my thing? Could we actually make some food that would be memorable and would have people coming back?
"Our relationship is based on indulgence. Basically the One&Only and I have a desire to love on people; the other thing we share is the desire to show off a little bit. We also have a friendship that is generous. We wanted to take restaurant food which is kind of, let's be honest, a bit 'blah' most of the time, and make it interesting and fresh and a little bit delicious and even fun."
It began with making dressings and relishes that would anchor the menu, and would be reliably good and keep things together. "Everyone had to believe in the menu, taste everything, and find something delicious they can hold onto," said Karen. "My food is disarmingly simple; there's no gel or jus to hide behind, so every element has to be true. There is layering and and there is texture, and there's something rich but always with something fresh, something indulgent and something virtuous, a balance of naughtiness and sweetness right next to each other."
We had papaya salad with crispy fried squid, cucumber drizzled with nouc cham and topped with coconut mini shallot salsa; gochujang cauliflower, a game changer for everyone who has done low carb and now finds it difficult to face a cauli, with baby gem lettuce, radish, apple, sesame seeds and spring onions; sunflower broccoli with asparagus, sumac mayo, crispy fried capers, parmesan and toasted sunflower seeds; and ridiculous simple and delicious Vietnamese tomato salad – just that, topped with fennel, cucumber, red onion, roasted peanuts, nouc cham dressing and lime to squeeze over.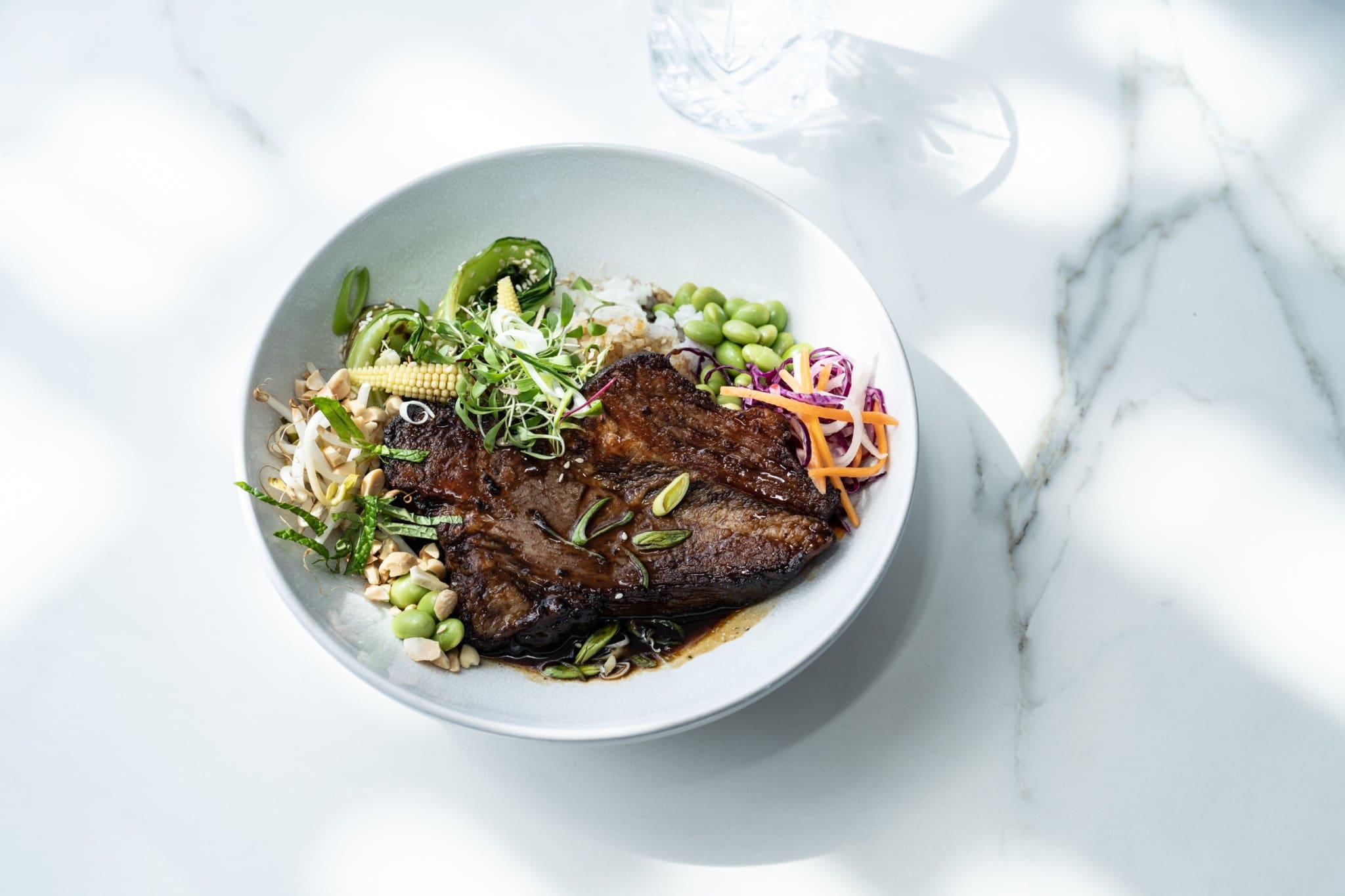 The 10-hour braised beef brisket with pan-roasted bok choy, sticky rice, edamame beans, sprouts, radish, lime, sesame and mint, dressed with beef caramel, is another nod to Vietnam and an absolute winner. If the goal is to make something memorable to get diners to come back, for me it's achieved in this dish. Also the semolina gnocchi, soft and velvety, with a rich melted artichoke cream sauce.
Norwegian salmon was cooked to perfection, on a bed of greenery: wilted baby spinach, sugar snaps, petit pois and fine beans, with butter-emulsified capers, garlic and lemon sauce. Slow-roasted lamb shoulder is pulled and drizzled with lemon, çemen dressing, and tahini, served with chunky rustic croutons and sumac-dressed leaves.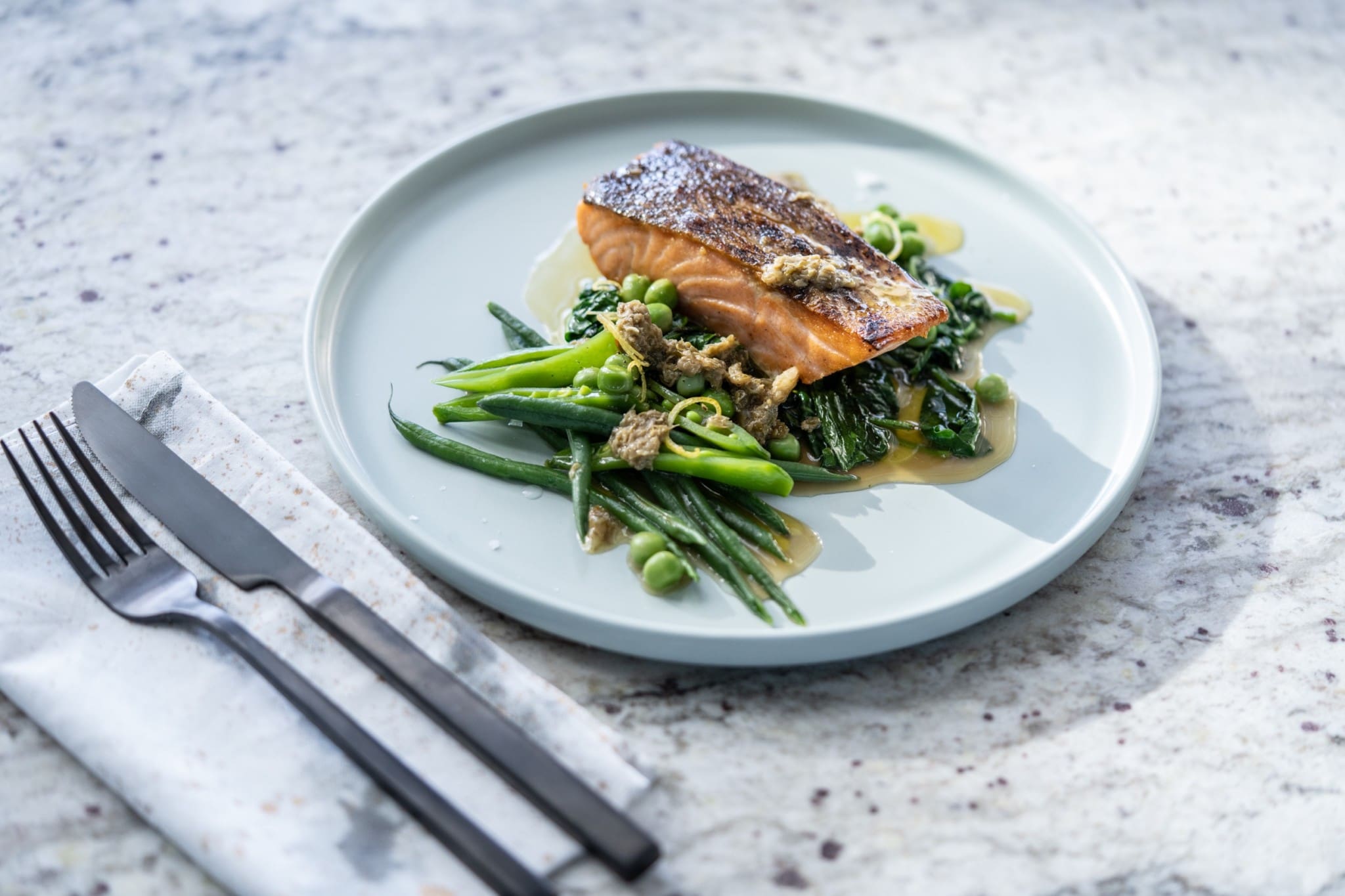 Here's some more information: Set in an elegant and contemporary double volume space, with plush sofas and a floor-to-ceiling glass that showcases the magnificent view of Table Mountain, Vista Bar & Lounge epitomises vibrance both in design and location. A venue of energy at the pinnacle of Cape Town's city life, this hub of vitality and zest appeals to all ages and walks of life. With an undercurrent of vibrancy humming throughout the resort, the newly reimagined Vista also incorporates nuances of both African folklore and local modernity into the design, making it as striking in aesthetic as it is in storytelling. While offering unparalleled views of the natural wonder, Table Mountain, Vista pays homage to the world-renowned mountain from the carpet, depicting the topography of Table Mountain, to the four Watcher statues that stand tall in the centre of the bar that speak to a renowned Xhosa tale of how Table Mountain came to be.
Now, the newly refurbished One&Only Cape Town is proud to announce a culinary collaboration with internationally acclaimed local chef, Karen Dudley. Born from a desire for fresh, clean and wonderfully unstuffy food, Karen and resort executive chef Jacques Swart have created a menu that focuses on delicious simplicity. Launched on 1 November, the menu allows for locally sourced fresh ingredients to take centre stage in this culinary journey of the senses.
"It really has been something special. Out of our working together we take and pick so much from each other. It's a little bit of pulling in everyone with their different backgrounds and incorporating all those flavours and it's just wonderful," says Karen. Chef Jacques agrees, adding that, "The opportunity to showcase new dishes created by Karen and the culinary team has been one for the books; the energy and thrill to execute this daily is bliss."
Vista's team has been joined by Bryan Pieterson, a South African born but internationally raised mixologist – the owner of Purl London, Marylebone – in the creation of the venue's new Watcher cocktails. Taking key elements out of the Xhosa myth, Bryan has concocted four cocktails that represent a multi-sensory experience of the story in taste, smell and sight, adding theatre to the Vista cocktail menu. Inspired by each of the players in the legend, each cocktail is named after different elements, namely Sea – Nkanyamba, Earth – Djobela, Sun – Tixo and Wind – Qamata.
The Watcher statues, standing tall atop the bar display of Vista, tell a story of the Watchers, a Xhosa legend of Table Mountain's origins. As the tale goes, when Earth was once covered by ocean, the god Qamata, son of Tixo, God of the Sun wished to create dry land separate from the sea. The sea dragon, Nkanyamba resisted the relinquish of control from the sea and fought against him. During battle, Qamata was left crippled and cried out to his mother Djobela to come to his aid. She, as the Goddess of Earth, created four giant beings to help in the fight against Nkanyamba. The ocean and the sea dragon proved to be too strong a foe however and one by one they fell. In their final moments, the Watchers called to their creator asking to be turned to stone, so that even in death, they could help protect the land. Their wish was granted and as the Watcher of the South transformed, he pulled back from the sea to form an expansive ridge along the coastline, creating Table Mountain as we see it today.
To book, call Reservations +27 21 431 5888 or email [email protected] For more information, click here.