IT'S not often I will go to a mall on purpose, least of all to eat. But following an invitation to come see the new revitalised look of PRIMI in Canal Walk, along with the information there is a fairly new breakfast menu, I was pleasantly surprised.
Unarmed with the advance information supplied by the PR, Divine Lady D looked around and commented: "This is so different from before. It's clean and crisp." As per the press release: "PRIMI is now located at entrance 8 upper level… your eye is naturally drawn to the beautiful earthy tones that blend in perfectly with the wooden floors and exposed natural brick. One of the two dining areas is nestled under the double-volume glass ceiling atrium that lets in all the natural light." So they have achieved their goal.
Although the menu is more extensive and has evolved over the years – PRIMI has been around since 1999 – I still associate it with pizzas and pastas. However, when I heard about the breakfast I reckoned it was reason enough to get up earlier than usual.
Breakfast is and always will be one of my favourite meals, any time of the day. PRIMI serves it until noon, and we made it just in time, what with having to turn around and go home to switch off an appliance lest my home burn to the ground. Because of all the tempting options, I urged Divine Lady D to join me in a two course morning meal.
"I've never done this before. Except at buffets," she said. Well, it was time to step up to the plate.
The breakfast menu begins with bowls, moves on to frittatas and traditional morning meals, covering everything you could possibly hope for to launch your day in a spectacular manner – including champagne.
Oh, those bowls…basically a breakfast salad. I had the one with bacon (and plenty of it) and avo (also generous, to put it mildly) on top of tomatoes, spring onions, grilled red peppers and zucchini ribbons, and garlicky sautéed spinach, crowned with a beautifully wobbly soft-poached egg – such a difficult thing to get right – and creamy yoghurt relish.
Divine Lady D's bowl was "power protein" with folds of smoked salmon trout with the same basic foundation of mine, and also with a perfectly poached egg. Good, but mine was definitely the winner.
Having an additional course each was a fine line between being greedy and doing our bit to explore the menu more fully in one sitting. I followed up with a salmon fraîche creamy egg frittata into which the fish was baked  with white onion and herbs, garnished with rocket, more salmon and yoghurt relish. Sourdough ciabatta toast on the side with butter complemented the soft, smooth egginess. Lady D's French toast was butter croissant  dipped in vanilla whisked egg and served with bacon roses and maple syrup – classic and fabulous.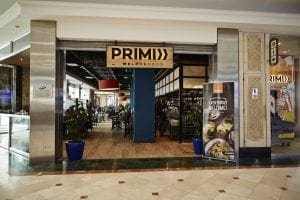 We washed it all down with more than the recommended daily allowance of cappuccinos, and had to admit a slight defeat in the latter part of the meal. But no regrets. And we walked it off with a bit of retail therapy. Because, you know, malls.
PRIMI Canal Walk details are here.
PHOTO CREDIT: BIANCA COLEMAN (FOOD)