MUSHROOMS are trending on the health and wellness charts for 2023, and powering this is the continued global shift towards eating more sustainably. The South African Mushroom Farmers' Association is delighted the growing demand for vegan and plant-based meat alternatives is showcasing mushrooms as being among the most desirable meat substitutes.
Not only does their umami richness ensure that they pack a real flavour punch, they are also a superfood loaded with vitamins, essential minerals and antioxidants that place them at the top of the food pops. While more research is certainly needed, initial studies have found them to be nutrition powerhouses, reducing stress, easing burnout, and boosting energy, relaxation, immunity and more. Try these delicious recipes from SAMFA as meat-free alternatives.
PORTABELLO ONIGIRAZU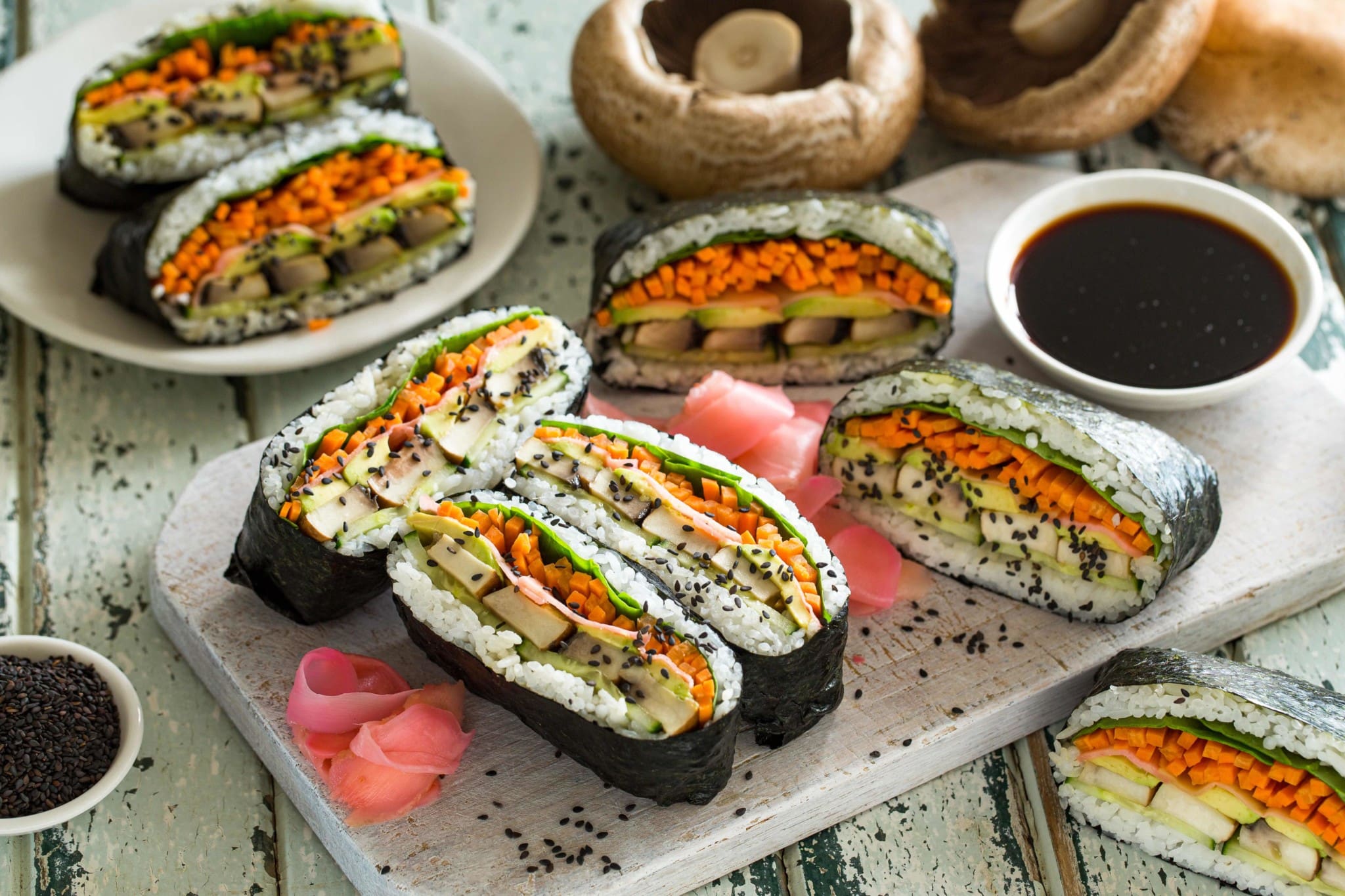 Serves 4 / makes 4 sushi sandwiches 
Ingredients
For the rice:
400g sushi rice
500ml water

 

2 tsp salt
2 Tbsp sugar
160ml rice vinegar

 
For the filling:
1 Tbsp sesame oil

 

4 large portabello mushrooms, thickly sliced
1 Tbsp soy sauce
8 sheets nori
1 large avocado, quartered and sliced

 

1 large carrot, peeled and sliced into fine matchsticks
½ small cucumber, sliced

 

1 handful baby spinach leaves

 

4 Tbsp pickled ginger

 
 Black sesame seeds, for serving 
Soy sauce, for dipping
Method
For the rice:
Rinse the sushi rice in a sieve, extremely well, until the water runs clear.

 

Pour the rinsed rice into a pot with the 500ml water.
Place a lid on the pot.

 

Allow to sit for 30 minutes.

 

Place rice onto the heat and bring to a boil.

 

Once rice reaches a boil turn the heat down to the lowest setting.

 

Cook for 10 minutes.

 

Switch the heat off and leave the rice, lid on, for a further 15 minutes.

 

In a small saucepan, combine the salt, sugar and rice vinegar over low heat.

 

Once dissolved, pour evenly over the rice and fold very gently with a wooden spoon or silicone spatula.

 

Spread rice out onto a clean tray and allow to cool.

 
For the filling:
Heat a large frying pan on high heat.

 

Add a drizzle of sesame oil and the mushrooms.

 

Cook until just golden brown and tender.

 

Pour in the soy sauce and toss to coat.

 

Set aside.

 

Prep the rest of the vegetables.

 
To assemble:
Lay a nori sheet (rough side up) on a clean work surface.

 

With wet fingers to prevent sticking, position ± ½ cup of the cooked rice in the centre of the nori sheet and shape it into a square, at a 45˚ angle to the nori.

 

Layer the baby spinach, carrot, pickled ginger, avocado, mushrooms and cucumber.

 

Put another ± ½ cup layer of rice on top of the filling, and compact it down into a square.

 

Fold the corners of the nori in to meet in the centre of the rice, then wrap in the plastic wrap tightly and shape neatly.

 

Repeat with the remaining rice and fillings.

 

Tip: You should only need one sheet of nori per sushi sandwich, however if you overfill them just use a piece of another sheet and patch the sandwich until it seals nicely.

 

Leave each onigirazu wrapped for 10 minutes so the nori softens slightly.
Slice in half and sprinkle with black sesame seeds.

 

Serve with some soy sauce for dipping and enjoy!

 
GREEK MUSHROOM & POTATO SALAD 
Serves 4
Ingredients
400g baby potatoes, sliced in half

 

1 tsp dried oregano

 

250g white button mushrooms, sliced in half

 

½ red onion, thinly sliced
200g cherry tomatoes, sliced in half
½ large cucumber, deseeded and roughly chopped
100g Feta cheese, roughly broken into chunks
100g black olives, preferably Kalamata
small handful fresh oregano leaves
1 tsp dried oregano
Olive oil, for cooking and dressing
Juice of 1 lemon, for dressing

 

Salt and pepper, to taste

 
Method
Gently boil the potatoes in salted water until tender.

 

Drain and leave to steam dry and cool.

 

When cool, place in a bowl and season with salt and pepper.

 

Drizzle with olive oil, lemon juice and dried oregano. Toss to coat well.

 

Heat a large frying pan over medium high heat.

 

Add a drizzle of olive oil.

 

Cook the white buttons until lightly golden brown. Season well.

 

Put the onion, tomatoes and cucumber in a bowl and season to taste.
Add the mushrooms and potatoes and mix.

 

Scatter the top of the salad with feta, olives and oregano leaves.
Sprinkle over the dried oregano and drizzle everything with a little olive oil and lemon juice and serve.
CANNELLINI BEAN, FENNEL, APPLE & ROASTED MUSHROOM SALAD
Serves 4
Ingredients
1 x 400g tin cannellini beans, rinsed and drained
1 bulb fennel, sliced very thinly
1 large stalk celery, sliced

 

400g medium portabello

 

mushrooms, quartered
1 tsp garlic powder
150g mixed baby lettuce leaves
2 green apples, sliced thinly
50g walnuts, toasted and roughly chopped
Fennel fronds, for serving
Olive oil, for dressing
Sherry vinegar, for dressing
Salt and pepper, to taste

 
Method
Place the cannellini beans, fennel and celery in a small bowl.

 

Drizzle with a little olive oil and sherry vinegar.

 

Season with salt and pepper. Toss to combine and set aside.

 

Preheat oven to 200˚C, fan on.

 

Place mushrooms on a baking tray.

 

Drizzle with olive oil and season with salt, pepper and garlic powder.

 

Roast for ± 7 minutes until tender and juicy, but retain some bite.
Allow the mushrooms to rest.

 

Once the mushrooms have rested, assemble the salad.

 

Layer the baby leaves and apples on a serving platter.

 

Spoon over the marinated bean mixture.

 

Top with the roasted mushrooms.

 

Sprinkle with walnuts and fennel fronds. Season lightly.
Drizzle everything with a little extra sherry vinegar and olive oil and serve.