LAST weekend's rain in Cape Town gave us a hint of what we can look forward to in the next few months.  This coming Sunday, March 20, is the autumn equinox after which the days draw in and darkness lingers longer. With the cooler weather, thoughts turn to comfort food; South African Mushroom Farmers' Association shares two delicious recipes for you to try.
Portabellini Mushroom Steak Diane 
Serves 2 (pictured above)
Ingredients
2 x 180g fillet steak medallions

 

2 Tbsp butter
2 large shallots, finely diced
1 clove garlic, minced
250g portabellini mushrooms, sliced
60ml / 4 Tbsp brandy

 

125ml beef or mushroom stock
125ml cream
1 Tbsp Dijon mustard
2 Tbsp Worcestershire sauce
Chives, to serve

 

Salt and pepper, to taste

 

Olive oil, for frying

 
Method
Rub the steaks with olive oil and season generously with salt.

 

Heat a large heavy based frying pan over medium-high heat.

 

When the pan is very hot, add the steaks and cook until well caramelised all over (about 3-4 minutes each side for medium rare, 52-54˚C internal temp).

 

Remove from the heat and set aside.

 

Turn the heat down slightly and add the butter and shallots.

 

Cook until tender. Add the mushrooms and garlic and cook until fragrant and the mushrooms soften.

 

Turn up the heat and tilt the pan away from you.

 

Pour in the brandy and then carefully light it with a long match or lighter.

 

Shake the pan gently until the flame dies down. Swirl the juices around the pan.

 

Pour in the beef stock and bring to a simmer. Reduce slightly.

 

Pour in the cream and add the Dijon mustard and Worcestershire sauce.

 

Simmer until thickened.

 

Taste to adjust seasoning.

 

Return the reserved steaks to the pan on a bare simmer until the meat is warmed through.
To serve, plate the steaks and spoon over a generous amount of the sauce.

 

Sprinkle with fresh chives.

 

Serve alongside roast potatoes and a green salad.

 
Pairing suggestion: Hartenberg Cabernet Sauvignon Shiraz Blend 
Oven Roasted Feta & Mushroom Pasta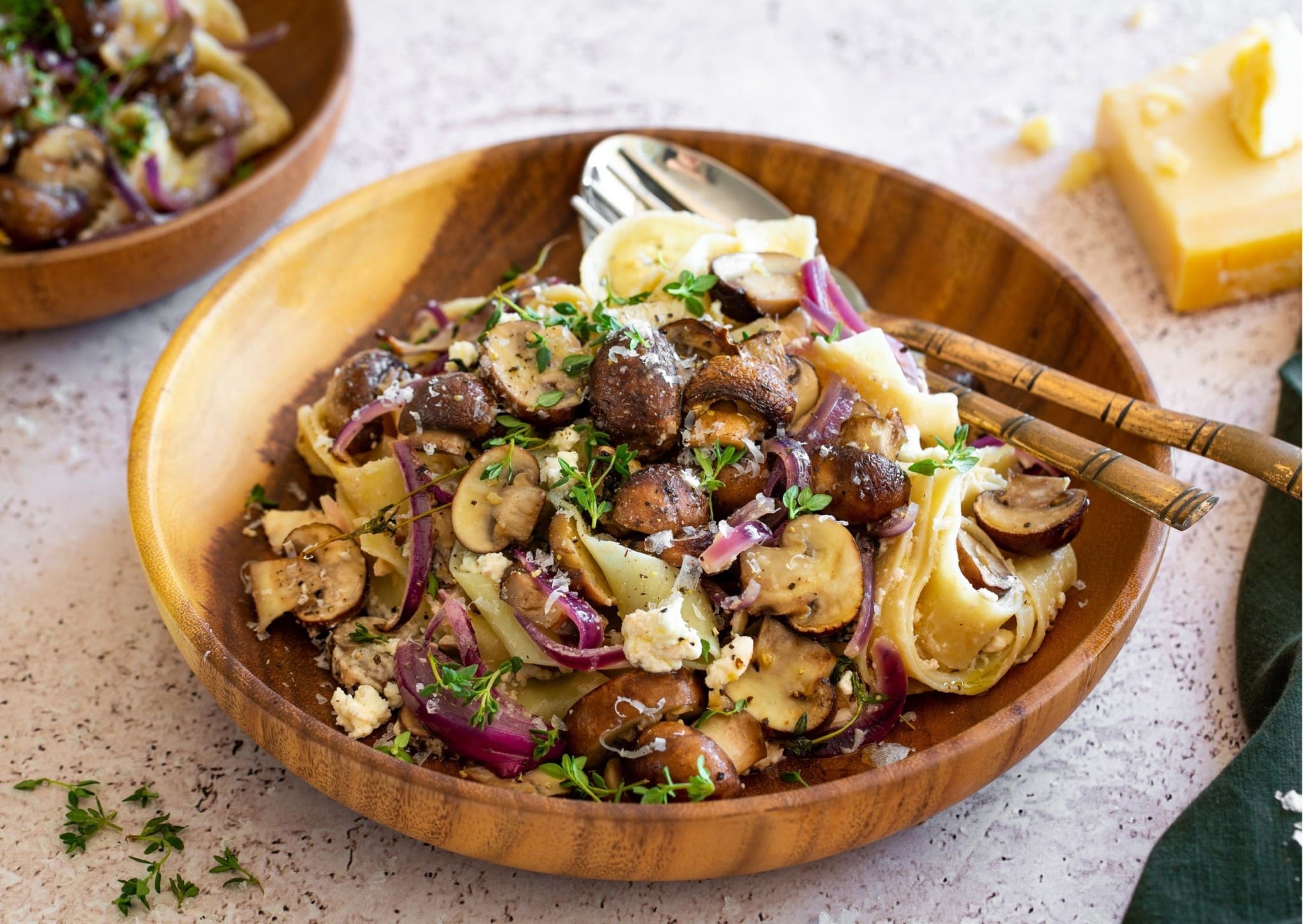 Serves 4
Ingredients
400g pasta of choice
200g block feta cheese
1 large red onion
500g portabellini mushrooms
± 6 fresh thyme sprigs

 

Zest and juice of 1 lemon

 

Olive oil
Salt and pepper, to taste

 

To serve, fresh thyme leaves and Parmesan cheese

 
Method
Preheat oven to 200˚C fan on.

 

Slice mushrooms fairly thickly and slice red onion into petals.

 

Place the block of feta into the centre of a large roasting dish.

 

Scatter the red onion and mushrooms around the feta.

 

Tuck the thyme sprigs among them.

 

Season everything well with salt and pepper and drizzle liberally with olive oil.
Toss to coat.

 

Roast in the oven for ± 20 minutes.

 

While the mushrooms and feta are roasting, cook the pasta.

 

Cook in a large pot of salted water until al dente.

 

(If you are worried about getting the timing just right and prefer to drain the pasta, reserve 2 cups of pasta water before draining)

 

When the mushrooms are ready, remove from the oven and add the lemon zest.

 

Stir everything together, adding a few splashes of pasta water as you go to create a creamy feta sauce.

 

Using tongs or a strainer, transfer the pasta directly into the baking dish.

 

Toss to coat in the creamy sauce adding as much pasta water as needed to keep things silky.

 

Season well with freshly ground black pepper and a good squeeze of lemon juice.

 

Serve topped with fresh thyme leaves and a sprinkle of Parmesan cheese.