RESTAURATEUR Ed Saunders is a fun guy. Nothing to do with his eateries, but I promised I would never let an opportunity slip by without mentioning how he ran nude from one end of Hout Bay beach to the other after England lost to South Africa (the rugby) to honour a promise he made to John Maytham on the radio while perhaps a tad inebriated.
There is video footage, just saying, and thousands of likes for his tush. Point is, Ed's a mensch who follows through no matter what. I've known him for years and he's unfailingly kind and generous, and he's put in the work with his restaurants. Fork is the tapas bar in Long Street, and Knife is the one in Century City. Ed came and picked me up for lunch there the other day, and took me for a quick eye-opening spin around the area. Flip, who knew? Obviously people in the area, but still.
Knife has been around since 2010, and was originally primarily a steakhouse, "a Louisiana Creole type place," says Ed. "It worked to a certain degree but over the course of time I realised I didn't know if I was a steakhouse, or a rib place…I still don't know," he laughs. After visiting Bones, Ed decided he wanted to go for more of a bistro style. The appointment of Ian Lilley as executive chef for both restaurants paved the way for this and the menu at Knife has undergone some changes which allow Ian to flex his culinary muscles.
You're still going to get your grills, and the famous ribs which are smoked on-site – all you can eat for R100 on Wednesdays, which is such a ridiculously good offer and they come with an apron because if you don't have rib sauce all the way up to your eyebrows and elbows, did you even have ribs? – as well as burgers and blackboard specials, including a daily R70 lunch, like a good old fashioned fish 'n chips, for example . You're also going to get risotto and gnocchi and carpaccio. Cutting back on the burgers might not have been the best decision, says Ed; "The reality is, Bianca, people want burgers." True story. There are four – vegetarian, chicken, and two with sexy toppings (bacon, cheese and avo – a holy trinity; kudu and Camembert) – and another one on the specials board.
Like he did when I had lunch at Fork in October, Ian took charge of what we ate. For starters, he sent out the roasted marrow bones (big fan) with chimichurri, and beef carpaccio. We had the duck 'n waffle too – a spin on the crispy duck pancake Asian dish, with the sticky sweet duck and savoury waffles. Loved those.
The main courses had to include ribs of course, and the apron is genius. I think anyone with a bosom would like to have one of those when they eat out. I routinely mess food down my front, which can be embarrassing when your bestie eyes you up and down and says "my three-year-old eats better than you." Ouch! We also had smoked haddock on crushed potatoes with a perfectly poached egg on top, which is something different and very tasty.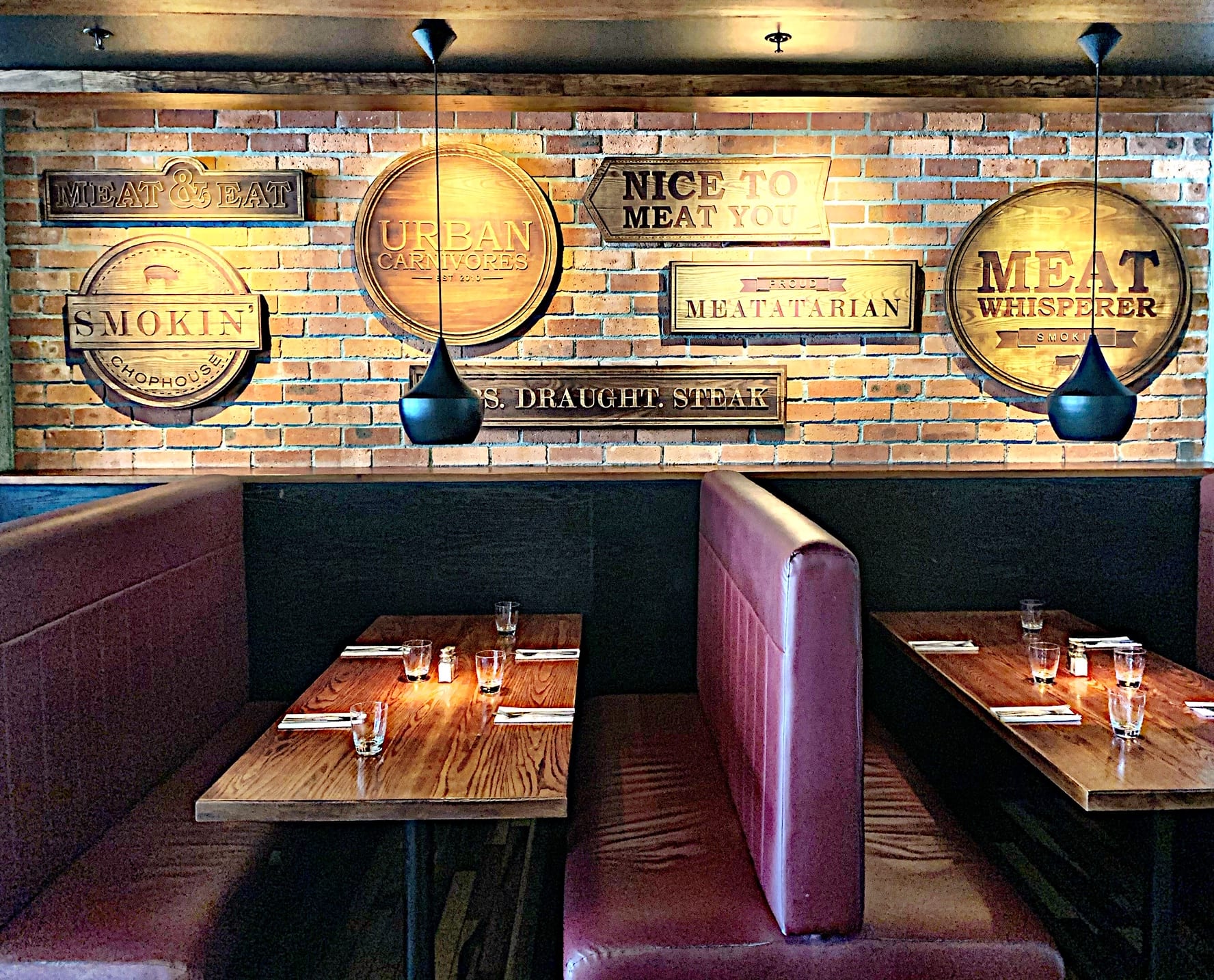 Check out the full menu on the website, and think beyond Canal Walk when next you're out this way. Signage is thin on the ground throughout the City; find Knife next to the Cape Town Marriott Hotel Crystal Towers, to give it its full mouthful of a name. Follow on Facebook for all the cool specials.
PHOTO CREDIT: BIANCA COLEMAN ©