IT is with such enormous pride and joy that I write this, a few hours after Creation Wines placed 10th in World's Best Vineyards for 2021, as well as the Best Vineyard In Africa. Also in the top 50 are Delaire Graaff and Klein Constantia.
Of course, I'm not really surprised; Creation is a place I've visited many times – most recently this past Sunday – and I know how Carolyn and JC Martin and their team pour their hearts and souls into the excellence of the wine, food and overall experience. The results were streamed as a hybrid event combining a real-life ceremony and digital live film. "It was so incredibly emotional for the whole team to watch the countdown tonight and see what auspicious company we were in," Carolyn told me afterwards. "They are so pleased to be recognised beyond Creation for their effort."
On Sunday we were treated to the Healthy Heritage pairing menu, which will run until October 2021. It comprises six courses, each created by a different chef in the kitchen, thus sharing their cultural diversity with visitors to the tasting room. It's all gluten- and dairy-free, and remarkably, the desserts contain no sugar either. It's a meal you can walk away from without feeling overfull or guilty but definitely satisfied. One should never feel guilty about food if at all possible, but sometimes some of us just can't help it.
Carolyn joined us for lunch so she guided us through each course, but she also mailed me the training manual (which is extensive, and also why the staff are so slick). It begins with the rationale behind the menu, which in a word is provenance: "What grows together, goes together! Agricultural products have their own regional/terroir flavour profiles and typically work together. Pairing is such an important part of the Creation experience. What could be more innovative than celebrating our diverse South African cultural heritage and adding a unique Swiss touch?
"Together with a doctor who is a nutritionist and specialist in general wellbeing – including mental and physical health – we have innovated our most loved dishes to bring you healthier options packed with layers of flavour and perfectly paired with our wines."
And so we began – at my regular table (it makes me feel so special and important) – with glasses of Elation MCC. The first course, or chapter, is Passion, umfino with charred broccoli, goat's milk cheese and peppadews. Umfino, a maize ball, is a traditional Xhosa dish, which chef Abongile chose as a reminder of his mother's wise words: "Always watch where you walk as there are many valuable plants that can be used in umfino. If people in South Africa know about this healthy dish, there would be less hunger." It's paired with the 2021 Sauvignon Blanc, a crisp partner to the bright greens of the dish.
Chapter two by chef Anthean is Innovation, a seed loaf bunny chow filled with lightly curried fish – a tribute to the yummy plates of curry of his childhood. The dish is delicate and the light spices adore the 2020 Viognier pairing. The plating is carefully considered to evoke a vision of waves breaking, with mango atchar on the side which ramps up the flavour as a garnish.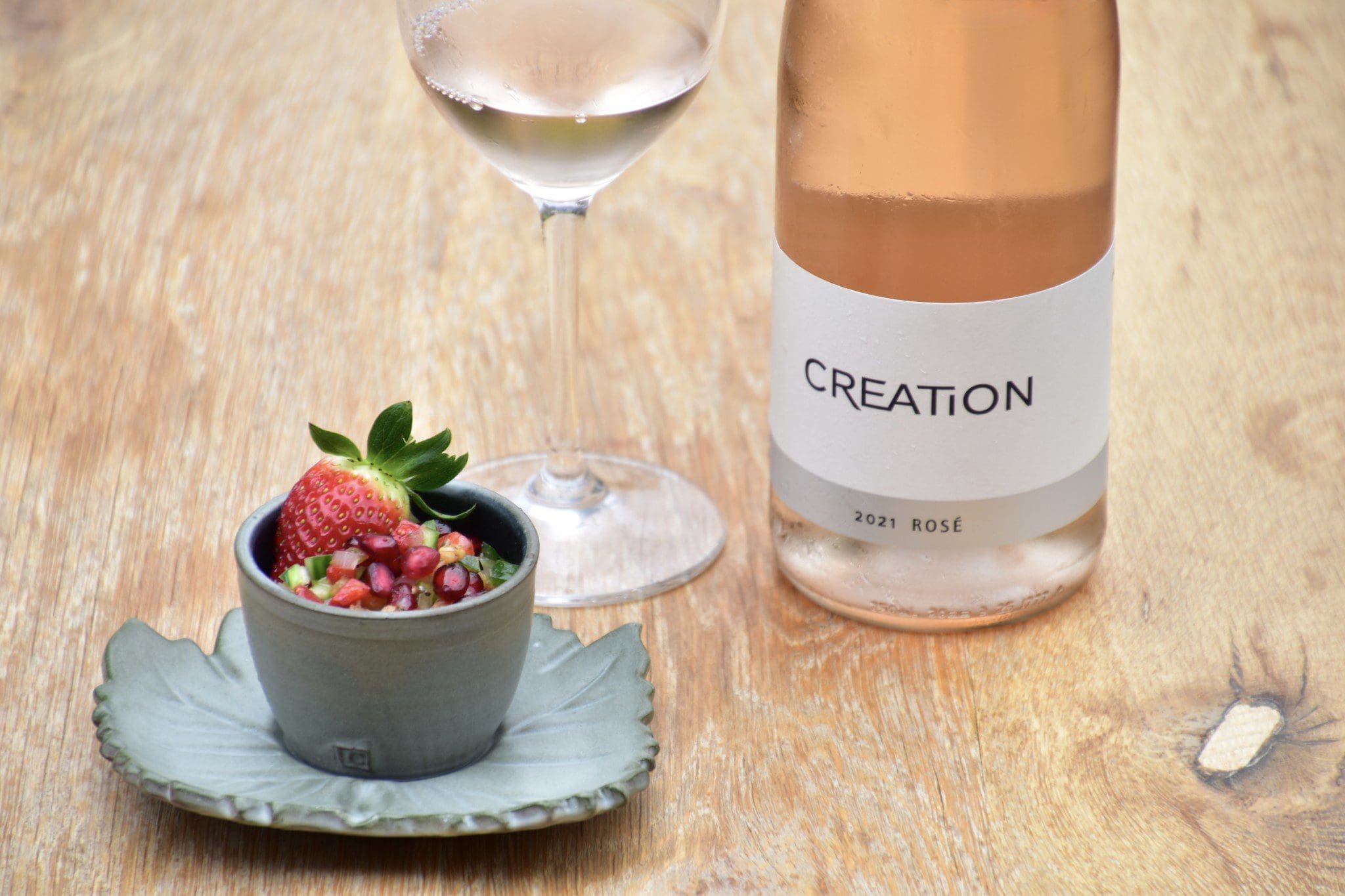 For the next chapter, Alchemy, Creation's Madame Meilland Rose is – I can't put it better than the menu description -"the most delicate petticoat pink; big berry bouquet, spice and Turkish delight." It's served with chef Eleanor's suurvygie (sour fig) strawberry sorghum salad, which we were informed contains 12 super nutrients with many health benefits, including the building of strong bones and the lowering of blood cholesterol. The presentation is in a little cup on top of a plate made from the vineyard's Pinot Noir leaf. Fun fact: different cultivars have different shaped leaves. One day I will learn to recognise them all.
It's Pinot Noir that comes into play for chapter five, Charisma. The dish is waterblommetjie risotto, and there is nothing ordinary about it. The seasonal flowers grow on Creation's lake and chef Jean harvests them as well as forages for num nums from the garden, which bring a tart spike to the palate. This one is all about textures, with waterblommetjie purée stirred through the rice, sautéed, and dried and fried crisp for intense flavour.
The main course, if you will, is Resonance, featuring Syrah, Grenache 2019, "a well-endowed Rhône-style blend with intense flavours of ripe plum, black pepper, tapenade and umami." It's difficult for me to pick a favourite Creation wine but this one is definitely up there. It's paired with chef Jean's "braai" dish of rack of perfectly pink lamb smoked with rooibos and wild rosemary and grilled on a griddle pan. Accompaniments are kaiings (crispy little blocks of fat), macerated tomato and chakalaka.
And then comes Déjà Vu…a dessert pairing with a dry wine always makes my heart sing; I can't usually cope with sweet on sweet. Here, the trio of traditional puddings by chef Marcel are not overly sweet anyway so the freshness of the 2020 Chardonnay, with its citrus notes, is perfect. It's hard to believe the mini koesister is gluten-free, so light is it. The melktert on the left is – what? – dairy-free, yes indeed. And the malva pudding in the middle has. no. sugar. There's sweet potato in there though.
All the dishes and wines can be ordered separately if you prefer. If you can't get to Creation, pop over to the website and have a look at the beautiful gift boxes filled with gorgeously packaged luxury items. Something else that's new at Creation is a 6km vineyard walk, so you can now get to experience the beauty of the farm from whole new perspectives.
Pictured below are two bonus dishes which will be available this Heritage weekend – abalone sushi, and smoked abalone with gooseberries and pickled mango.