ONE block to the right, then the second road left: those are the directions from Maison de L'amour to 1910 The Old Forge; the B&B and the restaurant are both owned and run by Nina and Derek Poole.
I didn't go there during the day – very busy on Saturday and Sunday I was told – but I was there both nights I stayed in Darling. It's cosy and toasty (the days can be warm and sunny at this time of the year but it gets suddenly chilly after sunset) inside, with a deep fireplace. If you get those two coveted chairs in front of it, you'll be in charge of adding logs to keep it blazing.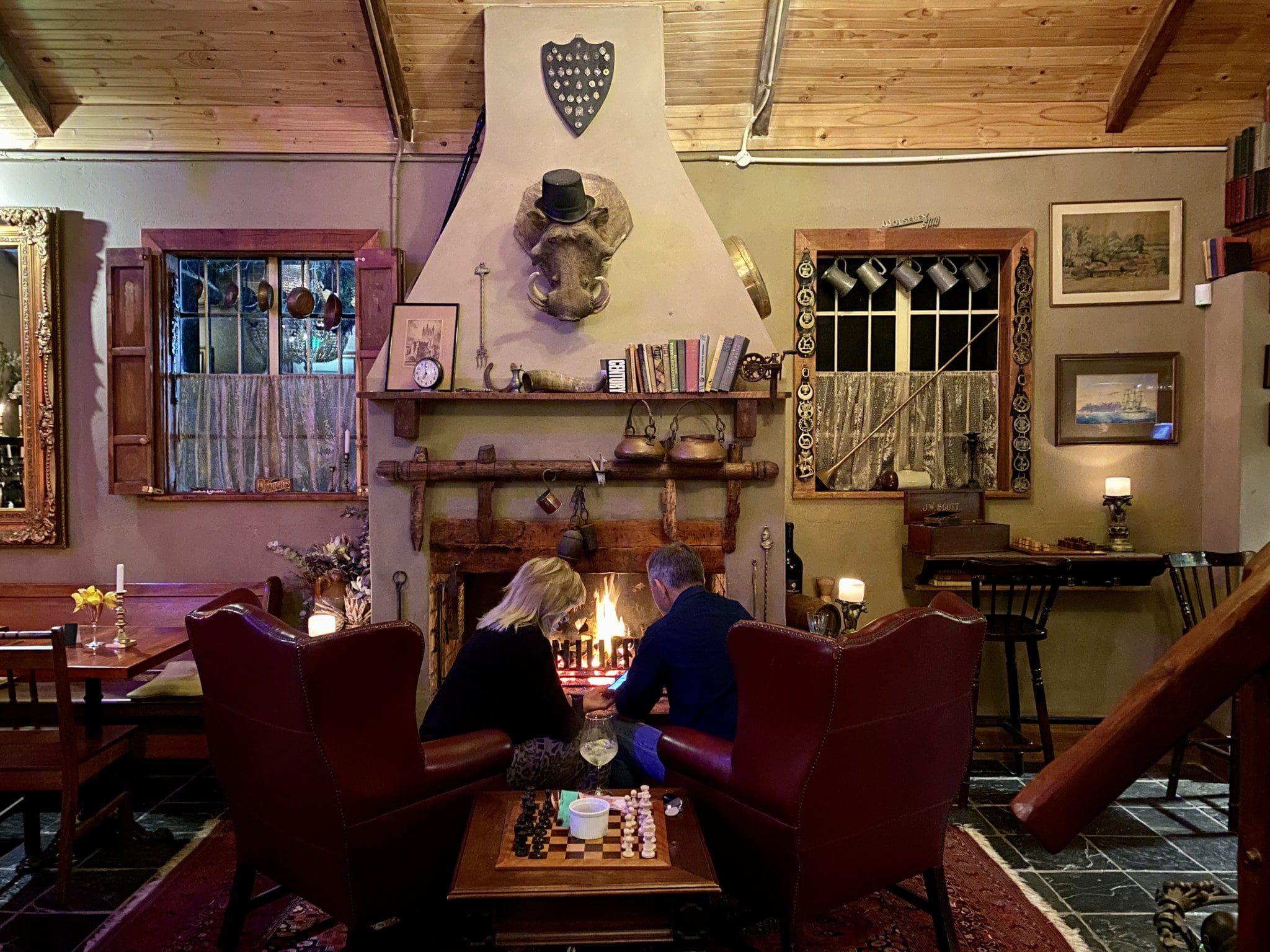 There's more warmth from the staff who greet you and make you feel welcome. And you can always gauge how good a place is by how many locals are at the bar, chatting and socialising, as well as regular customers who come from other small towns in the general vicinity, like Riebeeck Kasteel, which apparently only a 20-minute drive away.
While on a mission to deliver a long overdue book to someone who turned out to live in the same road as Maison de L'amour (where I was staying), I learned that from Sunette who recently sold their – she and her husband – citrus farm but still have a farm in the Karoo where people can pay to hunt. The conversation began when she took a break from watching the rugby and came to warm herself at the fire. The TV is in the separate smoking section so it doesn't intrude on those who want a nice quiet dinner, or enjoy the live music on Fridays.
Then Anthea, estate agent, came along because her nose and hands were like ice blocks, and there was talk about the neighbourhood groups. That fire was jolly popular. It was jolly hot too, so I was glad to move to a "proper" table when our pastas arrived – mushroom Alfredo for my companion and salmon for me. We drank Chenin Blanc, the Gustus from Darling Cellars.
This had been carefully planned by me because the previous night I'd painted myself into a red meat corner by ordering a glass of red wine because I was cold and then finding out I wanted to have the salt and pepper squid (or the salmon pasta) but that wouldn't have paired so well with my wine and I didn't feel like a whole big steak so I got the Wagyu burger instead. This was not a bad life choice.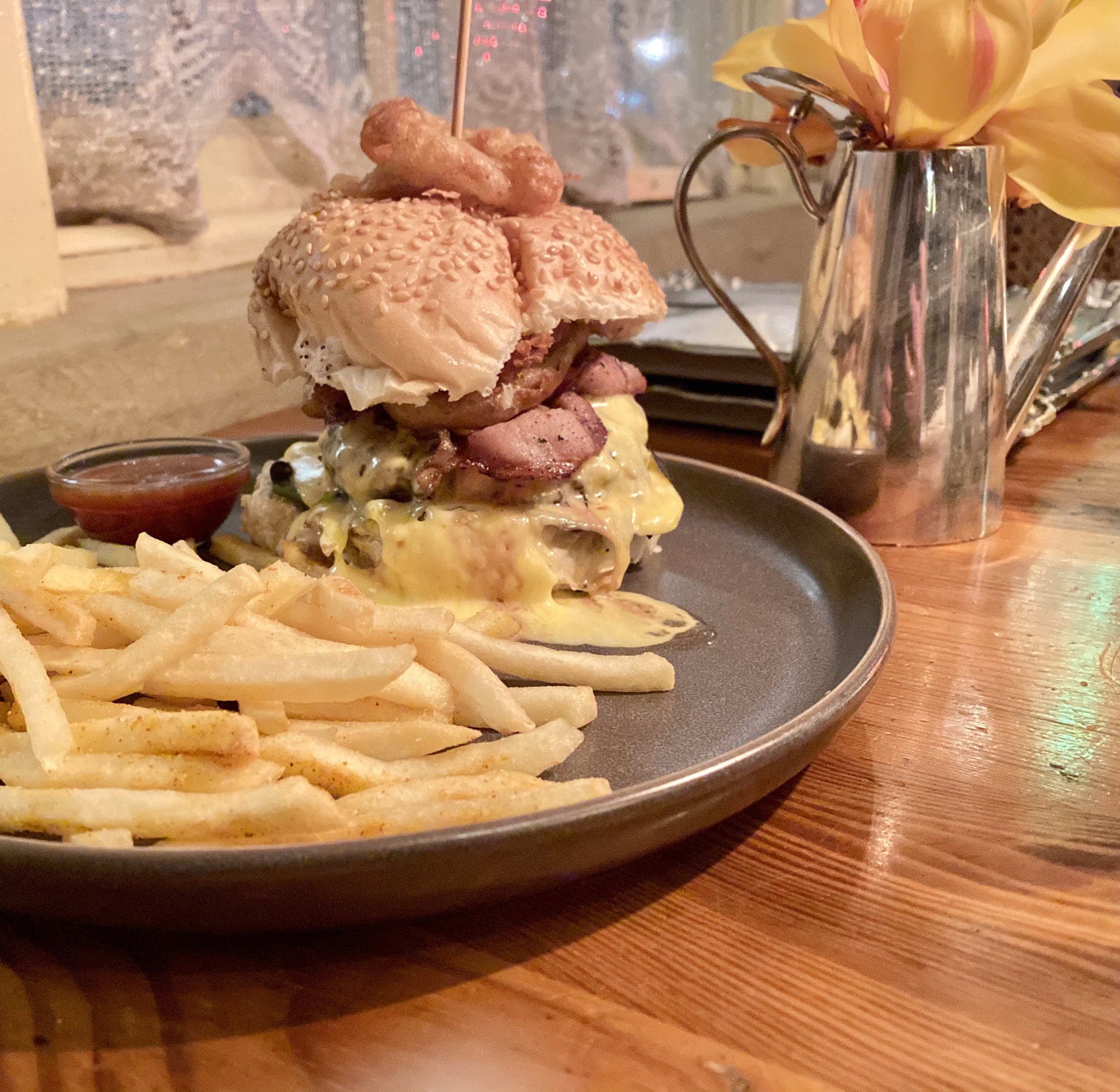 The burger was deliciously juicy, with cheese sauce and bacon and onion rings. I feel like if 1910 The Old Forge was open on a Monday night I might just get in my car and drive there for another one of these.
Other friends you might make here include Clive the pale orange cat and the story of why he lost his pom poms, and Basil, a very fine specimen of rooster. Actually, he's less affable than Clive, and has been known to chase Nina. Basil, who is not a small cock, likes it upstairs in the loft where there's a table that can seat two or four in privacy but they can still see what's going on without being closed off from the rest of the place. If Basil bothers you, or accidentally sets his tail feathers alight by sitting on a candle, he will be removed in the direction of his personal accommodation outside.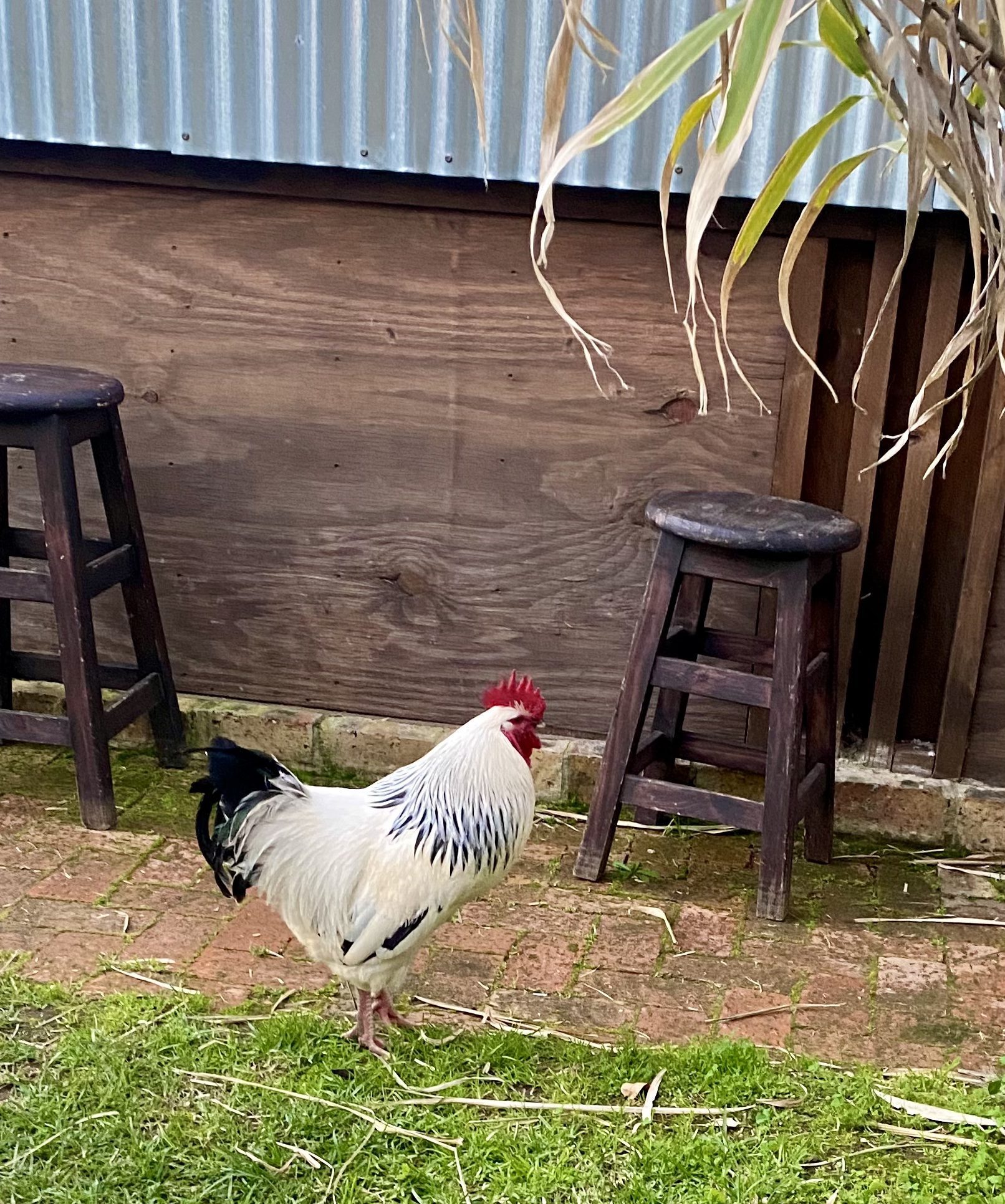 In a town where there aren't – let's not sugar coat this – many places to eat out at night, 1910 The Old Forge is a great place to hang out or have a few drinks. The decor is eclectic and amazingly the interior was all built by Derek. What a guy. He's currently busy building a castle out back for the children. Brilliant idea. Keep them entertained out there, well away from grown ups. There's outside seating in front too, for those fair weather days.
For more information, click here.
PHOTO CREDIT: Bianca Coleman ©